Open Access This article is
freely available
re-usable
Article
Fast Extraction and Detection of 4-Methylimidazole in Soy Sauce Using Magnetic Molecularly Imprinted Polymer by HPLC
1
Department of Applied Chemistry, School of Science, Xi'an University of Technology, Xi'an 710061, China
2
School of Chemistry and Environmental Science, Lanzhou City University, Lanzhou 730070, China
*
Author to whom correspondence should be addressed.
Received: 29 September 2017 / Accepted: 1 November 2017 / Published: 2 November 2017
Abstract
:
On the basis of magnetic molecularly imprinted polymer (MMIP) solid-phase extraction coupled with high performance liquid chromatography, we established a new method for the determination of the 4-methylimidazole (4-MEI) in soy sauce. Scanning electron microscopy (SEM), Fourier transform infrared (FT-IR), X-ray diffraction (XRD) and vibrating sample magnetometer (VSM) were used to characterize the synthesized MMIPs. To evaluate the polymers, batch rebinding experiments were carried out. The binding strength and capacity were determined from the derived Freundlich isotherm (FI) equation. The selective recognition capability of MMIPs was investigated with a reference compound and a structurally similar compound. As a selective pre-concentration sorbents for 4-methylimidazole in soy sauce, the MMIPs showed a satisfied recoveries rate of spiked samples, ranged from 97% to 105%. As a result, the prepared MMIPs could be applied to selectively pre-concentrate and determine 4-methylimidazole in soy sauce samples.
Keywords:
4-methylimidazole; magnetic molecularly imprinted polymer; soy sauce samples; high performance liquid chromatography
1. Introduction
This study first reported a method to recognize 4-MEI in soy sauce samples with a purposive synthesized magnetic MIPs. After highly enrichment, HPLC-PAD can provide satisfied sensitivity, recoveries, time efficiency and economical efficiency.
2. Materials and Methods
2.1. Materials and Reagents
Some chemical reagents were purchased from Reagent Company: 4-MEI from Alfa Aesar (Tianjin, China); Acrylamide (AM), styrene (St), ethylene glycol dimethacrylamide (EGDMA), and 2,2′-azobisissobutyronitrile (AIBN) from Alfa Aesar (Tianjin, China); both Ferric chloride (FeCl3·6H2O) and ferrous chloride (FeCl2·4H2O) from Fuchen Chemical Reagents Factory (Tianjin, China); Chromatographic grade methanol and acetonitrile from Merck Co. (Darmstadt, Germany); Dimethyl sulfoxide (DMSO), polyethylene glycol (PEG-6000), acetic acid, ammonium hydroxide and the other chemicals from Tianjin Chemical Reagent Co. (Tianjin, China). Ultrapure water was prepared by an ultra purification water system. Two soy sauce samples were obtained from a supermarket in Xi'an, named Shengchou (light color; Batch No: 4710; Zhengzhou Jiajia Flavor Industry Co., Ltd., Zhengzhou, China) and Laochou (dark color; Batch No: 20130820H; Jiangsu Hengshun Vinegar Industry Co., Ltd., Zhenjiang, China). All HPLC solutions were filtered through a 0.45 μm filter before use.
2.2. Instrumentation
A WATERS Series (WATERS Technologies, Milford, MA, USA) LC system equipped with an e2695 Alliance Quaternary Pump, a 2998 Photodiode Array Detector (PAD), an Alliance Col Heater column oven and an automatic sampler were employed in this study. The system was controlled by an Empower 2 Personal Single System. A Sino-Chrom ODS-AP column (5 µm, 230 mm × 4.6 mm) (Dalian Elite Analytical Instruments Co., Ltd., Dalian, China) was used. For the analytical chromatography, isocratic elution with methanol and KH
2
PO
4
(0.05 mol L
−1
) in a ratio of 12:88 (
v
/
v
) was performed. The flow rate was 1.0 mL min
−1
. The detection wavelength and column temperature were set at 233 nm and 28 °C, respectively. The loading volume was 20 µL. A model FE20 Plus pH meter (Mettler-Toledo, Shanghai, China) equipped with InLab
®
Micro pH combination electrodes (Mettler-Toledo, Schwerzenbach, Switzerland) was used to measure the pH value. X-ray diffraction (XRD) were measured using a Bruker D8 Advance (XRD, Bruker, Germany). A Lake Shore 7307 vibrating sample magnetometer (VSM) (Lakeshore, Westerville, OH, USA) was used to measure the magnetic properties. SEM image was obtained via Hitachi S-4800 field emission scanning electron microscope (Tokyo, Japan). A Hitachi H-7650 transmission electron microscope (TEM, Hitachi, Tokyo, Japan) was used. A Nicolet Nexus-670 FT-IR spectrometer was used to obtain the FT-IR spectra, with the wave numbers ranged from 500 cm
−1
to 4000 cm
−1
.
2.3. Preparation of Fe3O4 Magnetic Particles
Chemical co-precipitation method with slightly modification according to previously study [
21
] was used to synthesize the Fe
3
O
4
magnetic particles. In a 250 mL three-necked flask, 15 mmol FeCl
3
·6H
2
O and 10 mmol FeCl
2
·4H
2
O were dissolved with 80 mL of deoxygenated water. Then the solution was constantly stirred.
The ammonium hydroxide solution (50 mL, 5%) was added drop by drop when the temperature was raised to 60 °C. Then the mixture was stirred vigorously for 60 min at 300 rpm, 60 °C. The whole reaction process was carried out under nitrogen protection. After the reaction, washed the reactant several times with pure water and a magnet was used to collect the Fe3O4 MNPs.
Surface modifier was used to modify the surface of Fe3O4 particles. Fe3O4 (2.0 g) and PEG (10.0 g) were dissolved in deionized water (30 mL) by stirring for 20 min. Then sonicating for 30 min, the solution became homogeneously dispersed.
2.4. Preparation of the MMIPs
According to the previous study [
22
], the MMIPs were synthesized with a slight modification. The template (4-MEI, 1 mmol) and the functional monomer (AM, 6 mmol) were dissolved in 50 mL of acetonitrile. After stored in dark for 18 h at room temperature, the pre-polymerization solution, PEG-Fe
3
O
4
particles, dispersing media (doubly distilled water, 80 mL), copolymer monomer (St, 79.6 mmol), cross-linker (EGDMA, 30 mmol) and initiator (AIBN, 0.6 mmol) were well mixed in a 250 mL three-neck flask. The mixture was degassed in an ultrasonic bath for 15 min. Stirring at 300 rpm and 70 °C, the polymerization reaction has taken 22 h under nitrogen protection. After collected by an extra magnetic field, MMIPs were washed by a solution of methanol/acetic acid (9:1,
v
/
v
) to remove the templates, followed by methanol. Finally, the particles were dried in vacuum. The same method was used to prepare the MNIPs, but without the template.
2.5. Adsorption and Selectivity Evaluation
In order to evaluate the recognizing and binding capacity of MMIPs for in methanol, adsorption test was performed. A series of concentrations of 4-MEI solution (5–300 mg L−1, 1 mL) was prepared in 2 mL centrifuge tube. Then 20 mg MMIPs or MNIPs were suspended in these series of solution tubes, and shaken for 15 min at 25 °C. MMIPs or MNIPs was separated from the solution by a magnet deposited outside of the sample tube. Following, the supernatant was determined by HPLC. Deducted the amount of free 4-MEI from the amount added, the amount of 4-MEI binding to the MMIPs or MNIPs was obtained by calculation. In order to evaluate the binding parameters of the MMIPs and MNIPs, the data of the adsorption experiment were further processed refer to the Freundlich isotherm (FI) model.
Compared with reference compounds salicylic acid and benzoic acid, three different concentrations (20, 60, 120 µg L−1) were set to investigate the selectivity of the synthesized sorbent.
2.6. Extraction Procedure
20 mg of MMIPs were added directly into 1 mL of soy sauce sample, and then shaken for 15 min. MMIPs were separated from the sample solution by a magnet. One milliliter of acetonitrile/formic acid (9:1,
v
/
v
) was used to elute the MMIPs by sonication for 15 min. Evaporated dryness from 0.5 mL of supernatants were dissolved into 0.1 mL of methanol, followed by HPLC-PAD analysis.
3. Results and Discussion
4. Conclusions
In order to selectively extract 4-MEI in soy sauce samples, MMIPs were prepared for the HPLC analysis. The proposed MMIPs were characterized by SEM, VSM, FT-IR, and XRD. This magnetic polymer showed satisfied selectivity recognition properties and high adsorption capacity to the target template molecule. During a short extraction procedure, adsorption and desorption equilibrium were reached, and MMIPs could be collected quickly by a magnet after extraction. This method could be applied to the determination of 4-MEI in soy sauce samples which attribute to the good selectivity and specificity of MMIPs. The validity of this analysis method was proved by the high recovery rates. There is a perspective potential for MMIPs in determining 4-MEI in soy sauce samples.
Acknowledgments
This work was financially supported by National Natural Science Foundation of China (No. 81302619), Science and Technology Innovation Program of Xi'an University of Technology (2016CX016) and Teacher Doctoral Research Start-Up Funding of Xi'an University of Technology.
Author Contributions
Y.L. performed the experiments; Z.F. analyzed the data; Y.Z. contributed reagents/materials/analysis tools; and Z.F. and H.Y. wrote the paper.
Conflicts of Interest
The authors declare no conflict of interest.
Sample Availability: Samples of all the compounds are not available from the authors.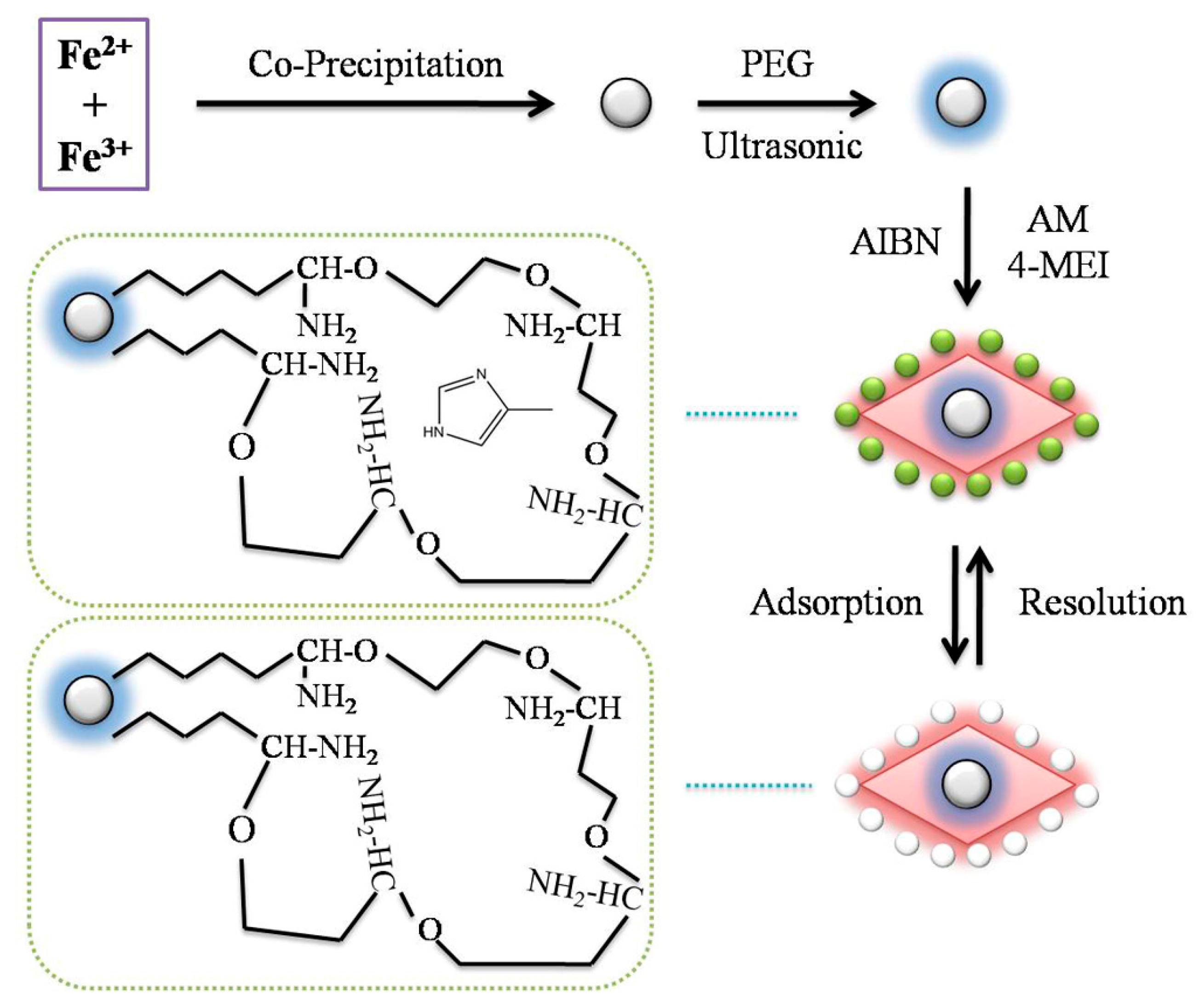 Figure 2. Scanning electron micrographs of the MMIPs and MNIPs: (a) MMIPs; (b) surface of MMIPs; (c) surface of MNIPs.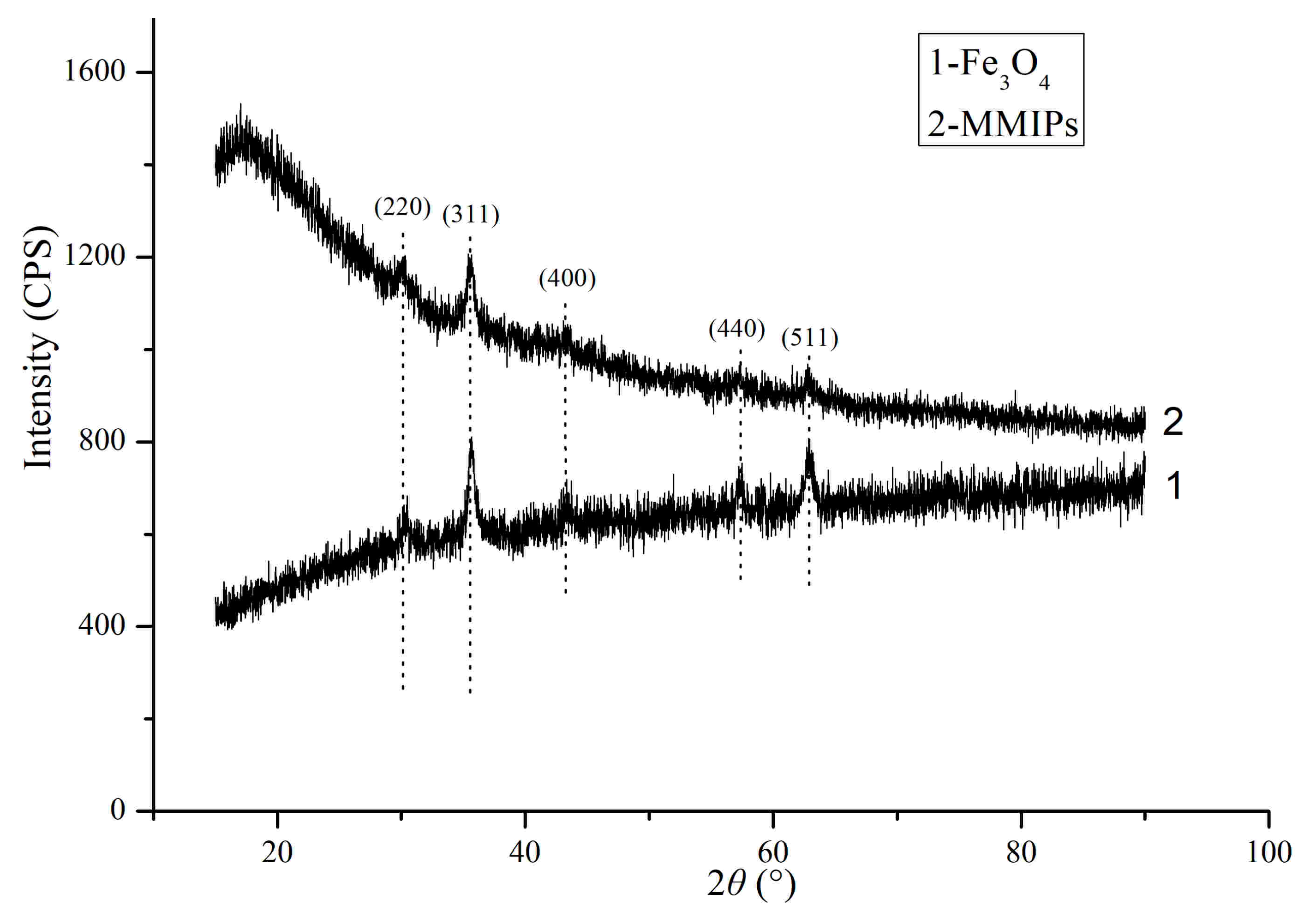 Figure 5. (a) 4-MEI adsorption isotherms for MMIPs and MNIPs with the corresponding experimental FI for MMIPs and MNIPs; (b) affinity distributions of MMIPs (thick line) and MNIPs (thin line).
Figure 6. Selective recognition capability of MMIPs and MNIPs to (a) 4-MEI, (b) salicylic acid, and (c) benzoic acid at concentrations of 20, 60 and 120 mg L−1.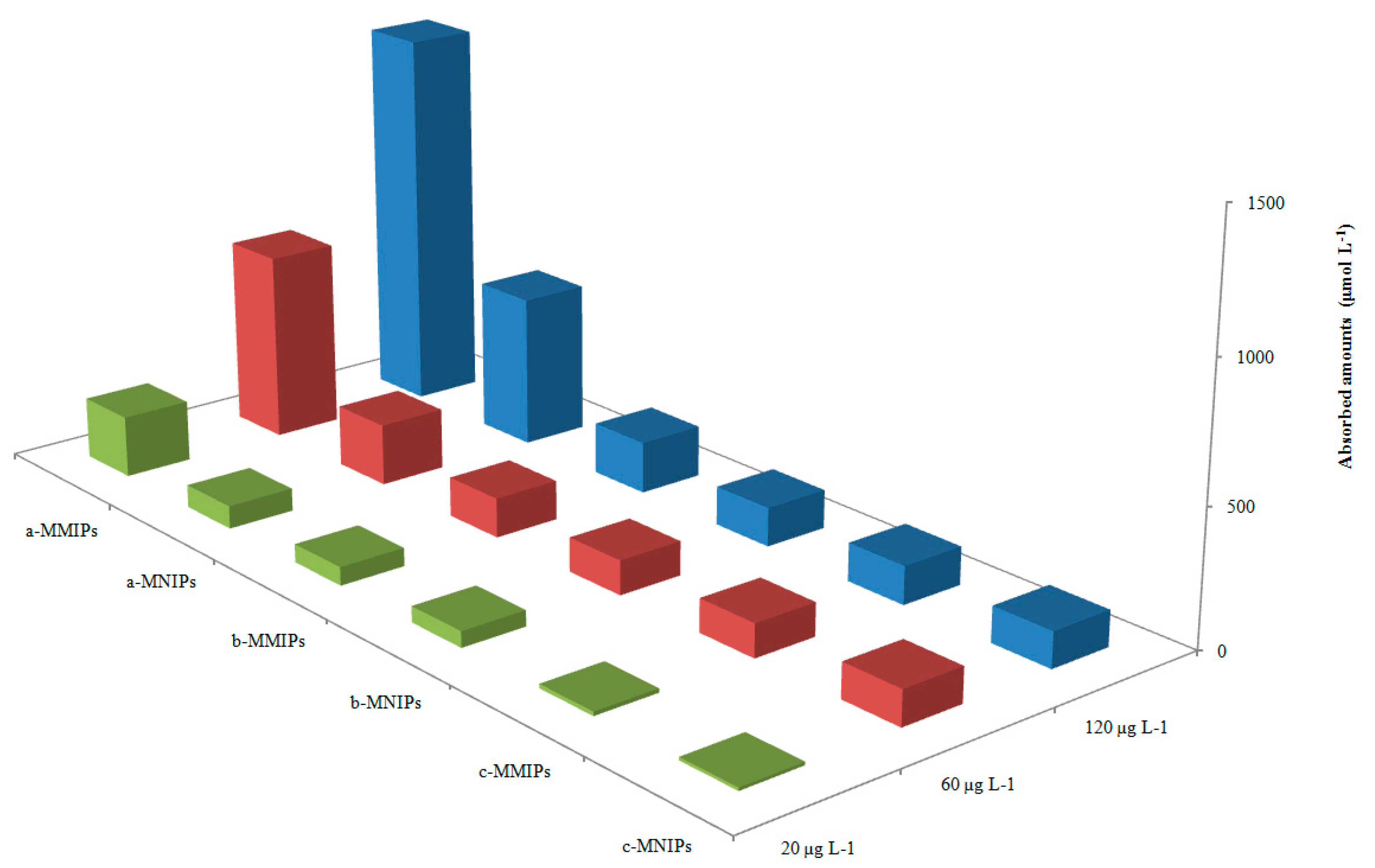 Figure 7. (a) Dynamic adsorption isotherms of MMIPs of 4-MEI in three sample volumes (i.e., 1, 3, and 5 mL); (b) effect of desorption time.


Figure 8. Chromatograms of two samples: (a) represents sample Shengchou; (b) represents sample Laochou: a—initial solutions; b—solution extracted with MNIPs; c—solution extracted with MMIPs.


Table 1.
Freundlich fitting parameters, number of binding sites (
N
kmin-kmax
) and weighted average affinity (
Kk
min-

k

max
) for 4-methylimidazole MMIPs and MNIPs.
Table 1. Freundlich fitting parameters, number of binding sites (

N

kmin-kmax) and weighted average affinity (Kkmin-

k

max) for 4-methylimidazole MMIPs and MNIPs.
Fitting Parameters
MMIPs
MNIPs
Nkmin-

k

max (µmol g−1)
3.55
0.89
Kkmin-

k

max (L mmol−1)
13.02
2.56
α
0.48
0.89
m
0.39
0.83
Table 2. Recognition properties of MMIPs and MNIPs a.
Levels (μg L−1)
Kd (μmol g−1)

k

k

'
Kd1 4-MeI
Kd2 Salicylic Acid
Kd3 Benzoic Acid

k

1

k

2

k

'1

k

'2
MMIPs
120
23.20
3.98
4.99
5.83
4.65
7.29
7.01
60
15.01
4.17
3.09
3.60
4.86
2.19
4.72
20
10.11
1.56
2.52
6.48
4.01
8.85
6.15
NMIPs
120
3.74
4.68
5.64
0.80
0.66
60
3.79
2.31
3.68
1.64
1.03
20
1.26
1.72
1.93
0.73
0.65
a

K

d, distribution coefficient;

k

, selectivity coefficient;

k

1 = Kd1/Kd2,

k

2 = Kd1/Kd3;

k

', relative selectivity coefficient;

k'

1 =

k

1MMIP/

k

1MNIP,

k'

2 =

k

2MMIP/

k

2MNIP.
Table 3. Accuracy of the method for sample solutions spiked at different concentrates (

n

= 3).
Analyte
Added (µmol L−1)
Found (µmol L−1)
Recovery (% a)
Average (%)
RSD (%)
4-MEI
109.8
111.2
101.29
101.11
0.158
109.8
110.9
101.07
109.8
110.8
100.98
4.3
4.5
104.57
102.29
2.387
4.3
4.4
102.57
4.3
4.3
99.71
0.9
0.89
98.67
97.94
0.784
0.9
0.88
97.82
0.9
0.87
97.33
a [(Found-base)/added] × 100%.
© 2017 by the authors. Licensee MDPI, Basel, Switzerland. This article is an open access article distributed under the terms and conditions of the Creative Commons Attribution (CC BY) license (http://creativecommons.org/licenses/by/4.0/).