Long-Term Sodium Ferulate Supplementation Scavenges Oxygen Radicals and Reverses Liver Damage Induced by Iron Overloading
1
Jiangxi Provincial Institute of Hypertension, The First Affiliated Hospital of Nanchang University, Nanchang 330006, China
2
Jiangxi Provincial Key Laboratory of Basic Pharmacology, Nanchang University School of Pharmaceutical Science, Nanchang 330006, China
3
Jiangxi Provincial Key Laboratory of Molecular Medicine at the Second Affiliated Hospital, Nanchang University, Nanchang 330006, China
4
Second Abdominal Surgery Department, Jiangxi Province Tumor Hospital, Nanchang 330029, China
*
Authors to whom correspondence should be addressed.
Academic Editor: Derek J. McPhee
Received: 12 August 2016 / Revised: 3 September 2016 / Accepted: 8 September 2016 / Published: 16 September 2016
Abstract
Ferulic acid is a polyphenolic compound contained in various types of fruits and wheat bran. As a salt of the active ingredient, sodium ferulate (SF) has potent free radical scavenging activity and can effectively scavenge ROS. In this study, we examined the effect of SF on iron-overloaded mice in comparison to a standard antioxidant, taurine (TAU). We determined the protective role of SF against liver injury by examining liver-to-body ratio (%), transaminase and hepatocyte apoptosis in rats supplied with 10% dextrose intraperitoneal injection. In addition, antioxidative enzymes activities, ROS formation, mitochondrial swelling, and mitochondrial membrane potential (MMP) were all evaluated to clarify the mechanism of protective effect of SF associated with oxidative stress. After 15 weeks of SF treatment, we found a significant reduction in liver-to-body weight radio and elevation in both transaminase and hepatocyte apoptosis associated with iron-injected to levels comparable to those achieved with TAU. Both SF and TAU significantly attenuated the impaired liver function associated with iron-overloaded in mice, whereas neither showed any significant effect on the iron uptake. Furthermore, treatment with either SF or TAU in iron-overloaded mice attenuated oxidative stress, associated with elevated oxidant enzymes activities, decreased ROS production, prevented mitochondrial swelling and dissipation of MMP and then inhibited hepatic apoptosis. Taken together, the current study shows that, SF alleviated oxidative stress and liver damage associated with iron-overload conditions compared to the standard ROS scavenger (TAU), and potentially could encourage higher consumption and utilization as healthy and sustainable ingredients by the food and drink.
View Full-Text
►

▼

Figures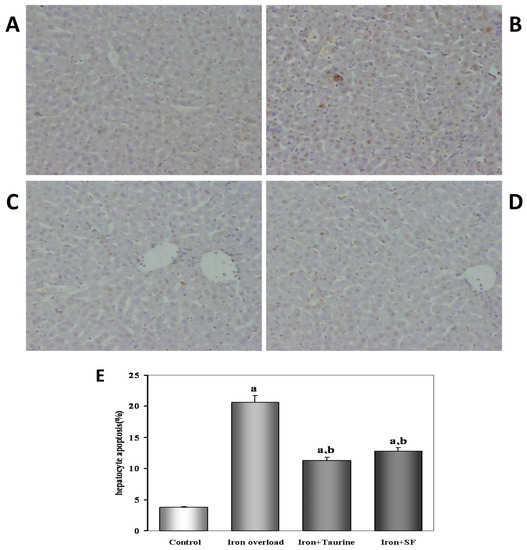 Figure 1
This is an open access article distributed under the
Creative Commons Attribution License
which permits unrestricted use, distribution, and reproduction in any medium, provided the original work is properly cited (CC BY 4.0).

Share & Cite This Article
MDPI and ACS Style
Qiao, Y.; He, H.; Zhang, Z.; Liao, Z.; Yin, D.; Liu, D.; Yi, B.; He, M. Long-Term Sodium Ferulate Supplementation Scavenges Oxygen Radicals and Reverses Liver Damage Induced by Iron Overloading. Molecules 2016, 21, 1219.
Note that from the first issue of 2016, MDPI journals use article numbers instead of page numbers. See further details here.
Related Articles
Comments
[Return to top]