Cytotoxic Alkaloids from the Stem of
Xylopia laevigata
1
Department of Chemistry, Federal University of Sergipe, São Cristóvão 49100-000, Sergipe, Brazil
2
Gonçalo Moniz Institute, Oswaldo Cruz Foundation (IGM-FIOCRUZ), Salvador 40000-000, Bahia, Brazil
3
NMR Center, Federal University of Paraná, Curitiba 80000-000, Paraná, Brazil
4
Department of Chemistry, Federal University of Amazonas, Manaus 69000-000, Amazonas, Brazil
5
Center of Biotechnology and Cell therapy, Hospital São Rafael, Salvador 40000-000, Bahia, Brazil
*
Authors to whom correspondence should be addressed.
Academic Editor: Michael Wink
Received: 1 May 2016 / Revised: 2 July 2016 / Accepted: 4 July 2016 / Published: 8 July 2016
Abstract
Xylopia laevigata
(Annonaceae), known locally as "meiú" or "pindaíba", is widely used in folk medicine in Northeastern Brazil. In the present work, we performed phytochemical analyses of the stem of
X. laevigata
, which led to the isolation of 19 alkaloids: (−)-roemerine, (+)-anonaine, lanuginosine, (+)-glaucine, (+)-xylopine, oxoglaucine, (+)-norglaucine, asimilobine, (−)-xylopinine, (+)-norpurpureine, (+)-
N
-methyllaurotetanine, (+)-norpredicentrine, (+)-discretine, (+)-calycinine, (+)-laurotetanine, (+)-reticuline, (−)-corytenchine, (+)-discretamine and (+)-flavinantine. The in vitro cytotoxic activity toward the tumor cell lines B16-F10 (mouse melanoma), HepG2 (human hepatocellular carcinoma), K562 (human chronic myelocytic leukemia) and HL-60 (human promyelocytic leukemia) and non-tumor peripheral blood mononuclear cells (PBMCs) was tested using the Alamar Blue assay. Lanuginosine, (+)-xylopine and (+)-norglaucine had the highest cytotoxic activity. Additionally, the pro-apoptotic effects of lanuginosine and (+)-xylopine were investigated in HepG2 cells using light and fluorescence microscopies and flow cytometry-based assays. Cell morphology consistent with apoptosis and a marked phosphatidylserine externalization were observed in lanuginosine- and (+)-xylopine-treated cells, suggesting induction of apoptotic cell death. In addition, (+)-xylopine treatment caused G
2
/M cell cycle arrest in HepG2 cells. These data suggest that
X. laevigata
is a potential source for cytotoxic alkaloids.
View Full-Text
►

▼

Figures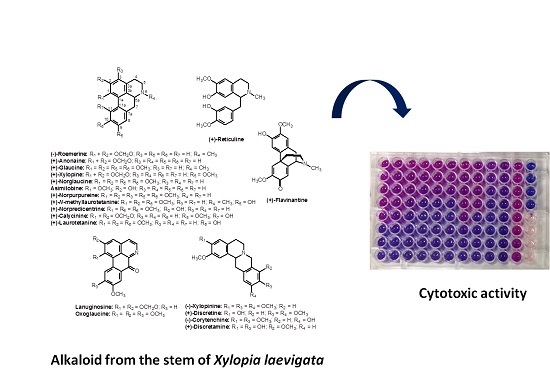 Graphical abstract
This is an open access article distributed under the
Creative Commons Attribution License
which permits unrestricted use, distribution, and reproduction in any medium, provided the original work is properly cited (CC BY 4.0).

Share & Cite This Article
MDPI and ACS Style
Menezes, L.R.A.; Costa, C.O.D.; Rodrigues, A.C.B.C.; Santo, F.R.E.; Nepel, A.; Dutra, L.M.; Silva, F.M.A.; Soares, M.B.P.; Barison, A.; Costa, E.V.; Bezerra, D.P. Cytotoxic Alkaloids from the Stem of Xylopia laevigata. Molecules 2016, 21, 890.
Note that from the first issue of 2016, MDPI journals use article numbers instead of page numbers. See further details here.
Related Articles
Comments
[Return to top]