On the High Sensitivity of the Electronic States of 1 nm Gold Particles to Pretreatments and Modifiers
1
Centro de Nanociencias y Nanotecnología, Universidad Nacional Autónoma de México (UNAM), Ensenada 22860, Mexico
2
Department of Physical and Analytical Chemistry, Tomsk Polytechnic University, Tomsk 634050, Russia
3
Centro de Investigación Científica y de Educación Superior de Ensenada, Ensenada 22860, Mexico
4
CONACYT Research Fellow at Centro de Nanociencias y Nanotecnología, Universidad Nacional Autónoma de México (UNAM), Ensenada, 22860, Mexico
*
Author to whom correspondence should be addressed.
Academic Editor: Sonia A. C. Carabineiro
Received: 5 February 2016 / Revised: 21 March 2016 / Accepted: 23 March 2016 / Published: 31 March 2016
Abstract
In this paper, the effect of modifiers and pretreatments on the electronic states of 1 nm gold nanoparticles (AuNPs) supported on silica was systematically studied. AuNPs deposited on silica (particle size of 2–4 nm) modified with Ce, La and Fe oxides, were studied by FTIR of adsorbed CO after different redox treatments at 100, 300 and 500 °C. This study was conducted at room temperature to allow detecting the electronic states of gold, which is more likely involved in CO oxidation at the same temperature. AuNP size distribution was measured by HRTEM. It is shown that the electronic state of gold species (Au
n
δ−
, Au
0
, Au
n
δ+
, Au
+
) in 1 nm AuNPs is sensitive to the modifier as well as to the temperatures of redox pretreatments. Supports modified with the same additives but containing larger AuNPs (~3, 4, 5, and 7 nm) were also studied. They showed that Au
0
remains stable irrespective of additives and redox pretreatments, indicating no significant effect of such treatments on the electronic properties of larger AuNPs. Samples with a predominant AuNP size of 2 nm are an intermediate case between these two groups of materials.
View Full-Text
►

▼

Figures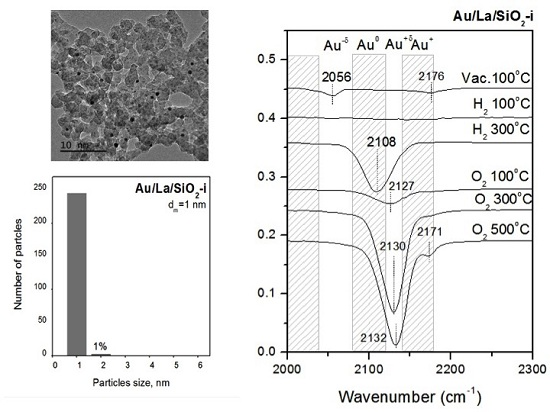 Graphical abstract
This is an open access article distributed under the
Creative Commons Attribution License
which permits unrestricted use, distribution, and reproduction in any medium, provided the original work is properly cited (CC BY 4.0).

Share & Cite This Article
MDPI and ACS Style
Martynyuk, O.; Kotolevich, Y.; Vélez, R.; Cabrera Ortega, J.E.; Tiznado, H.; Zepeda Partida, T.; Mota-Morales, J.D.; Pestryakov, A.; Bogdanchikova, N. On the High Sensitivity of the Electronic States of 1 nm Gold Particles to Pretreatments and Modifiers. Molecules 2016, 21, 432.
Note that from the first issue of 2016, MDPI journals use article numbers instead of page numbers. See further details here.
Related Articles
Comments
[Return to top]