Trapa japonica

Pericarp Extract Reduces LPS-Induced Inflammation in Macrophages and Acute Lung Injury in Mice

1

Department of Biotechnology, Konkuk University, Chungju 27478, Korea

2

Chemical Biology Research Center, Korea Research Institute of Bioscience and Biotechnology, Ochang 28116, Korea

3

Department of Anatomy, College of Oriental Medicine, Semyung University, Jecheon 27136, Korea

4

Department of Food Science and Technology, Korea National University of Transportation, Jeungpyeong 27909, Korea

5

Department of Acupoint and Meridian, College of Oriental Medicine, Semyung University, Jecheon 27136, Korea

6

Nokyong Research Center, Konkuk University, Chungju 27478, Korea

*

Author to whom correspondence should be addressed.

Academic Editor: Derek J. McPhee

Received: 29 January 2016 / Revised: 11 March 2016 / Accepted: 14 March 2016 / Published: 21 March 2016
Abstract
In this study, we found that chloroform fraction (CF) from TJP ethanolic extract inhibited lipopolysaccharide (LPS)-induced production of nitric oxide (NO) and intracellular ROS in RAW264.7 cells. In addition, expression of cyclooxygenase-2 (COX-2) and inducible nitric oxide synthase (iNOS) genes was reduced, as evidenced by western blot. Our results indicate that CF exerts anti-inflammatory effects by down-regulating expression of iNOS and COX-2 genes through inhibition of MAPK (ERK, JNK and p38) and NF-κB signaling. Similarly we also evaluated the effects of CF on LPS-induced acute lung injury. Male Balb/c mice were pretreated with dexamethasone or CF 1 h before intranasal instillation of LPS. Eight hours after LPS administration, the inflammatory cells in the bronchoalveolar lavage fluid (BALF) were determined. The results indicated that CF inhibited LPS-induced TNF-α and IL-6 production in a dose dependent manner. It was also observed that CF attenuated LPS-induced lung histopathologic changes. In conclusion, these data demonstrate that the protective effect of CF on LPS-induced acute lung injury (ALI) in mice might relate to the suppression of excessive inflammatory responses in lung tissue. Thus, it can be suggested that CF might be a potential therapeutic agent for ALI.
View Full-Text
►

▼

Figures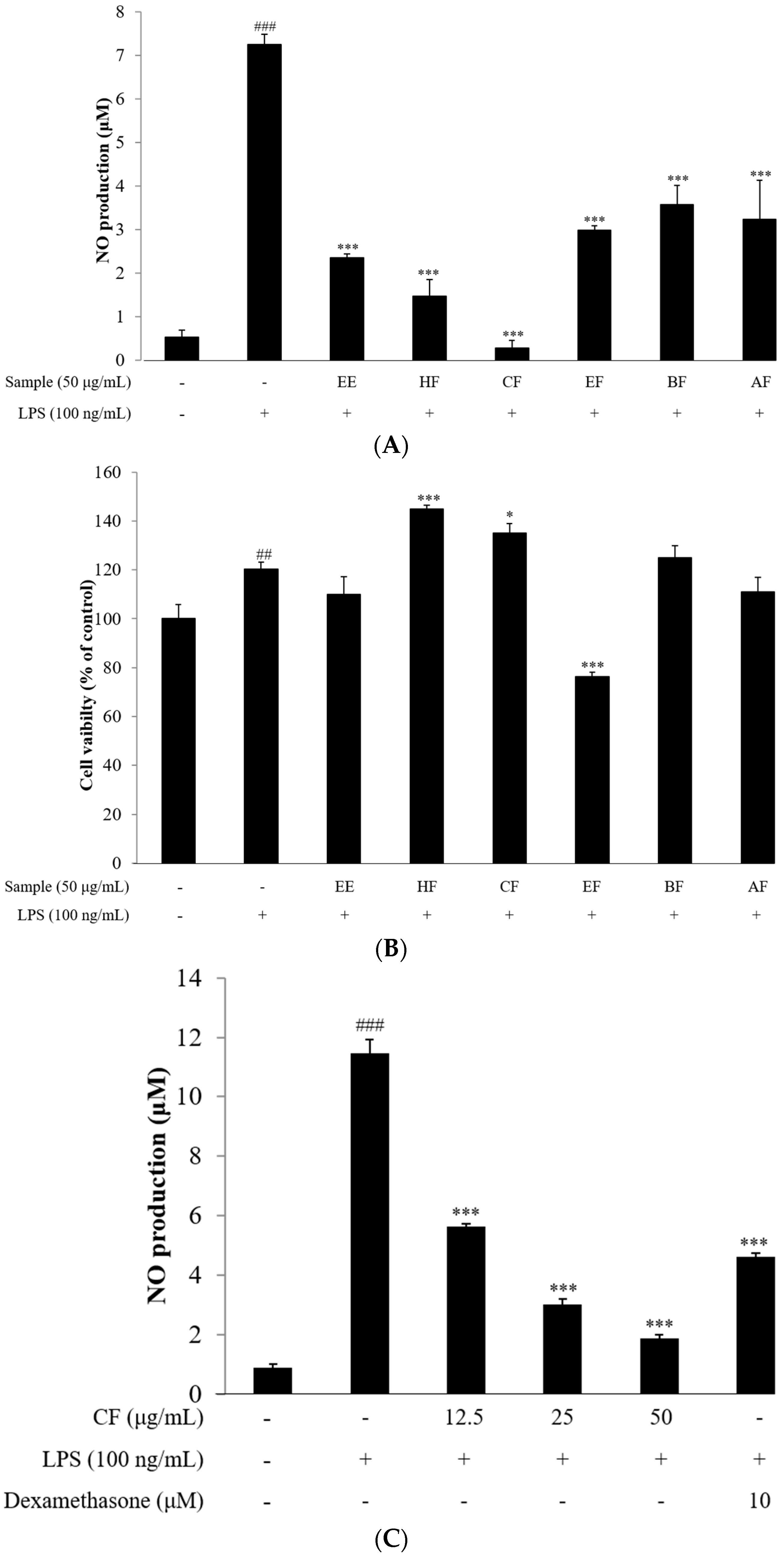 Figure 1
This is an open access article distributed under the
Creative Commons Attribution License
which permits unrestricted use, distribution, and reproduction in any medium, provided the original work is properly cited (CC BY 4.0).

Share & Cite This Article
MDPI and ACS Style
Kim, Y.-S.; Hwang, J.-W.; Jang, J.-H.; Son, S.; Seo, I.-B.; Jeong, J.-H.; Kim, E.-H.; Moon, S.-H.; Jeon, B.-T.; Park, P.-J. Trapa japonica Pericarp Extract Reduces LPS-Induced Inflammation in Macrophages and Acute Lung Injury in Mice. Molecules 2016, 21, 392.
Note that from the first issue of 2016, MDPI journals use article numbers instead of page numbers. See further details here.
Related Articles
Comments
[Return to top]