Open Access This article is
freely available
re-usable
Article
Tomato Aqueous Extract Modulates the Inflammatory Profile of Immune Cells and Endothelial Cells
DSM Nutritional Products, P. O. Box 2676, Basel 4002, Switzerland
*
Author to whom correspondence should be addressed.
Academic Editor: Norbert Latruffe
Received: 9 December 2015 / Accepted: 20 January 2016 / Published: 29 January 2016
Abstract
:
Nutrients transiently or chronically modulate functional and biochemical characteristics of cells and tissues both
in vivo
and
in vitro
. The influence of tomato aqueous extract (TAE) on the
in vitro
inflammatory response of activated human peripheral blood leukocytes (PBLs) and macrophages was investigated. Its effect on endothelial dysfunction (ED) was analyzed in human umbilical vein endothelial cells (HUVECs). Murine macrophages (RAW264.7 cells), PBLs and HUVECs were incubated with TAE. They were activated with LPS or TNF-α in order to induce inflammatory processes and ED, respectively. Inflammatory mediators and adhesion molecules were measured by immune assay-based multiplex analysis. Gene expression was quantified by RT-PCR. TAE altered the production of interleukins (IL-1β, IL-6, IL-10, IL-12) and chemokines (CCL2/MCP-1, CCL3/MIP-1α, CCL5/RANTES, CXCL8/IL-8, CXCL10/IP-10) in PBLs. TAE reduced ED-associated expression of adhesion molecules (ICAM-1, VCAM-1) in endothelial cell. In macrophages, the production of nitric oxide, PGE
2
, cytokines and ILs (TNF-α, IL-1β, IL-6, IL-12), which reflects chronic inflammatory processes, was reduced. Adenosine was identified as the main bioactive of TAE. Thus, TAE had cell-specific and context-dependent effects. We infer from these
in vitro
data, that during acute inflammation TAE enhances cellular alertness and therefore the sensing of disturbed immune homeostasis in the vascular-endothelial compartment. Conversely, it blunts inflammatory mediators in macrophages during chronic inflammation. A novel concept of immune regulation by this extract is proposed.
Keywords:
chronic inflammation; endothelial dysfunction; human umbilical endothelial vein cells; inflammation; innate immune response; macrophages; nutrients; peripheral blood leukocytes
1. Introduction
Numerous epidemiological studies established the beneficial relationship between a diet rich in fruit and vegetables and health conditions like cardiovascular diseases (CVD), diabetes, obesity, neuro-degeneration and arthritis. Low-grade inflammation is a common feature of these chronic diseases. This is reflected by an unbalanced production of inflammatory mediators including cytokines and chemokines, a disturbed homeostasis of cellular oxidants and mediators of inflammation such as prostaglandins, nitric oxide or the status of the extracellular matrix (ECM). The homeostatic changes influence cell metabolism and alter tissue functions that might favor disease progression [
1
]. A hallmark of acute inflammation is the increased production of cytokines and chemokines. These enable and enhance inflammatory processes that are essential to recruit immune cells to the sites of inflammation and eliminate pathogens. Some mediators are further required during the resolution of inflammation [
2
] or for the differentiation of cells that orchestrate the resolution of inflammatory processes such as alternatively activated macrophages [
3
]. Chronic inflammation maintains a status of un-coordinated production of mediators and metabolites that cause tissue and organ damage. Inflammatory processes have thus an intrinsic dual nature during acute and chronic inflammation. Therefore, substances that modulate the inflammatory status and maintain immune homeostasis in a context-dependent way are expected to prevent the occurrence of health disorders and diseases [
4
]. In this study we investigated the
in vitro
effects of a tomato aqueous extract (TAE) on inflammatory responses. Previous studies with TAE revealed that it improved the blood flow by reducing platelet adhesion and aggregation [
5
,
6
,
7
]. Likewise, tomato extracts and their lipophilic constituents influenced various mediators of the inflammatory response [
8
] (reviewed in [
9
]). In order to cover a potentially wide range of actions in different systemic contexts, we analyzed the effects of TAE in various cellular systems,
i.e.
, human peripheral blood leukocytes (PBLs), human umbilical vein endothelial cells (HUVECs) and macrophage cells (RAW264.7 cells). We found that TAE markedly altered the production of metabolites related to the acute inflammatory response. TAE modulated the transcription factors of the NF-κB signaling pathway and thus regulated expression of inflammatory genes and the production of inflammatory mediators. We show that TAE orchestrates the response of cells to inflammatory stimuli or altered homeostasis in a cell- and compartment-specific way.
3. Discussion
This study significantly extends our knowledge about the effects of TAE and its main constituents on the modulation of the inflammatory response in cells of the innate immune system (
i.e.
, macrophages) and the vascular-endothelial compartment (
i.e.
, PBLs and HUVECs, respectively). Previously, lipophilic constituents of tomato including carotenoids, as well as vitamins and phenolic compounds contained in tomato [
8
,
20
,
21
] were shown to alter biochemical and cellular features related to inflammation and oxidative status (reviewed in e.g., [
9
]). Consistent with the results of the present study, Bessler
et al.
reported that in the presence of lycopene
in vitro
stimulated PBLs increased the secretion of IL-1β and TNF-α, while IL-10 and IFN-γ was impaired [
8
]. More specifically, CA and rutin impeded the production of pro-inflammatory cytokines in macrophages via the NF-κB signalling pathway [
22
,
23
,
24
,
25
]. Presumably, they marginally contributed to the biological profile of TAE described in this study, because their concentration in TAE was <1 μM. On the other hand, TAE contained significant amounts of adenosine, which reduced the production of TNF-α, IL-6 and different CKs, and it down-regulated NF-κB1 gene expression. The results of this study suggest that adenosine was the major, but not unique bio-active compound of TAE. As shown by others [
26
,
27
,
28
], adenosine modulated the inflammatory response in immune and endothelial cells and it regulated interleukin expression both transcriptionally and post-transcriptionally. However, adenosine differed from TAE in some inflammatory parameters: it did not alter PGE
2
production in PBLs, while TAE enhanced it (
Supplementary Materials Table S2
). Other notable exceptions were observed in the expression and secretion of IL-1β, CCL2/MCP-1, CXCL8/IL-8, where adenosine opposed the effects to TAE. Adenosine impaired CCL2/MCP-1 and CCL4/MIP-1β and thus trafficking of monocytes and neutrophils and influenced the M1/M2 polarization and function of macrophages [
29
,
30
].
Inflammatory processes are tightly regulated by CKs and cytokines. CKs orchestrate the migration and trafficking of cells into different compartments of the immune system. Monocytes, which play key roles in the innate immune response, are recruited by CCL2/MCP-1, CCL3/MIP-1α and CCL4/MIP-1β. Activated T cells are involved in the adaptive immune response and are chemo-attracted by CCL5/RANTES and CXCL10/IP-10. Neutrophils are recruited by CXCL8/IL-8 [
31
], which is produced during sterile inflammation [
32
]. In the blood compartment (
i.e.
, PBLs), TAE dampened the production of CCL4/MIP-1β, but enhanced CXCL8/IL-8. It should be emphasized that a given metabolite can be regulated in a context-dependent way. This has been compellingly shown for IL-6, which controls survival and differentiation of B and T lymphocytes, whereas it favors inflammatory processes in, and thus impairs survival of malignant cells [
33
]. PBLs comprise distinct cell populations including lymphocytes, monocytes/macrophages and neutrophils, which are key cellular actors in the inflammatory response and each of which produces different levels of IL-6 upon activation. It remains to be investigated whether these cell populations have idiosyncratic responses to TAE.
Upon TNF-α stimulation HUVECs expressed a pattern of cytokines and chemokines, which had many common features with that of LPS-activated PBLs. In endothelial cells TAE modulated cytokine expression in a similar way as in PBLs. Remarkably, TAE reversed the expression of ICAM-1 and VCAM-1 towards pre-ED homeostasis (
Figure 5
and [
6
]). Thus, reduced endothelial diapedesis might be one biological consequence of the presence of the substances in the blood. Adenosine had similar effects on HUVECs and might therefore largely account for its biological efficacy in the endothelial layer [
34
,
35
].
Macrophages, which develop from monocytes, are pivotal during initiation and resolution of inflammation and they differentiate into tissue-specific subsets [
16
,
36
]. TAE regulated cytokine and interleukin production by macrophages, suggesting that it dampened the classical activation by LPS (IL-1β, IL-6, IL-12) and favored alternative activation via IL-10 (
Figure 7
and
Figure 8
). With regard to CKs, the tested substance had a lesser impact on macrophages as compared to PBLs: TAE increased CCL4/MIP-1β and CCL5/RANTES and therefore recruitment of monocyte and activated T lymphocytes. Although the data rely on experiments obtained with a murine macrophage cell line, we infer that the observations are not species-restricted. Indeed, similar observations were made with macrophages that were differentiated from human peripheral blood mononuclear cells (our unpublished results).
The molecular regulation of inflammatory processes is dependent on numerous transcription factors (TF). Notably, LPS-activation of monocytes and macrophages induced the NF-κB dependent transcription of chemokines, such as CXCL8, CXCL10, and CCL2 (reviewed in [
37
]), whereas IL-4 and IL-10 inhibited IFN-γ dependent CXCL10 and CCL5 transcription [
38
,
39
]. Here, we show that the transcription levels of NF-κB elements, as well as STAT1 and CREB1, were influenced by TAE. Further investigations should focus on the putative specific effects of TAE on TF in different cells and tissues. Additionally, it needs to be shown that TAE impairs the NF-κB pathway also at the post-transcriptional level.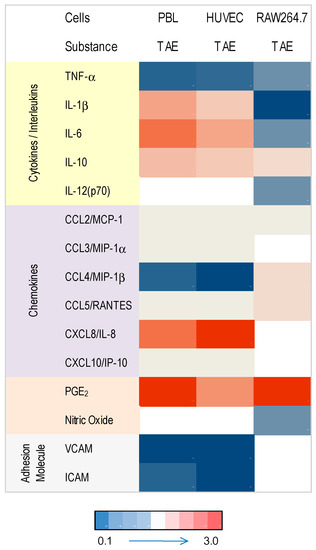 Figure 7. Heat map depicting regulation of inflammatory parameters by TAE across immune and endothelial cells. Values were calculated relative to the metabolite expression or secretion observed in stimulated cells. Intensity of blue and red color grades indicate reduced and increased expression of metabolites, respectively. Empty fields: no data available or values below limit of detection).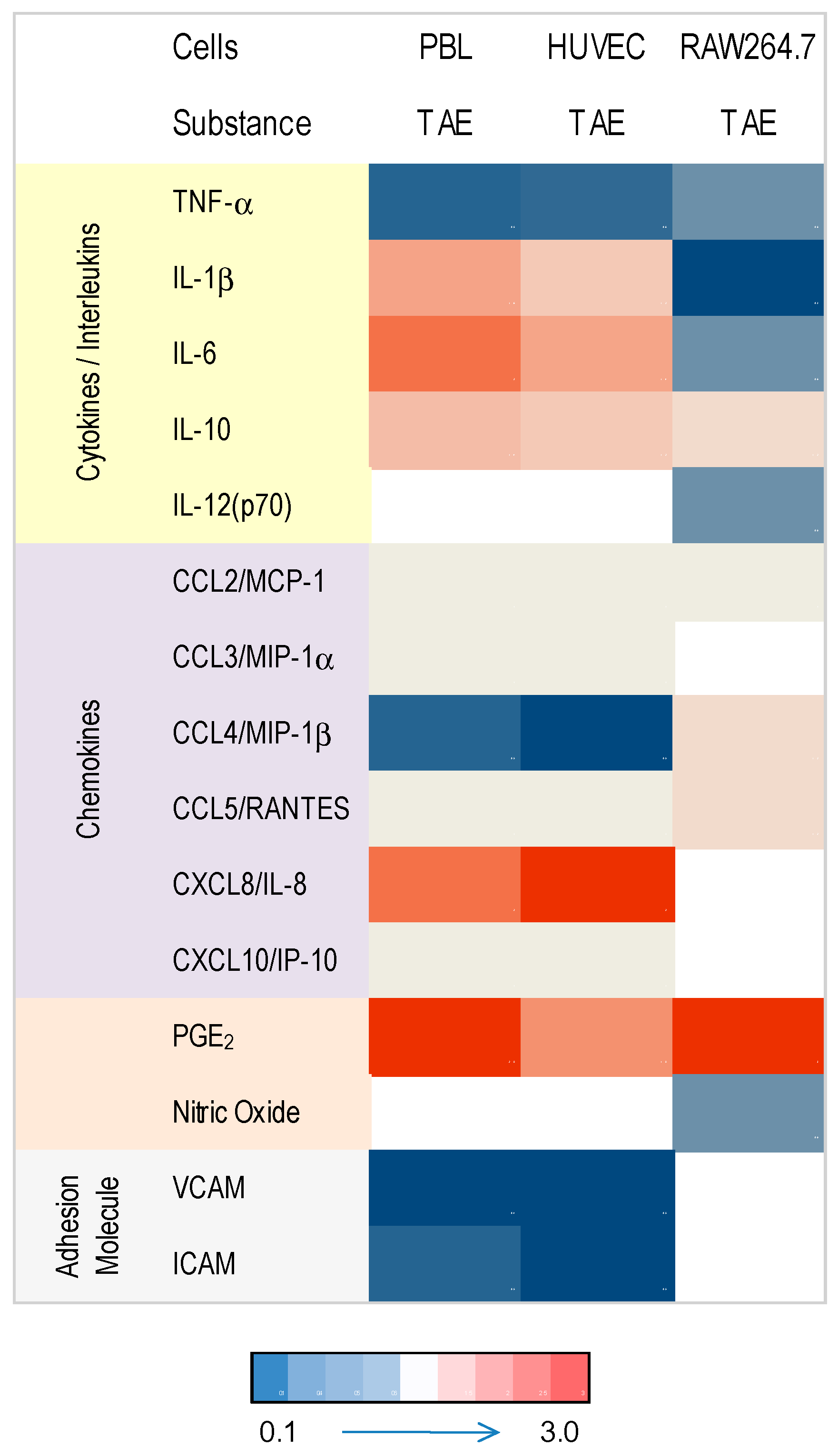 The clinical relevance of the present
in vitro
data need to be addressed in a nutritional intervention trial. As shown in a seminal study by Bakker
et al.
[
4
], supplementation of overweight subjects for five weeks with dietary products including resveratrol, green tea extract, tomato extract, vitamin C, α-tocopherol and PUFAs modified some plasma metabolites. Subtle changes in expression levels of IL-12, ICAM-1 and VCAM-1 were also observed and were consistent with the data of this study. In contrast, Bakker
et al.
did not notice
in vivo
changes of CKs similar to those described here for CCL2/MCP-1, CCL3/MIP-1α, CCL5/RANTES, CXCL8/IL-8 or PGE
2
. Presumably, at conditions of prolonged supplementation, systemic changes induced by nutrients did no longer induce quantifiable metabolic changes. Hence the impact of substances remained undetected. This contrasts with the data described in this work, where the experimental set-up represents acute inflammation and short term supplementation and it precludes metabolic transformation and transport of nutrients. We hypothesize that measurable effects of nutrients on plasma metabolites or leukocyte gene expression will only be detected
in vivo
at conditions of immediately perturbed homeostasis subsequent to food intake [
40
]. Interestingly, TAE had measurable
in vivo
effects on platelet aggregation and adhesion in individuals who were supplemented with a single dose of the tomato extracts [
6
,
13
]. This prompts us to anticipate that TAE will also have effects in clinical studies where inflammatory parameters will be measured.
A synopsis of the different features is shown in
Figure 7
and
Figure 8
. TAE had idiosyncratic effects on PBLs, HUVECs and macrophages. TAE modified ILs and TNF-α along a cell-specific boundary. The nutrient favored production of IL-1β, IL-6 and IL-12 in activated PBL and HUVEC, but inhibited them in RAW264.7 cells. Increased IL-1β, IL-6 or IL-12 is commonly associated with a pro-inflammatory status. T
h
lymphocyte differentiation, however, depends on these ILs in the adaptive immune response (AIR) [
41
,
42
,
43
]. Consequently, immune cells transiently exposed to TAE would produce low levels of cytokines and, thus, be primed for AIR. Moreover, IL-6 regulates T
h
lymphocyte differentiation since it promotes T
h
2 and inhibits T
h
1 differentiation by two independent molecular mechanisms [
43
]. It is also required for alternative activation of macrophages [
44
,
45
] and antibody class switching. Presumably, the constituents of TAE have a short plasma half-life comparable to other nutrients [
46
] and, thus, prime immune cells only briefly in the blood. Therefore, the TAE-induced increase of alertness is high in the periphery, but low at the boundaries of the vascular compartment and reverted in macrophages, which participate in chronic inflammation. TAE might therefore contribute to improve the systemic response to "danger" [
3
,
47
,
48
] and concomitantly reduce the low-grade inflammatory status related to chronic diseases. This set of data further strengthens the concept that multi-parametric metabolic analyses leads to a context-dependent profiling of TAE. It further indicates that the effect of TAE ought to be characterized and interpreted through contextualization and analysis of variables in different biological conditions.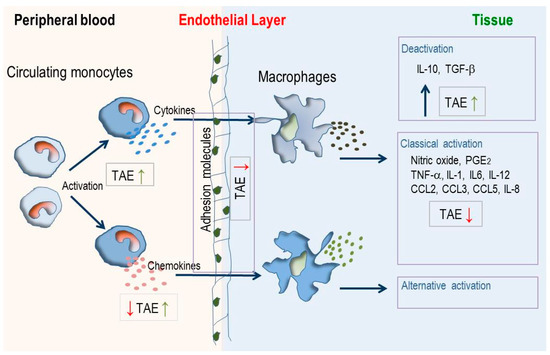 Figure 8. Modulation of inflammatory processes in blood and tissue by TAE. Circulating monocytes respond to activation signals (like pathogen associated molecular patterns, Toll-like receptor ligands, lipopolysaccharides) by increased production of cytokines and chemokines, migrate through endothelial layers and differentiate into tissue-resident macrophages. These can be stimulated by the classical or alternative activation pathway. TAE enhances (green arrows) or diminishes (red arrows) cytokines, chemokines and adhesion molecules which orchestrate cell trafficking, activation and differentiation in different compartments of the immune system.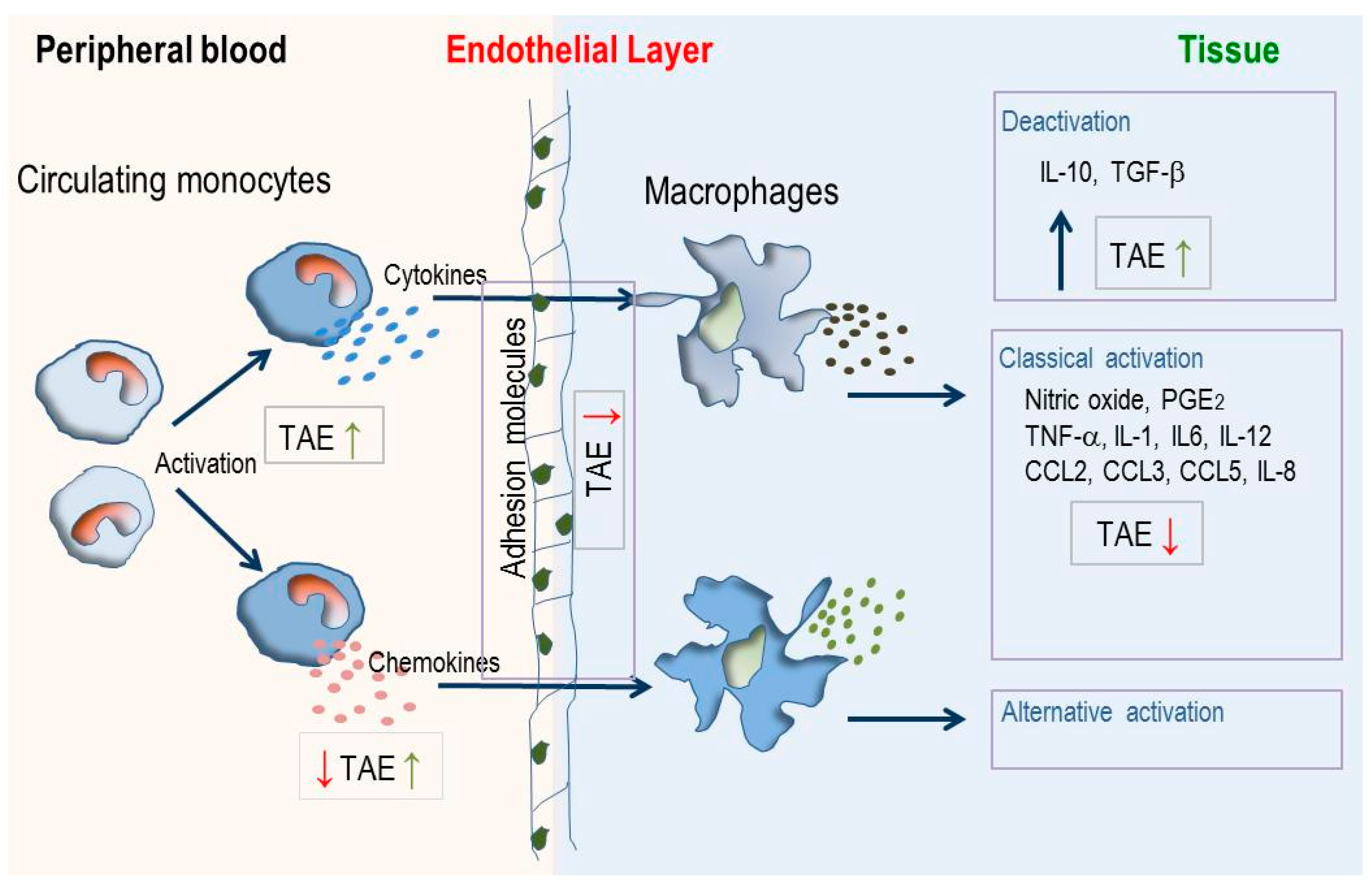 5. Conclusions
TAE interacts with immune cells and endothelial cells. It distinctly modulates the production of inflammatory modulators in a context-specific way and
in extenso
presumably in different body compartments. Consequently, TAE may beneficially enhance and attenuate inflammatory processes during acute and chronic inflammation, respectively.
Acknowledgments
We thank Richard Goessl and Natalie Seibel for the analysis of TAE. We are grateful to Giorgio LaFata for critical reading of the manuscript and insightful comments.
Author Contributions
J.S. and D.R. conceived the study; B.M. was project responsible; N.R. performed the experimental work and compiled the data; J.S. analyzed and interpreted the data and wrote the paper. All authors read and approved the final version of the manuscript.
Conflicts of Interest
The authors are employees of DSM Nutritional Products, which commercializes TAE as Fruitflow®.
Abbreviations
The following abbreviations are used in this manuscript:
| | |
| --- | --- |
| CA | chlorogenic acid |
| CK | chemokine |
| ED | endothelial dysfunction |
| HUVECs | human umbilical vein endothelial cells |
| IL | interleukin |
| NO | nitric oxide |
| PGE2 | prostaglandin E2 |
| PBLs | peripheral blood leukocytes |
| TAE | tomato aqueous extract |
| TF | transcription factor |
Sample Availability: Samples of the TAE are available from the authors.
© 2016 by the authors. Licensee MDPI, Basel, Switzerland. This article is an open access article distributed under the terms and conditions of the Creative Commons by Attribution (CC-BY) license ( http://creativecommons.org/licenses/by/4.0/).