Evaluation of Chemical Composition and Antileishmanial and Antituberculosis Activities of Essential Oils of
Piper

Species

1

Programa de Pós-Graduação em Ciências Farmacêuticas, Universidade Estadual de Maringá, Maringá 87020-900, PR, Brazil

2

Laboratório de Bioquímica de Tripanosomatídeos, Instituto Oswaldo Cruz, FIOCRUZ, Rio de Janeiro 21040-900, RJ, Brazil

3

Mestrado em Tecnologias Limpas e Mestrado em Promoção da Saúde, UniCesumar, Av. Guerdner, 1610, Jd. Aclimação, Maringá 87050-390, PR, Brazil

4

Instituto Cesumar de Ciências, Tecnologia e Inovação—ICETI, Av. Guerdner, 1610, Jd. Aclimação, Maringá 87050-390, PR, Brazil

5

Setor de Ciências Agrárias/Departamento de Fitotecnia e Fitossanitaríssimo, Universidade Federal do Paraná, Curitiba 88035-050, PR, Brazil

6

Departamento de Análises Clínicas e Biomedicina, Universidade Estadual de Maringá, Maringá 87020-900, PR, Brazil

*

Author to whom correspondence should be addressed.

Academic Editor: Thomas J. Schmidt

Received: 17 October 2016 / Revised: 18 November 2016 / Accepted: 2 December 2016 / Published: 12 December 2016
Abstract
Essential oils from fresh Piperaceae leaves were obtained by hydrodistillation and analyzed by gas chromatography mass spectrometry (GC–MS), and a total of 68 components were identified. Principal components analysis results showed a chemical variability between species, with sesquiterpene compounds predominating in the majority of species analyzed. The composition of the essential oil of
Piper mosenii
was described for the first time. The cytotoxicity of the essential oils was evaluated in peritoneal macrophages and the oils of
P. rivinoides
,
P. arboretum
, and
P. aduncum
exhibited the highest values, with cytotoxic concentration at 50% (CC
50
) > 200 µg/mL. Both
P. diospyrifolium
and
P. aduncum
displayed activity against
Leishmania amazonensis
, and were more selective for the parasite than for the macrophages, with a selectivity index (SI) of 2.35 and >5.52, respectively. These SI values were greater than the 1 for the standard drug pentamidine. The antileishmanial activity of the essential oils of
P. diospyrifolium
and
P. aduncum
was described for the first time.
P. rivinoides, P. cernuum
, and
P. diospyrifolium
displayed moderate activity against the
Mycobacterium tuberculosis
H
37
Rv bacillus, with a minimum inhibitory concentration (MIC) of 125 µg/mL. These results are relevant and suggests their potential for therapeutic purposes. Nevertheless, further studies are required to explain the exact mechanism of action of these essential oils.
View Full-Text
►

▼

Figures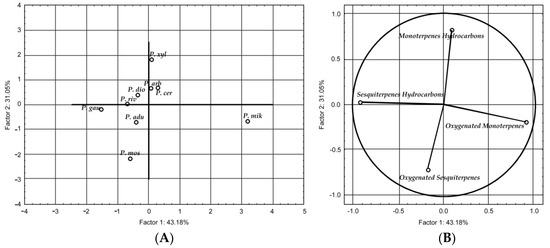 Figure 1
This is an open access article distributed under the
Creative Commons Attribution License
which permits unrestricted use, distribution, and reproduction in any medium, provided the original work is properly cited (CC BY 4.0).

Share & Cite This Article
MDPI and ACS Style
Bernuci, K.Z.; Iwanaga, C.C.; Fernandez-Andrade, C.M.M.; Lorenzetti, F.B.; Torres-Santos, E.C.; Faiões, V.D.S.; Gonçalves, J.E.; Do Amaral, W.; Deschamps, C.; Scodro, R.B.L.; Cardoso, R.F.; Baldin, V.P.; Cortez, D.A.G. Evaluation of Chemical Composition and Antileishmanial and Antituberculosis Activities of Essential Oils of Piper Species. Molecules 2016, 21, 1698.
Note that from the first issue of 2016, MDPI journals use article numbers instead of page numbers. See further details here.
Related Articles
Comments
[Return to top]