Janus Compounds, 5-Chloro-
N

4-methyl-

N

4-aryl-9

H

-pyrimido[4,5-

b

]indole-2,4-diamines, Cause Both Microtubule Depolymerizing and Stabilizing Effects

1

Department of Pharmacology, University of Texas Health Science Center at San Antonio, San Antonio, TX 78229, USA

2

Cancer Therapy & Research Center, San Antonio, TX 78229, USA

3

Division of Medicinal Chemistry, Graduate School of Pharmaceutical Sciences, Duquesne University, Pittsburgh, PA 15282, USA

*

Authors to whom correspondence should be addressed.

Academic Editor: Wei Li

Received: 17 October 2016 / Revised: 23 November 2016 / Accepted: 28 November 2016 / Published: 2 December 2016
Abstract
While evaluating a large library of compounds designed to inhibit microtubule polymerization, we identified four compounds that have unique effects on microtubules. These compounds cause mixed effects reminiscent of both microtubule depolymerizers and stabilizers. Immunofluorescence evaluations showed that each compound initially caused microtubule depolymerization and, surprisingly, with higher concentrations, microtubule bundles were also observed. There were subtle differences in the propensity to cause these competing effects among the compounds with a continuum of stabilizing and destabilizing effects. Tubulin polymerization experiments confirmed the differential effects and, while each of the compounds increased the initial rate of tubulin polymerization at high concentrations, total tubulin polymer was not enhanced at equilibrium, likely because of the dueling depolymerization effects. Modeling studies predict that the compounds bind to tubulin within the colchicine site and confirm that there are differences in their potential interactions that might underlie their distinct effects on microtubules. Due to their dual properties of microtubule stabilization and destabilization, we propose the name Janus for these compounds after the two-faced Roman god. The identification of synthetically tractable, small molecules that elicit microtubule stabilizing effects is a significant finding with the potential to identify new mechanisms of microtubule stabilization.
View Full-Text
►

▼

Figures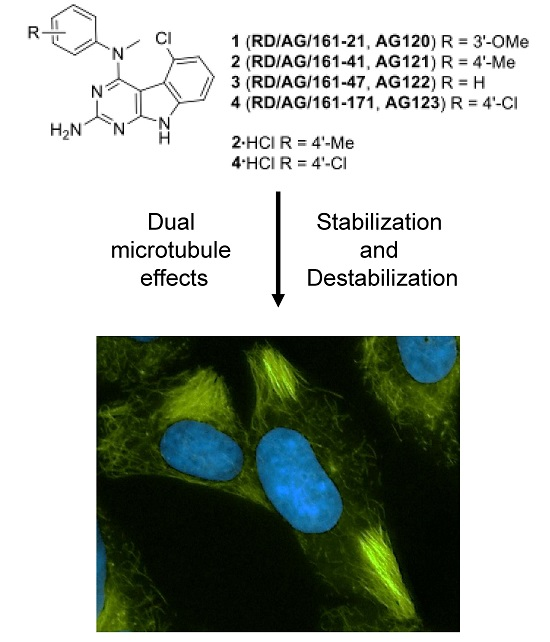 Graphical abstract
This is an open access article distributed under the
Creative Commons Attribution License
which permits unrestricted use, distribution, and reproduction in any medium, provided the original work is properly cited (CC BY 4.0).

Share & Cite This Article
MDPI and ACS Style
Rohena, C.C.; Risinger, A.L.; Devambatla, R.K.V.; Dybdal-Hargreaves, N.F.; Kaul, R.; Choudhary, S.; Gangjee, A.; Mooberry, S.L. Janus Compounds, 5-Chloro-N4-methyl-N4-aryl-9H-pyrimido[4,5-b]indole-2,4-diamines, Cause Both Microtubule Depolymerizing and Stabilizing Effects. Molecules 2016, 21, 1661.
Note that from the first issue of 2016, MDPI journals use article numbers instead of page numbers. See further details here.
Related Articles
Comments
[Return to top]