Factors Affecting the Formation of 2:1 Host:Guest Inclusion Complexes of 2-[(R-Phenyl)amine]-1,4-naphthalenediones (PAN) in β- and γ-Cyclodextrins
1
Département de Chimie et Biochimie, Université de Moncton, Moncton, NB E1A 3E9, Canada
2
Instituto de Química, Universidad Nacional Autónoma de México, Ciudad Universitaria, México D.F. 04510, Mexico
3
Department of Chemistry, University of Prince Edward Island, Charlottetown, PEI C1A 4P3, Canada
*
Author to whom correspondence should be addressed.
Academic Editor: Bernard Martel
Received: 14 October 2016 / Revised: 7 November 2016 / Accepted: 11 November 2016 / Published: 18 November 2016
Abstract
The molecular hosts cyclodextrins form inclusion complexes with a wide variety of guests, resulting in complexes with various host:guest stoichiometries. In the case of a series of 19 1,4-naphthoquinolines as guests with either β- or γ-cyclodextrin studied using electrospray mass spectroscopy, in most cases only 1:1 complexes were observed, with 2:1 host:guest complexes observed in just 6 out of 38 host:guest combinations. It is shown that these higher-order complexes were observed only in the case of small (or no) electronically withdrawing substituents, and were much less likely in the case of the larger γ-cyclodextrin host. The size and electronic properties of the substituents involved shows that both steric and electronic factors must be taken into account in predicting which cyclodextrin host:guest stoichiometries will be stable enough to form (or once formed, be robust enough to be observed in the ESI-MS experiments). It is clear that the prediction of host-guest stoichiometry for a specific host-guest pair is complicated, and involves a subtle interplay of both electronic and steric factors. However, there are definite trends, which can be used to help predict host:guest stoichiometry for a given host-guest pair.
View Full-Text
►

▼

Figures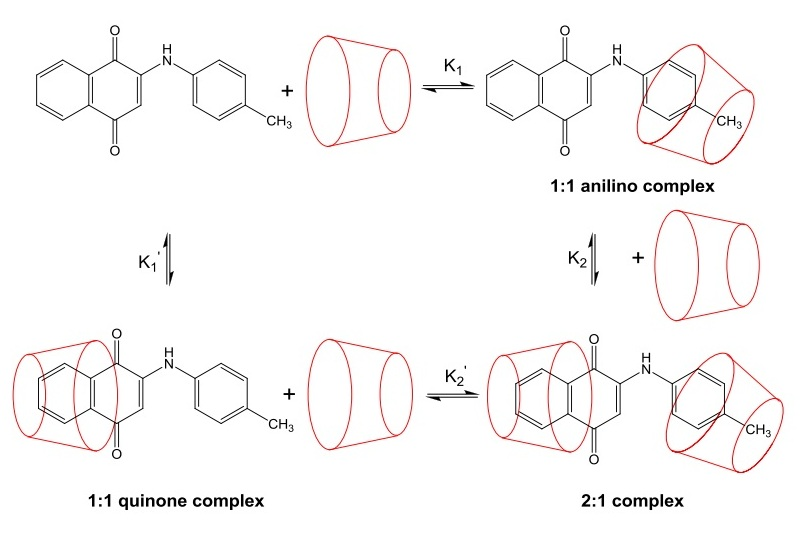 Graphical abstract
This is an open access article distributed under the
Creative Commons Attribution License
which permits unrestricted use, distribution, and reproduction in any medium, provided the original work is properly cited (CC BY 4.0).

Share & Cite This Article
MDPI and ACS Style
Jankowski, C.K.; Lamouroux, C.; Jiménez-Estrada, M.; Arseneau, S.; Wagner, B.D. Factors Affecting the Formation of 2:1 Host:Guest Inclusion Complexes of 2-[(R-Phenyl)amine]-1,4-naphthalenediones (PAN) in β- and γ-Cyclodextrins. Molecules 2016, 21, 1568.
Note that from the first issue of 2016, MDPI journals use article numbers instead of page numbers. See further details here.
Related Articles
Comments
[Return to top]