Open Access This article is
freely available
re-usable
Article
Relationship between the Ingestion of a Polyphenol-Rich Drink, Hepcidin Hormone, and Long-Term Training
1
Department of Food Science and Technology, CEBAS-CSIC, Campus de Espinardo 25, Espinardo, Murcia 30100, Spain
2
Faculty of Education, University of Alicante, Campus de Sant Vicent del Raspeig, Alicante 03690, Spain
*
Authors to whom correspondence should be addressed.
†
These authors contribute equally to this work.
Academic Editors: Derek J. McPhee and Pedro Mena
Received: 29 June 2016 / Accepted: 1 October 2016 / Published: 8 October 2016
Abstract
:
The effects of polyphenol-rich foods on the iron status of athletes, as well as the effect of physical training on the hormone hepcidin, implicated in iron metabolism, are not clear. We investigated the influence on iron metabolism of a long-term training intervention of 120 days, measuring the hepcidin concentration in the plasma of 16 elite triathletes, and the effect of the ingestion of 200 mL of either aronia-citrus juice or a placebo drink for 45 days, in a crossover design. The highest plasma hepcidin concentrations were observed at the beginning of the study (116 ± 63 nM) and levels steadily decreased until the end of the intervention (final value 10 ± 7.5 nM). Long-term training might reduce inflammation and, hence, could be responsible for the decrease in hepcidin in triathletes. Polyphenols from aronia-citrus juice did not interfere in iron absorption, as we did not observe significant differences between the intake of the placebo drink or juice with regard to hepcidin levels. Further studies are required to ascertain the time and conditions necessary to restore hepcidin levels, which reflect the iron status of triathletes.
Keywords:
polyphenols; hepcidin; iron; exercise; juice
1. Introduction
The aim of the present study is to investigate a citrus-based juice, rich in polyphenols and vitamin C, along with long-term exercise affect iron status, considering changes in serum hepcidin levels, in a sample of elite triathletes.
2. Results
The mass spectrometer (MS) parameters (ion optics; capillary exit voltage) were optimized at a hepcidin concentration of 10 μM. The fragmentor and collision energy conditions were calculated for [M + 4H]
4+
m/z
698.1,
m/z
703.2, and [M + 5H]
5+
m/z
558.7,
m/z
562.8 for hepcidin and the [
13
C
18
,
15
N
3
]-hepcidin standard, respectively. These were found to be the most intense ions, in accordance with Bansal et al. [
16
]. We selected the transitions 698.1 → 86.1 and 562.8 → 70.2 to quantify hepcidin levels in the plasma samples of triathletes.
Figure 1
shows the chromatograms of both the 10 nM hepcidin standard and the endogenous hepcidin present in the samples. The highest plasma concentrations of hepcidin were recorded at the beginning of the study, with a mean value of 116.6 ± 63.3 nM (baseline control with mild exercise and a mean ECO (
Equivalentes de Carga Objetiva
, Objective-Load Scale) value of 37.5). Afterwards, hepcidin levels decreased steadily until the end of the study period. In fact, after two weeks of intensified training (control 2, mean ECO value of 1008) a mean hepcidin concentration of 78.7 ± 71.1 nM was found (
Table 1
). The levels markedly decreased during the nutritional intervention with drinks, irrespective of the treatment (mean values of 15.2 nM for the placebo drink and 29.4 nM for the aronia-citrus juice drink). The hepcidin concentrations diminished to a mean value of 10 nM in the final control samples.
The confidence intervals show a high variability in the results due to inter-individual differences. The Levene test did not show homogeneity of variance and, hence, we performed a non-parametric statistical analysis.
A description of the distribution of data is shown in the box plots diagram (
Figure 2
).
The Wilcoxon test revealed that the changes in hepcidin concentration were of statistical significance for the placebo treatment and baseline control (
p
= 0.005) and for the control 2-exercise (
p
= 0.005). The final control group showed statistical significance for the baseline control (
p
= 0.002) and for the control 2-exercise (
p
= 0.004). The aronia-citrus juice (ACJ) treatment produced a slight difference when compared to the baseline control and control 2, although non-significant differences were observed between the two test drinks.
4. Materials and Methods
4.1. Chemicals
The Dynabeads
®
MyOne
TM
Carboxylic Acid magnetic particles were obtained from Invitrogen (Life Technologies, Van Alley, CA, USA). The hepcidin standard was obtained from Peptide Institute Inc. (Osaka, Japan),
N
-ethyl-
N
′-(3-dimethylaminopropyl) carbodiimide hydrochloride (EDC) and 2-(
N
-morpholino)-ethane sulfonic acid (MES) from Calbiochem
®
(Merck, Madrid, Spain), and phosphate-buffer saline (PBS) from Sigma Aldrich (Madrid, Spain). The solvents used, such as formic acid and acetonitrile, were LC-MS grade and were purchased from Panreac (Castelar del Vallés, Barcelona, Spain). The ultra-high quality (UHQ) water was produced using a Millipore water purification system (Madrid, Spain).
4.2. Instrumental—UHPLC-MS/MS Analysis
Chromatographic analyses of hepcidin levels in plasma were carried out with an ultra-high performance liquid chromatograph (UHPLC) coupled to a 6460 QqQ-MS/MS (triple quadrupole mass spectrometer) (Agilent Technologies, Waldbronn, Germany) equipped with an electrospray ionization (ESI) source. The method was based on that previously published by Bansal et al. [
16
], with some modifications. The separation of hepcidin was performed on an Acquity UPLC HSS T3 column (1.8 μm, 2.1 mm × 100 mm) (Waters, Milford, MA, USA). The mobile phases used were 0.1% formic acid in deionized H
2
O (A) and 0.1% formic acid in acetonitrile (B). The gradient started with 15% B, reached 90% B at 3 min, was maintained at 90% B for 5 min, and changed to 15% B at 5.01 min. The flow rate and injection volume were 0.2 mL·min
−1
and 3 µL, respectively. The temperature of the column was maintained at 45 °C.
The mass spectrometry (MS) analysis was performed in the multiple reaction monitoring (MRM) ESI positive mode. The source optimized parameters were as follows: gas temperature: 300 °C, sheath gas temperature: 300 °C, sheath gas flow: 10 L·min−1, gas flow: 13 L·min−1, capillary voltage: 4500 V, and nebulizer pressure: 40 psi. The delta EMV was 400. The dwell time was 200 ms for all MRM transitions.
Data acquisition and processing were performed using MassHunter software version B.04.00 (Agilent Technologies).
Detection and quantification were performed using standard calibration curves of hepcidin at concentrations between 0.05 and 100 nM. For this purpose, we prepared different concentrations of standard hepcidin spiked in plasma and we followed the same protocol of extraction with the beads as for the test samples that were measured.
4.3. Extraction of Hepcidin from Human Plasma
Plasma samples (200 μL) were extracted for hepcidin purification and quantification. Plasma proteins were precipitated with two volumes of cold acetonitrile, the mixtures were centrifuged at 12,000×
g
for 10 min, and the whole supernatant was collected for analysis. Acetonitrile precipitates proteins and high-molecular-weight peptides whilst it does not affect hepcidin—which remains in the supernatant [
41
,
42
]. The concentration of total proteins was determined by the Bradford test, to optimize hepcidin extraction [
43
].
The subsequent extraction was performed according to the method of Bansal et al. [
16
], with some modifications. We employed Dynabeads
®
MyOne
TM
Carboxylic Acid nanoparticles (Invitrogen) to specifically capture molecules that are protein in nature. These beads are superparamagnetic, spherical particles, 1 μm in diameter and coated with carboxylic groups on the surface. Their small size, with a high surface area per mg, corresponds to a high ligand capacity. A carbodiimide is used to activate these beads, for amide bonding with primary amines of the peptide. After incubation, to allow affinity capture of hepcidin, the beads are applied to a magnet. The unwanted supernatant is removed and the beads washed to give the pure compound. The target hepcidin is eluted off the beads with conventional elution methods.
The effective isolation of the target molecule using magnetic beads is dependent on the bead concentration, target molecule size and concentration, the ligand′s affinity for the target molecule, concentration of total proteins, buffer used, and specific binding kinetics involved. Hence, we optimized the relative concentrations of each reagent and the quantity of plasma used and scaled the volumes needed for the best isolation of the target hepcidin from plasma samples.
After activation of the Dynabeads® MyOneTM Carboxylic Acid, following the manufacturer′s instructions, 100 μL were transferred to a 1.5-mL tube and left on the magnet for 2 min. After removing the supernatant, we added 120 μL of 15 mM MES buffer, pH 6.0, and vortexed the mixture. The supernatant was then removed by aspiration after a 2-min placement on the magnet. This MES buffer addition step was then repeated. The beads were re-suspended in 20 μL of 15 mM MES buffer, pH 6.0, activated with 20 μL of EDC (10 mg/mL), and incubated on a roller for 30 min at room temperature. Then, the tube was placed on the magnet for 2 min to remove the supernatant. The activated beads were added to the deproteinized sample plus 400 μL of 15 mM MES buffer, pH 6.0. The mixture was incubated on the roller for a minimum of 3 h.
The tube was left on the magnet for 2 min, to remove unbound proteins. A washing step was performed with 120 μL of PBS in 0.5% (
v
/
v
) Tween-20, by incubation on a roller for 10 min, followed by supernatant aspiration as described above. This step was repeated. Finally, the target compound—hepcidin—was eluted from the magnetic nanoparticles in 200 μL of acetonitrile/0.1% formic acid (1:4,
v
/
v
).
The efficacy of the extraction of hepcidin was tested at concentrations of 0.5 nM, 5 nM, and 10 nM, which are within the range of the values reported in the literature [
16
,
22
,
42
,
44
,
45
,
46
]. Hepcidin solution (20 μL) was added to the plasma before extraction with the beads, whilst in parallel another sample of plasma underwent extraction and then the same amount of hepcidin was added. The percentage recovery was calculated as (Area
PRE
/Area
POST
) × 100, where Area
PRE
represents the samples with hepcidin added before bead treatment and Area
POST
the samples with hepcidin added after bead treatment. The values obtained were above 90% in all cases.
4.4. Dietary Intervention
The functional aronia-citrus juice (ACJ) included in this study was a mixture of fresh citrus juice (95%) and 5% aronia extract (
Aronia melanocarpa
), based on a drink model developed before and reported by Gonzalez-Molina et al. [
36
]. The juice was produced on an industrial pilot scale by a company in the Murcia region [
27
]. The nutritional composition of the ACJ was: energy 38 kcal/100 mL; protein 0.45 g/100 mL; carbohydrates 9 g/100 mL; fat 0.03 g/100 mL. The vitamin C content of the juice was 30 mg per 100 mL. The contents of fruit flavonoids, hydroxycinnamates, and catechins are summarized in
Table 2
[
36
].
The placebo beverage composition was based on a mixture of water, authorized red dye, flavoring agent, and sweetener. Its sensory characteristics were adjusted so that they were similar to those of the ACJ.
4.5. Sample Collection and Design of the Study
Blood samples were collected at the end of each period in heparin sampling tubes, and centrifuged to separate the plasma from the cells.
The "amateur athlete" term in this study refers to athletes that have a daily training load slightly lower than that of the elite athletes and a shorter time of training, but they have been monitored by a nutritionist and by a specialist in sport, so they are not the "amateur" that we commonly consider. Amateur training was performed by women, due to their intrinsic physiology (women on menstrual days could not follow an elite training schedule), and men followed an elite training schedule.
One limitation of the study is that we have combined the data of both genders and both types of training due to sample size reasons; amateur training is a very specific training load, with an exhaustive control of the volunteers. This strict control of nutrition, training, and rest helped us to homogenize the samples and decrease variability. The training was individualized for the volunteers according to their sex and physical condition. Hence, they have been pooled as a unique population following a very highly specialized training, in contrast with people that play sports occasionally, as a hobby, or less intensely.
4.6. Statistical Analysis
Hepcidin levels were determined in plasma samples of triathletes as nM. Box plots with quartiles (upper values, 75%; median, 50%; and and lower values, 25%) were generated. For the hepcidin concentrations, a Friedman′s non-parametric repeated measure analysis of variance (ANOVA) was used to compare the concentrations in the different groups, since the normality and/or equal variance tests failed. When a significant difference was found in the ANOVA, a pair-wise comparison was performed using the Wilcoxon signed-rank test with Bonferroni correction. For the statistical analyses, an adjusted value,
p
< 0.005, was considered to be significant. The statistical analyses were performed using the SPSS 17.0 software package (LEAD Technologies, Inc., Chicago, IL, USA).
5. Conclusions
Long-term, regular, and repetitive training caused significant decreases in the plasma hepcidin concentrations in elite triathletes. This effect may have arisen from a decrease in the inflammation status due to the long-term training, as well as being a homeostatic response to the decreased levels of iron—in order to enhance the absorption of this mineral. The ingestion of a juice made with aronia extract and citrus juice, rich in polyphenols, did not significantly affect the plasma hepcidin concentration, or at least not at the selected dose (200 mL). The high ascorbic acid content of this juice might attenuate the effect of polyphenols on iron absorption. Thus, this study—as a preliminary experiment—could help to design specialised sport food, like fruit juices or smoothies, to achieve a well-balanced diet in triathletes. Further studies are required to ascertain the time and conditions necessary to restore hepcidin levels, which reflect the iron status of triathletes.
Acknowledgments
The authors are grateful to the triathlete volunteers that participated in the study and to David Walker, for the review of the English grammar and style of the current report. The study received financial support from the National Funding Agencies, through the Project AGL2011-23690 (CICYT). Sonia Medina is grateful to the CICYT for a research contract (AGL2011-23690). This work has been partially funded by the "Fundación Séneca de la Región de Murcia" Grupo de Excelencia 19900/GERM/15.
Author Contributions
The authors′ contributions are as follows: D.V. and C.V. carried out data analyses, contributed to the interpretation of the findings, and wrote the manuscript. F.A.-C. and S.M. contributed to data analyses. R.C.-A. designed the training program and J.M.M.-S. designed the dietary parameters, overviewed during the intervention, and performed the anthropometric measurements. F.F. contributed to the study design. A.G.-I. and S.M. were the principal investigators, designed the study, and contributed to the interpretation of analyses.
Conflicts of Interest
The authors declare no conflict of interest.
Sample Availability: Samples of the aronia-citrus juice and placebo juice are available from the authors.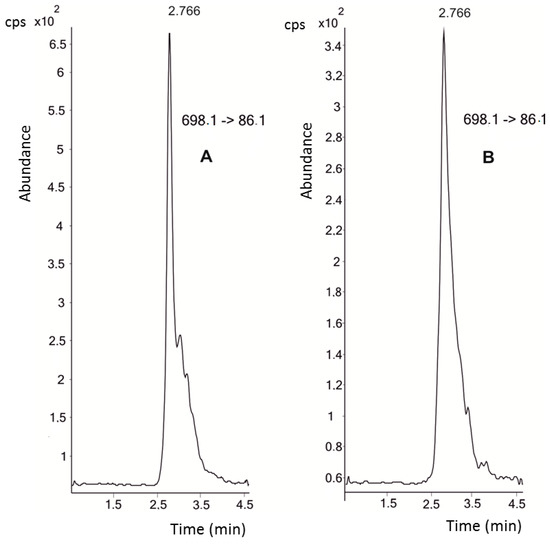 Figure 1. (A) Hepcidin standard at a concentration of 10 nM; and (B) endogenous hepcidin in a plasma sample.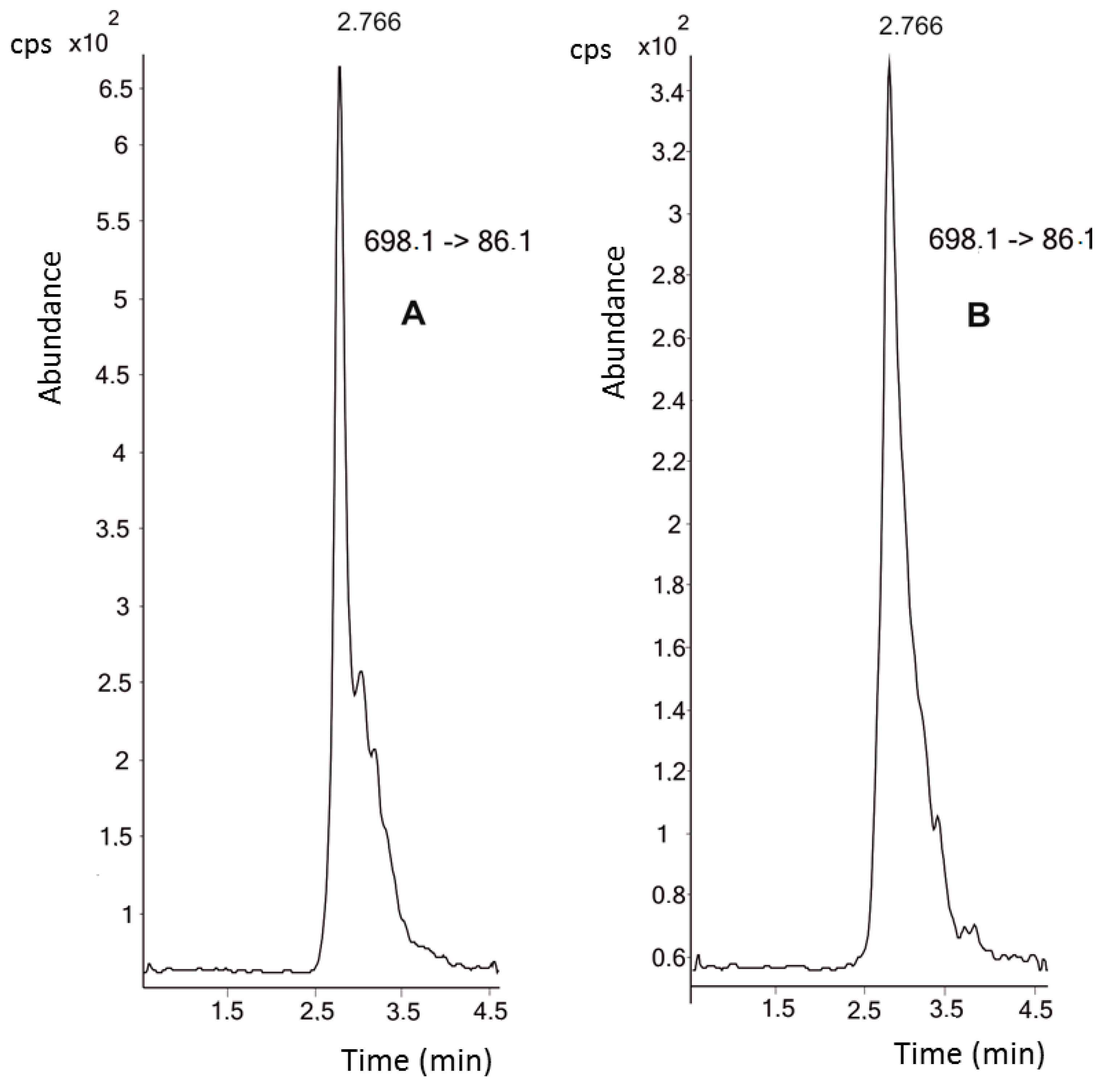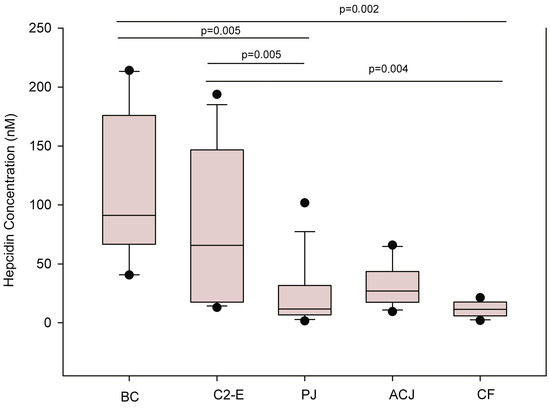 Figure 2.
Hepcidin levels (nM) determined in plasma samples of triathletes following the training and nutritional intervention program. Box plots with quartiles (upper values, 75%; median, 50%; and lower values, 25%). Friedman′s ANOVA and post hoc analysis with Wilcoxon signed-rank tests (with a Bonferroni correction) were conducted (
p
< 0.005).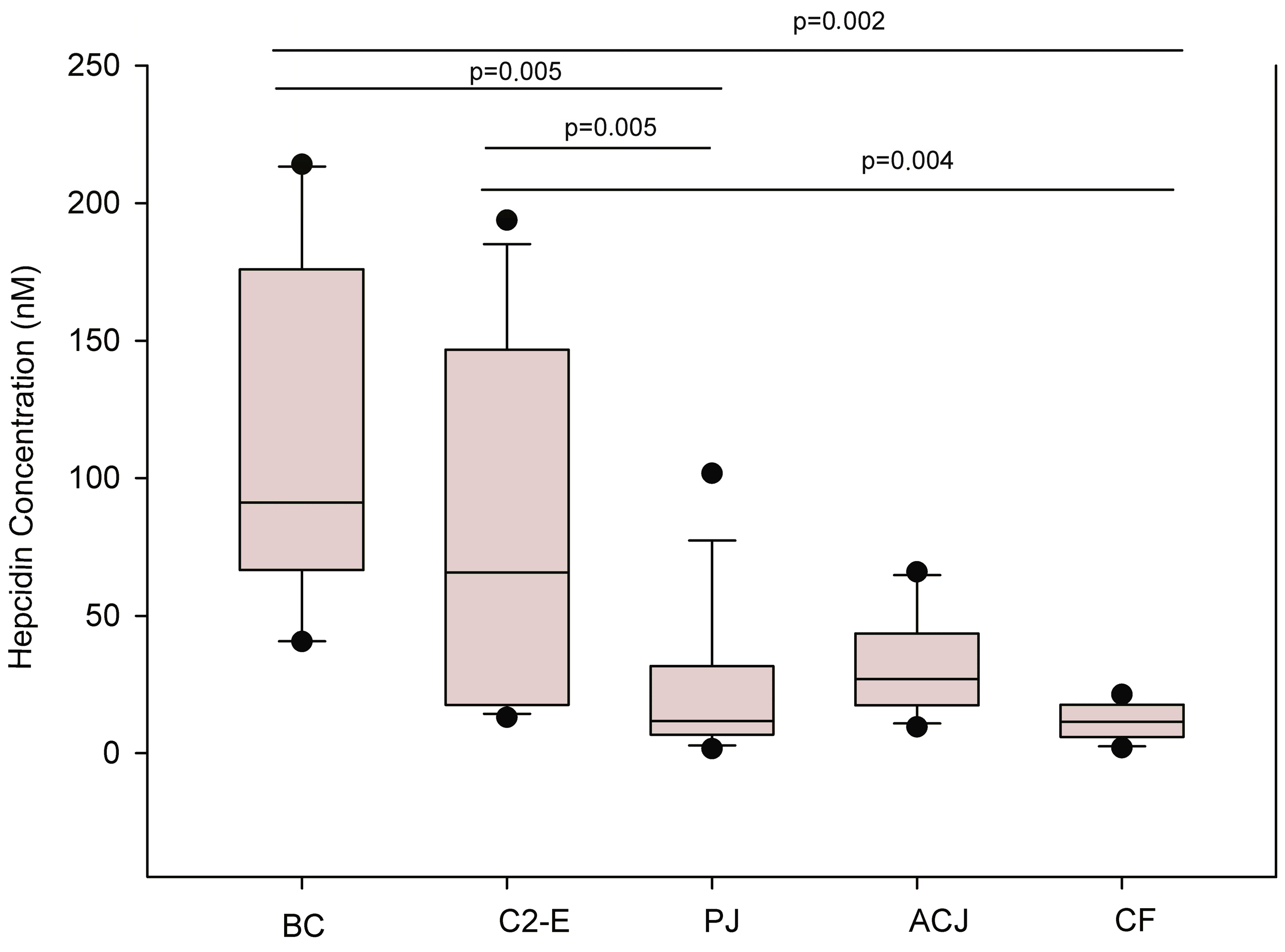 Table 1. Plasma concentrations of hepcidin in the different stages of the study. Data are shown in nM as mean ± standard deviation. Confidence intervals (CI) are included.
Table 1. Plasma concentrations of hepcidin in the different stages of the study. Data are shown in nM as mean ± standard deviation. Confidence intervals (CI) are included.

| Groups | Mean | STD | Confidence Intervals (CI) |
| --- | --- | --- | --- |
| Baseline Control | 116.6 | 63.3 | 78.29–154.83 |
| Control 2-Exercise | 78.7 | 71.1 | 44.23–124.91 |
| Placebo Juice | 15.2 | 12.6 | 5.60–38.04 |
| Aronia-Citrus juice | 29.4 | 19.6 | 18.61–40.27 |
| Final Control | 10.0 | 7.5 | 5.78–14.12 |
Table 2. Phenolic composition of aronia-citrus juice (per 100 mL).
Mean
SD
Flavanones (mg)
Eriocitrin
11.45
0.08
Hesperidin
13.54
0.14
Flavones (mg)
Diosmetin-6,8-di-

O

-glucoside
7.75
0.19
Diosmin
<0.25
Vicenin-2
0.59
0.02
Anthocyanins (mg)
Cyanidin 3-

O

-glucoside
1.31
0.02
Cyanidin 3-

O

-arabinoside
9.19
0.20
Cyanidin 3-

O

-galactoside
15.08
0.10
Cyanidin 3-

O

-xyloside
1.11
0.03
Total Anthocyanins
26.70
0.35
Hydroxycinnamic acids (mg)
Neochlorogenic acid
19.72
0.17
Chlorogenic acid
14.69
0.13
Σ Quercetin derivatives * (mg)
4.31
0.13
* Quercetin derivatives were quantified as the sum of quercetin 3-

O

-galactoside, quercetin-3-

O

-glucoside, and quercetin-3-

O

-rutinoside.
Table 3. Dietary parameters and caloric intake of the triathletes during the study.

| | Mean | SD |
| --- | --- | --- |
| Energy intake (kcal·d−1) | 2446.3 | 528.5 |
| Carbohydrate (g·d−1) | 268.7 | 81.2 |
| Dietary fibre (g·d−1) | 21.4 | 8.3 |
| Sugar (g·d−1) | 100.9 | 28.8 |
| Proteins (g·d−1) | 108.5 | 35.6 |
| Total lipids (g·d−1) | 110.4 | 4.7 |
| SFA a (g·d−1) | 31.6 | 2.8 |
| MUFA b (g·d−1) | 56.7 | 0.1 |
| PUFA c (g·d−1) | 16.4 | 0.7 |
| Vitamin C (mg·d−1) | 156.9 | 30.9 |
| Vitamin A (µg·d−1) | 2198.7 | 1090.8 |
| Vitamin E (mg·d−1) | 17.5 | 5.0 |
| Vitamin D (mg·d−1) | 869.9 | 167.2 |
| Iron (mg·d−1) | 17.9 | 4.2 |
| Selenium (mg·d−1) | 126.4 | 33.1 |
a Saturated fatty acids; b Monounsaturated fatty acids; c Polyunsaturated fatty acids.
Table 4. Baseline physical characteristics of the triathletes (

n

= 16).

| | Mean | SD |
| --- | --- | --- |
| Weight (kg) | 62.3 | 10.5 |
| Height (m) | 1.7 | 0.1 |
| BMI a (kg·m−2) | 21.7 | 0.7 |
| Total fat (kg) | 9.0 | 0.4 |
| Lean weight (kg) | 26.1 | 7.5 |
| Subescapular skinfold (mm) | 11.2 | 2.2 |
| Tricipital skinfold (mm) | 12.6 | 5.2 |
| Bicipital skinfold (mm) | 7.9 | 3.5 |
| Ileocrestal skinfold (mm) | 15.9 | 5.4 |
| Supraespinal skinfold (mm) | 11.7 | 3.7 |
| Abdominal skinfold (mm) | 19.8 | 4.7 |
| Thigh skinfold (mm) | 21.1 | 8.7 |
| Calf skinfold (mm) | 11.9 | 4.1 |
© 2016 by the authors. Licensee MDPI, Basel, Switzerland. This article is an open access article distributed under the terms and conditions of the Creative Commons Attribution (CC-BY) license ( http://creativecommons.org/licenses/by/4.0/).