Atypical McMurry Cross-Coupling Reactions Leading to a New Series of Potent Antiproliferative Compounds Bearing the Key [Ferrocenyl-Ene-Phenol] Motif
1
Chimie ParisTech, 11 rue Pierre et Marie Curie, Paris F75231 Paris cedex 05, France
2
Sorbonne Universités, UPMC univ Paris 6, Institut Parisien de Chimie Moléculaire (IPCM) - UMR 8232, 4 place Jussieu, 75252 Paris Cedex 05, France
3
Faculty of Chemistry, Department of Organic Chemistry, University of Łódź, Tamka 12, 91-403 Łódź, Poland
4
UCD School of Chemistry and Chemical Biology, University College Dublin, Belfield, Dublin 4, Ireland
*
Authors to whom correspondence should be addressed.
Received: 12 June 2014 / Revised: 3 July 2014 / Accepted: 7 July 2014 / Published: 17 July 2014
Abstract
In the course of the preparation of a series of ferrocenyl derivatives of diethylstilbestrol (DES), in which one of the 4-hydroxyphenyl moieties was replaced by a ferrocenyl group, the McMurry reaction of chloropropionylferrocene with a number of mono-aryl ketones unexpectedly yielded the hydroxylated ferrocenyl DES derivatives,
5a
–
c
, in poor yields (10%–16%). These compounds showed high activity on the hormone-independent breast cancer cell line MDA-MB-231 with IC
50
values ranging from 0.14 to 0.36 µM. Surprisingly, non-hydroxylated ferrocenyl DES,
4
, showed only an IC
50
value of 1.14 µM, illustrating the importance of the hydroxyethyl function in this promising new series. For comparison, McMurry reactions of the shorter chain analogue chloroacetylferrocene were carried out to see the difference in behaviour with mono-aryl ketones
versus
a diaryl ketone. The effect of changing the length of the alkyl chain adjacent to the phenolic substituent of the hydroxylated ferrocenyl DES was studied, a mechanistic rationale to account for the unexpected products is proposed, and the antiproliferative activities of all of these compounds on MDA-MB-231 cells lines were measured and compared. X-ray crystal structures of cross-coupled products and of pinacol-pinacolone rearrangements are reported.
View Full-Text
►

▼

Figures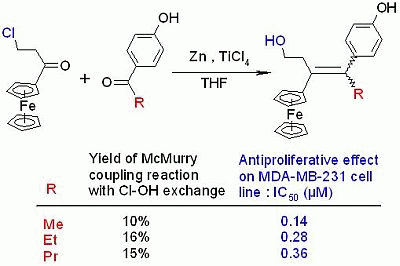 Graphical abstract

Share & Cite This Article
MDPI and ACS Style
Pigeon, P.; Görmen, M.; Kowalski, K.; Müller-Bunz, H.; McGlinchey, M.J.; Top, S.; Jaouen, G. Atypical McMurry Cross-Coupling Reactions Leading to a New Series of Potent Antiproliferative Compounds Bearing the Key [Ferrocenyl-Ene-Phenol] Motif. Molecules 2014, 19, 10350-10369.
Related Articles
Comments
[Return to top]