Polyphenol-Rich Strawberry Extract Protects Human Dermal Fibroblasts against Hydrogen Peroxide Oxidative Damage and Improves Mitochondrial Functionality
1
Dipartimento di Scienze Agrarie, Alimentari e Ambientali, Università Politecnica delle Marche, Via Ranieri 65, Ancona 60131, Italy
2
Dipartimento di Scienze Cliniche Specialistiche ed Odontostomatologiche (DISCO)-Sez. Biochimica, Facoltà di Medicina, Università Politecnica delle Marche, Ancona 60131, Italy
3
Grupo de Investigación en Polifenoles (GIP-USAL), Faculty of Pharmacy, Salamanca University, Campus Miguel de Unamuno, Salamanca E37007, Spain
4
Department of Physiology, Institute of Nutrition and Food Technology ''José Mataix", Biomedical Research Centre, University of Granada, Granada 18100, Spain
5
Dipartimento di Scienze Biomediche e Sanità Pubblica, Facoltà di Medicina, Università Politecnica delle Marche Via Ranieri 65, Ancona 60131, Italy
6
Area de Nutrición y Salud, Universidad Internacional Iberoamericana (UNINI), Campeche, C.P.24040, Mexico
7
Director Centre for Nutrition & Health, Universidad Europea del Atlantico (UEA), Santander 39011, Spain
*
Authors to whom correspondence should be addressed.
Received: 30 April 2014 / Revised: 5 June 2014 / Accepted: 6 June 2014 / Published: 11 June 2014
Abstract
Strawberry bioactive compounds are widely known to be powerful antioxidants. In this study, the antioxidant and anti-aging activities of a polyphenol-rich strawberry extract were evaluated using human dermal fibroblasts exposed to H
2
O
2
. Firstly, the phenol and flavonoid contents of strawberry extract were studied, as well as the antioxidant capacity. HPLC-DAD analysis was performed to determine the vitamin C and
β
-carotene concentration, while HPLC-DAD/ESI-MS analysis was used for anthocyanin identification. Strawberry extract presented a high antioxidant capacity, and a relevant concentration of vitamins and phenolics. Pelargonidin- and cyanidin-glycosides were the most representative anthocyanin components of the fruits. Fibroblasts incubated with strawberry extract and stressed with H
2
O
2
showed an increase in cell viability, a smaller intracellular amount of ROS, and a reduction of membrane lipid peroxidation and DNA damage. Strawberry extract was also able to improve mitochondrial functionality, increasing the basal respiration of mitochondria and to promote a regenerative capacity of cells after exposure to pro-oxidant stimuli. These findings confirm that strawberries possess antioxidant properties and provide new insights into the beneficial role of strawberry bioactive compounds on protecting skin from oxidative stress and aging.
View Full-Text
►

▼

Figures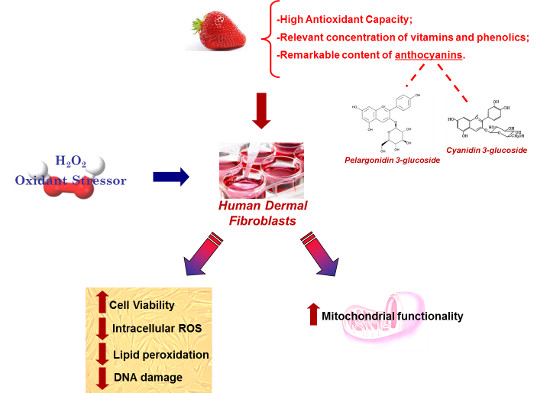 Graphical abstract

Share & Cite This Article
MDPI and ACS Style
Giampieri, F.; Alvarez-Suarez, J.M.; Mazzoni, L.; Forbes-Hernandez, T.Y.; Gasparrini, M.; Gonzàlez-Paramàs, A.M.; Santos-Buelga, C.; Quiles, J.L.; Bompadre, S.; Mezzetti, B.; Battino, M. Polyphenol-Rich Strawberry Extract Protects Human Dermal Fibroblasts against Hydrogen Peroxide Oxidative Damage and Improves Mitochondrial Functionality. Molecules 2014, 19, 7798-7816.
Related Articles
Comments
[Return to top]