Coupling Bioorthogonal Chemistries with Artificial Metabolism: Intracellular Biosynthesis of Azidohomoalanine and Its Incorporation into Recombinant Proteins
1
Department of Chemistry, Biocatalysis Group, Technical University Berlin/Berlin Institute of Technology, Müller-Breslau-Str. 10, Berlin 10623, Germany
2
Dipartimento di Scienze Biochimiche A. "Rossi Fanelli", Sapienza Università di Roma, Via degli Apuli 9, Roma 00185, Italy
*
Authors to whom correspondence should be addressed.
Received: 4 December 2013 / Revised: 7 January 2014 / Accepted: 9 January 2014 / Published: 15 January 2014
Abstract
In this paper, we present a novel, "single experiment" methodology based on genetic engineering of metabolic pathways for direct intracellular production of non-canonical amino acids from simple precursors, coupled with expanded genetic code. In particular, we engineered the intracellular biosynthesis of L-azidohomoalanine from
O
-acetyl-L-homoserine and NaN
3
, and achieved its direct incorporation into recombinant target proteins by AUG codon reassignment in a methionine-auxotroph
E. coli
strain. In our system, the host's methionine biosynthetic pathway was first diverted towards the production of the desired non-canonical amino acid by exploiting the broad reaction specificity of recombinant pyridoxal phosphate-dependent
O
-acetylhomoserine sulfhydrylase from
Corynebacterium glutamicum
. Then, the expression of the target protein barstar, accompanied with efficient L-azidohomoalanine incorporation in place of L-methionine, was accomplished. This work stands as proof-of-principle and paves the way for additional work towards intracellular production and site-specific incorporation of biotechnologically relevant non-canonical amino acids directly from common fermentable sources.
View Full-Text
►

▼

Figures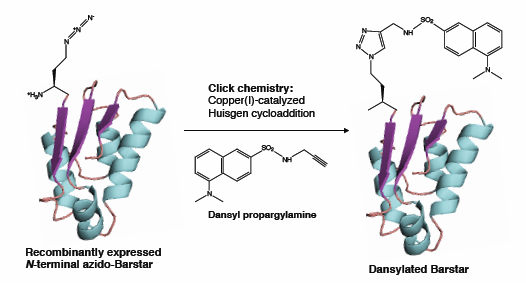 Graphical abstract

Share & Cite This Article
MDPI and ACS Style
Ma, Y.; Biava, H.; Contestabile, R.; Budisa, N.; Di Salvo, M.L. Coupling Bioorthogonal Chemistries with Artificial Metabolism: Intracellular Biosynthesis of Azidohomoalanine and Its Incorporation into Recombinant Proteins. Molecules 2014, 19, 1004-1022.
Related Articles
Comments
[Return to top]