Probing Early Misfolding Events in Prion Protein Mutants by NMR Spectroscopy
1
Department of Neuroscience, Scuola Internazionale Superiore di Studi Avanzati (SISSA), Via Bonomea 265, Trieste I-34136, Italy
2
Department of Chemistry, Faculty of Science, University of Zagreb, Horvatovac 102A, Zagreb HR-10000, Croatia
3
Slovenian NMR Centre, National Institute of Chemistry, Hajdrihova 19, Ljubljana SI-1000, Slovenia
4
EN-FIST Center of Excellence, Ljubljana SI-1000, Slovenia
5
Faculty of Chemistry and Chemical Technology, University of Ljubljana, Ljubljana SI-1000, Slovenia
*
Author to whom correspondence should be addressed.
Received: 27 June 2013 / Revised: 1 August 2013 / Accepted: 5 August 2013 / Published: 7 August 2013
Abstract
The post-translational conversion of the ubiquitously expressed cellular form of the prion protein, PrP
C
, into its misfolded and pathogenic isoform, known as prion or PrP
Sc
, plays a key role in prion diseases. These maladies are denoted transmissible spongiform encephalopathies (TSEs) and affect both humans and animals. A prerequisite for understanding TSEs is unraveling the molecular mechanism leading to the conversion process whereby most α-helical motifs are replaced by β-sheet secondary structures. Importantly, most point mutations linked to inherited prion diseases are clustered in the C-terminal domain region of PrP
C
and cause spontaneous conversion to PrP
Sc
. Structural studies with PrP variants promise new clues regarding the proposed conversion mechanism and may help identify "hot spots" in PrP
C
involved in the pathogenic conversion. These investigations may also shed light on the early structural rearrangements occurring in some PrP
C
epitopes thought to be involved in modulating prion susceptibility. Here we present a detailed overview of our solution-state NMR studies on human prion protein carrying different pathological point mutations and the implications that such findings may have for the future of prion research.
View Full-Text
►

▼

Figures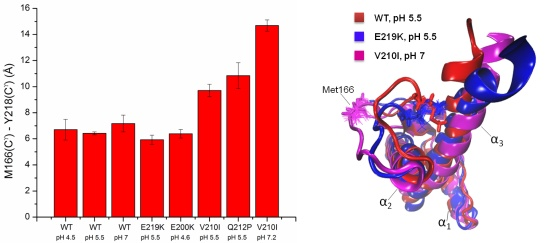 Graphical abstract

Share & Cite This Article
MDPI and ACS Style
Giachin, G.; Biljan, I.; Ilc, G.; Plavec, J.; Legname, G. Probing Early Misfolding Events in Prion Protein Mutants by NMR Spectroscopy. Molecules 2013, 18, 9451-9476.
Related Articles
Comments
[Return to top]