Evaluation of Biological Value and Appraisal of Polyphenols and Glucosinolates from Organic Baby-Leaf Salads as Antioxidants and Antimicrobials against Important Human Pathogenic Bacteria
1
CITAB—Centre for the Research and Technology for Agro-Environment and Biological Sciences, Universidade de Trás-os-Montes e Alto Douro, Apartado 1013, 5000-801 Vila Real, Portugal
2
Agronomy Department, Universidade de Trás-os-Montes e Alto Douro, Apartado 1013, 5000-801 Vila Real, Portugal
3
CECAV—Veterinary and Animal Science Research Center, Universidade de Trás-os-Montes e Alto Douro, Apartado 1013, 5000-801 Vila Real, Portugal
*
Author to whom correspondence should be addressed.
Received: 14 March 2013 / Revised: 12 April 2013 / Accepted: 17 April 2013 / Published: 19 April 2013
Abstract
The present investigation
has been carried out to investigate the biological role of four different types of baby-leaf salads and to study their potential as natural sources of antioxidants and antimicrobials against several isolates from important human pathogenic bacteria. Four single types of salads (green lettuce, red lettuce, rucola and watercress) and two mixtures [(1) red lettuce+green lettuce; (2) green lettuce + red lettuce + watercress + rucola] were assayed. The HPLC analysis revealed interesting levels of polyphenols and glucosinolates. The results showed a significant variation (
p
< 0.05) of polyphenols and glucosinolates with plant material. Nine different types of polyphenols grouped in three major classes were found: gallic acid, chlorogenic acid, caffeic acid and dicaffeoyltartaric acid (phenolic acids); quercitin-3-
O
-rutinoside, quercitin-3-
O
-rhamnoside, luteolin-7-
O
-glucoside and isorhamnetin (flavonoids); and cyanidin-3-glucoside (anthocyanins). Only three different glucosinolates were found: glucoraphanin; gluconasturtiin and 4-methoxy-glucobrassicin. A positive correlation was detected between polyphenol contents and antioxidant activity. Red lettuce and mixture 1 were the baby-leaf salads with the highest antioxidant potential. As for the antimicrobial activity, the results showed a selective effect of chemicals against Gram-positive and Gram-negative bacteria and
Enterococcus faecalis
and
Staphylococcus aureus
were the bacteria most affected by the phytochemicals. Based on the results achieved baby-leaf salads represent an important source of natural antioxidants and antimicrobial substances.
View Full-Text
►

▼

Figures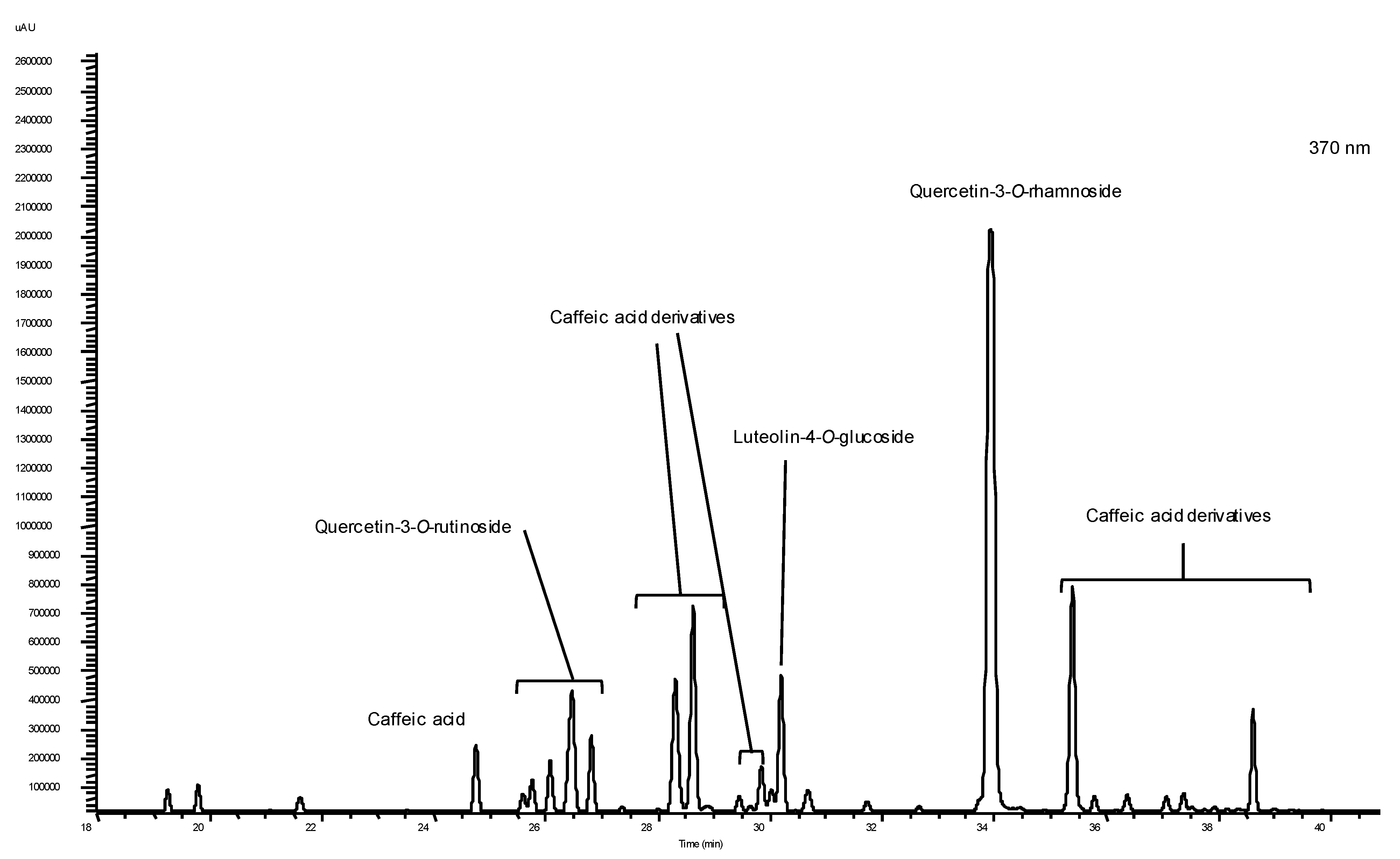 Figure 1

Share & Cite This Article
MDPI and ACS Style
Aires, A.; Marques, E.; Carvalho, R.; Rosa, E.A.S.; Saavedra, M.J. Evaluation of Biological Value and Appraisal of Polyphenols and Glucosinolates from Organic Baby-Leaf Salads as Antioxidants and Antimicrobials against Important Human Pathogenic Bacteria. Molecules 2013, 18, 4651-4668.
Related Articles
Comments
[Return to top]