Acute Toxicity Evaluation, Antibacterial, Antioxidant and Immunomodulatory Effects of
Melastoma malabathricum
1
Department of Molecular Medicine, Faculty of Medicine, University of Malaya, 50603, Kuala Lumpur, Malaysia
2
Department of Chemistry, Faculty of Science, University of Malaya, 50603, Kuala Lumpur, Malaysia
*
Author to whom correspondence should be addressed.
Received: 6 February 2012 / Revised: 12 March 2012 / Accepted: 14 March 2012 / Published: 20 March 2012
Abstract
Melastoma malabathricum
(MM) is a well-known plant in Malaysian traditional medicine,
locally known as senduduk. Its ethanol and aqueous extracts have been used
in the present investigation to study the immunomodulatory role on human peripheral blood mononuclear cell (PBMC), and the DPPH, ABTS and FRAP free radical scavenging activities were also measured. Total flavonoids and total phenolic contents were assayed and the antibacterial effect was tested against four species of bacteria; two Gram-positive (
Staphylococcus
aureus
and
Streptococcus agalactiae
) and two Gram-negative (
Escherichia coli
and
Klebsilla pneumonia
). The tests were carried out using the disc diffusion, minimum inhibitory concentration (MIC) and minimum bactericidal concentration (MBC) methods. Moreover, the acute toxicity was evaluated
in vivo
on the ethanol extract of MM to establish its safety when administered orally. In our results, both extracts of MM showed abilities to scavenge DPPH and ABTS free radicals, IC
50
values: (11.599 ± 0.84, 10.573 ± 0.58 µmol/L) and (62.657 ± 0.78, 63.939 ± 0.48 µmol/L) for ethanol and aqueous extracts respectively. Indeed the ethanol extract evidenced high phenolic content (384.33 ± 0.005 mg/g), flavonoids contents (85.8 ± 0.009 mg/g) and ferric reducing antioxidant power (33,590 ± 0.038 mmol/g), with high activity against
S. aureus
and
S. agalactiae
(11 ± 0.3 and 12 ± 0.6 mm inhibition zones). Likewise, the percentage of peripheral blood mononuclear cells (PBMC) viability was increased in response to MM, IC
50
values (1.781 ± 1.2 and 6.545 ± 0.93 µg/mL) for ethanol and aqueous extracts, respectively. In addition, our results showed that the MM extract is safe even at a high dose of 5,000 mg/kg and has no oral toxicity. These findings suggest the excellent medicinal bioactivity of MM
and explain the popularity of this plant in the folk medicine as a remedy for different illnesses.
View Full-Text
►

▼

Figures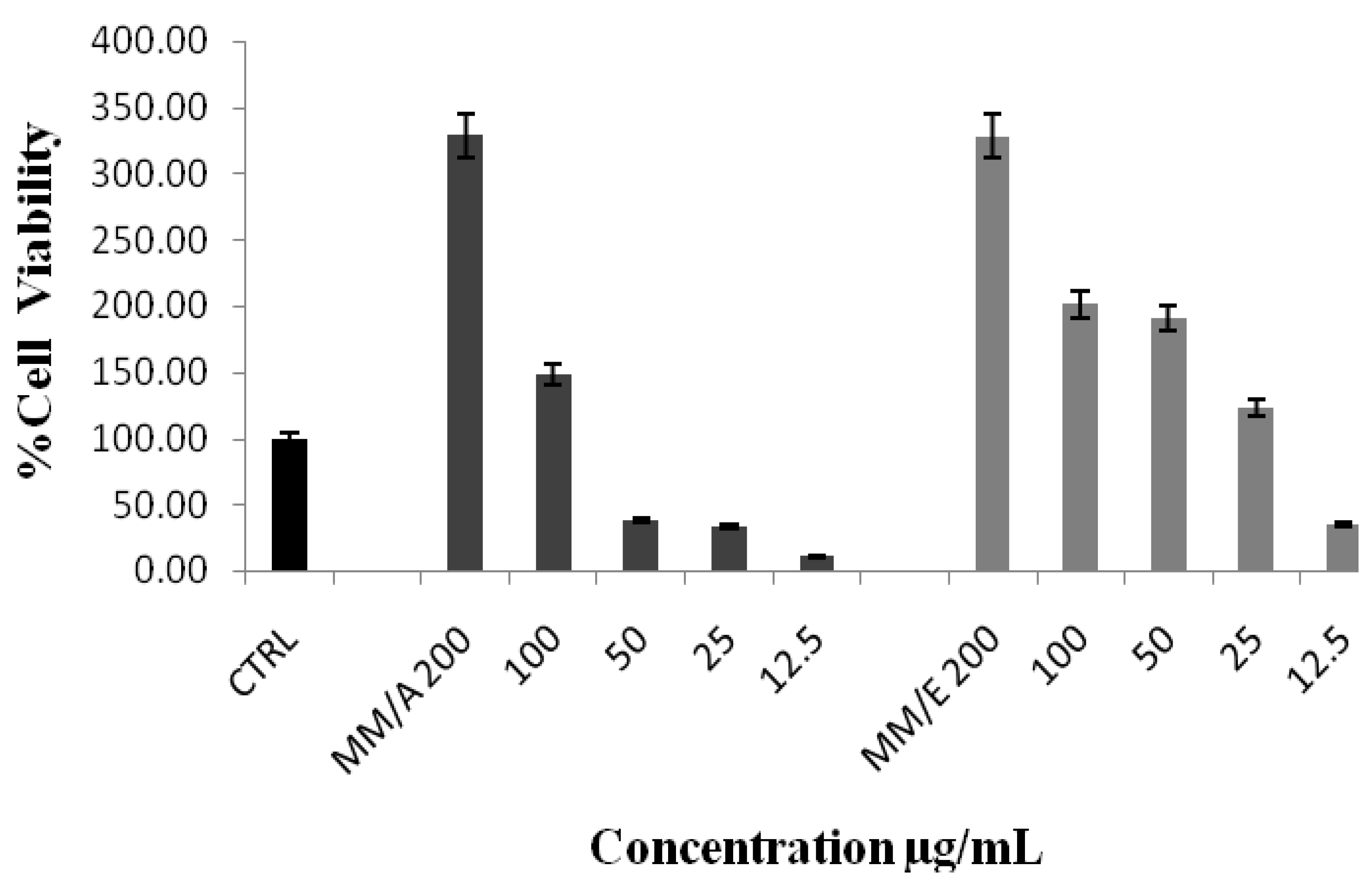 Figure 1

Share & Cite This Article
MDPI and ACS Style
Alnajar, Z.A.A.; Abdulla, M.A.; Ali, H.M.; Alshawsh, M.A.; Hadi, A.H.A. Acute Toxicity Evaluation, Antibacterial, Antioxidant and Immunomodulatory Effects of Melastoma malabathricum. Molecules 2012, 17, 3547-3559.
Related Articles
Comments
[Return to top]