Quantitative Structure Inter-Activity Relationship (QS
In

AR). Cytotoxicity Study of Some Hemisynthetic and Isolated Natural Steroids and Precursors on Human Fibrosarcoma Cells HT1080

1

Laboratory of Computational and Structural Physical Chemistry, Chemistry Department, West University of Timişoara, Pestalozzi Street No.16, Timişoara, RO-300115, Romania

2

Department of Organic Chemistry, University of Yaoundé 1 P.O. Box 812 Yaoundé, Cameroon

*

Author to whom correspondence should be addressed.

Received: 30 June 2011 / Revised: 28 July 2011 / Accepted: 29 July 2011 / Published: 5 August 2011

(This article belongs to the Special Issue

Steroids

)
Abstract
Combined experimental and quantitative structure inter-activity relationship (QSIAR) computation methods were advanced in order to establish the structural and mechanistic influences that steroids and triterpenes, either as newly synthesized or naturally isolated products, have on human HT1080 mammalian cancer cells. The main Hansch structural indicators such as hydrophobicity (LogP), polarizability (POL) and total energy (Etot) were considered and both the structure-projected as well as globally computed correlations were reported; while the inter-activity correlation of the global activity with those projected on structural information was revealed as equal to the direct structural-activity one for the trial sets of compounds, the prediction for the testing set of molecules reported even superior performances respecting those characteristic for the calibration set, validating therefore the present QSInAR models; accordingly, it follows that the LogP carries the most part of the cytotoxic signal, while POL has little influence on inhibiting tumor growth—A complementary behavior with their earlier known influence on genotoxic carcinogenesis. Regarding the newly hemisynthetic compounds it was found that stigmasta-4,22-dien-3-one is not adapted for cell membrane diffusion; it is recommended that aminocinnamyl chlorohydrate be further modified in order to acquire better steric influence, while aminocinnamyl-2,3,4,6-
O
-tétraacétyl-α-D-glucopyranoside was identified as being inhibited in the tumor cell by other molecular mechanisms–here not revealed–although it has a moderate-high anti-cancer structurally predicted activity.
View Full-Text
►

▼

Figures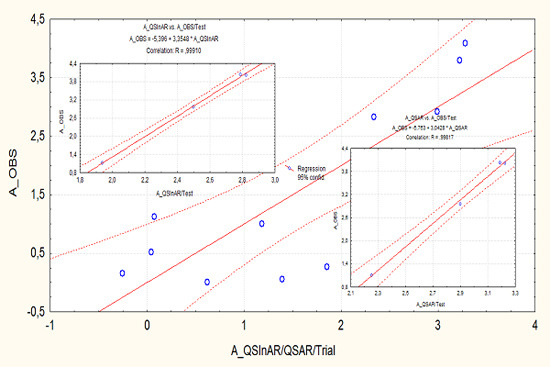 Graphical abstract

Share & Cite This Article
MDPI and ACS Style
Putz, M.V.; Lazea, M.; Sandjo, L.P. Quantitative Structure Inter-Activity Relationship (QSInAR). Cytotoxicity Study of Some Hemisynthetic and Isolated Natural Steroids and Precursors on Human Fibrosarcoma Cells HT1080. Molecules 2011, 16, 6603-6620.
Related Articles
Comments
[Return to top]