A Curcumin Derivative, 2,6-Bis(2,5-dimethoxybenzylidene)-cyclohexanone (BDMC33) Attenuates Prostaglandin E2 Synthesis via Selective Suppression of Cyclooxygenase-2 in IFN-g/LPS-Stimulated Macrophages
1
Department of Biochemistry, Faculty of Biotechnology and Biomolecular Sciences, Universiti Putra Malaysia, 43400 UPM Serdang, Selangor, Malaysia
2
Institute of Biosciences, Universiti Putra Malaysia, 43400 UPM Serdang, Selangor, Malaysia
3
Department of Food Science, Faculty of Food Science and Technology, Universiti Putra Malaysia, 43400 UPM Serdang, Selangor, Malaysia
4
Department of Cell and Molecular Biology, Faculty of Biotechnology and Biomolecular Sciences, Universiti Putra Malaysia, 43400 UPM Serdang, Selangor, Malaysia
5
Department of Chemistry, Faculty of Sciences, Universiti Putra Malaysia, 43400 UPM Serdang, Selangor, Malaysia
*
Author to whom correspondence should be addressed.
Received: 26 September 2011 / Revised: 27 October 2011 / Accepted: 28 October 2011 / Published: 23 November 2011
Abstract
Our preliminary screening had shown that the curcumin derivative [2,6-bis(2,5-dimethoxybenzylidene)cyclohexanone] or BDMC33 exhibited improved anti-inflammatory activity by inhibiting nitric oxide synthesis in activated macrophage cells. In this study, we further investigated the anti-inflammatory properties of BDMC33 on PGE
2
synthesis and cyclooxygenase (COX) expression in IFN-g/LPS-stimulated macrophages. We found that BDMC33 significantly inhibited PGE
2
synthesis in a concentration-dependent manner albeit at a low inhibition level with an IC
50
value of 47.33 ± 1.00 µM. Interestingly, the PGE
2
inhibitory activity of BDMC33 is not attributed to inhibition of the COX enzyme activities, but rather BDMC33 selectively down-regulated the expression of COX-2. In addition, BDMC33 modulates the COX expression by sustaining the constitutively COX-1 expression in IFN-g/LPS-treated macrophage cells. Collectively, the experimental data suggest an immunodulatory action of BDMC33 on PGE
2
synthesis and COX expression, making it a possible treatment for inflammatory disorders with minimal gastrointestinal-related side effects.
View Full-Text
►

▼

Figures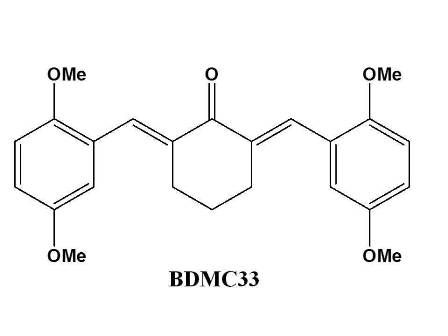 Graphical abstract

Share & Cite This Article
MDPI and ACS Style
Lee, K.-H.; Abas, F.; Alitheen, N.B.M.; Shaari, K.; Lajis, N.H.; Ahmad, S. A Curcumin Derivative, 2,6-Bis(2,5-dimethoxybenzylidene)-cyclohexanone (BDMC33) Attenuates Prostaglandin E2 Synthesis via Selective Suppression of Cyclooxygenase-2 in IFN-g/LPS-Stimulated Macrophages. Molecules 2011, 16, 9728-9738.
Related Articles
Comments
[Return to top]