Antiosteoporotic Effects and Proteomic Characterization of the Target and Mechanism of an Er-Xian Decoction on Osteoblastic UMR-106 and Osteoclasts Induced From RAW264.7
1
School of Pharmaceutical Sciences, China Medical University, No.92 Bei Er Road, He Ping District, Shenyang, 110001, China
2
School of Pharmacy, Second Military Medical University, 325 Guohe Road, Shanghai, 200433, China
3
College of Traditional Chinese Material Medica, Shenyang Pharmaceutical University, Number 103 Wen Hua Road, Shen He District, Shenyang, 110016, China
*
Authors to whom correspondence should be addressed.
Received: 4 May 2010 / Revised: 11 June 2010 / Accepted: 29 June 2010 / Published: 5 July 2010
Abstract
Er-Xian Decoction (EXD) has been used for the treatment of osteoporosis disorders, menopausal syndrome, and other aging diseases in the Chinese traditional healthcare system. However, the targets and mechanism of action have not been clarified. This study was designed to investigate the effects and possible target proteins of EXD on osteoblastic UMR-106 cells and osteoclasts induced from RAW264.7 cells using the proteomic analysis technique. We found that EXD at a concentration of 50–200 μg/mL significantly enhanced osteoblastic UMR-106 cell proliferation, alkaline phosphatase (ALP) activity and formation of bone nodules, and decreased tartrate-resistant acid phosphatase (TRAP) activity and the bone resorption action of osteoclasts induced from RAW 264.7 cells. In EXD-treated osteoblasts, there were increases in the expression of heat-shock protein 1, high mobility group protein (Hmgb1), acidic ribosomal phosphoprotein P0, histone 2, carbonyl reductase 1, ATP synthase, aldolase A, and Rho GDP dissociation inhibitor (GDI)-alpha; and reduction in the expression of carbonic anhydrase 3, prohibitin, hemiferrin, far upstream element (FUSE)-binding protein. In EXD-treated osteoclasts, there were increases in the expression of vimentin, protein disulfide isomerase associated 3 and alpha-fetoprotein; and reduction in the expression of calnexin. These results indicated that EXD modulates bone metabolism through regulation of osteoblastic proliferation, apoptosis, and cell activation, and osteoclastic protein folding and aggregation.
View Full-Text
►

▼

Figures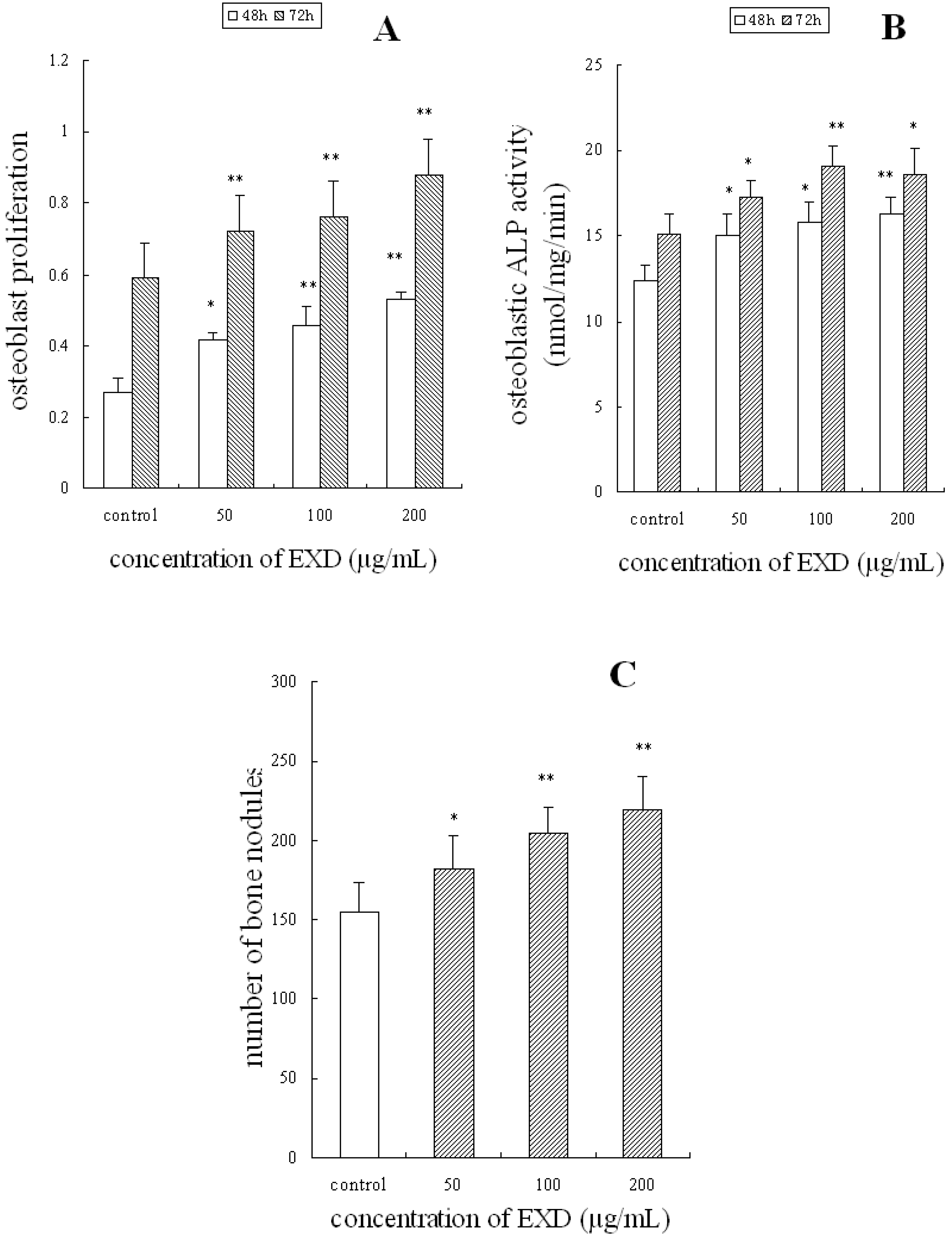 Figure 1

Share & Cite This Article
MDPI and ACS Style
Zhu, Z.; Xue, L.-M.; Han, T.; Jiao, L.; Qin, L.-P.; Li, Y.-S.; Zheng, H.-C.; Zhang, Q.-Y. Antiosteoporotic Effects and Proteomic Characterization of the Target and Mechanism of an Er-Xian Decoction on Osteoblastic UMR-106 and Osteoclasts Induced From RAW264.7. Molecules 2010, 15, 4695-4710.
Related Articles
Comments
[Return to top]