A General Strategy for the Preparation of Carbon Nanotubes and Graphene Oxide Decorated with PdO Nanoparticles in Water
MOE Key Laboratory of Macromolecular Synthesis and Functionalization, Department of Polymer Science and Engineering, Zhejiang University, 38 Zheda Road, Hangzhou 310027, China
*
Author to whom correspondence should be addressed.
Received: 30 May 2010 / Revised: 11 June 2010 / Accepted: 2 July 2010 / Published: 2 July 2010
Abstract
The preparation of carbon nanotube (CNT)/PdO nanoparticles and graphene oxide (GO)/PdO nanoparticle hybrids via a general aqueous solution strategy is reported. The PdO nanoparticles are generated
in situ
on the CNTs and GO by a one-step "green" synthetic approach in aqueous Pd(NO
3
)
2
solution under ambient conditions without adding any additional chemicals. The production of PdO is confirmed by energy dispersive X-ray spectroscopy, X-ray diffraction, X-ray photoelectron spectroscopy, Raman spectroscopy, and thermal gravimetric analysis. The morphologies of the resulting CNT/PdO and GO/PdO nanohybrids are characterized by transmission and/or scanning transmission electron microscopy. PdO nanoparticles with an average size of 2–3 nm in diameter are decorated evenly along the surfaces of CNTs and GO. This synthesis strategy is demonstrated to be compatible for 1) CNTs with different modifications, including pristine, oxidized, and polymer-functionalized CNTs; 2) different types of CNTs, including single-walled carbon nanotubes (SWCNTs), double-walled carbon nanotubes (DWCNTs), and multiwalled carbon nanotubes (MWCNTs); and 3) different shapes of carbon materials, including tubular CNTs and planar GO. The as-prepared CNT/PdO and GO/PdO nanohybrids can be transformed into CNT/Pd and GO/Pd nanohybrids by reduction with NaBH
4
, and can then be used as a heterogeneous catalyst in the catalytic reduction of 4-nitrophenol.
View Full-Text
►

▼

Figures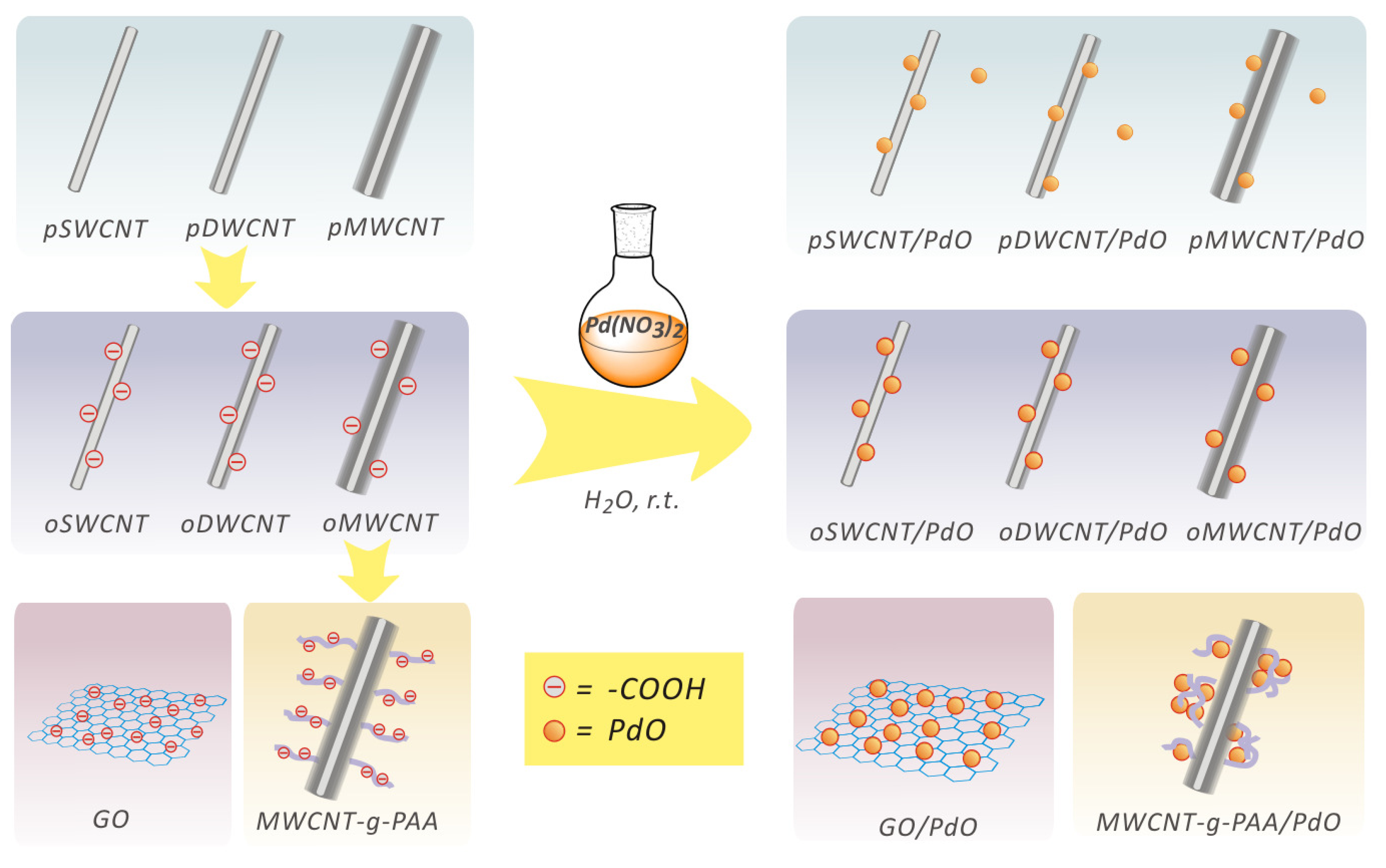 Figure 1

Share & Cite This Article
MDPI and ACS Style
He, H.; Gao, C. A General Strategy for the Preparation of Carbon Nanotubes and Graphene Oxide Decorated with PdO Nanoparticles in Water. Molecules 2010, 15, 4679-4694.
Related Articles
Comments
[Return to top]