Mechanical Properties and Corrosion Resistance of NbTiAlSiZrNx High-Entropy Films Prepared by RF Magnetron Sputtering
1
State Key Laboratory of Advanced Metals and Materials, University of Science and Technology Beijing, Beijing 100083, China
2
School of Mechanical Engineering, Qinghai University, Xining 810016, China
3
Qinghai Provincial Engineering Research Center of High Performance Light Metal Alloys and Forming, Xining 810016, China
4
Qinghai Provincial Key Laboratory of New Light Alloys, Xining 810016, China
5
University of Sheffield, Sheffield S37GE, UK
6
School of Materials Science, Shanghai DianJi University, Shanghai 201306, China
*
Author to whom correspondence should be addressed.
†
These authors contributed equally: Q. Xing, H. Wang and M. Chen.
Received: 28 February 2019 / Revised: 5 April 2019 / Accepted: 8 April 2019 / Published: 13 April 2019
Abstract
In this study, we designed and fabricated NbTiAlSiZrN
x
high-entropy alloy (HEA) films. The parameters of the radio frequency (RF) pulse magnetron sputtering process were fixed to maintain the N
2
flux ratio at 0%, 10%, 20%, 30%, 40%, and 50%. Subsequently, NbTiAlSiZrN
x
HEA films were deposited on the 304 stainless steel (SS) substrate. With an increasing N
2
flow rate, the film deposited at a R
N
of 50% had the highest hardness (12.4 GPa), the highest modulus (169 GPa), a small roughness, and a beautiful color. The thicknesses of the films were gradually reduced from 298.8 nm to 200 nm, and all the thin films were of amorphous structure. The electrochemical corrosion resistance of the film in a 0.5 mol/L H
2
SO
4
solution at room temperature was studied and the characteristics changed. The HEA films prepared at N
2
flow rates of 10% and 30% were more prone to corrosion than 304 SS, but the corrosion rate was lower than that of 304 SS. NbTiAlSiZrN
x
HEA films prepared at N
2
flow rates of 20%, 40%, and 50% were more corrosion-resistant than 304 SS. In addition, the passivation stability of the NbTiAlSiZrN
x
HEA was worse than that of 304 SS. Altogether, these results show that pitting corrosion occurred on NbTiAlSiZrN
x
HEA films.
View Full-Text
►

▼

Figures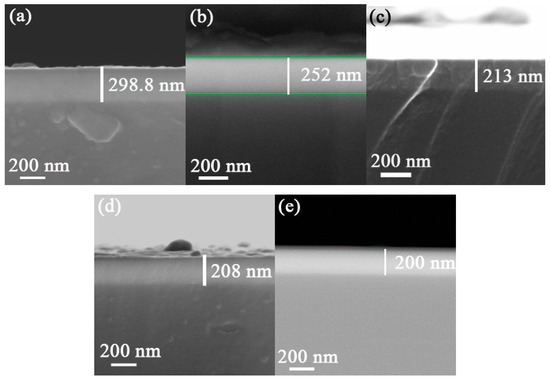 Figure 1
This is an open access article distributed under the
Creative Commons Attribution License
which permits unrestricted use, distribution, and reproduction in any medium, provided the original work is properly cited (CC BY 4.0).

Share & Cite This Article
MDPI and ACS Style
Xing, Q.; Wang, H.; Chen, M.; Chen, Z.; Li, R.; Jin, P.; Zhang, Y. Mechanical Properties and Corrosion Resistance of NbTiAlSiZrNx High-Entropy Films Prepared by RF Magnetron Sputtering. Entropy 2019, 21, 396.
Note that from the first issue of 2016, MDPI journals use article numbers instead of page numbers. See further details here.
Related Articles
Comments
[Return to top]