Open Access This article is
freely available
re-usable
Article
On the Impossibility of First-Order Phase Transitions in Systems Modeled by the Full Euler Equations
1
Institute for Mathematics, Martin-Luther University Halle-Wittenberg, D-06099 Halle (Saale), Germany
2
Institute for Analysis and Numerics, Otto-von-Guericke University Magdeburg, PSF 4120, D-39016 Magdeburg, Germany
*
Author to whom correspondence should be addressed.
Received: 24 September 2019 / Accepted: 19 October 2019 / Published: 25 October 2019
Abstract
:
Liquid–vapor flows exhibiting phase transition, including phase creation in single-phase flows, are of high interest in mathematics, as well as in the engineering sciences. In two preceding articles the authors showed on the one hand the capability of the isothermal Euler equations to describe such phenomena (Hantke and Thein,
arXiv
,
2017
, arXiv:1703.09431). On the other hand they proved the nonexistence of certain phase creation phenomena in flows governed by the full system of Euler equations, see Hantke and Thein,
Quart. Appl. Math.
2015
,
73
, 575–591. In this note, the authors close the gap for two-phase flows by showing that the two-phase flows considered are not possible when the flow is governed by the full Euler equations, together with the regular Rankine-Hugoniot conditions. The arguments rely on the fact that for (regular) fluids, the differences of the entropy and the enthalpy between the liquid and the vapor phase of a single substance have a strict sign below the critical point.
Keywords:
Euler equations; phase transition; entropy principle; sharp interface; non-classical shock
Author Contributions
Conceptualization, M.H. and F.T.; methodology, M.H. and F.T.; writing—original draft preparation, F.T.; funding acquisition, M.H. These authors contributed equally to this work.
Funding
This research was partly funded by DFG grant HA 6471/2-1.
Conflicts of Interest
The authors declare no conflict of interest.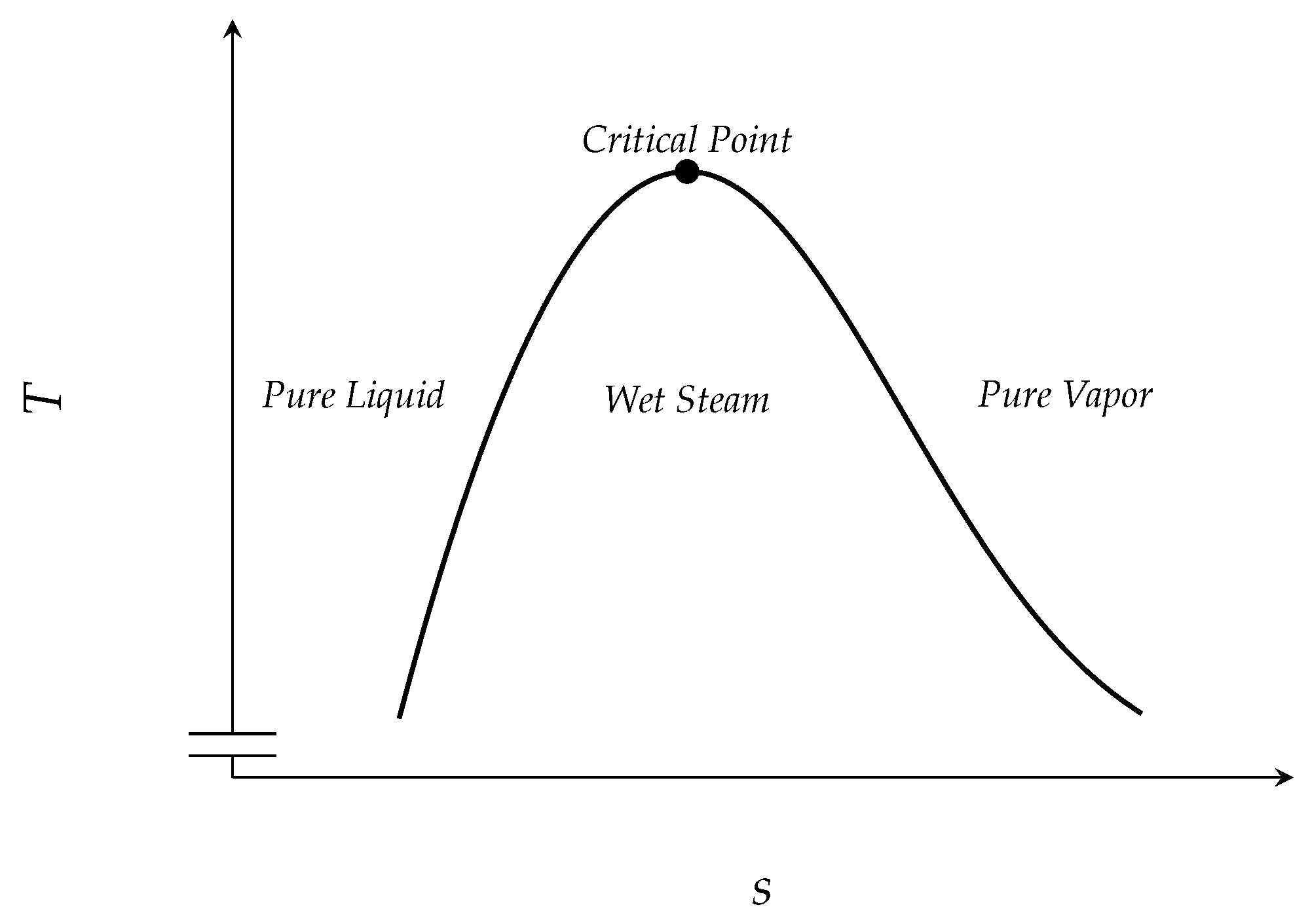 Figure 2.
The saturation curves for different quantities calculated with the IAPWS-IF97 EOS [
13
].

© 2019 by the authors. Licensee MDPI, Basel, Switzerland. This article is an open access article distributed under the terms and conditions of the Creative Commons Attribution (CC BY) license (http://creativecommons.org/licenses/by/4.0/).