Open Access This article is
freely available
re-usable
Article
The Partial Information Decomposition of Generative Neural Network Models
1
Corti, Nørrebrogade 45E 2, 2200 Copenhagen N, Denmark
2
Department of Computing, Imperial College London, London SW7 2RH, UK
†
These authors contributed equally to this work.

Received: 8 July 2017 / Accepted: 1 September 2017 / Published: 6 September 2017
Abstract
:
In this work we study the distributed representations learnt by generative neural network models. In particular, we investigate the properties of redundant and synergistic information that groups of hidden neurons contain about the target variable. To this end, we use an emerging branch of information theory called partial information decomposition (PID) and track the informational properties of the neurons through training. We find two differentiated phases during the training process: a first short phase in which the neurons learn redundant information about the target, and a second phase in which neurons start specialising and each of them learns unique information about the target. We also find that in smaller networks individual neurons learn more specific information about certain features of the input, suggesting that learning pressure can encourage disentangled representations.
Keywords:
partial information decomposition; neural networks; information theory
Acknowledgments
The authors would like to thank Raúl Vicente for insightful discussions, and Pietro Marchesi for valuable feedback in the early stages of this project.
Author Contributions
Tycho M.S. Tax and Pedro A.M. Mediano designed the experiments; Tycho M.S. Tax performed the experiments; Tycho M.S. Tax and Pedro A.M. Mediano analysed the results; and Pedro A.M. Mediano, Tycho M.S. Tax and Murray Shanahan wrote the paper. All authors have read and approved the final manuscript.
Conflicts of Interest
The authors declare no conflict of interest.
Figure 1.
Graphical representation of the discriminative restricted Boltzmann machine (DRBM) and its components. Vectors and correspond to the training input and label, respectively, is the activation of the hidden neurons, and and are the weight matrices to be learned. (Adapted from [
23
]).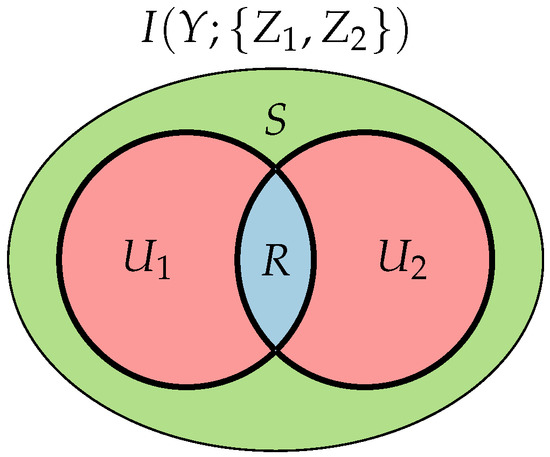 Figure 2. Partial information (PI) diagram for two source variables and a target. The outer ellipse corresponds to the mutual information (MI) between both sources and the target, , and both inner circles (highlighted in black) to the MI between each source and the target, . Coloured areas represent the PI terms described in the text.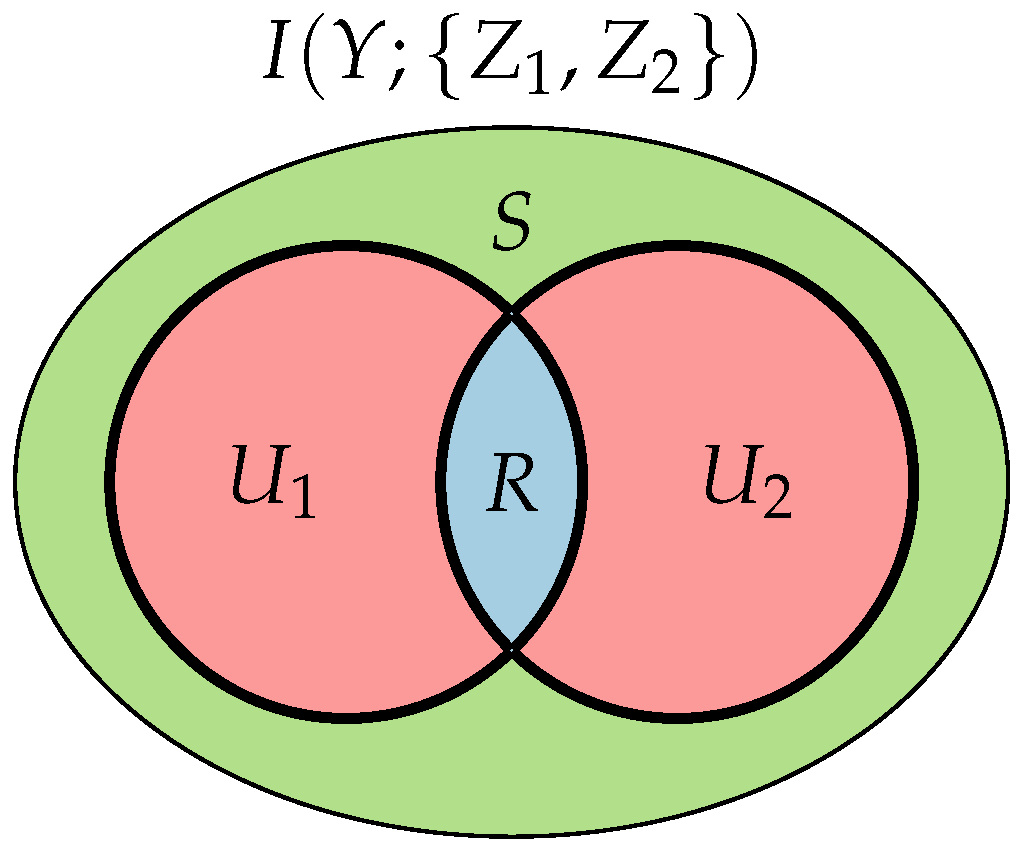 Figure 3.
Classification error and mutual information between real and predicted labels, , calculated through training. Note:
X
-axis in the rightmost plot is reversed for illustration pusposes, so that training time goes from left to right.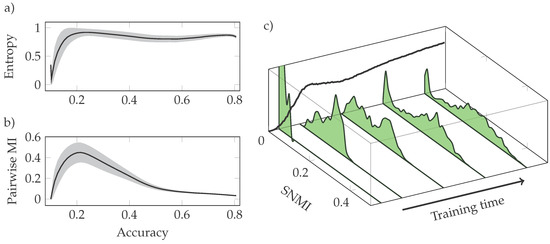 Figure 4. Single-neuron entropy and mutual information follow non-trivial patterns during training. (a) Entropy quickly rises up to close to its maximum value of 1 bit. (b) Inter-neuron correlation as measured by pairwise MI peaks midway through training. (c) Histograms of single-neuron MI (SNMI) split midway through training, implying that some neurons actually lose information. Average SNMI is shown in black projected on the frame box.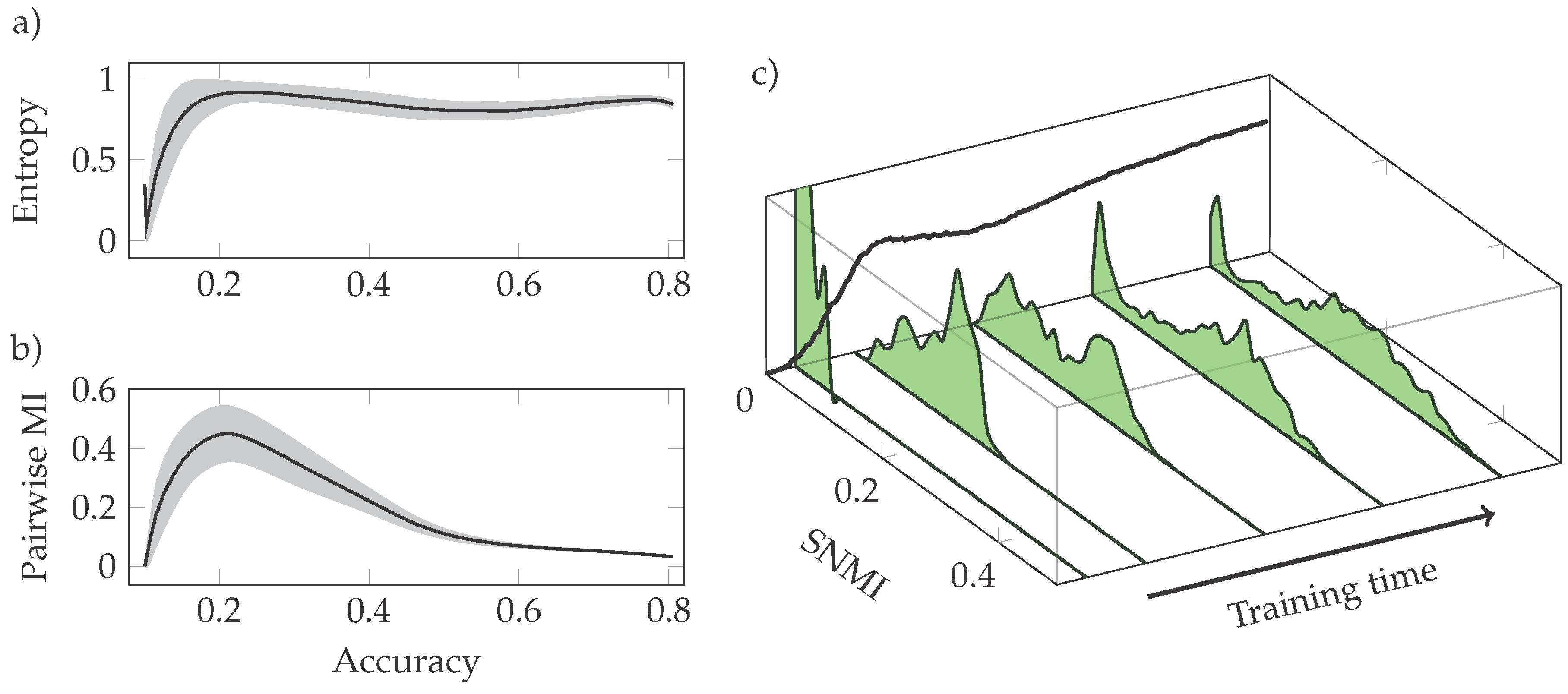 Figure 5.
PI terms (
a
) and PI terms normalised by joint mutual information (
b
). Mutual information (MI) in black, redundancy (
R
) in blue, synergy (
S
) in green, and unique information (
U
) in red. MI increases consistently during training, but the PI terms reveal a transition between a redundancy-dominated phase and a unique-information-dominated phase.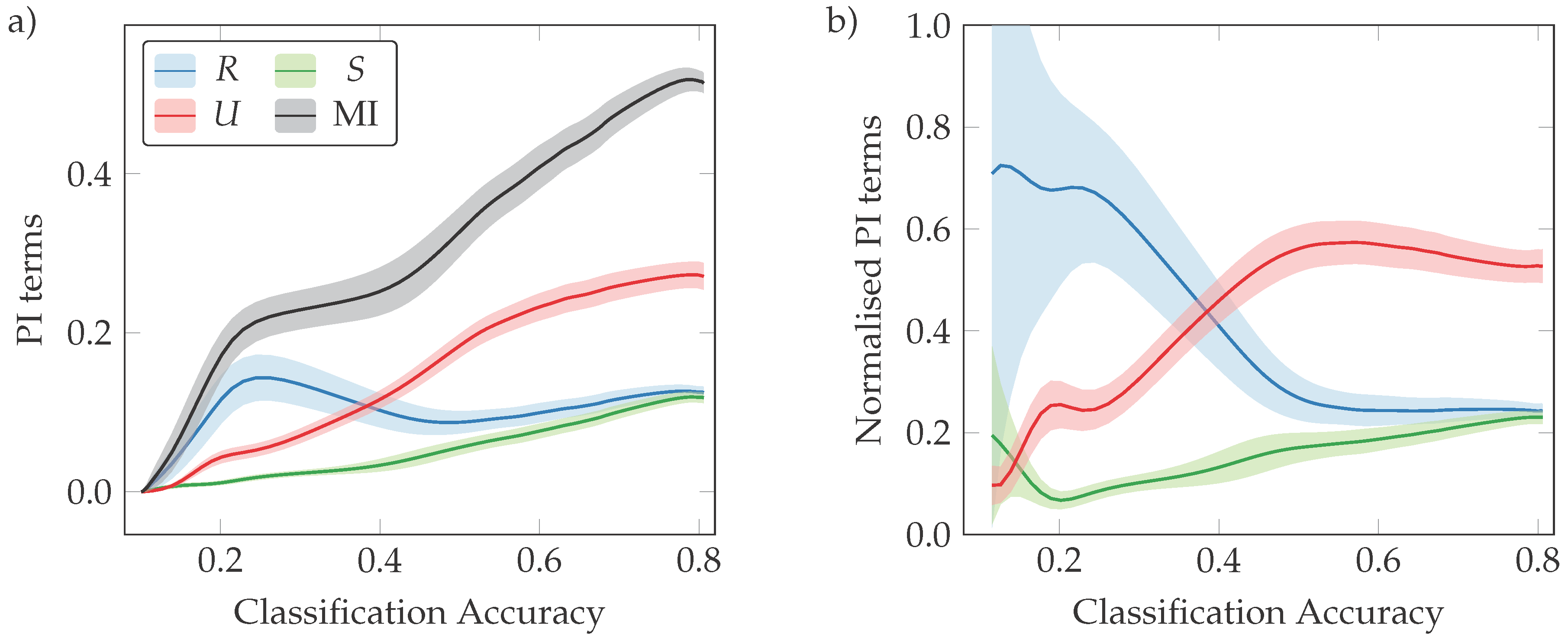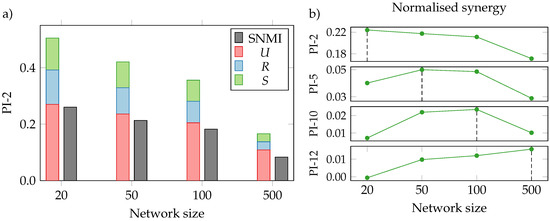 Figure 6.
Partial information decomposition (PID) analysis of larger groups of neurons in networks of different sizes. (
a
) Single-neuron MI is consistently smaller in bigger networks, indicating that, although the network as a whole is a better classifier, each individual neuron has a less-efficient encoding; (
b
) Normalised PI-
K
synergy, with network size increasing from left to right and
K
from top to bottom. Network with maximum synergy for each PI-
K
highlighted with a vertical dashed line. The PI group size with the highest synergy becomes larger in larger networks, indicating that in bigger networks one needs to consider larger groups to capture strong cooperative interactions.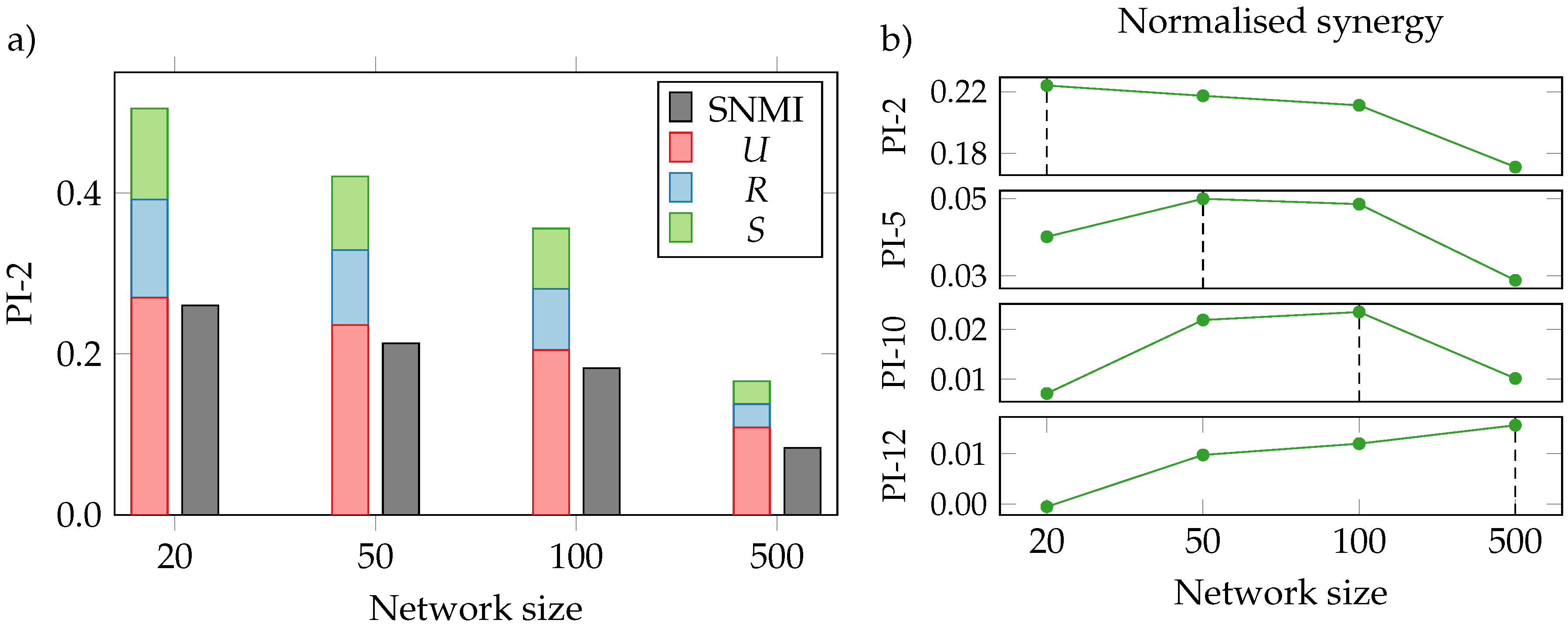 © 2017 by the authors. Licensee MDPI, Basel, Switzerland. This article is an open access article distributed under the terms and conditions of the Creative Commons Attribution (CC BY) license (http://creativecommons.org/licenses/by/4.0/).