Automated Cytogenetic Biodosimetry at Population-Scale
1
Department of Biochemistry, Schulich School of Medicine and Dentistry, University of Western Ontario, London, ON N6A 5C1, Canada
2
CytoGnomix Inc., London, ON N5X 3X5, Canada
3
Health Canada, Consumer and Clinical Radiation Protection Bureau, Ottawa, ON K1A 1C1, Canada
4
Canadian Nuclear Laboratories, Radiobiology and Health, Chalk River, ON K0J 1J0, Canada
5
Radiation Protection Centre, LT-08352 Vilnius, Lithuania
6
Dalat Nuclear Research Institute, Dalat 670000, Vietnam
7
Energy Systems and Nuclear Science, University of Ontario Institute of Technology, Oshawa, ON L1G 0C5, Canada
8
Department of Pathology and Laboratory Medicine, Schulich School of Medicine and Dentistry, University of Western Ontario, London, ON N6A 5C1, Canada
*
Author to whom correspondence should be addressed.
Academic Editor: Shinji Tokonami
Received: 16 December 2020
/
Revised: 8 March 2021
/
Accepted: 11 March 2021
/
Published: 29 March 2021
Simple Summary
Biological assessment of radiation exposures at population scale demands automated analysis of cytogenetic data. As such, algorithms and corresponding software were developed to analyze thousands of potentially irradiated samples for a highly parallelized, multiprocessor super-computer platform. Simulated testing of exposed populations after high-yield nuclear incidents demonstrated timely and actionable radiation dose estimates in this high-performance computing environment.
The dicentric chromosome (DC) assay accurately quantifies exposure to radiation; however, manual and semi-automated assignment of DCs has limited its use for a potential large-scale radiation incident. The Automated Dicentric Chromosome Identifier and Dose Estimator (ADCI) software automates unattended DC detection and determines radiation exposures, fulfilling IAEA criteria for triage biodosimetry. This study evaluates the throughput of high-performance ADCI (ADCI-HT) to stratify exposures of populations in 15 simulated population scale radiation exposures. ADCI-HT streamlines dose estimation using a supercomputer by optimal hierarchical scheduling of DC detection for varying numbers of samples and metaphase cell images in parallel on multiple processors. We evaluated processing times and accuracy of estimated exposures across census-defined populations. Image processing of 1744 samples on 16,384 CPUs required 1 h 11 min 23 s and radiation dose estimation based on DC frequencies required 32 sec. Processing of 40,000 samples at 10 exposures from five laboratories required 25 h and met IAEA criteria (dose estimates were within 0.5 Gy; median = 0.07). Geostatistically interpolated radiation exposure contours of simulated nuclear incidents were defined by samples exposed to clinically relevant exposure levels (1 and 2 Gy). Analysis of all exposed individuals with ADCI-HT required 0.6–7.4 days, depending on the population density of the simulation.
View Full-Text
►

▼

Show Figures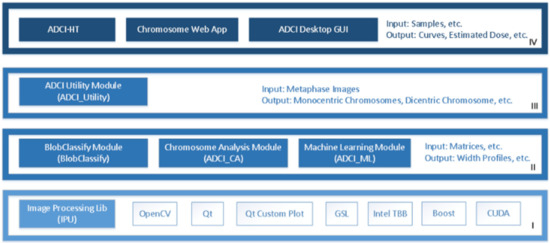 Figure 1
This is an open access article distributed under the
Creative Commons Attribution License
which permits unrestricted use, distribution, and reproduction in any medium, provided the original work is properly cited
Supplementary File 1:

PDF-Document (PDF, 682 KiB)

Externally hosted supplementary file 1
Doi: 10.5281/zenodo.4323682
Link: http://doi.org/10.5281/zenodo.4323682
Description: Supplementary Figure 1. Adapting ADCI Windows Desktop Graphical User Interface to ADCI-HT on BG/Q. Data flow diagram illustrating the steps required to perform metaphase image processing tasks using A) Windows ADCI, and B) BG/Q ADCI (ADCI-HT) software platforms.

MDPI and ACS Style
Rogan, P.K.; Mucaki, E.J.; Shirley, B.C.; Li, Y.; Wilkins, R.C.; Norton, F.; Sevriukova, O.; Pham, N.-D.; Waller, E.; Knoll, J.H.M. Automated Cytogenetic Biodosimetry at Population-Scale. Radiation 2021, 1, 79-94. https://doi.org/10.3390/radiation1020008
AMA Style
Rogan PK, Mucaki EJ, Shirley BC, Li Y, Wilkins RC, Norton F, Sevriukova O, Pham N-D, Waller E, Knoll JHM. Automated Cytogenetic Biodosimetry at Population-Scale. Radiation. 2021; 1(2):79-94. https://doi.org/10.3390/radiation1020008
Chicago/Turabian Style
Rogan, Peter K., Eliseos J. Mucaki, Ben C. Shirley, Yanxin Li, Ruth C. Wilkins, Farrah Norton, Olga Sevriukova, Ngoc-Duy Pham, Ed Waller, and Joan H.M. Knoll. 2021. "Automated Cytogenetic Biodosimetry at Population-Scale" Radiation 1, no. 2: 79-94. https://doi.org/10.3390/radiation1020008