Race as Social Construct
Department of Psychology, University of Aarhus, Asylvej, DK-8660 Aarhus, Denmark
Received: 15 March 2019 / Revised: 24 April 2019 / Accepted: 25 April 2019 / Published: 29 April 2019
Abstract
It is often claimed that race is a social construct and that scientists studying race differences are disruptive racists. The recent April 2018 "Race Issue" of the widely distributed National Geographic Magazine (NG) provided its millions of readers with a particularly illustrative example of this position. As discussions of race issues often recur, in both scientific and lay literature, stir considerable polemics, and have political, societal and human implications, we found it of both scientific and general interest to identify and dissect the following partly overlapping key contentions of the NG race issue magazine: (1) Samuel Morton's studies of brain size is reprehensible racism (2) Race does not relate to geographic location, (3) Races do not exist as we are all equals and Africans, (4) Admixture and displacement erase race differences as soon as they appear, and (5) Race is only skin color deep. Also examined is the claim that Race does not matter. When analyzed within syllogistic formalism, each of the claims is found theoretically and empirically unsustainable, as Morton's continuously evolving race position is misrepresented, race relates significantly to geography, we are far from equals, races have definitely not been erased, and race, whether self-reported or defined by ancestry, lineage, ecotype, species, or genes, is much more than skin color deep. Race matters vitally for people and societies. We conclude that important research on existing population differences is hurt when widely respected institutions such as NG mobilize their full authority in a massively circulated attempt to betray its scientific and public readership by systematically misrepresenting historical sources and scientific positions, shaming past scientists, and by selectively suppressing unwanted or unacceptable results–acts included as examples of academic fraud by the National Academy of Sciences (US, 1986). Any unqualified a priori denial of the formative evolutionary aspects of individual and population differences threatens to impede the recent promising research on effects of genome wide allelic associations, which would lames us in the vital quest to develop rational solutions to associated globally pressing societal problems.
View Full-Text
►

▼

Figures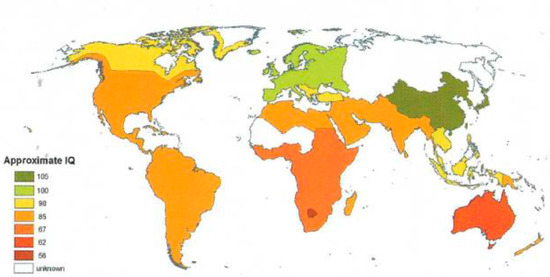 Figure 1
This is an open access article distributed under the
Creative Commons Attribution License
which permits unrestricted use, distribution, and reproduction in any medium, provided the original work is properly cited (CC BY 4.0).

Share & Cite This Article
MDPI and ACS Style
Nyborg, H. Race as Social Construct. Psych 2019, 1, 139-165.
Comments
[Return to top]