Prolonged Waking and Recovery Sleep Affect the Serum MicroRNA Expression Profile in Humans
1
Institute of Pharmacology and Toxicology, University of Zürich, 8057 Zürich, Switzerland
2
Sleep and Health Zürich (SHZ), University of Zürich, 8057 Zürich, Switzerland
3
Department of Pneumology, University Hospital Zürich, 8091 Zürich, Switzerland
*
Author to whom correspondence should be addressed.
†
Present address: Neurobiology Research Unit, Copenhagen University Hospital Rigshospitalet, 2100 Copenhagen, Denmark.
Received: 15 October 2018 / Revised: 13 November 2018 / Accepted: 20 November 2018 / Published: 22 November 2018
Abstract
MicroRNAs (miRNAs) are small, abundant, non-coding RNA fragments that regulate gene expression and silencing at the post-transcriptional level. The miRNAs each control various downstream targets and play established roles in different biological processes. Given that miRNAs were recently proposed to contribute to the molecular control of sleep–wake regulation in animal models and narcoleptic patients, we investigated the impact of acute sleep deprivation on blood miRNA expression in healthy adult men of two different age groups. Twenty-two young (mean age: 24 ± 3 years) and nine older (65 ± 1 years) volunteers completed a controlled in-lab study, consisting of 8 h baseline sleep, followed by 40 h of extended wakefulness, and a 10-h recovery sleep opportunity. At the same circadian time in all three conditions (at 4:23 p.m. ± 23 min), qPCR expression profiling of 86 miRNAs was performed in blood serum. Thirteen different miRNAs could be reliably quantified and were analyzed using mixed-model ANOVAs. It was found that miR-30c and miR-127 were reliably affected by previous sleep and wakefulness, such that expression of these miRNAs was upregulated after extended wakefulness and normalized after recovery sleep. Together with previous findings in narcolepsy patients, our preliminary data indicate that miR-30c and its target proteins may provide a biomarker of elevated sleep debt in humans.
View Full-Text
►

▼

Figures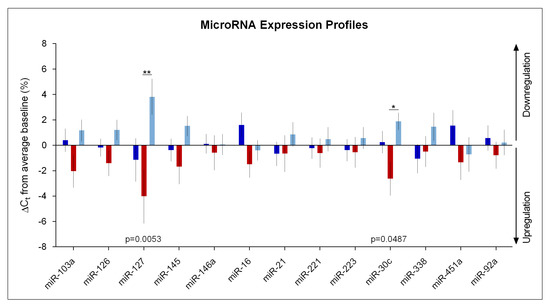 Figure 1
This is an open access article distributed under the
Creative Commons Attribution License
which permits unrestricted use, distribution, and reproduction in any medium, provided the original work is properly cited (CC BY 4.0).

Share & Cite This Article
MDPI and ACS Style
Weigend, S.; Holst, S.C.; Meier, J.; Brock, M.; Kohler, M.; Landolt, H.-P. Prolonged Waking and Recovery Sleep Affect the Serum MicroRNA Expression Profile in Humans. Clocks & Sleep 2019, 1, 75-86.
Comments
[Return to top]