Incidence of Daytime Sleepiness and Associated Factors in Two First Nations Communities in Saskatchewan, Canada
1
Canadian Centre for Health and Safety in Agriculture, University of Saskatchewan, 104 Clinic Place, Saskatoon, SK S7N 2Z4, Canada
2
College of Nursing, University of Saskatchewan, 104 Clinic Place, Saskatoon, SK S7N 2Z4, Canada
3
Department of Medicine, University of Saskatchewan, Royal University Hospital, 103 Hospital Drive, Saskatoon, SK S7N 0W8, Canada
4
Department of Academic Family Medicine, University of Saskatchewan, West Winds Primary Health Centre, 3311 Fairlight Drive, Saskatoon, SK S7M 3Y5, Canada
5
Community A, PO Box 96, Duck Lake, SK S0K1J0, Canada
6
Department of Community Health & Epidemiology, College of Medicine, University of Saskatchewan, 107 Wiggins Road, Saskatoon, SK S7N 5E5, Canada
*
Author to whom correspondence should be addressed.
†
Membership of the First Nations Lung Health Project Research Team is provided in the Acknowledgments.
Received: 10 August 2018 / Revised: 18 September 2018 / Accepted: 18 September 2018 / Published: 20 September 2018
Abstract
Excessive daytime sleepiness (EDS) is the tendency to sleep at inappropriate times during the day. It can interfere with day-to-day activities and lead to several health issues. The objective of this study was to investigate the association between income, housing conditions, and incidence of EDS in adults living in two Cree First Nations communities. The data for this study involved 317 individuals aged 18 years and older who participated in baseline and follow-up evaluations (after four years) of the First Nations Lung Health Project, which was conducted in Saskatchewan in 2012–2013 and 2016. Both at baseline and follow-up survey after four years, an Epworth Sleepiness Scale (ESS) score >10 was considered to be abnormal. Logistic regression models were used to assess relationships between abnormal ESS and covariates at baseline. In 2016, 7.6% (24/317) of the participants reported an ESS >10 with the mean being 12.8 ± 2.0. For the same group, the mean ESS at baseline was 6.9 ± 2.2. The incidence of subjective EDS based on the ESS >10 was estimated at 7.6% over four years. This study showed an association between incidence of subjective EDS and less money left over at end of the month, having a house in need of repairs, having water or dampness in the past 12 months, and damage caused by dampness.
View Full-Text
►

▼

Figures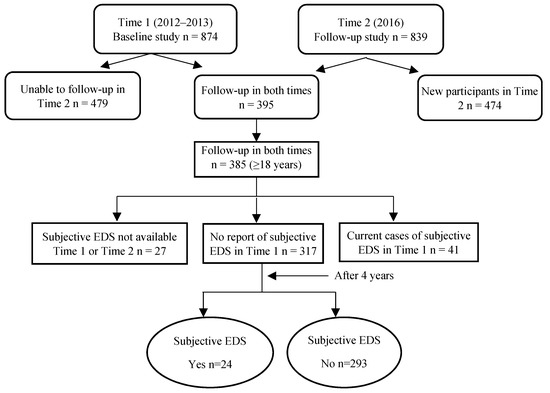 Figure 1
This is an open access article distributed under the
Creative Commons Attribution License
which permits unrestricted use, distribution, and reproduction in any medium, provided the original work is properly cited (CC BY 4.0).

Share & Cite This Article
MDPI and ACS Style
Karunanayake, C.P.; Dosman, J.A.; Rennie, D.C.; Lawson, J.A.; Kirychuk, S.; Fenton, M.; Ramsden, V.R.; Seeseequasis, J.; Abonyi, S.; Pahwa, P.; The First Nations Lung Health Project Research Team. Incidence of Daytime Sleepiness and Associated Factors in Two First Nations Communities in Saskatchewan, Canada. Clocks & Sleep 2019, 1, 13-25.
Comments
[Return to top]