Sleep Quality and Chronotype Differences between Elite Athletes and Non-Athlete Controls
1
Faculty of Kinesiology, University of Calgary, Calgary, AB T2N 1N4, Canada
2
Sleep and Performance Research Center, Washington State University, Spokane, WA 99202, USA
3
Elson S. Floyd College of Medicine, Washington State University, Spokane, WA 99202, USA
4
Centre for Sleep and Human Performance, Calgary, AB T2X 3V4, Canada
*
Author to whom correspondence should be addressed.
Received: 28 June 2018 / Revised: 13 August 2018 / Accepted: 30 August 2018 / Published: 5 September 2018
Abstract
Previous research has found that elite athletes have insufficient sleep, yet the specific kinds of sleep disturbances occurring as compared to a control group are limited. Here we compare the subjective sleep quality and chronotype of elite athletes to a control group of non-athlete good sleepers. Sixty-three winter Canadian National Team athletes (mean age 26.0 ± 0.0; 32% females) completed the Pittsburgh Sleep Quality Index (PSQI) and the Athlete Morningness Eveningness Scale. They were compared to 83 healthy, non-athlete, good-sleeper controls (aged 27.3 ± 3.7; 51% females) who completed the PSQI and the Composite Scale of Morningness. The elite athletes reported poorer sleep quality (PSQI global score 5.0 ± 2.6) relative to the controls (PSQI global score 2.6 ± 1.3), despite there being no group difference in self-reported sleep duration (athletes 8.1 ± 1.0 h; controls 8.0 ± 0.7 h). Further, athletes' chronotype distribution showed a greater skew toward morningness, despite there being no group differences in self-reported usual bedtime and wake time. These results suggest that a misalignment of sleep times with circadian preference could contribute to poorer sleep quality in elite athletes.
View Full-Text
►

▼

Figures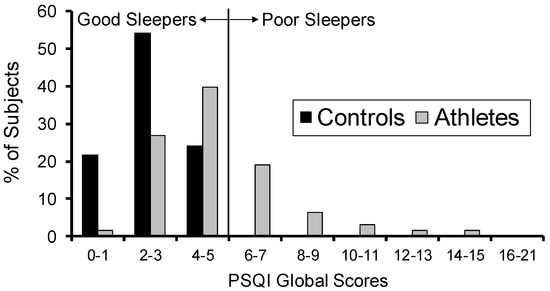 Figure 1
This is an open access article distributed under the
Creative Commons Attribution License
which permits unrestricted use, distribution, and reproduction in any medium, provided the original work is properly cited (CC BY 4.0).

Share & Cite This Article
MDPI and ACS Style
Bender, A.M.; Van Dongen, H.P.A.; Samuels, C.H. Sleep Quality and Chronotype Differences between Elite Athletes and Non-Athlete Controls. Clocks & Sleep 2019, 1, 3-12.
Comments
[Return to top]