Nitrogen-Doped Ordered Mesoporous Carbons Supported Co3O4 Composite as a Bifunctional Oxygen Electrode Catalyst
1
State Key Laboratory of Chemical Resource Engineering, Beijing Engineering Center for Hierarchical Catalysts, Beijing University of Chemical Technology, No. 15 Beisanhuan East Road, Beijing 100029, China
2
IC2MP, UMR-CNRS 7285, University of Poitiers, F-86022 Poitiers CEDEX, France
*
Author to whom correspondence should be addressed.
Received: 20 February 2019 / Revised: 25 March 2019 / Accepted: 26 March 2019 / Published: 29 March 2019
Abstract
It is increasingly useful to develop bifunctional catalysts for oxygen reduction and oxygen evolution reaction (ORR and OER) for fuel cells, metal-air rechargeable batteries, and unitized regenerative cells. Here, based on the excellent conductivity and stability of ordered mesoporous carbons, and the best ORR and OER activity of Co
3
O
4
, the composite Co
3
O
4
/N-HNMK-3 was designed and manufactured by means of a solvothermal method, using ordered N-doped mesoporous carbon (N-HNMK-3) as substrate, and then the bifunctional electrocatalytic performance corresponding to ORR, OER in alkaline media was carefully investigated. The results showed that Co
3
O
4
/N-HNMK-3 composite, a non-precious metal centered electrocatalyst, displayed excellent ORR performance (activity, selectivity, and stability) close to that of commercial 20 wt.% Pt/C and a promising OER activity near 20 wt.% RuO
2
/C. The outstanding bifunctional activities of Co
3
O
4
/N-HNMK-3 was assessed with the lowest △E value of 0.86 V (E
OER,10 mA cm−2
-E
ORR,−3 mA cm−2
) with respect to the two commercial precious metal-based electrocatalysts.
View Full-Text
►

▼

Figures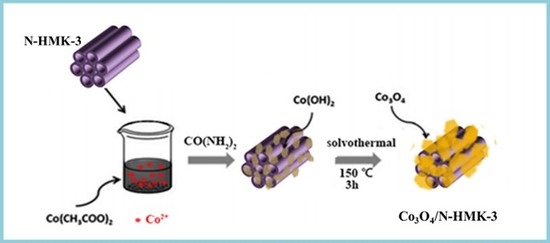 Graphical abstract
This is an open access article distributed under the
Creative Commons Attribution License
which permits unrestricted use, distribution, and reproduction in any medium, provided the original work is properly cited (CC BY 4.0).

Share & Cite This Article
MDPI and ACS Style
Wang, J.; Zhang, S.; Zhong, H.; Alonso-Vante, N.; Li, D.; Tang, P.; Feng, Y. Nitrogen-Doped Ordered Mesoporous Carbons Supported Co3O4 Composite as a Bifunctional Oxygen Electrode Catalyst. Surfaces 2019, 2, 229-240.
Comments
[Return to top]