Open Access This article is
freely available
re-usable
Case Report
Successful Amplified-Natural-Killer Cell (ANK) Therapy Administered to a Patient with Smoldering Adult T-Cell Leukemia in Acute Crisis
1
Higashinotoin Clinic, 338 Enfukuji, Nakagyo, Kyoto 604-8175, Japan
2
Ebino Centro Clinic, 1007-4, Ooazauwae, Ebino, Miyazaki 889-4384, Japan
3
Department of Health Science and Social Welfare, Kibi International University, 8 Igamachi, Takahashi 716-8508, Japan
*
Author to whom correspondence should be addressed.
Received: 22 July 2018 / Accepted: 13 August 2018 / Published: 14 August 2018
Abstract
:
Adult T-cell leukemia (ATL) is an indolent leukemia caused by type 1 human T-cell leukemia virus (HTLV-1). A variety of therapeutic interventions via immunological approaches have been attempted. ATL cells express costimulatory molecules of natural killer (NK) cells, and a new modality—amplified NK (ANK) cell treatment—was administered here to a patient with ATL. A 70-year-old female presenting with ringworm infection received a diagnosis of smoldering ATL in 2004. Monitoring of soluble IL-2 receptors (sIL-2Rs) in the serum showed disease exacerbation in 2007, associated with the enlargement of lymph nodes and formation of a skin tumor. NK cells were amplified by in vitro cell culture methods. To avoid cytokine release syndrome, 2–5 × 108 cells were administered with each injection. A total of 15 injections from 12 November 2007 to 15 February 2008 were administered to this patient. This case showed drastic downregulation of sIL-2R, resulting in the induction of complete remission, which lasted for >5 years. This is the first report of treatment of a patient with ATL using ANK cell therapy. More attempts of this therapy will enhance our insight into the appropriate application of this new therapy to clinically diverse patients.
Keywords:
ATL; CD3; T cell receptor; HTLV-1; NK cells; therapy
2. Case Report
A 70-year-old female received a diagnosis of high blood pressure. She had a ringworm infection in the whole body since the fall of 2004. Despite consultation and treatment at a clinic, her condition had not improved. Therefore, she was referred to a university hospital for further evaluation, and finally a diagnosis of smoldering ATLL was made because of the presence of an anti-HTLV-1 antibody and provirus DNA of HTLV-1. Her daughter and husband tested negative for anti-HTLV-1 antibodies. She was treated with a varicella vaccine derivative as an immune adjuvant in a university hospital. Her skin lesions experienced repeated remission and aggravation. Her disease was monitored by measuring soluble IL-2 receptor (sIL-2R) levels. Acute crisis was diagnosed because of the observed elevation in sIL-2R levels, from 1800 U/mL in April 2007 to 11,000 U/mL in September 2007. She had a significant number of anomalous cells (27%) in the blood, when analyzed in August 2007 (
Figure 1
). PET showed systemic enlargement of lymph nodes (
Figure 2
A), and skin lesions were also found (
Figure 2
B). ANK cell treatment was approved by the ethical committee of the Ebino clinic, and written informed consent was obtained from the patient.
2.1. Preparation of ANK Cells
Her peripheral blood mononuclear cells (PBMCs) were isolated from whole blood by Ficoll (Lymphoprep; Alere Technologies, Oslo, Norway) density gradient centrifugation. PBMCs (5 × 10
5
to 10
6
/mL) were cultured in 50% AIM (Thermo Fisher Scientific, Waltham, MA, USA )/50% KBM502 (Kojin-Bio, Sakado, Japan) containing TU-A (ligands for CD28 and CD137 supplemented with IL-15, Immunopathology Institute, Kyoto, Japan) and 20%
v
/
v
NK cell serum replacement (NKSR, Immunopathology Institute, Kyoto , Japan) supplemented with recombinant human IL-2 (rIL2) (500 U/mL). IL-2 and IL-15 are reported to stimulate NK cells and NK receptor-positive T cells [
27
], and this modified culture also supports the growth of NK cells. Half volume of the cultured medium was replaced every 2–3 days with a fresh medium. After 2 to 3 weeks, surface marker analysis showed that 50% to 90% of the cultured lymphocytes were CD3-negative and CD56-positive, indicating that the majority had the NK phenotype. NK activities were measured as described elsewhere [
28
]. The average NK activity value of cells from 20 heathy persons (13 males, 7 females, age 20 to 72 years) was 8.9% at the E:T ratio of 5:1; and it was 87% for this patient's ANK cells that were cultured for 14 days (
Table 1
). ANK cells were also cytotoxic to NK-resistant Daudi cells.
2.2. ANK Cell Treatment
The cultured lymphocytes were subdivided into multiple cryovials and stored at −80 °C. Before the ANK cell treatment, the frozen cultured lymphocytes were thawed and cultured in the fresh medium for 5 days. By monitoring NK activity of injected individuals who had cancer, it was found that NK-cell activity decreased 3 to 4 days after a single injection of ANK cells. To maintain NK cell activity, ANK cells were given twice a week.
To avoid cytokine release syndrome, 2–5 × 10
8
cells were administered per injection. A total of 15 injections from 12 November 2007 to 15 February 2008 were administered to this patient. In response to the treatment, this case showed a drastic decrease in the level of sIL-2R (
Figure 1
) and disappearance of skin tumors (
Figure 2
C). The patient has been in complete remission for more than 5 years. Skin lesions were cured at the last administration of ANK cell treatment; thereafter, sIL-2R concentration decreased and became stable at ~1000 U/mL. Hematological and clinical examinations showed no abnormality. No supportive therapy for ATLL was administered and the complete remission had persisted until she died of myocardial infarction on 22 April 2013.
3. Discussion
In this case report, the patient with acute ATL was successfully treated by ANK cell administration, and the patient has been well since February 2008. We have treated more than four cases of smoldering or chronic ATL successfully (Sho Nagai, Yuji Okubo et al. manuscript in preparation).
4. Conclusions
We described immunological features of ATL cells and found that ANK cell therapy may be effective as a treatment for ATL. One case with acute crisis of ATL was shown to be successfully treated by this modality. ATL cells have other immunological features such as downregulation of CD3–TCR complexes and expression of matricellular proteins. The development of new immunological therapies involving these molecules is necessary in addition to the ANK cell therapy.
Author Contributions
S.N. treated the patient and contributed to the organization of the clinical data. K.T. and Y.O. performed the lymphocyte culture and its management. T.H. wrote this paper and contributed to the organization of the figures. H.C.-Y. and G.B. contibuted to write a paper.
Funding
This work was in part supported by the Research Program on Emerging and Re-Emerging Infectious Diseases from the Japan Agency for Medical Research and Development (AMED, 965143), and partially supported and by the Japan Society for the Promotion of Science (JSPS) Grants-in-Aid for Scientific Research (KAKENHI), Grant Number JP17H01690.
Conflicts of Interest
The authors declare no conflict of interest.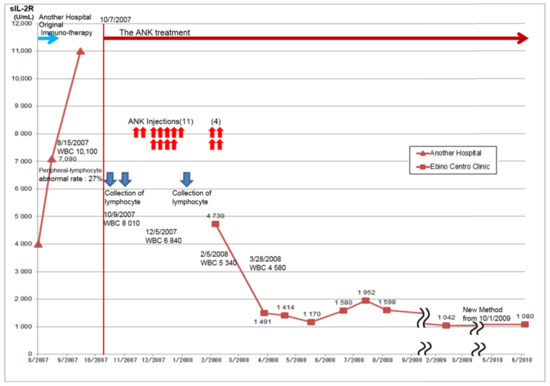 Figure 1. Soluble IL-2 receptor (sIL-2R) levels in the serum of the patient. Due to the gradual increase of the levels, ANK cell treatment was initiated. After repeated injections of ANK cells, sIL-2R levels decreased. The red arrow indicates an injection associated with ANK cell treatment. The blue color indicates venous blood collection for the ANK cell culture. The typical range of sIL-2R was 190–650 U/mL before 1 October 2009, and thereafter shifted to 122–496 U/mL.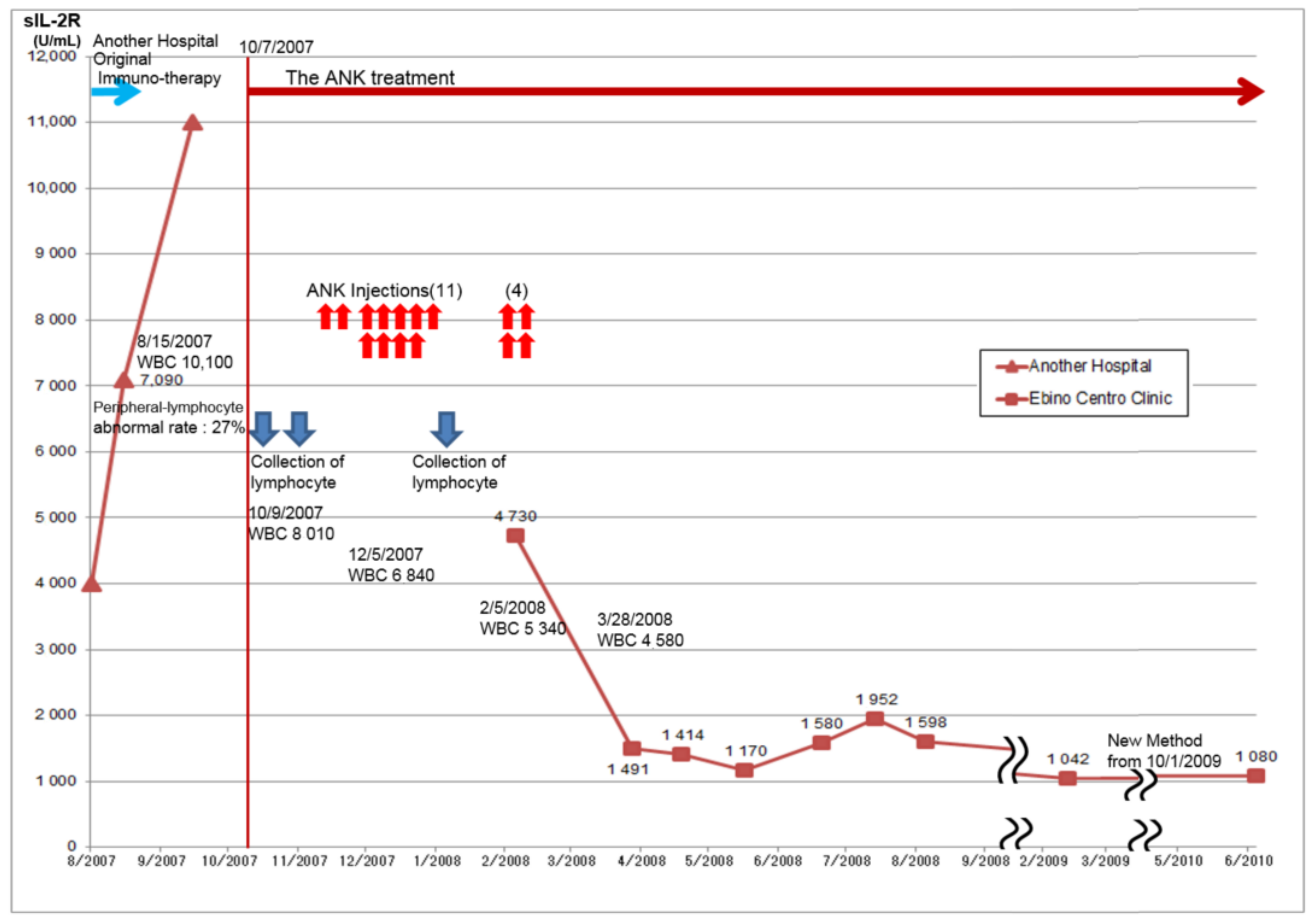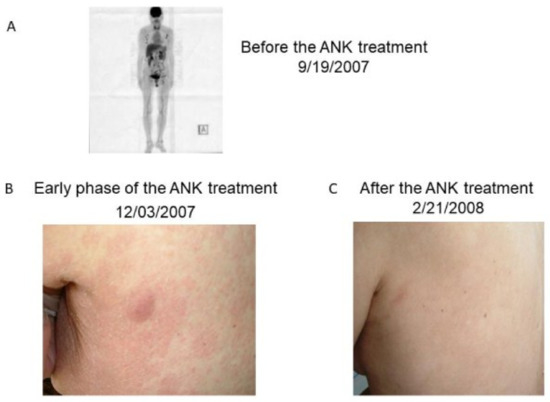 Figure 2. A positron emission tomography-computed tomography (PET-CT) image (before the ANK cell treatment) and skin lesions of the patient. (A) PET-CT revealed the enlargement of multiple lymph nodes before ANK cell treatment; (B) She had a rash and tumors on her whole body in the early phase of ANK cell treatment (3 December 2007); (C) After the repeated administration of ANK cells, she was cured of multiple skin lesions (21 February 2008).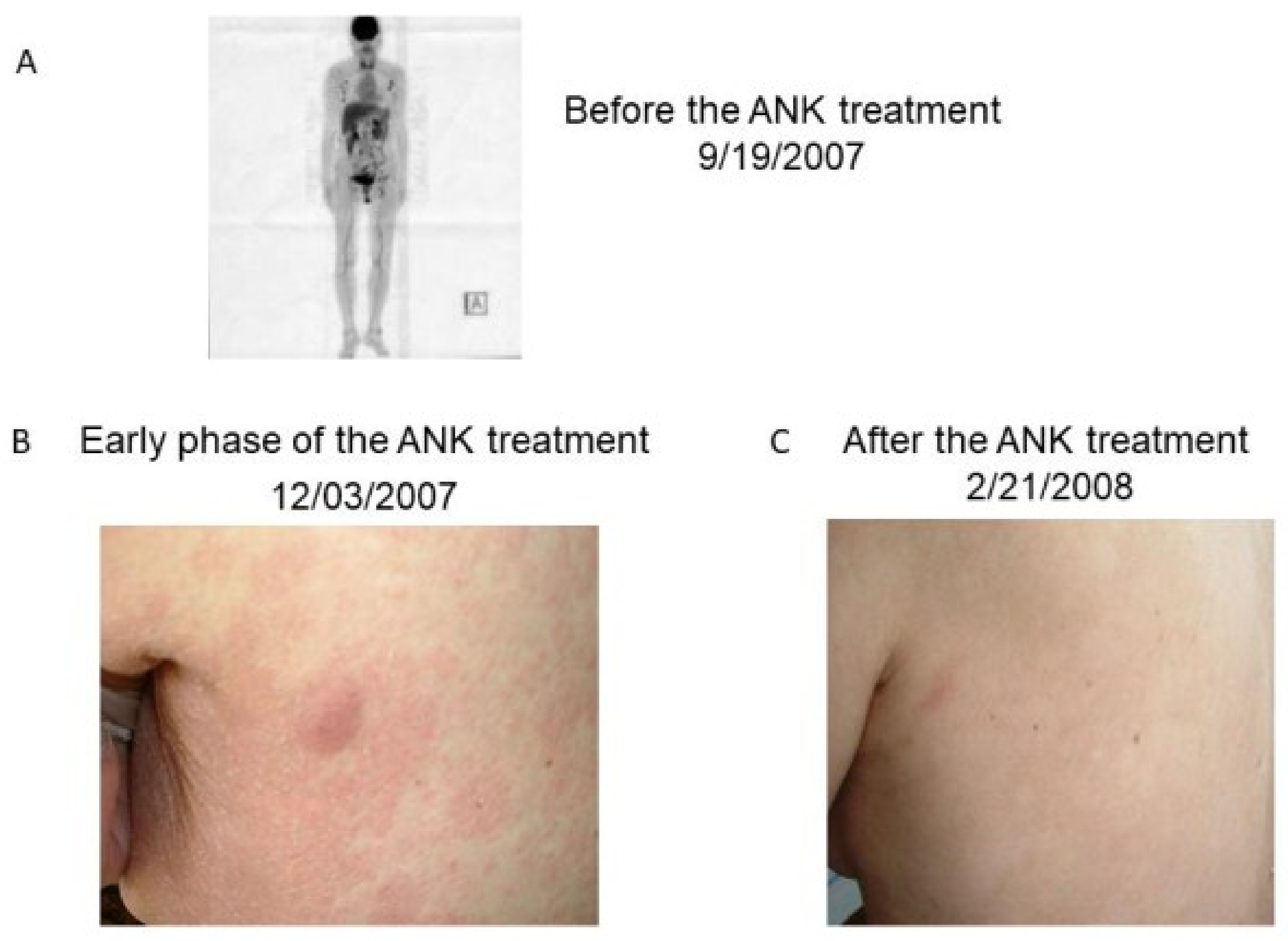 Table 1. NK activity of fresh lymphocytes from normal healthy individuals and ANK cells from the patient.
Freshly Prepared Lymphocytes (n—20)
The Cultured Lymphocytes (ANK)
NK activity (K562, E:T ratio = 40:1)
41.5% (15.4–73%) *
NK activity (K562, E:T ratio = 5:1)
8.9% (0–20.6%)
NK activity (K562, E:T ratio = 5:1)
87%
NK activity (Daudi, E:T ratio = 5:1)
73%
* The lowest and highest values of NK activity are shown in parentheses.

© 2018 by the authors. Licensee MDPI, Basel, Switzerland. This article is an open access article distributed under the terms and conditions of the Creative Commons Attribution (CC BY) license (http://creativecommons.org/licenses/by/4.0/).