Ultrastructural Remodeling of the Neurovascular Unit in the Female Diabetic db/db Model—Part I: Astrocyte
1
Diabetes and Cardiovascular Center, University of Missouri School of Medicine, Columbia, MO 65212, USA
2
Division of Endocrinology and Metabolism, Department of Medicine, University of Missouri, Columbia, MO 65211, USA
3
Electron Microscopy Core Facility, University of Missouri, Columbia, MO 65211, USA
4
Research Service, Harry S. Truman Memorial Veterans Hospital, Columbia, MO 65201, USA
5
Department of Medical Pharmacology and Physiology, University of Missouri, Columbia, MO 65211, USA
*
Author to whom correspondence should be addressed.
Received: 4 July 2018 / Revised: 24 July 2018 / Accepted: 31 July 2018 / Published: 7 August 2018
Abstract
Obesity, insulin resistance, and type 2 diabetes mellitus are associated with cognitive impairment, known as diabetic cognopathy. In this study, we tested the hypothesis that neurovascular unit(s) (NVU) within cerebral cortical gray matter regions display abnormal cellular remodeling. The monogenic (
Leprdb
) female diabetic db/db (BKS.Cg
Dock7m
+/+
Leprdb
/J; DBC) mouse model was utilized for this ultrastructural study. Upon sacrifice (at 20 weeks of age), left-brain hemispheres of the DBC and age-matched non-diabetic wild-type control C57BL/KsJ (CKC) mice were immediately immersion-fixed. We found attenuation/loss of endothelial blood–brain barrier tight/adherens junctions and pericytes, thickening of the basement membrane, aberrant mitochondria, and pathological remodeling of protoplasmic astrocytes. Additionally, there were adherent red blood cells and NVU microbleeds (cortical layer III) in DBC mice, which were not observed in CKC animals. While this study represents only a "snapshot in time", it does allow for cellular remodeling comparisons between DBC and CKC. In this paper, the first of a three-part series, we report the observational ultrastructural remodeling changes of the NVU and its protoplasmic astrocytes in relation to the surrounding neuropil. Having identified multiple abnormal cellular remodeling changes in the DBC as compared to CKC models, we will design future experiments to evaluate various treatment modalities in DBC mice.
View Full-Text
►

▼

Figures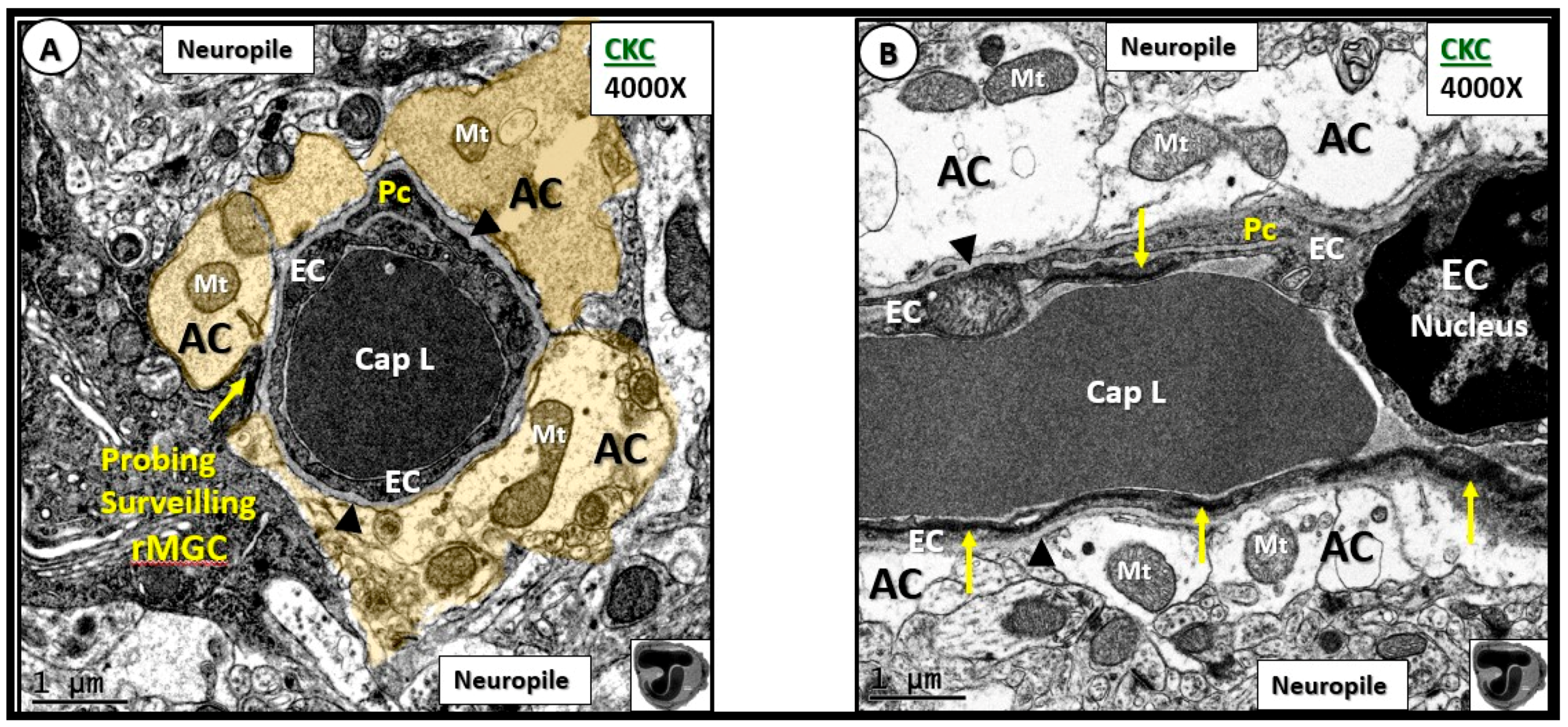 Figure 1
This is an open access article distributed under the
Creative Commons Attribution License
which permits unrestricted use, distribution, and reproduction in any medium, provided the original work is properly cited (CC BY 4.0).

Share & Cite This Article
MDPI and ACS Style
Hayden, M.R.; Grant, D.G.; Aroor, A.R.; DeMarco, V.G. Ultrastructural Remodeling of the Neurovascular Unit in the Female Diabetic db/db Model—Part I: Astrocyte. Neuroglia 2018, 1, 220-244.
Comments
[Return to top]