Open Access This article is
freely available
re-usable
Article
Adaptive Neuro-Fuzzy Inference System Based Grading of Basmati Rice Grains Using Image Processing Technique
Centre of Studies in Resources Engineering, Indian Institute of Technology Bombay, Mumbai, India
Received: 10 April 2018 / Accepted: 15 June 2018 / Published: 20 June 2018
Abstract
:
Grading of rice intents to discriminate broken and whole grain from a sample. Standard techniques for image-based rice grading using advanced statistical methods seldom take into account the domain knowledge associated with the data. In the context of a high product value basmati rice with an image based grading process, one ought to consider the physical properties of grain and the associated knowledge. In this present work, a model of quality grade testing and identification is proposed using a novel digital image processing and knowledge-based adaptive neuro-fuzzy inference system (ANFIS). The rationale behind adopting a grading system based on fuzzy rules relies on capabilities of ANFIS to simulate the behaviour of an expert in the characterization of rice grain using the physical properties of rice grains. The rice kernels are characterized with the help of morphological descriptors and geometric features which are derived from sample images of milled basmati rice. The predictive capability of the proposed technique has been tested on a sufficient number of training and test images of basmati rice grain. The proposed method outperforms with a promising result in an evaluation of rice quality with >98.5% classification accuracy for broken and whole grain as compared to standard machine learning technique viz. support vector machine (SVM) and K-nearest neighbour (KNN). The milling efficiency is also assessed using the ratio between head rice and broken rice percentage and it is 77.27% for the test sample. The overall results of the adopted methodology are promising in terms of classification accuracy and efficiency.
Keywords:
ANFIS; basmati rice; image processing; grading; quality assessment; fuzzy inference system
2. Materials and Methods
The schematic workflow of the proposed ANFIS based grading of basmati rice grains is given in this section. Subsequently, the steps involved in the technique are detailed in the following subsections.
3. Results and Discussion
This section explains the results of the ANFIS based rice grading technique. The proposed morphological features are generated as detailed in
Section 3.1
using the image processing technique which was performed using the steps described in
Section 2.3
. In
Section 3.2
, the ANFIS classification result using the features is analyzed and subsequently compared with the standard classification method. Furthermore, a histogram analysis of features are followed by estimation of the milling efficiency in
Section 3.3
and
Section 3.4
.
3.1. Image Processing Outputs
The sample images were processed as mentioned in
Section 2.3
. An example of the processed images is shown in
Figure 7
. These images were used for feature extraction which was utilized for a fuzzy model generation. The images are consisting of both whole and broken grain rice. After segmentation and morphological operations, each object of an individual image is labelled as shown in
Figure 7
h–l. The features associated with each object (e.g., Object 1 in
Figure 7
h) are stored with the associated objectID in a tuple. These data set are further being used in training and testing of the classifier.
3.2. Classification Performance
3.3. Histogram of Features in Testing Images
Histograms of feature extracted from the test image objects are shown in
Figure 11
. All the features are positively skewed representing a positive relation with basmati grain size (head grain). The occurrence of eccentricity >0.9 is found for more than 16 rice objects in the test image. The aspect ratio is >2.4 for more than 17 objects. Similar results are also shown in the case of area, perimeter and major axis length. The histogram images as shown in
Figure 11
, also exemplify the head grain and broken grain percentage in the test images.
3.4. Milling Efficiency
From the test image output results, the number of the whole grains out of 22 objects, whereas, the broken grain objectsare = 5 out of 22 objects. Therefore, the percentage of whole grain %. This milling efficiency () was found for a specific roller characteristic (rpm and gap between roller ∼0.5 mm) of the milling machine [
45
]. The milling efficiencies were evaluated in a similar way for the 10 test images. Subsequently, the average of all the 10 milling efficiencies was determined, which is ∼77.3% with a standard deviation () of 1.5. The milling efficiency () derived using the image-based method was in accordance with the manual calculation results (%).
4. Summary and Conclusions
Standard classification technique seldom incorporates domain knowledge associated with the physical properties of rice grain. Hence, a knowledge-based neuro-fuzzy classification technique was proposed in this study for grading of basmati rice grains. This technique takes into account the physical properties of grain devised from an image-based method to classify whole and broken grain.
A novel image processing technique was adopted for morphological feature extraction followed by ANFIS model building for discrimination of grains. The classification accuracy for the test images were >98.6%, which comparatively better than standard SVM and KNN classifier (<95%). Moreover, the proposed ANFIS classification results seem to be more reliable than the results obtained from SVM and KNN, since it deals with uncertainty in output. It is important to note that the standard technique does not take into account any domain knowledge associated with grain physical properties. In fact, the physical properties are essential for grain grading and characterization as analyzed in this study.
The milling efficiency was estimated in terms of percentage of whole grain or head grain and it was 77.27% for the test sample. However, the colour and texture based quality and grading was not considered during feature selection. The overall results of the adopted methodology were promising in terms of classification accuracy and efficiency. This work can be extended to discrimination of different rice varieties for determining the degree adulteration. Furthermore, the real-time image processing based grading can be addressed equally. This can be extended for optimization of milling machine parts characteristics during milling operation (roller parameter-speed, the gap between rollers) for process automation using micro-controller units.
Funding
This research received no external funding.
Acknowledgments
The author would like to thank Rice Processing Unit, Department of Postharvest Engineering, Bidhan Chandra Krishi Viswavidyalaya, India for providing sample images of basmati rice.
Conflicts of Interest
The authors declare no conflict of interest.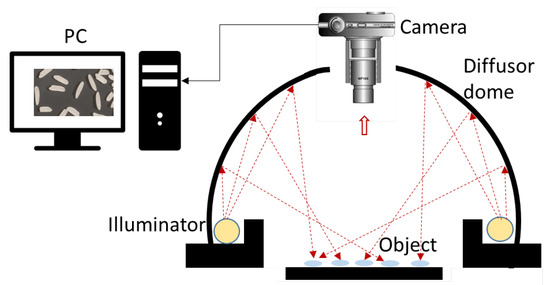 Figure 1. Schematic diagram of image acquisition system equipped with a camera, illumination source and geometry, and connected PC.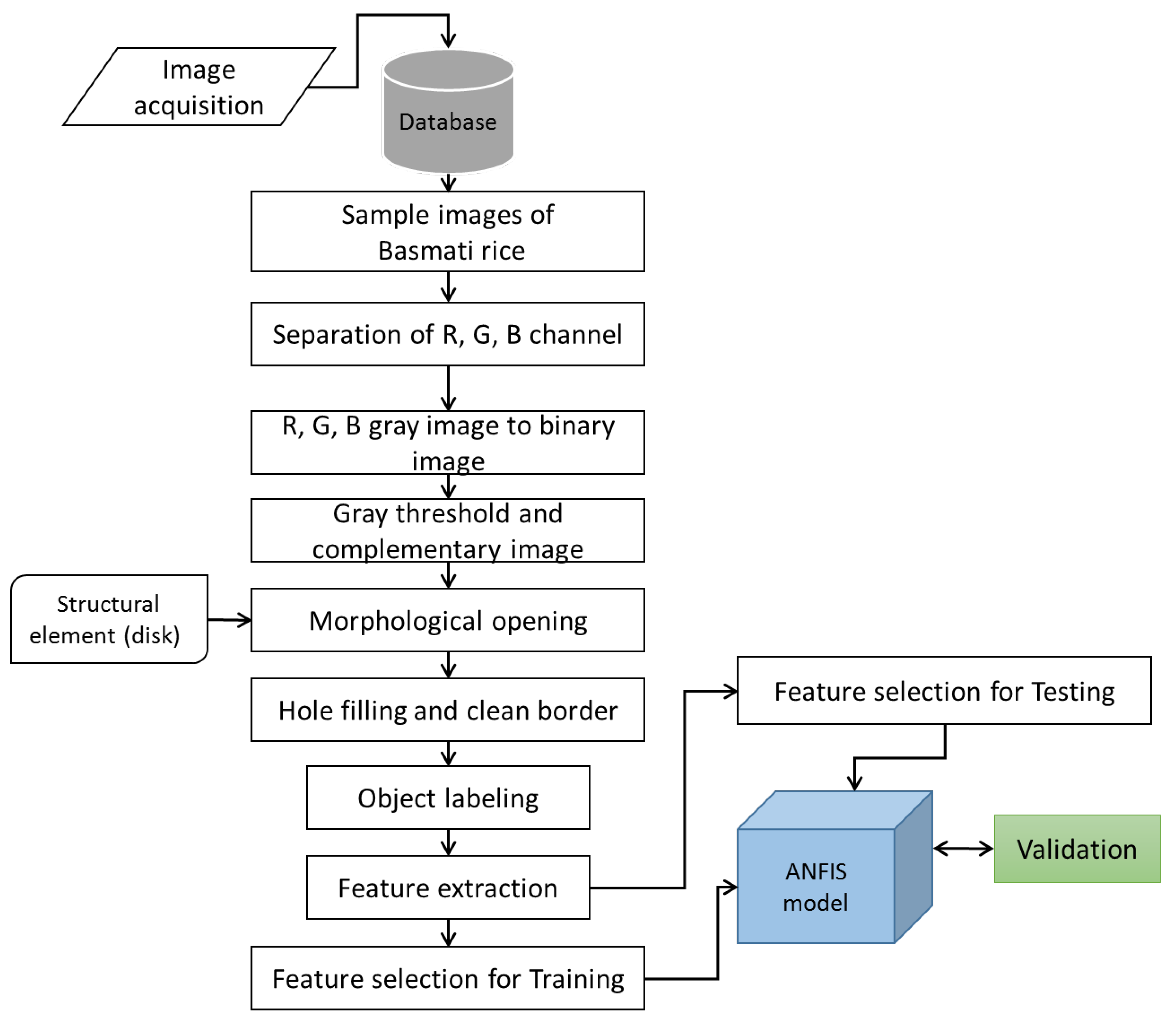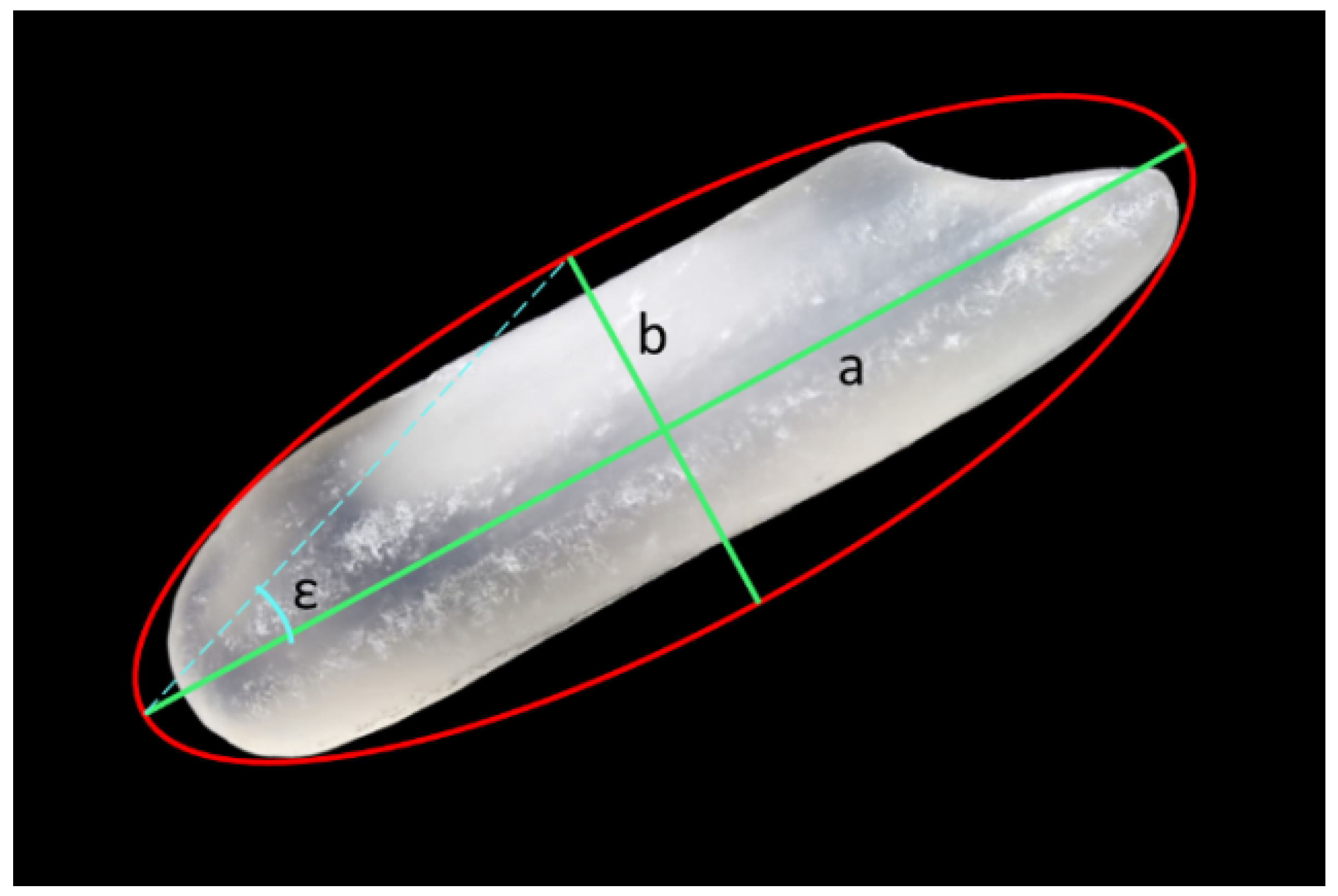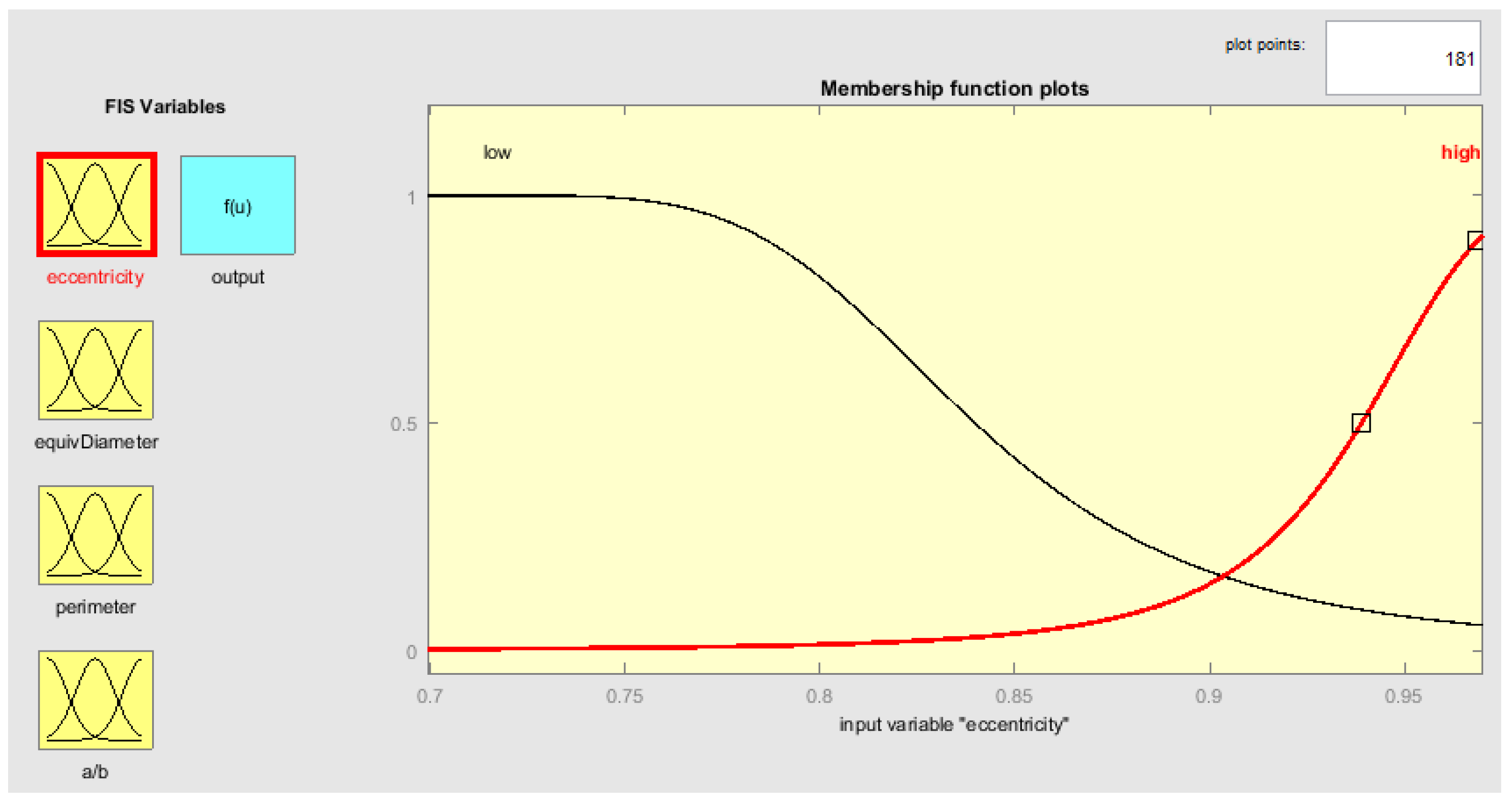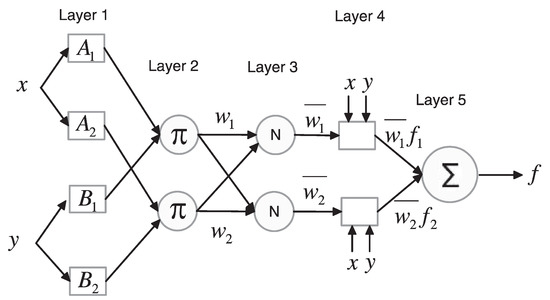 Figure 6.
ANFIS architecture with input, hidden and output layer [
43
].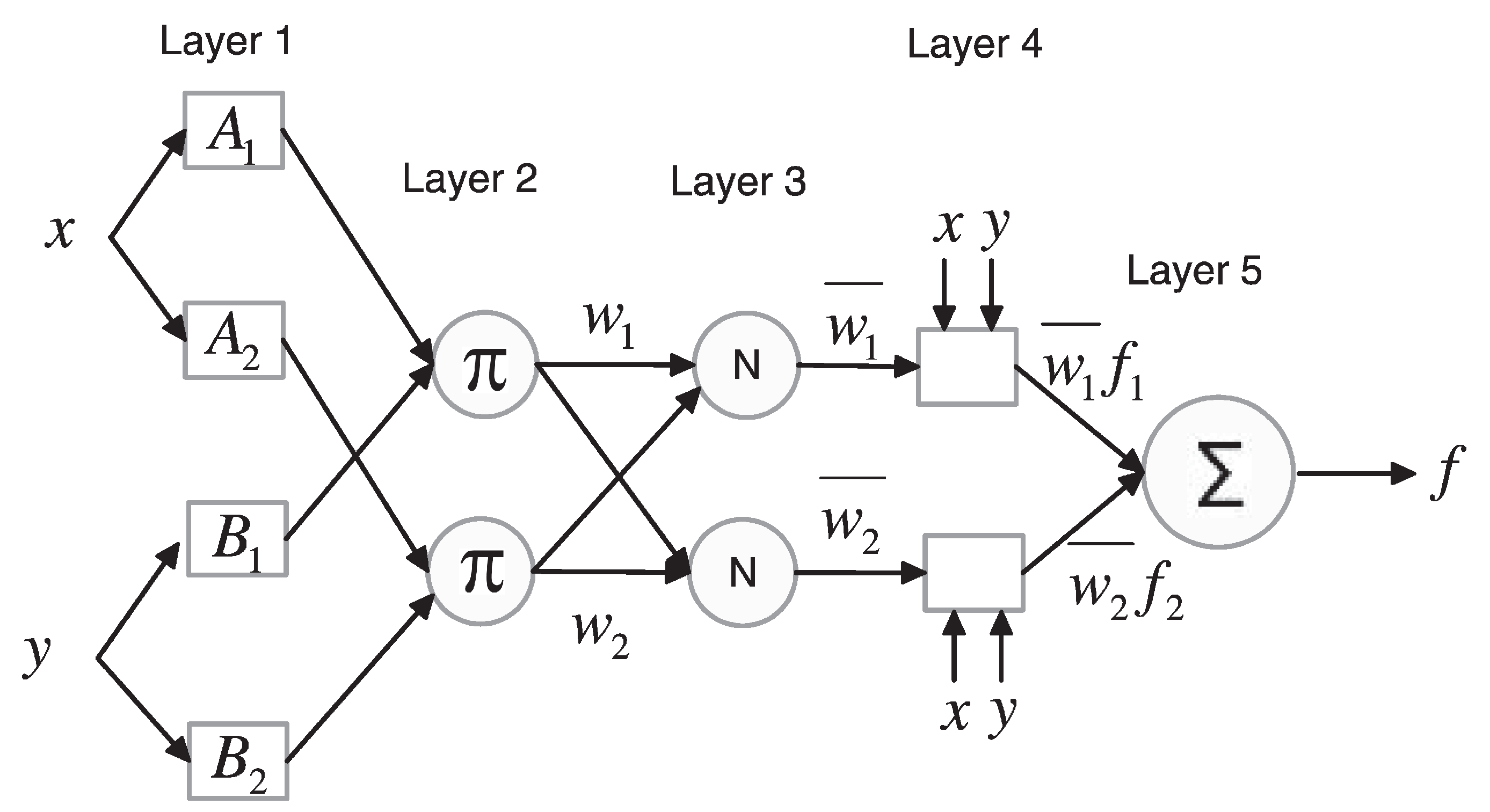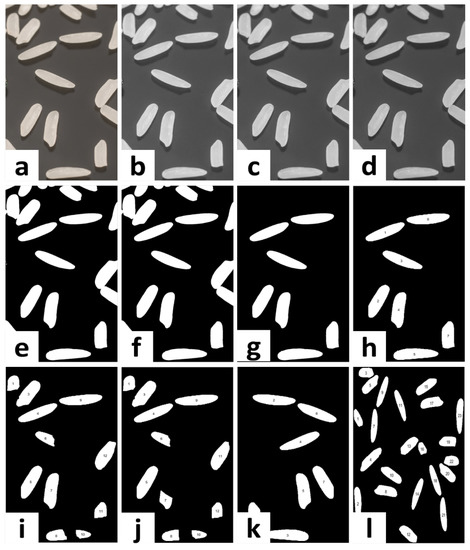 Figure 7. Image processing outputs. (a) Raw sample image (RGB); (b) Red channel image; (c) Green channel image; (d) Blue channel image; (e) Binary image; (f) Image after morphological opening; (g) Hole filled and border cleared image; (h) Labelled objects in training sample1 image; (i) Labelled objects in training sample 2 image; (j) Labelled objects in training sample 3 image; (k) Labelled objects in training sample 4 image; (l) Labelled objects in test sample image.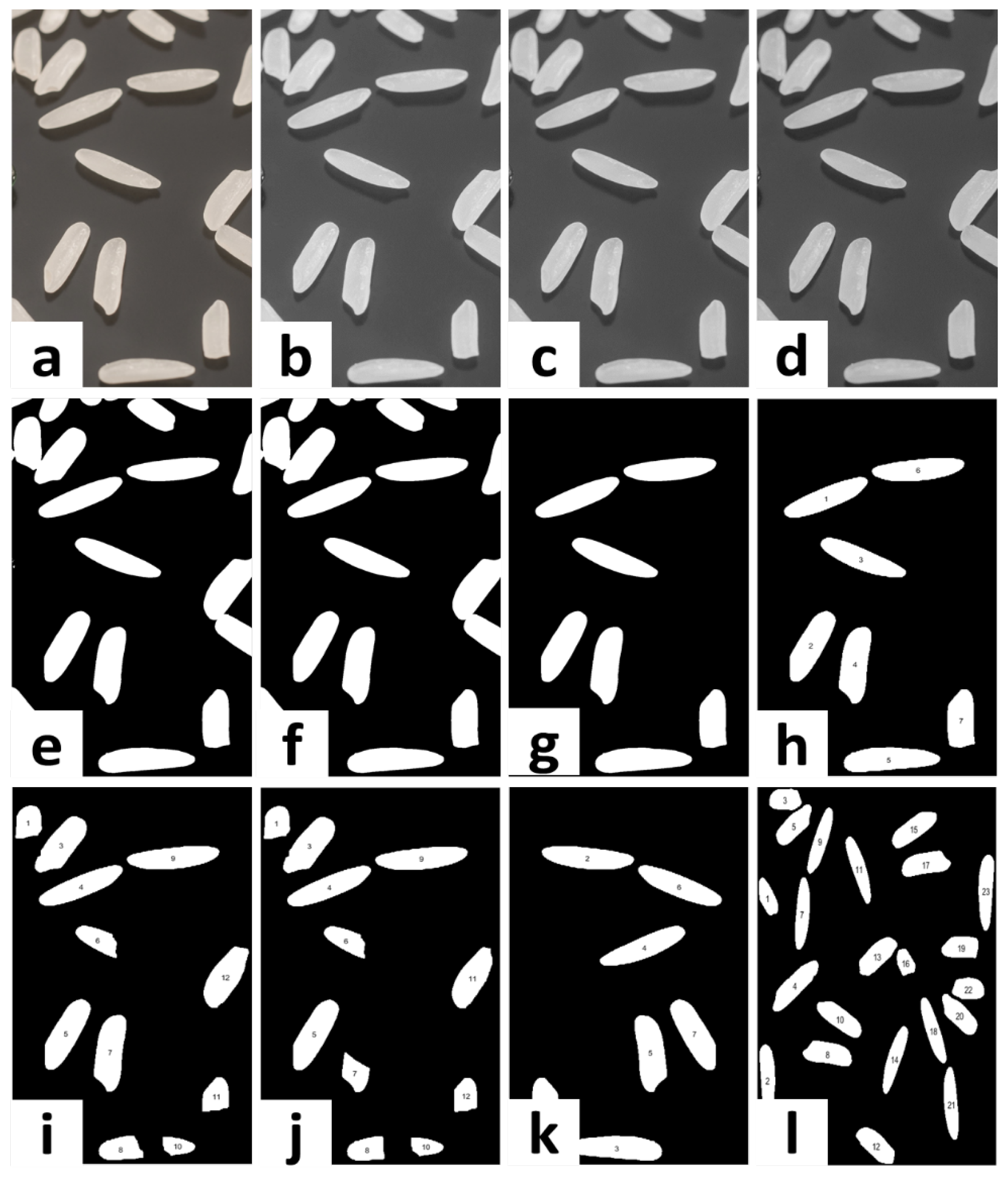 Figure 8. Training and test error for sample images. During training, after 11 epochs the error significantly reduces. In test error plot, the blue dots are actual output, and the red stars are ANFIS output corresponding to each object.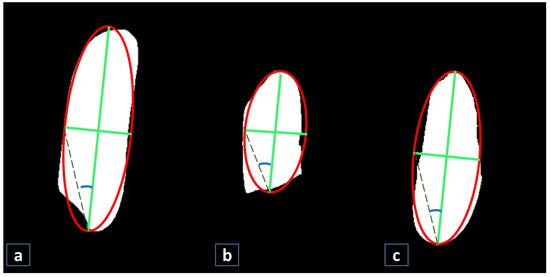 Figure 9. Variations in features in between different grains. (a) Whole rice grain; (b) Broken rice grain; (c) Imperfect rice grain.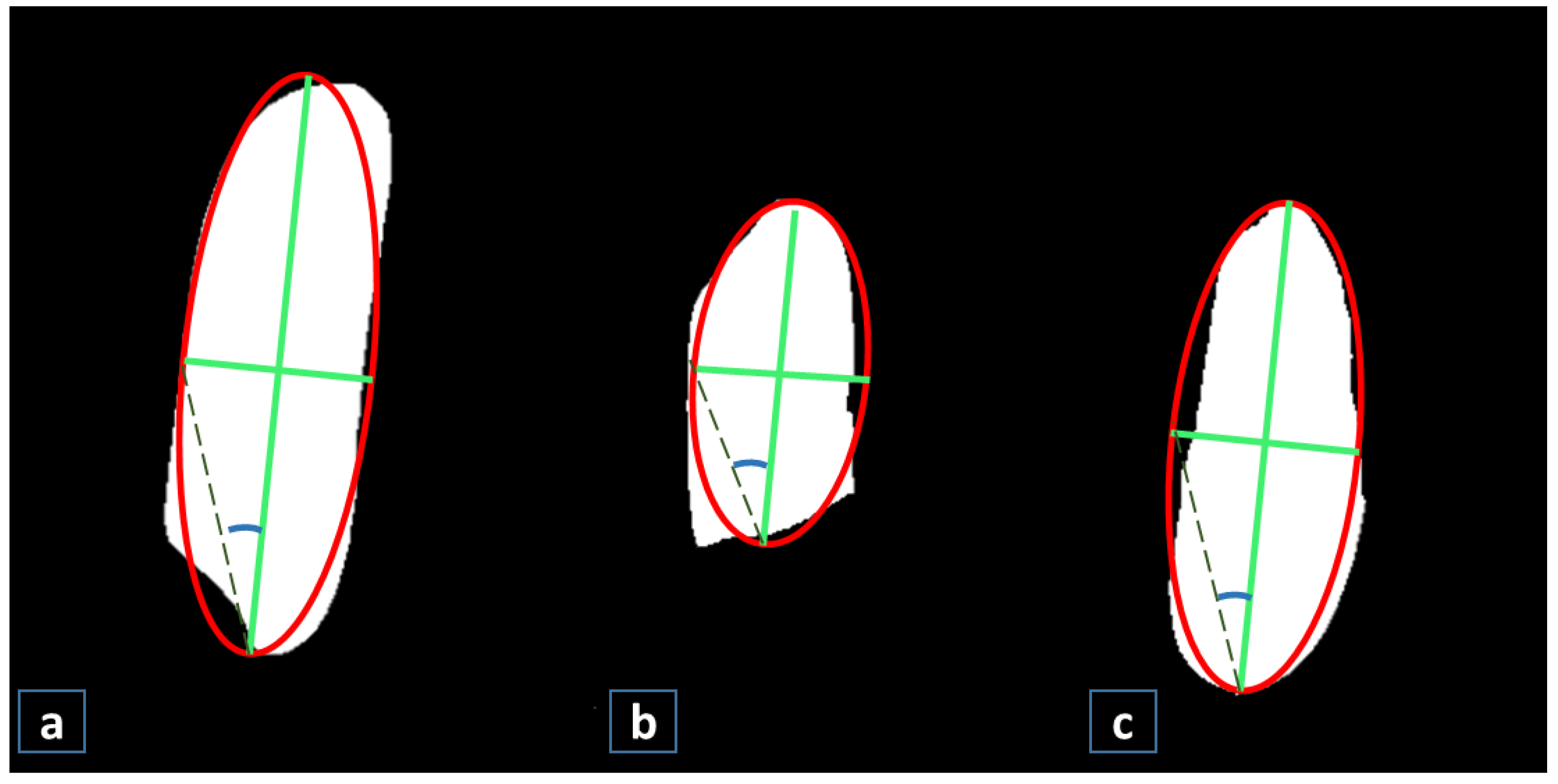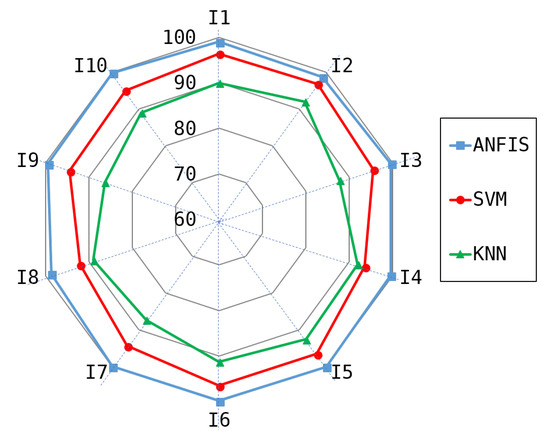 Figure 10. Classification performance of ANFIS, SVM and KNN for 10 test image samples. I1-I10 represents the test image IDs.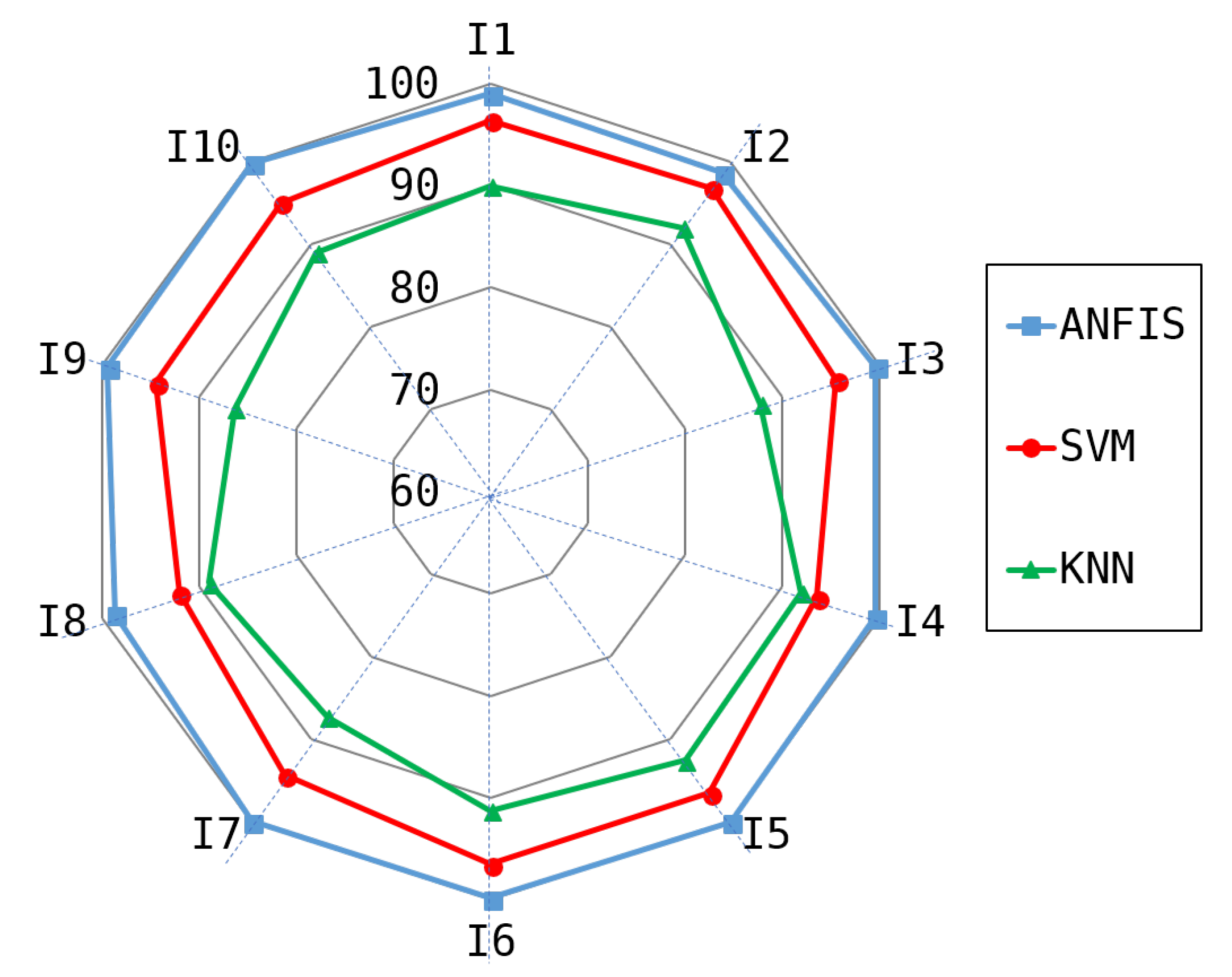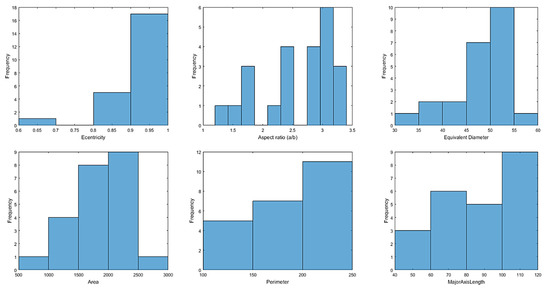 Figure 11. Histogram of eccentricity, aspect ratio, equivalent diameter, area, perimeter and major axis length of test image objects.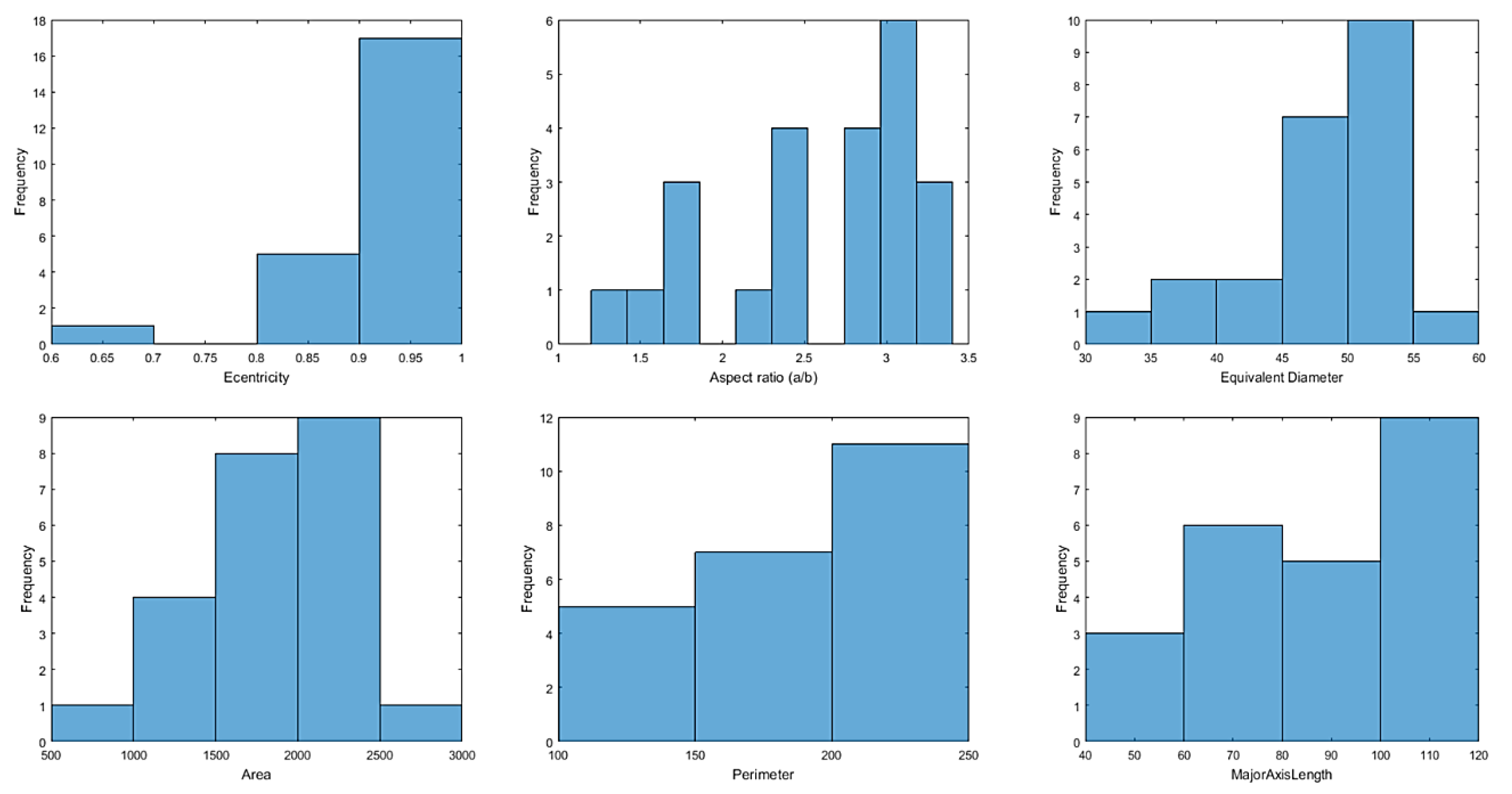 Table 1. ANFIS results for test image for each rice object. Threshold is applied with rule: If (ANFIS output class > 2) Then (ANFIS output class thresholded = 0).
Object Label
Actual Class
ANFIS Output Class
ANFIS Class
Output Thresholded
1
1
2.353
1
2
1
2.723
1
3
1
2.352
1
4
1
2.240
1
5
0
1.168
0
6
0
0.859
0
7
1
2.050
1
8
1
2.228
1
9
1
2.973
1
10
0
1.073
0
11
1
2.971
1
12
1
2.231
1
13
1
1.992
1
14
1
2.309
1
15
0
0.841
0
16
0
0.959
0
17
1
3.189
1
18
1
2.183
1
19
1
2.251
1
20
1
2.347
1
21
1
3.184
1
22
1
2.182
1

© 2018 by the author. Licensee MDPI, Basel, Switzerland. This article is an open access article distributed under the terms and conditions of the Creative Commons Attribution (CC BY) license (http://creativecommons.org/licenses/by/4.0/).