Transient Powder Melting in SLM Using an Analytical Model with Phase Change and Spherical Symmetry in a Semi-Infinite Medium
Department of Mechanical Engineering, Frederick University, 1303 Nicosia, Cyprus
*
Author to whom correspondence should be addressed.
†
This author was deceased.
Received: 28 May 2019 / Revised: 16 June 2019 / Accepted: 18 June 2019 / Published: 20 June 2019
Abstract
In this work, we introduce an analytical expression for approximating the transient melting radius during powder melting in Selective Laser Melting (SLM) assumed with a stationary laser heat source. The purpose of this work is to evaluate the suggested analytical approach in determining the melt pool geometry during laser processing, by considering heat transfer and phase change effects. This will allow for the rendering of the first findings on the way to a quasi-real time calculation of the melt pool during laser melting, which will contribute significantly to the process design and control, especially when new powders are applied. Initially, we consider the heat transfer process associated with a point heat source, releasing a continuous and constant power (in a semi-infinite powder bed. On the point of the heat source the temperature is infinite, and the material starts to melt spherically outwards, creating an interface that separates the solid from the molten material; we assume different properties between the two phases. Unlike the cases of the cartesian and cylindrical coordinates, (in a cartesian coordinate the heat source is over a plane, i.e., W/m
2
, and in cylindrical along a line, i.e., W/m), where the melting process is proportional to the square root of time, in spherical coordinates the melting stops at a finite radius, i.e., a maximum radius, which depends only on the heat source, the conductivity of the solid and the difference between the far-field temperature and the melting temperature of the material. Here we should also point out that to achieve continuous melting in spherical coordinates the power of the source must increase with the square root of the time. The obtained analytical expression for the maximum melting radius and the approximate expression for its dependence on the time compare well with the numerical results obtained by a finite element analysis.
View Full-Text
►

▼

Figures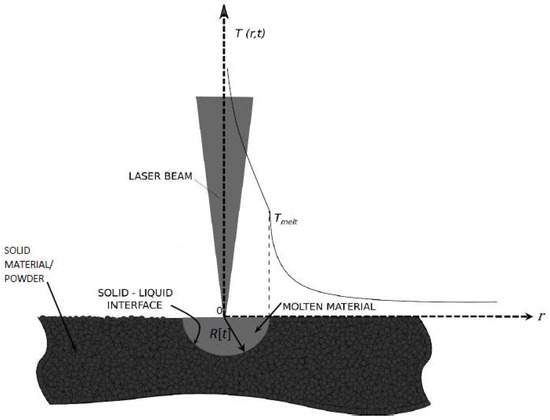 Figure 1
This is an open access article distributed under the
Creative Commons Attribution License
which permits unrestricted use, distribution, and reproduction in any medium, provided the original work is properly cited (CC BY 4.0).

Share & Cite This Article
MDPI and ACS Style
Fyrillas, M.M.; Papadakis, L. Transient Powder Melting in SLM Using an Analytical Model with Phase Change and Spherical Symmetry in a Semi-Infinite Medium. J. Manuf. Mater. Process. 2019, 3, 50.
Note that from the first issue of 2016, MDPI journals use article numbers instead of page numbers. See further details here.
Comments
[Return to top]