Open Access This article is
freely available
re-usable
Article
Influences on the Fabrication of Diffractive Optical Elements by Injection Compression Molding
1
Institute for Micro Assembly Technologies, Hahn-Schickard, Allmandring 9b, 70569 Stuttgart, Germany
2
Institute for Microintegration, University of Stuttgart, Allmandring 9b, 70569 Stuttgart, Germany
*
Author to whom correspondence should be addressed.
Received: 15 December 2017 / Accepted: 10 January 2018 / Published: 15 January 2018
Abstract
:
Polymer optics are widely used in various applications, replacing traditional glass lenses. The ability to create free-form and micro-structured optics, as well as fast replication, gives them major advantages over traditional glass lenses. However, the fabrication of complex optical components requires full process control and understanding of influencing factors on the quality of the polymer optical parts. In this work, a curved diffractive optical element (DOE) is fabricated using injection compression molding. Different gate designs were evaluated and the movement of the compression stamper was optimized to obtain good filling behavior. The process stability was analyzed and improved by controlling the melt temperature precisely. Finally, the molding parameters were optimized, focusing on the mold temperature, melt temperature and compression force. Curved diffractive optical elements were replicated with feature sizes of 1.6 μm. The experiments showed that all aspects of the molding process have to be controlled perfectly to produce complex polymer optics. High mold temperatures and compression force are necessary to replicate micro-structured features. The work presents a broad investigation and description of the fabrication process and their influences.
Keywords:
injection compression molding; diffractive optical elements; micro-structures
Acknowledgments
The research presented in this paper is supported from the budget of the Federal Ministry of Economic Affairs (Project AiF-RP-No. 18556 N). We would like to thank the funding organization. We would like to thank Arburg for providing access to the injection-molding machine and Rolf-Uwe Müller for supporting the molding experiments.
Author Contributions
Marcel Roeder designed and conducted the experiments, analyzed the resulting parts and wrote the manuscript. Peter Schilling designed the molding tool and organized the fabrication. Daniel Hera supported the design and execution of the experiments. Thomas Guenther and André Zimmermann critically revised the manuscript, supervised the project and provided the funding.
Conflicts of Interest
The authors declare no conflict of interest.
References
Beich, W.S. Injection molded polymer optics in the 21st Century. In Proceedings of the International Society for Optics and Photonics, San Diego, CA, USA, 31 July–4 August 2005. [Google Scholar]
Kwon, S.; Milanovic, V.; Lee, L.P. Vertical microlens scanner for 3D imaging. In Proceedings of the Technical Digest of the 2002 Solid-State Sensor and Actuator Workshop, Hilton Head Island, SC, USA, 2–7 June 2002. [Google Scholar]
Beich, W.S.

Plastic Optics: Specifying Injection-Molded Polymer Optics

; Photonics Media: Pittsfield, MA, USA, 2010. [Google Scholar]
Fang, F.; Zhang, N.; Zhang, X. Precision injection molding of freeform optics.

Adv. Opt. Technol.

2016,

5

, 303–324. [Google Scholar] [CrossRef]
Doushkina, V. Advantages of Polymer and Hybrid Glass-Polymer Optics.

Photonics Spectra

2010,

44

, 54–58. [Google Scholar]
Holthusen, A.-K.; Riemer, O.; Schmütz, J.; Meier, A. Mold machining and injection molding of diffractive microstructures.

J. Manuf. Process.

2017,

26

, 290–294. [Google Scholar] [CrossRef]
Lin, C.-M.; Hsieh, H.-K. Processing optimization of Fresnel lenses manufacturing in the injection molding considering birefringence effect.

Microsyst. Technol.

2017,

23

, 5689–5695. [Google Scholar] [CrossRef]
Sortino, M.; Totis, G.; Kuljanic, E. Comparison of Injection Molding Technologies for the Production of Micro-optical Devices.

Procedia Eng.

2014,

69

, 1296–1305. [Google Scholar] [CrossRef]
Wu, C.-H.; Chen, W.-S. Injection molding and injection compression molding of three-beam grating of DVD pickup lens.

Sens. Actuators A Phys.

2006,

125

, 367–375. [Google Scholar] [CrossRef]
Michaeli, W.; Schöngart, M. Mold Design for Complex Optical Plastics Components. In

Fabrication of Complex Optical Components

; Brinksmeier, E., Riemer, O., Gläbe, R.M., Eds.; Lecture Notes in Production Engineering; Springer: Berlin/Heidelberg, Germany, 2013; pp. 13–24. [Google Scholar]
Bäumer, S.

Handbook of Plastic Optics

; John Wiley & Sons: Hoboken, NJ, USA, 2011. [Google Scholar]
Michaeli, W.; Heßner, S.; Klaiber, F.; Forster, J. Geometrical Accuracy and Optical Performance of Injection Moulded and Injection-compression Moulded Plastic Parts.

CIRP Ann. Manuf. Technol.

2007,

56

, 545–548. [Google Scholar] [CrossRef]
Nikolajeff, F.; Jacobsson, S.; Hård, S.; Billman, Å.; Lundbladh, L.; Lindell, C. Replication of continuous-relief diffractive optical elements by conventional compact disc injection-molding techniques.

Appl. Opt.

1997,

36

, 4655–4659. [Google Scholar] [CrossRef] [PubMed]
Kalima, V.; Pietarinen, J.; Siitonen, S.; Immonen, J.; Suvanto, M.; Kuittinen, M.; Mönkkönen, K.; Pakkanen, T.T. Transparent thermoplastics: Replication of diffractive optical elements using micro-injection molding.

Opt. Mater.

2007,

30

, 285–291. [Google Scholar] [CrossRef]
Kashyap, S.; Datta, D. Process parameter optimization of plastic injection molding: A review.

Int. J. Plast. Technol.

2015,

19

, 1–18. [Google Scholar] [CrossRef]
Dick, L.; Risse, S.; Tünnermann, A. Process influences and correction possibilities for high precision injection molded freeform optics.

Adv. Opt. Technol.

2016,

5

. [Google Scholar] [CrossRef]
Evonik Industries.

Evonik Industries TROGAMID myCX 2017

; Evonik Industries: Essen, Germany.
Figure 1. Concept of a zero refractive element. A chromatic light beam (grey) is splitted by the element depending on the wavelength. For one specific wavelength (green), no focusing effect occurs, depending on the optic design.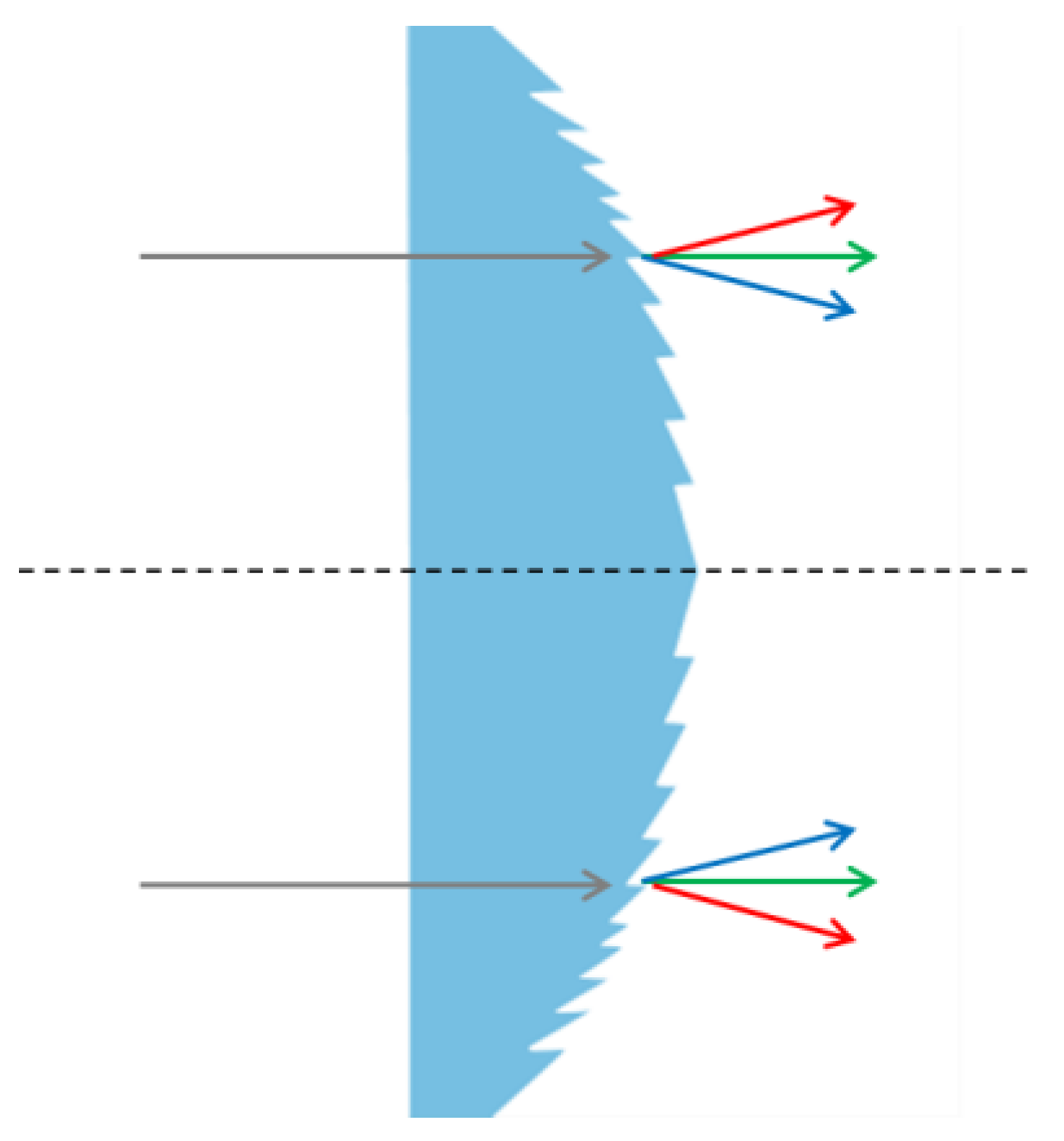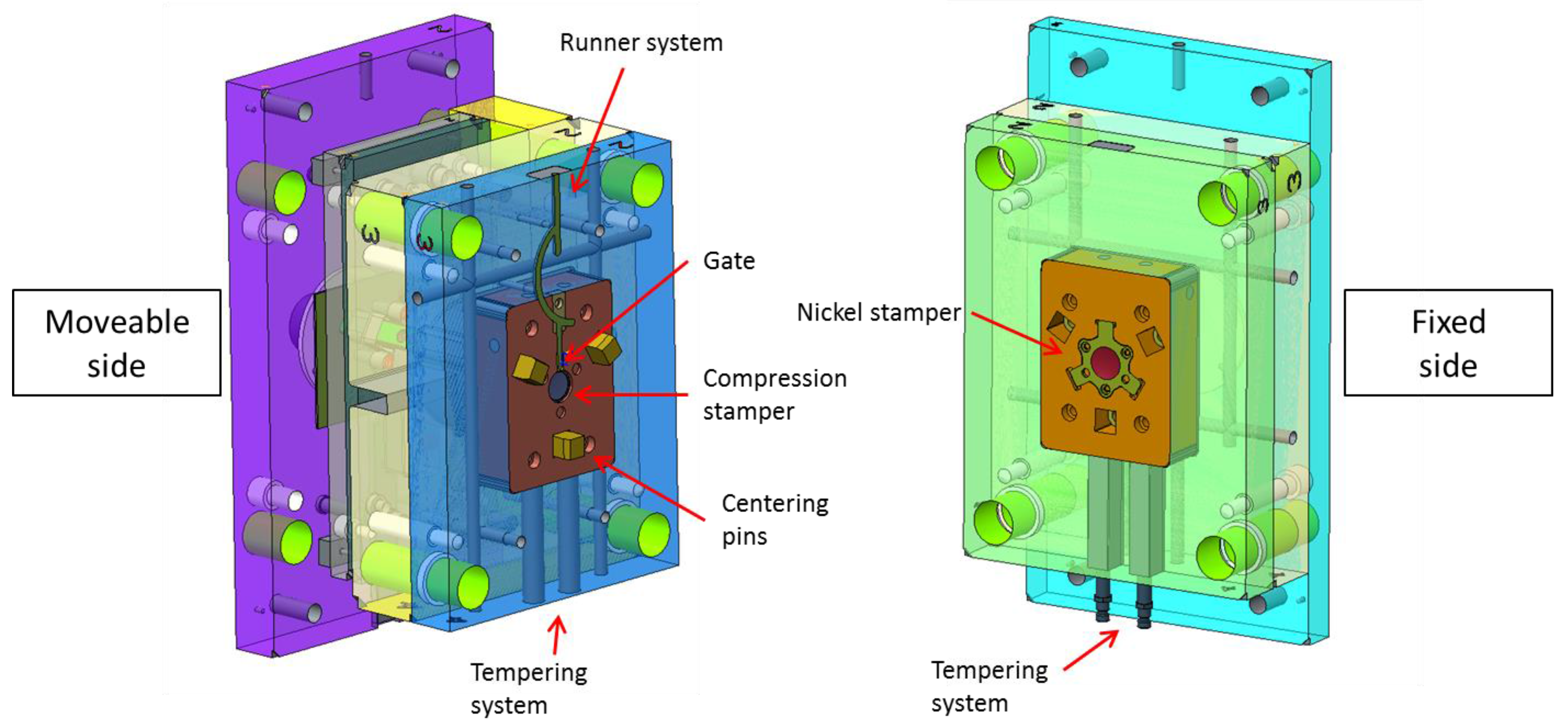 Figure 3. Gate variations used in the experiments (1) 6 × 1 mm film gate (2) 2 mm half-moon shape (3) 0.8 mm tunnel gate.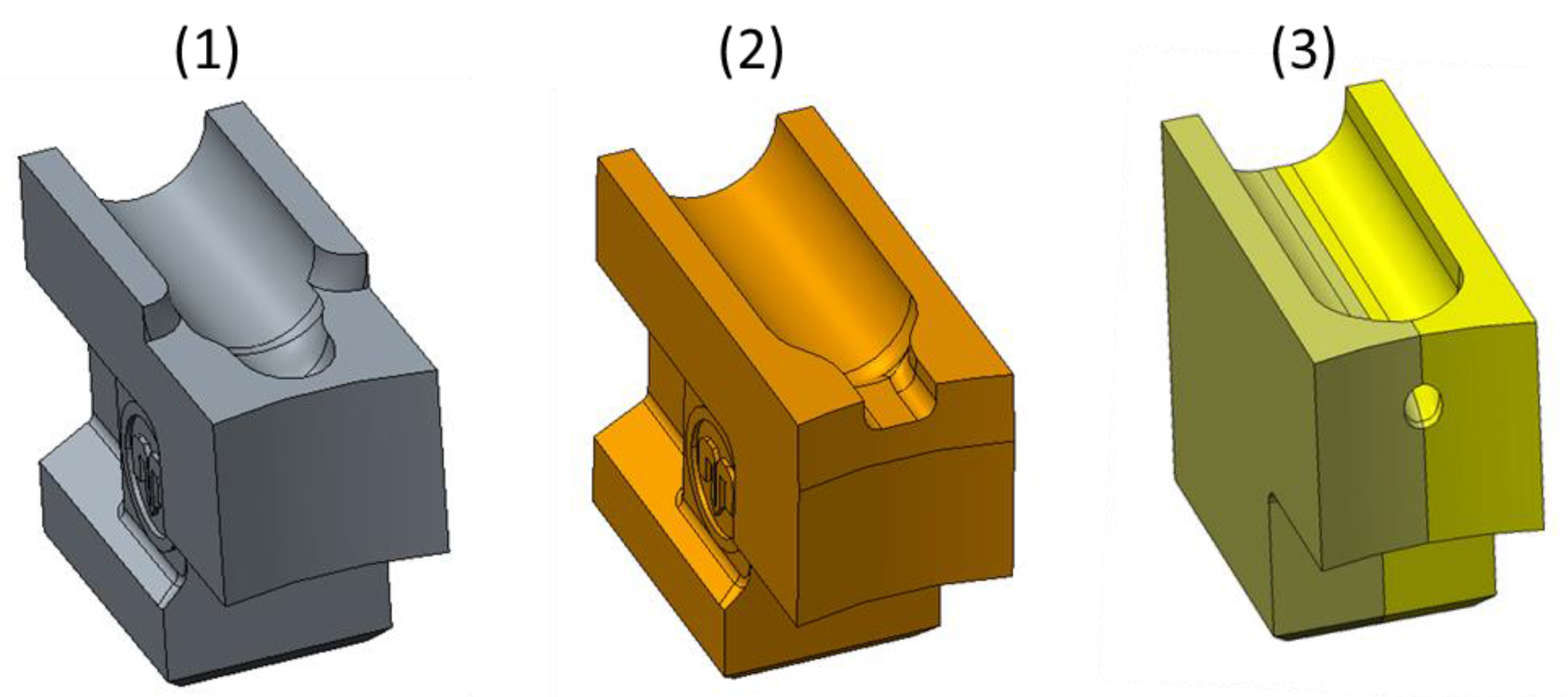 Figure 4. Resulting DOEs with different gate types (1) The 6 × 1 mm film gate results in significant flow lines in the polymer part (2) the half-moon gate shows a homogeneous filling behavior (3) the tunnel gate creates a free-jet free filling when the process parameters are set correctly.

Figure 5. Movement of the compression stamper with three steps (1) stamper positioned at the front to avoid a free-jet flow (2) backwards movement of the stamper during material injection (3) compression movement.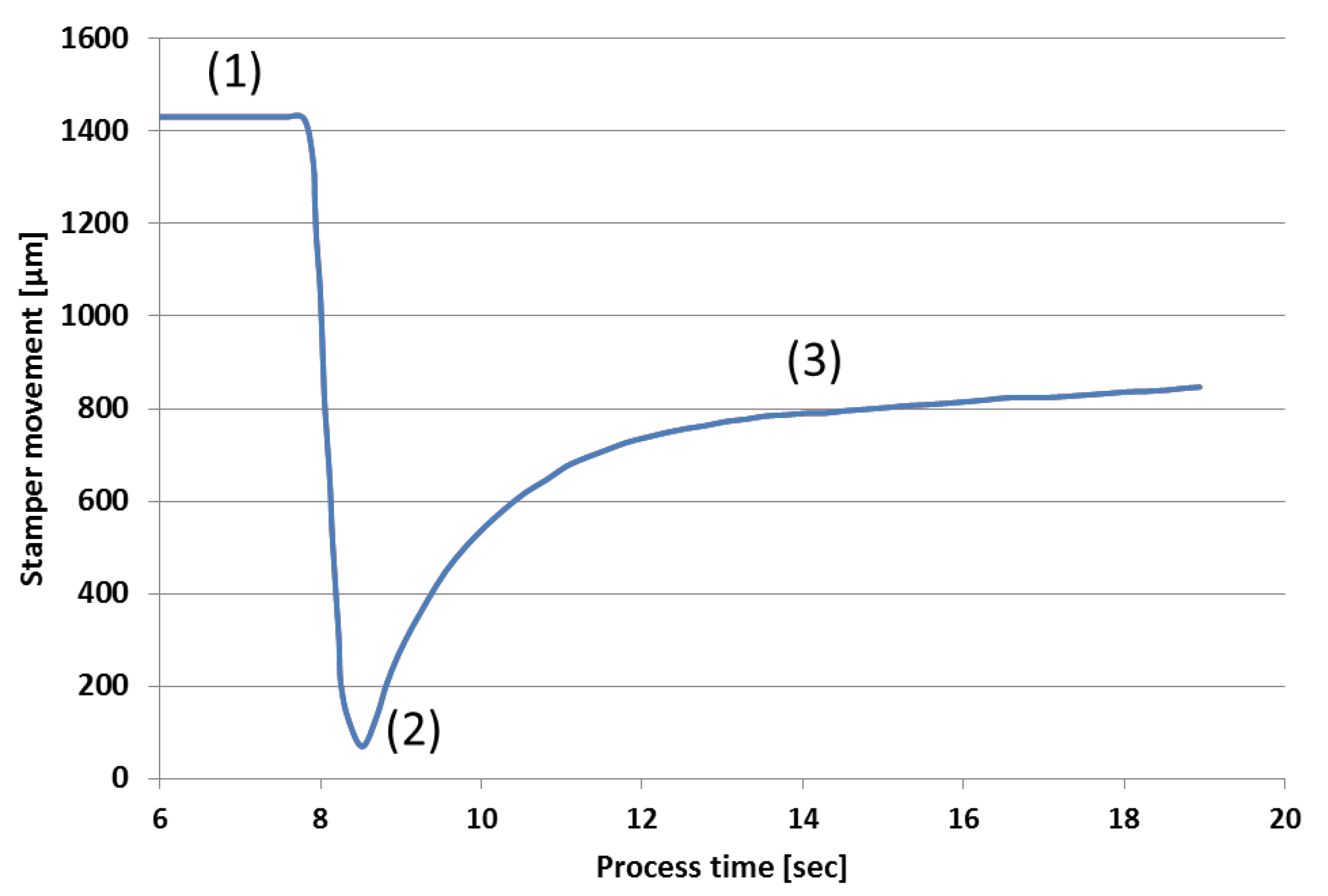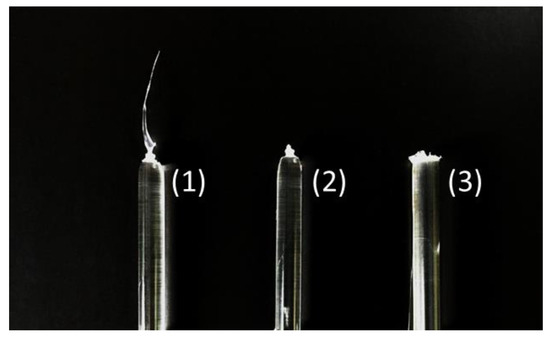 Figure 6. Resulting sprue with (1) inlet temperature set to 73 °C (2) inlet temperature at 50 °C and (3) without inlet tempering.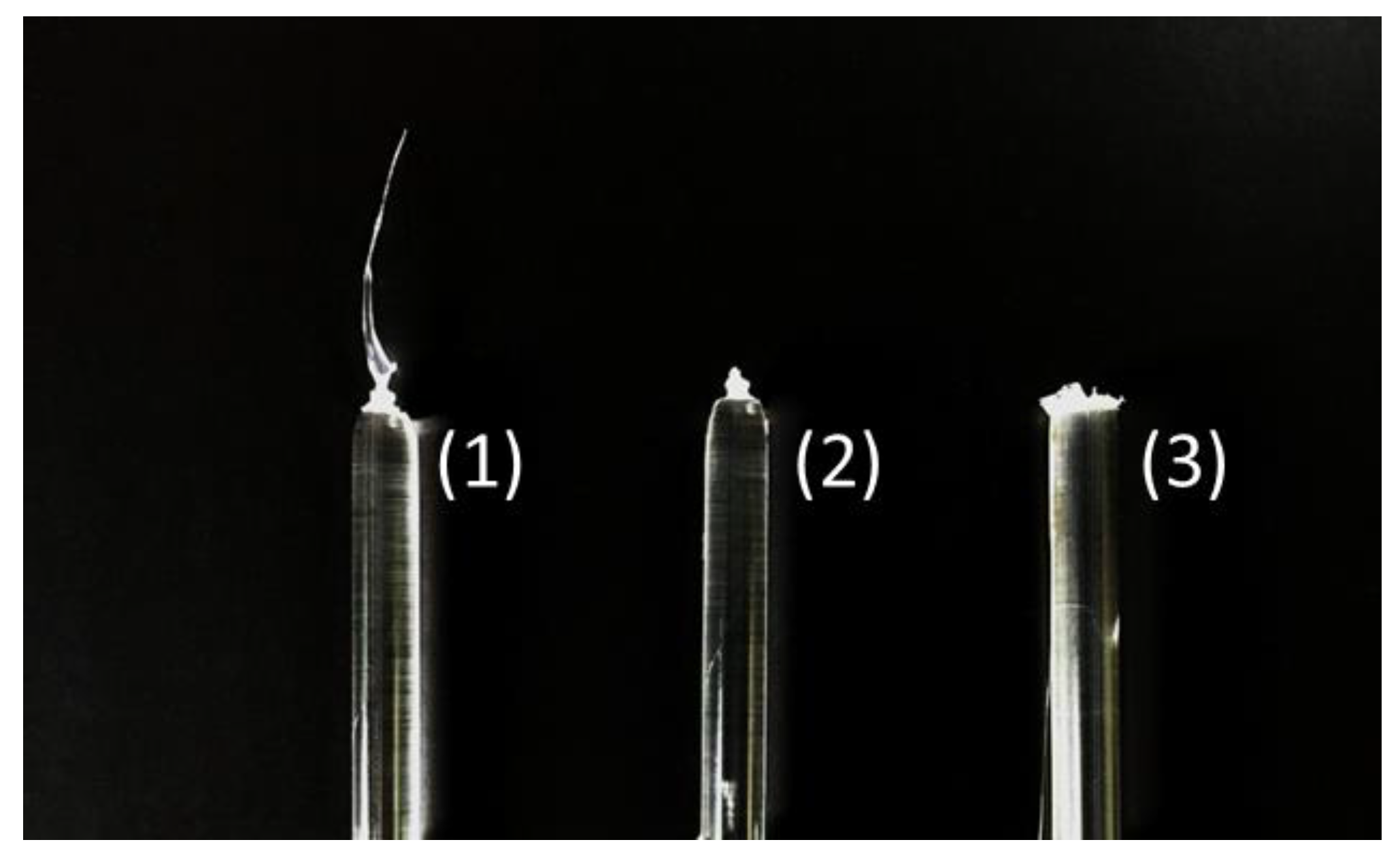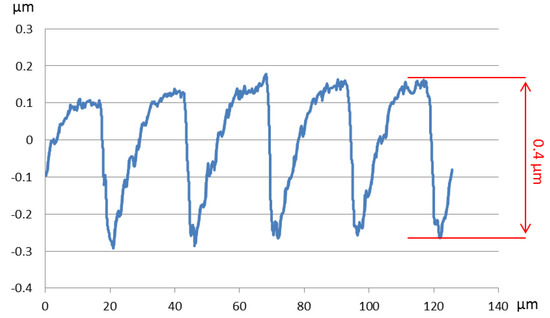 Figure 7. Height profile of the diffractive structure on the molded DOE with mold temperature of 90 °C measured by white light interferometry.

Figure 8. Height profile of the diffractive Structure on the molded DOEs with mold temperatures of (1) 110 °C and (2) 150 °C measured by white light interferometry.

Figure 9. (1) Height profile of the diffractive structure using 30 kN compression force measured by white light interferometry (2) DOE replicated by injection compression molding.

| Parameter | Value |
| --- | --- |
| Melt temperature | 265/260/280/285/290/73 °C |
| Mold Temperature | 90–150 °C |
| Compression force | 25–40 kN |
| Holding pressure | 450–800 bar |
| Interior mold pressure (theoretical) | 629–1007 bar |
Parameter
Value
Melt temperature
265/260/280/285/290/73 °C
Mold Temperature

-

Fixed side

-

Moveable side

150 °
C90 °C
Compression force
30 kN
Holding pressure
570 bar
Interior mold pressure (theoretical)
755 bar

© 2018 by the authors. Licensee MDPI, Basel, Switzerland. This article is an open access article distributed under the terms and conditions of the Creative Commons Attribution (CC BY) license (http://creativecommons.org/licenses/by/4.0/).