Open Access This article is
freely available
re-usable
Article
Big Data and Energy Poverty Alleviation
1
Research Institute of Energy Management and Planning, University of Tehran, Tehran 1417466191, Iran
2
Department of Accounting, Islamic Azad University, Central Tehran Branch, Tehran 1955847781, Iran
3
Department of Tourism, Faculty of Economic Sciences, Ionian University, Galinos Building, 7 Tsirigoti Square, 49100 Corfu, Greece
4
Department of Economics and Business, Saint Anselm College, 100 Saint Anselm Drive, Manchester, NH 03103, USA
5
Department of International Relations and Energy Policies, Azad University of Tehran, North Branch, Vafadar Blvd., Shahid Sadoughi St. Hakimieh Exit, Shahid Babaee Highway, Tehran 1651153311, Iran
*
Author to whom correspondence should be addressed.
Received: 11 June 2019 / Accepted: 16 September 2019 / Published: 24 September 2019
Abstract
:
The focus of this paper is to bring to light the vital issue of energy poverty alleviation and how big data could improve the data collection quality and mechanism. It also explains the vicious circle of low productivity, health risk, environmental pollution and energy poverty and presents currently used energy poverty measures and alleviation policies and stresses the associated problems in application due to the underlying dynamics.
Keywords:
energy poverty alliteration; big data
1. Introduction
Energy poverty is a term widely used to define living conditions under unaffordable and inaccessible energy resources. There are a number of factors that cause energy poverty in a broader sense. On the one hand, local factors such as natural resources, geographical location, local policies, household income or education level play an important role in individual energy accessibility and affordability [
1
,
2
]. On the other hand, global factors such as macroeconomic, geopolitical and climatic factors also influence the level of energy poverty [
3
,
4
,
5
,
6
]. The fight against energy poverty is of increasing relevance as the population on our planet is projected to increase by slightly more than one billion people over the next 13 years, reaching 8.6 billion in 2030 and to increase further to 9.8 billion in 2050 and 11.2 billion by 2100 [
7
]. The main challenges our society will face will be to provide accessibility and affordability of energy to people. Since economic growth is closely related to energy access and affordability, it is a topic of highest importance since energy access is the foundation of wealth, freedom, health and human dignity [
8
,
9
,
10
].
In this article, we summarize the current discussion on energy poverty, the definitions and measures, as well as the resulting problems in policy implementation and their implications up to now. One key element we stress is the variety of measurement methods of energy poverty, which makes it almost impossible to conduct comparative analyses among countries. Moreover, we highlight the issue that these indicators most often just capture the space dimension and neglect the time dimension. This issue is problematic since policy measures usually do not take into account the dynamics of changing factors that lead to energy poverty and therefore risk maintaining policies that are not efficient and effective over the course of time. As the political decision making process is a tedious one, the flexibility and speed of administrations to react to changes in underlying causal factors is questionable. Therefore, it is important to consider the dynamics of these changes already at the basis of decision making.
The literature on the topic of energy poverty is widely spread among different disciplines, ranging from financial economics, energy economics, biomedical science to humanities, socioeconomic and even philosophical areas [
5
,
10
,
11
,
12
]. We contribute to the current discussion by considering the potential of big data and usage of AI for the enhancement of socioeconomic data through environmental, political and climatic data for policy decision making.
This paper is structured as follows. We first start by giving a definition of energy poverty, which is followed by summarizing the development of significant legislation in various countries. We then explain the vicious circle of low productivity, health risk, environmental pollution and energy poverty and present thereafter currently used energy poverty measures and alleviation policies and stress their problems in application due to the underlying dynamics. Out of that, we show how big data could improve energy poverty alleviation policies and discuss the challenges that the data collection process would bear.
2. Energy Poverty
2.1. Vicious Circle of Energy Poverty
2.2. Energy Poverty Measures and Alleviation Policies
The next step in alleviating energy poverty is to develop a measure that shows all aspects of energy poverty. There are a variety of methods and indices for measuring energy poverty. Each study has developed a method based on socioeconomic and environmental situations of the region at hand.
Table 1
and
Table 2
show the variety of energy poverty measures and indicators proposed in recent years.
As seen in
Table 1
and
Table 2
, different energy poverty indices are proposed for different environmental situations. Since environmental situations are dynamic over time, the energy poverty index (and consequently the energy poverty alleviation policies) would change not only based on region but over time.
Different policies have been proposed to alleviate energy poverty subsequent to social awareness. One common policy (mostly executed in developed countries) is a series of social supports for energy poor households. Although this approach could prevent the issues caused by energy poverty, it would not solve the energy poverty itself. In addition, there is an ongoing debate about the type of social aid in both academic society (see References Karásek and Pojar [
60
], Oppenheim [
61
], Scarpellini et al. [
62
]) and social/political campaigns (for instance, see References Thomson and Bouzarovski [
22
], Enet English [
37
], Daily Mail Press Association [
63
], Long-Bailey [
64
]). Three other popular strategies to alleviate energy poverty are to "increase energy efficiency of dwelling" [
65
,
66
], "increase energy affordability and demand management" [
61
,
67
,
68
] and "increase access to clean/modern energy" [
69
,
70
,
71
]. The first two strategies are more common in developed regions (regions with high access to clean/modern energy), while the third one is the policy in less developed regions. A comprehensive study of energy poverty alleviation policies is provided by Reference Santamouris [
72
]. Although there are a variety of policies, the choice of policies is usually local, based on the indicators' situation in each region. As seen in
Table 1
and
Table 2
, many of the indicators and pressure factors mentioned above are global (such as climate, migration and economic development). The policies however, should be made at the local level [
62
].
3. Lack of Conventional Data And Methods
3.1. Lack of Data
The largest challenge in finding the proper local policies to alleviate energy poverty is a lack of data at global level [
44
]. The EU commission launched the "EU Energy Poverty Observatory" (EPOV) (
https://www.energypoverty.eu/
) in 2018 to overcome the problem in Europe but data from some countries (even in Europe) still are not available. The lack of data for most indicators is worse in years before 2016. Furthermore, the EPOV does not provide all the data related to energy poverty, such as migrations, climate change and many socioeconomic variables.
3.2. Lack of Methods
Conventional methods to alleviate energy poverty include the use of standard key economic data such as GDP growth rates, CPI changes or demographic statistics. The problem with these measures is that they lack of explanatory power when it comes to detect takeaways which help to formulate proper policy measures. Starting with the above mentioned definition problem of energy poverty, it is not possible to reduce the explanatory factors into few dimensions as they are inter-related, where exogenous factors also have to be taken into account. In order to show the problem that arises through the use of ordinary key economic data, we conduct several regressions to analyse if conventional key economic variables such as CPI and population growth are able to explain the rate of energy accessibility.
Table 3
shows the rate of electricity accessibility for different regions and periods.
The CPI and population growth data for the corresponding time period are taken from References [
73
,
74
]. For areas such as North Africa and Sub-Saharan Africa we aggregate the CPI, resp. the population growth data on a relative basis.
We conduct a multivariate regression for for country
i
at time
t
, on the CPI of country
i
:
Then regress of country
j
at time
t
against population growth of country
j
:
For all areas, we cannot find any relationship between the changes in CPI levels and energy access rates, as well as between population growth rates and electricity access rates. The results indicate the traditional key economic variables lack of explanatory power when it comes to complex concepts such as energy poverty. This stresses the necessity of considering more complex input data in order to address and explain energy poverty such that proper policy measures can be taken. As proliferation of energy poverty is not necessarily a sign of population density or population growth, other factors must be considered such as substance and condition of buildings, geographical situations, etc. The only way to get this kind of data is by usage of satellite imaging data. Generating and gathering of the necessary data can help to identify potential causes for energy poverty and thus tackle these issues.
In the next section we will explain the importance of the usage of satellite imaging data and how it can be used to explain, predict and thus alleviate energy poverty.
4. Use of Satellite Imaging Data to Predict Energy Poverty
While there are many ways to measure energy poverty, there is still lack of data on energy poverty metrics and supporting indicators in the developing world and in rural areas in the developed world. This lack of information is because the data are typically gathered through surveys, which are time-consuming, expensive and sometimes impossible to carry out in particular regions of countries and are thus less common. Given the difficulties of scaling up survey-based methods, the opportunities that satellite imaging data offer could be a key to assessing the global distribution of poverty.
The large quantity of data that can be captured using satellite technology means that a larger and more accurate picture can be quickly created. By identifying the areas that need better energy efficiency measures with satellite images, scientists will have a more accurate view of how to reduce unnecessary energy consumption and they will be able to precisely assess poverty in remote and rural areas. This technique could help revolutionize the ways in which groups find impoverished areas and eventually provide relief to people living in those specific parts of the world.
5. Big Data Solutions
Since big/universal databases have been developed in recent decades, the analysis of big data has become an effective solution to many critical problems. In particular, big data solutions are developed in fields affecting energy poverty. For instance, big data analysis is widely used to resolve financial and economic issues. In banking, big data mining is used for risk management, security and fraud detection and strategic planning [
100
]. Furthermore, the big data technologies are closely related to blockchain technology and cryptocurrencies [
101
]. The financing strategies and plans (even cryptocurrencies) interact with energy poverty [
11
]. As another energy poverty pressure factor, big data analytical solutions have been developed to model and forecast climatic and geo-ecological situations. Big data mining techniques are developed to model and forecast climate change based on global observations from earth and satellite information [
102
,
103
]. The same models are developed, based on big data, for geo-ecological forecasting [
104
]. Big data analytics are used in energy industries and energy markets. The applications of big data mining vary from market demand, supply and price forecasting to strategic planning [
105
,
106
]. Big data mining techniques are powerful for revealing the relations between socioeconomic, climatic, environmental and financial indicators and forecasting future situations see References [
107
,
108
] for more details on big data forecasting and causality.
5.1. Big Data solutions for Energy Accessibility
The development of big data methodologies provides modern ways to evaluate energy accessibility at global and regional levels. Unconventional data sources such as satellite photography and money transfers and those used in mobile telecommunications can assist in predicting demand and assessing creditworthiness of underserved customers and can be combined with climate and weather data to assess competing technologies. These datasets can help describe characteristics of regions targeted for energy access expansion by offering more detailed energy access data from satellite images, deriving alternative creditworthiness scores and customer stickiness indicators from mobile payment history and indicating user mobility and urbanization trends from call detail records; the datasets can also help make predictions about future energy demand that, in turn, will aid in the selection of appropriate energy service alternatives and tailored pricing models for these regions [
109
].
Oil demand in Africa
Africa has among the highest growth in socioeconomic development as well as energy poverty level. Due to Africa's great role in energy supply and demand, the socioeconomic development policies in Africa could affect energy plans and policies in other regions. Let us now consider an important issue regarding energy consumption and accessibility in Africa and how big data can assist in obtaining a better estimate of these vital issues.
Analyzing the oil demand in Africa sets an example of how big data can provide a powerful tool for policy makers to alleviate energy poverty. Due to the complex nature of energy, policy makers should take into account all available socioeconomic, geographic and environmental data. Furthermore, policies in one region, namely Africa, could affect the policies in other regions. For instance, if African policy makers in the energy sector develop their policies in energy poverty alleviation based on hydroelectric and geothermal power plants and increase their oil and gas exports to gain more financial resources, other regions with lower energy resources could rely on oil and gas as inexpensive energy sources. On the other hand, if Africa makes policies to use cars as the main transportation vehicles, developing policies to use electric vehicles and renewable energy resources would become more cost-effective for energy consumers.
5.2. A Big Data Solution to Energy Poverty Alleviation
Effective policy making needs not only socioeconomic data but also environmental, political and climatic data (due to their relation with energy poverty). Since the nature of energy poverty indicators and factors is dynamic over time, policy makers should take into account the future situations of these factors as well as current conditions. For instance, while the climate is changing, policies based on current climatic characteristics would fail in the long term.
Figure 3
shows a proposition for using big data in energy poverty alleviation policy making.
6. Discussion
The consideration of three additional layers to socioeconomic data, namely, environmental, political and climatic data, for policy decision making allows policy makers to capture not only the spatial dimension of the development of energy poverty factors but also the dynamics over time. The collection and consolidation of these datasets would create a new data basis for policy makers and enable them to deduce direct implications of certain policy decisions and conduct scenario and sensitivity analyses. To be able to make use of this powerful big data set, the following obstacles would need to be overcome:
Definition of which data to gather: The first requirement would be to agree on a definition and delineation of the required data, determination of the data sources and the dedication of the data, for example, what they should be used for.

Data collection: The need of an agenda to ensure a proper collection of datasets. This includes the enforcement of data provision and in some cases the prior provision of measurable equipment to countries that lack sufficient infrastructure and equipment.

Standardization: Since the collection of data from various sources will inevitably include inhomogeneities, it is important to agree on measurable and comparable units.

Interaction of data: Once the data have been gathered and standardized, it is important to learn about the relationships among the datasets.

Definition of target function: After the relationships have been studied, direct conclusions can be drawn and certain scenarios simulated. These scenarios depend on a target function, which would need to be defined, as the desired outcome (minimization of energy poverty) can be reached via a set of solutions.
The challenges for local policy decisions will be smaller than for global policy decisions since the implementation of energy poverty measures will be easier on a local basis, while evaluation of certain energy poverty alleviation policies might be harder to measure on a global scale.
Through the development of the Internet of Things (IoT), data gathering and the implementation and tracking of policy measures will be enabled and allow for frequent evaluation and adaption of these policies. AI will play an important role when it comes to the optimization of energy distribution and utilization since the amount of data in decentralized networks includes so much information that those data can be better, faster and more efficiently processed by AI than by humans. Nevertheless, human oversight will remain crucial.
Considering the evolution of AI, the question arises regarding which fundamental rules would need to be set up in order to ensure a peaceful and welfare-improving set of solutions to reduce energy poverty while not at the expense of energy wealth. Nevertheless, several prerequisites must be met before the implementation of the IoT can evolve at such scale, such as the provision and building of critical infrastructure, education and increased awareness of the importance of energy poverty.
7. Conclusions
This article deals with the problem of energy poverty on a global scale and what necessary measures must be taken in order to provide energy access and affordability. We stress the problem of inhomogeneous data availability and the fundamental lack of a standardized definition and measures for evaluating energy poverty. We summarize the key messages of the current discussion on energy poverty and propose a set of indicators that might be used for energy poverty measurement.
The main insight gained in this article is the necessity of enhancing socioeconomic data by three additional layers in order to make the policy decision making process more efficient: environmental, political and climatic data. By inclusion of these datasets, it can be ensured that energy poverty indicators are tracked not only locally but also dynamically over time, as all of these key influencing factors change constantly over time.
We further explain the problem of maintaining static policy decisions that can become inefficient and ineffective after a certain time. Moreover, we stress the challenges of big data and how big data can be used for mitigating energy poverty. We also discuss the role of the Internet of Things in such a framework and how it can enhance the policy decision-making process using big data in order to reduce energy poverty.
Author Contributions
All authors contributed equally to this manuscript.
Funding
This research received no external funding.
Conflicts of Interest
The authors declare no conflict of interest.
Figure 1. Number of publications by "Elsevier Science Direct" and "Wiley Online Library" with the keywords "Energy Poverty" or "Fuel Poverty".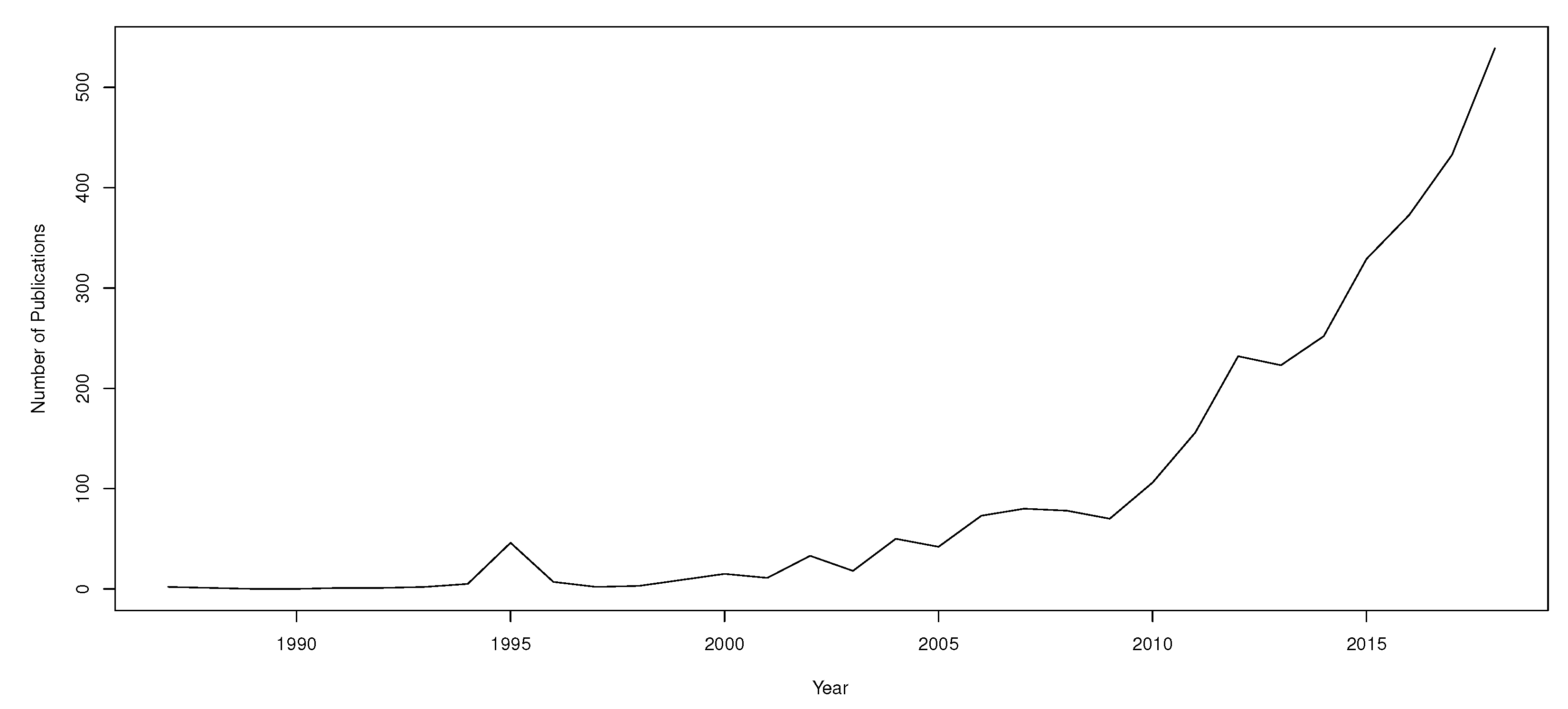 Figure 2.
The satellite image of earth at night. The dark places show low access to energy and potential of high energy poverty (image downloaded from
geology.com
).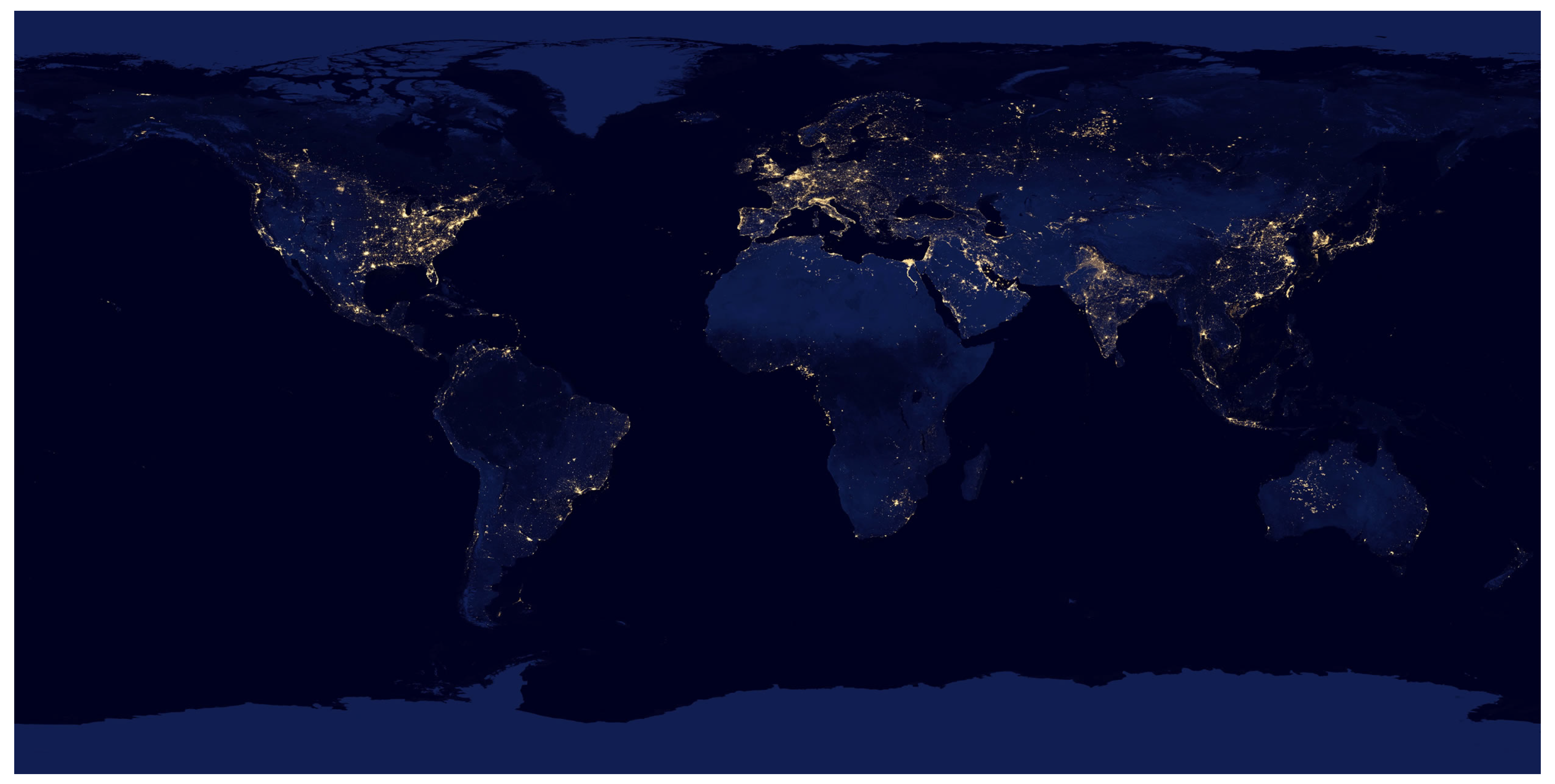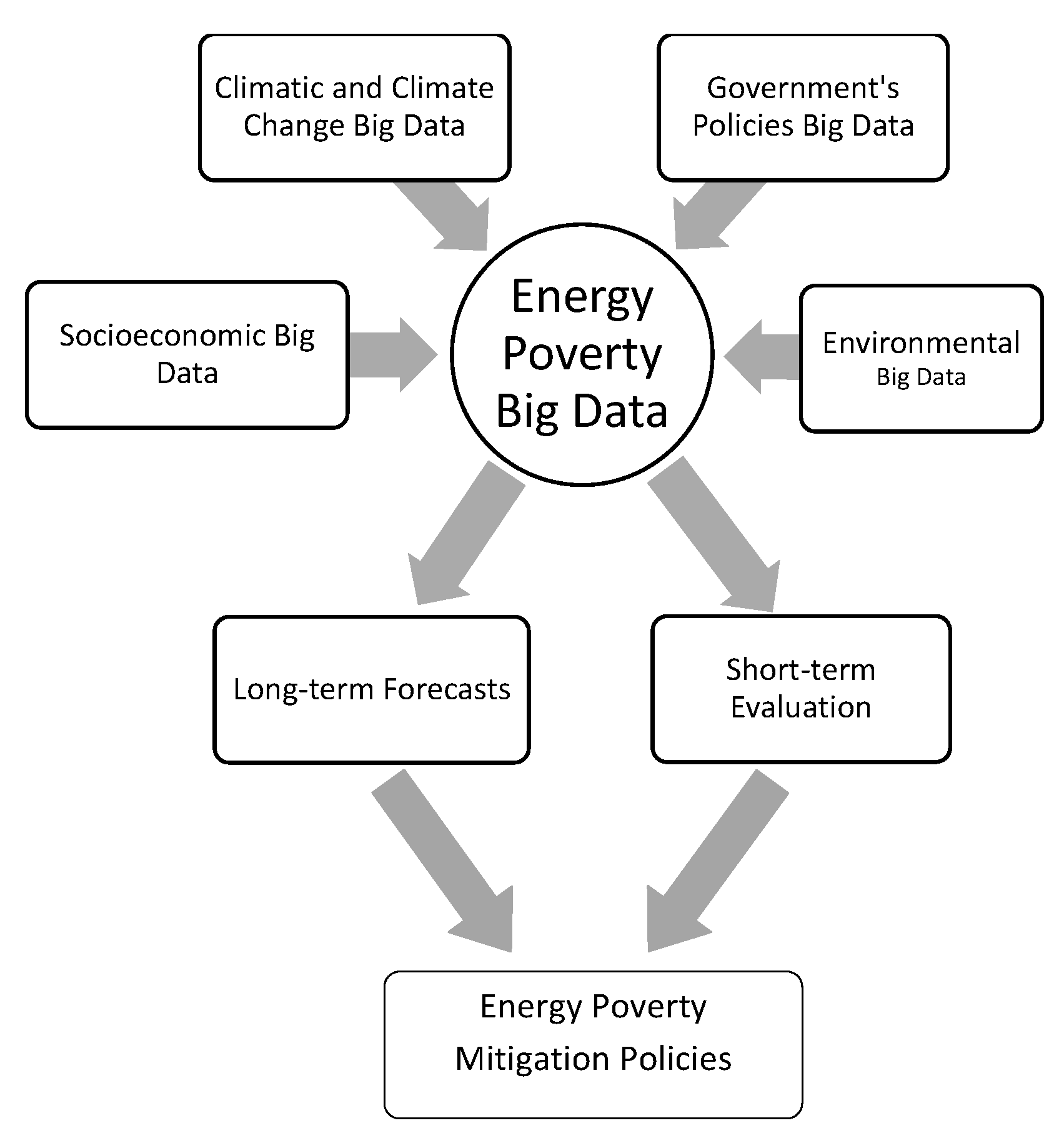 | Category | Indicator | Country/Region Applied to |
| --- | --- | --- |
| Household's feeling | Feeling Fuel Poor [40,41] | UK, Belgium |
| (self-reported) | Inability to keep home | Greece, Spain, EU |
| | adequately warm/cool/bright [27,41,42,43,44,45] | Attika(Greece), Belgium |
| | Restriction of other | Greece, Attika(Greece) |
| | essential needs [41,42,45] | Belgium |
| | Health problems linked with | Greece, Attika(Greece) |
| | poor heating conditions [42,45] | |
| Household's | Household's size (Number of adults | UK, Japan, Portugal |
| characteristics | and children) [40,46,47,48] | Zaragoza(Spain) |
| | Income [41,46,47,48,49] | Japan, Portugal, |
| | | Zaragoza(Spain), Belgium |
| | Social service aid [48] | Zaragoza(Spain) |
| | Education level [47] | Portugal |
| | Spatial/climatic zone and altitude [42,47,48,50,51] | Greece, Portugal, Spain, |
| | | Zaragoza(Spain), China |
| | Ownership, Residence type, dwelling size [42,45,48] | Greece, Attika(Greece), |
| | | Zaragoza(Spain) |
| Fuel/Energy cost | Expenditure Fuel Poverty (Energy costs | UK, Japan, Greece, |
| | more than 10% of income) [40,45,46,49,50,52,53] | Attika(Greece), Spain |
| | Ratio of energy cost to | Bangladesh, Greece, |
| | income/Low Income High Cost [41,45,49,50,51,53,54,55] | Attika(Greece), Spain, |
| | | China, Germany, Belgium |
| | Energy expense/Energy tariff [41,48,55] | Zaragoza(Spain), China, |
| | | Germany, Belgium |
| | Arrears on energy/utilities | Greece, Spain, |
| | bills [27,42,43,44,45] | Portugal, EU, Attika(Greece) |
| Access to modern/ | Access to electricity, | Bangladesh, India, Africa, |
| clean energy | natural gas, biogas [32,51,54,55,56,57] | All countries (with available |
| | | data), China, Germany |
| | Cooking/lighting energy [32,51,56,57,58] | Kisumu City(Kenya), India, |
| | | Africa, All countries |
| | | (with available data), China |
| | Indoor pollution [56,57,58] | Kisumu City(Kenya), |
| | | Africa, All countries |
| | | (with available data) |
| | Household appliance ownership [51,56,57,58] | Kisumu City(Kenya), |
| | | Africa, All countries |
| | | (with available data), China |
| | Entertainment or education | Kisumu City(Kenya), |
| | appliance ownership [56,57,58] | Africa, All countries |
| | | (with available data) |
| | Telecommunication means [56,57,58] | Kisumu City(Kenya), |
| | | Africa, All countries |
| | | (with available data) |
| Category | Indicator | Country/Region Applied to |
| --- | --- | --- |
| Energy efficiency | Ratio of end-use energy to | Bangladesh, China, Germany |
| | total energy [54,55] | |
| | Energy gap (difference between | Portugal, Global South, |
| | building's energy demand | Attika(Greece), China, Germany |
| | and consumption) [45,47,55,59] | |
| | Type of heating/cooling system [42,45,48,50,55,59] | Greece, Global South, |
| | | Attika(Greece), Spain, |
| | | Zaragoza(Spain), China, Germany |
| | dwelling insulation against | EU, Global South |
| | the cold/warm [27,41,59] | Belgium |
| | Year of house construction | Greece, Japan, Portugal, |
| | (housing's age) [42,45,46,47,48,59] | Global South, Attika(Greece), |
| | | Zaragoza(Spain) |
| | Leakage, damp walls, mold, | Greece, Spain, EU, |
| | rotten windows [27,42,43,44,45,47,55,59] | Portugal, Global South, |
| | | Attika(Greece), China, Germany |

Table 3. Rate of Electricity Access, Summary by Region, Source: International Energy Agency (IEA), World Energy Outlook-2018.
| | 2000 | 2005 | 2010 | 2017 |
| --- | --- | --- | --- | --- |
| WORLD | 73% | 76% | 80% | 87% |
| Developing Countries | 64% | 69% | 74% | 83% |
| Africa | 35% | 39% | 43% | 52% |
| North Africa | 90% | 96% | 99% | 100% |
| Sub-Saharan Africa | 23% | 28% | 32% | 43% |
| Developing Asia | 67% | 74% | 79% | 91% |
| China | 99% | 99% | 99% | 100% |
| India | 43% | 58% | 66% | 87% |
| Indonesia | 53% | 56% | 67% | 95% |
| Other Southeast Asia | 68% | 76% | 84% | 88% |
| Other Developing Asia | 38% | 45% | 58% | 76% |
| Central and South America | 86% | 90% | 94% | 96% |
| Middle East | 91% | 80% | 91% | 92% |

Table 4. Primary energy consumption in Africa (units in Mtoe unless otherwise noted)/BP Energy Outlook 2019.
Level
Shares
Change (abs.)
Change (%)
Change (Annual)
2017
2040
2017
2040
1995
2017
1995
2017
1995
2017
−2017
−2040
−2017
−2040
−2017
−2040
Oil(Mb/d) *
4
7
44%
34%
2
3
85%
77%
2.8%
2.5%
Gas(Bcm)
142
336
27%
28%
96
195
207%
137%
5.2%
3.8%
Coal
93
136
21%
13%
14
43
17%
46%
0.7%
1.7%
Nuclear
4
8
1%
1%
1
5
39%
126%
1.5%
3.6%
Hydro
29
80
6%
8%
16
51
115%
174%
3.5%
4.5%
Renewables
6
161
1%
16%
5
156
>1000%
>1000%
>10%
>10%
Transport **
126
234
28%
23%
67
108
115%
85%
3.5%
2.7%
Industry **
178
425
40%
42%
67
247
60%
139%
2.2%
3.9%
Noncombusted **
20
47
4%
5%
6
28
40%
139%
1.6%
3.9%
Buildings **
125
312
28%
31%
66
187
111%
149%
3.4%
4.1%
Power
185
502
41%
49%
87
317
90%
171%
2.9%
4.4%
Total
449
1019
206
569
85%
127%
2.8%
3.6%
* Oil demand includes consumption of all liquid hydrocarbons but excluded biofuels. ** Includes electricity and the associated conversion losses in power generation. Mtoe: Million tones of oil equivalent, Mb/d: Millions of barrels per day, Bcm: Billion cubic metres.

© 2019 by the authors. Licensee MDPI, Basel, Switzerland. This article is an open access article distributed under the terms and conditions of the Creative Commons Attribution (CC BY) license (http://creativecommons.org/licenses/by/4.0/).