Rabies in the Caribbean: A Situational Analysis and Historic Review
1
Department of Preclinical Sciences, Faculty of Medical Sciences, The University of the West Indies, St. Augustine, Trinidad and Tobago
2
Pan American Health Organization (PAHO/WHO), Trinidad and Tobago Country Office, St. Clair, Trinidad and Tobago
3
Zoonosis Group, Pan American Foot-and-Mouth Disease Center (PANAFTOSA), Pan American Health Organization (PAHO/WHO), Rio de Janeiro, Brazil
4
CIRAD, UMR ASTRE, Petit-Bourg, Guadeloupe F-97170, France
5
ASTRE, CIRAD, INRA, Univ Montpellier, Montpellier F-34398, France
6
Veterinary and Livestock Division, Ministry of Agriculture, Ministerial Complex, Tanteen, St. George's, Grenada
7
Ministry of Agriculture, Animal husbandry and Health and Fisheries, Paramaribo, Suriname
8
St. George's University, St. George's, Grenada
9
Ministerio de Salud Pública, La Habana, Cuba
10
Ministry of Agriculture, Natural Resources and Rural Development, Port-au-Prince, Haiti
11
National Health Surveillance Unit, Ministry of Health, Georgetown, Guyana
12
LYSSA LLC, Cumming, GA 30040, USA
*
Author to whom correspondence should be addressed.
Received: 30 July 2018 / Revised: 14 August 2018 / Accepted: 15 August 2018 / Published: 20 August 2018
Abstract
Rabies virus is the only Lyssavirus species found in the Americas. In discussions about rabies, Latin America and the Caribbean are often grouped together. Our study aimed to independently analyse the rabies situation in the Caribbean and examine changes in rabies spatiotemporal epidemiology. A questionnaire was administered to the 33 member countries and territories of the Caribbean Animal Health Network (CaribVET) to collect current data, which was collated with a literature review. Rabies was endemic in ten Caribbean localities, with the dog, mongoose, and vampire bat identified as enzootic reservoirs. The majority of animal cases occurred in Puerto Rico, the Dominican Republic, and Haiti, while human cases only consistently occurred in the latter two areas. Rabies vaccination was conducted for high-risk animal populations with variable coverage, and rabies diagnostic capacities varied widely throughout the region. Illegal importation and natural migration of animals may facilitate the introduction of rabies virus variants into virus-naïve areas. Passive surveillance, together with enhanced methods and serological screening techniques, can therefore be of value. The insularity of the Caribbean makes it ideal for conducting pilot studies on reservoir host population management. Best practice guidelines developed for these reservoir hosts can be individually modified to the epidemiological status and available resources within each locality.
View Full-Text
►

▼

Figures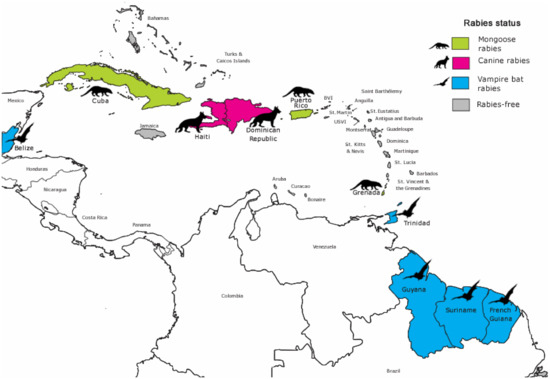 Figure 1
This is an open access article distributed under the
Creative Commons Attribution License
which permits unrestricted use, distribution, and reproduction in any medium, provided the original work is properly cited (CC BY 4.0).

Share & Cite This Article
MDPI and ACS Style
Seetahal, J.F.R.; Vokaty, A.; Vigilato, M.A.N.; Carrington, C.V.F.; Pradel, J.; Louison, B.; Sauers, A.V.; Roopnarine, R.; Arrebato, J.C.G.; Millien, M.F.; James, C.; Rupprecht, C.E. Rabies in the Caribbean: A Situational Analysis and Historic Review. Trop. Med. Infect. Dis. 2018, 3, 89.
Note that from the first issue of 2016, MDPI journals use article numbers instead of page numbers. See further details here.
Comments
[Return to top]