Open Access This article is
freely available
re-usable
Case Report
Cushing Syndrome due to Inappropriate Corticosteroid Topical Treatment of Undiagnosed Scabies
1
Department of Dermatology and Dermato-Oncology, Instituto Estatal de Cancerología "Dr. Arturo Beltrán Ortega", Health Secretary Guerrero, Faculty of Medicine, Universidad Autónoma de Guerrero Mexico, Community Dermatology Mexico C.A., 39850 Acapulco, Guerrero, Mexico
2
Community Dermatology Mexico C.A.; Health Secretary Guerrero, 39355 Acapulco, Guerrero, Mexico
3
Centre for International Child Health, University of Melbourne, Melbourne, Australia/Group A Streptococcal Research, Murdoch Children's Research Institute, 3010 Melbourne, Australia
4
Department of Pediatrics, Acapulco General Hospital, Health Secretary Guerrero, 39901 Acapulco, Guerrero, Mexico
5
Department of Dermatology and Mycology Acapulco General Hospital, Health Secretary Guerrero, Community Dermatology Mexico C.A., 39355 Acapulco, Guerrero, Mexico
*
Author to whom correspondence should be addressed.
Received: 26 June 2018 / Accepted: 24 July 2018 / Published: 3 August 2018
Abstract
:
The uncontrolled sale of topical corticosteroids has become an important risk factor for the development of iatrogenic Cushing syndrome in children, especially in countries where medications are sold over the counter. This is exacerbated by the lack of information for both the patients and pharmacists. This report documents a series of eight cases of iatrogenic Cushing syndrome secondary to an inappropriate use of topical steroids, due to a misdiagnosis of scabies.
Keywords:
scabies; Cushing syndrome; iatrogenic; topical corticosteroids
2. Case Series
This report documents a series of cases involving eight infants, aged from 3 months to 1.5 years (
Table A1
). All patients clinical signs of Cushing syndrome, including increased adiposity, prominent cheeks, mild to moderate hirsutism on the forehead and side brows, discrete striae and telangiectasias. One patient had such significant weight gain that she lost the ability to support her own body weight. All patients also had disseminated lesions of scabies, with papules, scaling and nodules predominantly in skin folds and the soles of their feet. Two infants had the severe form of crusted scabies.
All cases had a history of continuous or discontinuous use of topical corticosteroids (betamethasone (0.5%) combined with clotrimazole and gentamicin), applied to affected lesions or used on the entire body's surface.
All scabies patients were diagnosed at the Dermatology department of the Acapulco General Hospital in Guerrero, Mexico. Diagnosis was made clinically in all patients based on the typical rash, itch and affected cohabitants. The patients with crusted scabies had extensive scaling lesions on the back, palms and soles with moderate papules and discrete nodules on the rest of the body's surface, particularly in the skin folds. Symptoms of scabies had been present for 1 to 7 months prior to diagnosis. In all cases, the mothers also had clinical lesions of scabies, and in four of eight cases, the mothers had a history that was suggestive of scabies during pregnancy. The number of family members in each household that had daily contact with the patients ranged from 3 to 12. In all cases, the use of the steroid cream was reported to have resulted in initial improvement of symptoms. However, the signs and symptoms would return and worsen whenever the usage of corticosteroid was suspended. Affected family members did not seek medical advice until symptoms worsened. None of the parents were aware that the weight gain and other physical signs of Cushing syndrome were related to the use of the steroid cream. Two patients experienced recurrent upper pulmonary infections during the use of topical steroids that required referral to a physician.
All patients were treated with sulfur cream (4%). Family contacts were treated with oral ivermectin. Twenty-four-hour urine cortisol was requested for patients, but this was often not completed in the majority of cases due to lack of financial resources. One case had the investigation performed one month after cessation of betamethasone, which was reported to be within normal limits.
Follow-up information for patients was limited by the fact that families resided in distant places. All patients were referred to the pediatric service, while two attended for a consultation, with no further complications found. The rest of the patients did not attend a consultation, possibly due to the resolution of scabies symptoms after effective treatment and cessation of steroids. A telephone contact follow-up was attempted but unsuccessful. A check of the patients' hospital files did not reveal any further visits for outpatient consultation or to the emergency department.
3. Discussion
The education of health workers is of great importance, as they are the point of first contact. Health workers need to know how to recognize, diagnose and appropriately treat common scabies, and to avoid the use of corticosteroids, especially in children. Complicated cases, or those that do not improve with first-line treatments, should be referred for further assessment. In countries like Mexico, in which there are fewer regulations on the sale of medications, it is essential to inform the general population of the potential risks when medications are not used as intended.
4. Ethical Considerations
The study protocol was approved by the Ethical Review Committee of the Community Dermatology A.C. and was supported by the Health Secretary of Guerrero State prior to the study. Informed consent was obtained from the parents or legal guardians of the minors after a detailed explanation of the study's protocol. In accordance with the ethical review committee requirements, patient information was made confidential.
Author Contributions
Conceptualization, methodology, investigation: G.E.C., R.E., G.C.L., J.M., D.E.; Writing-original draft preparation: G.E.C.; Writing-review & editing, supervision: D.E., G.E.C.
Funding
This research received no external funding.
Acknowledgments
We would like to thank the students of the Faculty of Medicine of the University of Guerrero (UAGro.) as well as the team of Telemedicine of the Acapulco General Hospital for their support in identifying and referral of some of the patients. We would like to thank Hay for his review of the manuscript.
Conflicts of Interest
The authors declare no conflict of interest.
Appendix A
Age (Months)
Sex
Topical Steroid Treatment
Clinical Features
Usage Duration
Frequency
Regularity
Adiposity
Scabies
Symptom Duration
1
5
Female
1 month
4 times a day
Continuous
+++
Crusted
1 month
2
6
Female
5 months
1–2 times a day
Intermittent
+++
Common
6 months
3
7
Male
3 months
2 times a day
Continuous
++++
Common
3 months
4
7
Male
2 months
2–3 times a day
Intermittent
+++
Common
7 months
5
8
Male
8 months
Daily
Continuous
++++
Crusted
8 months
6
9
Female
1 month
3 times a day
Continuous
++++
Common
6 months
7
16
Male
5 months
Daily
Continuous
++
Common
6 months
8
17
Female
4 months
1–2 times a day
Discontinuous
++
Common
3 months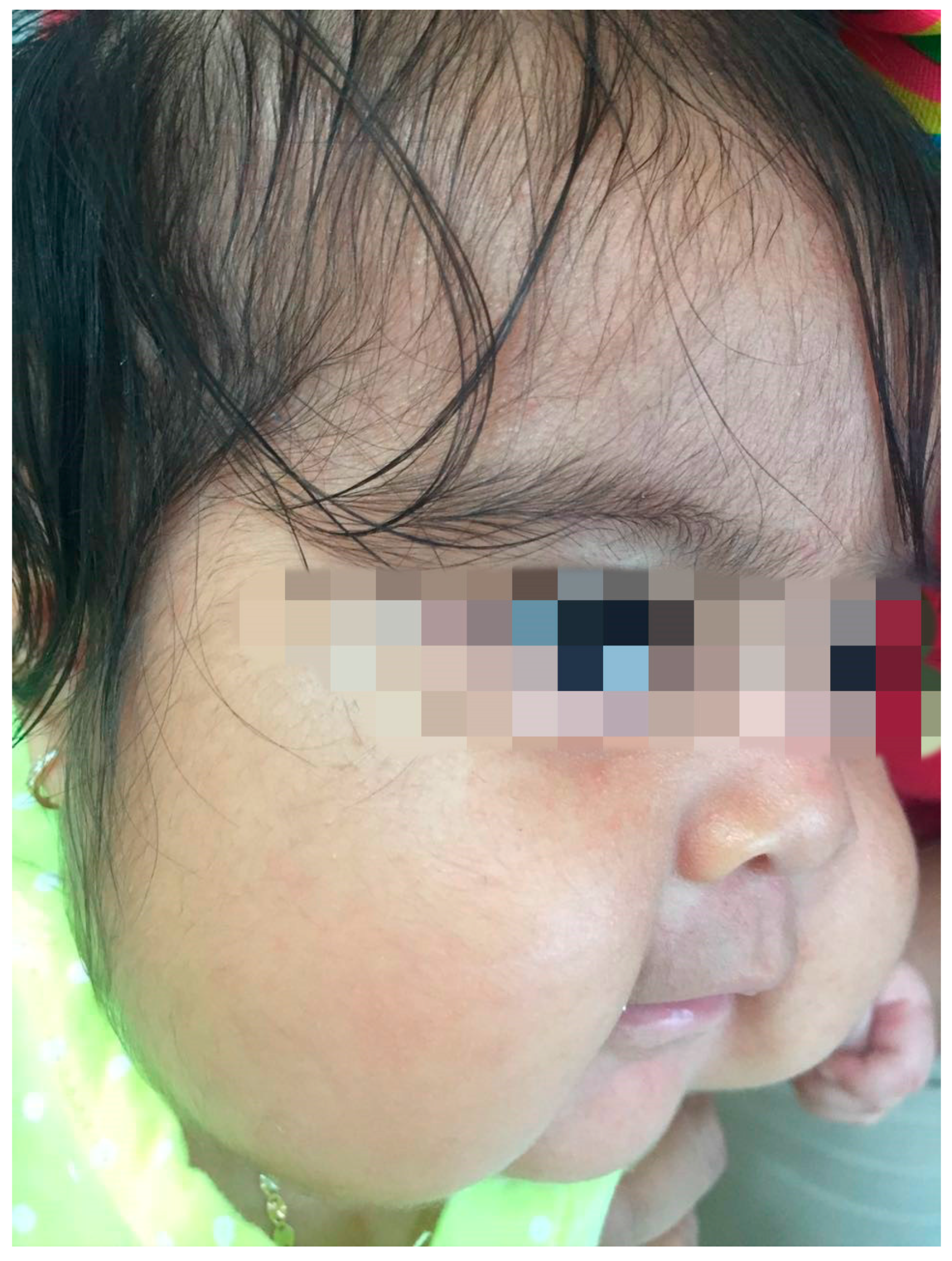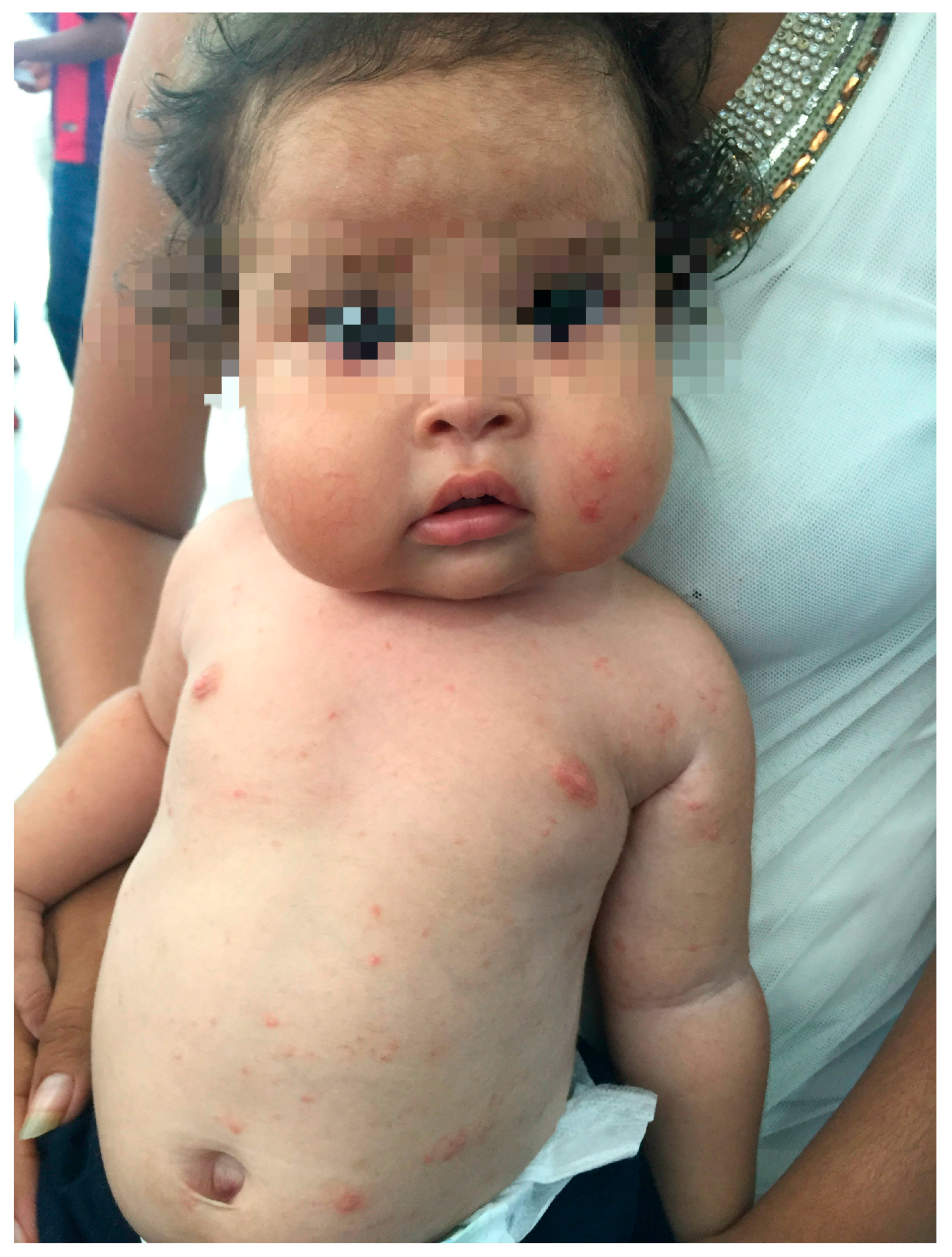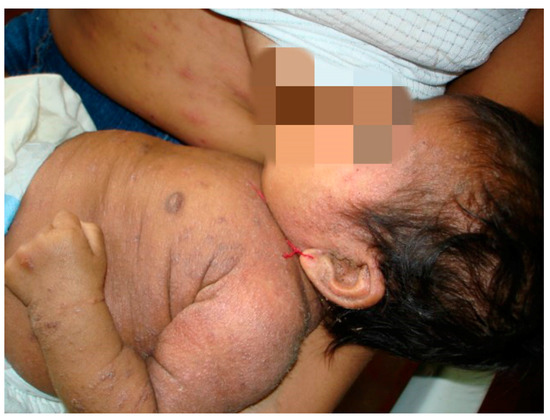 Figure A3. Crusted scabies with intense scaling and nodular lesions in child and mother with scabies.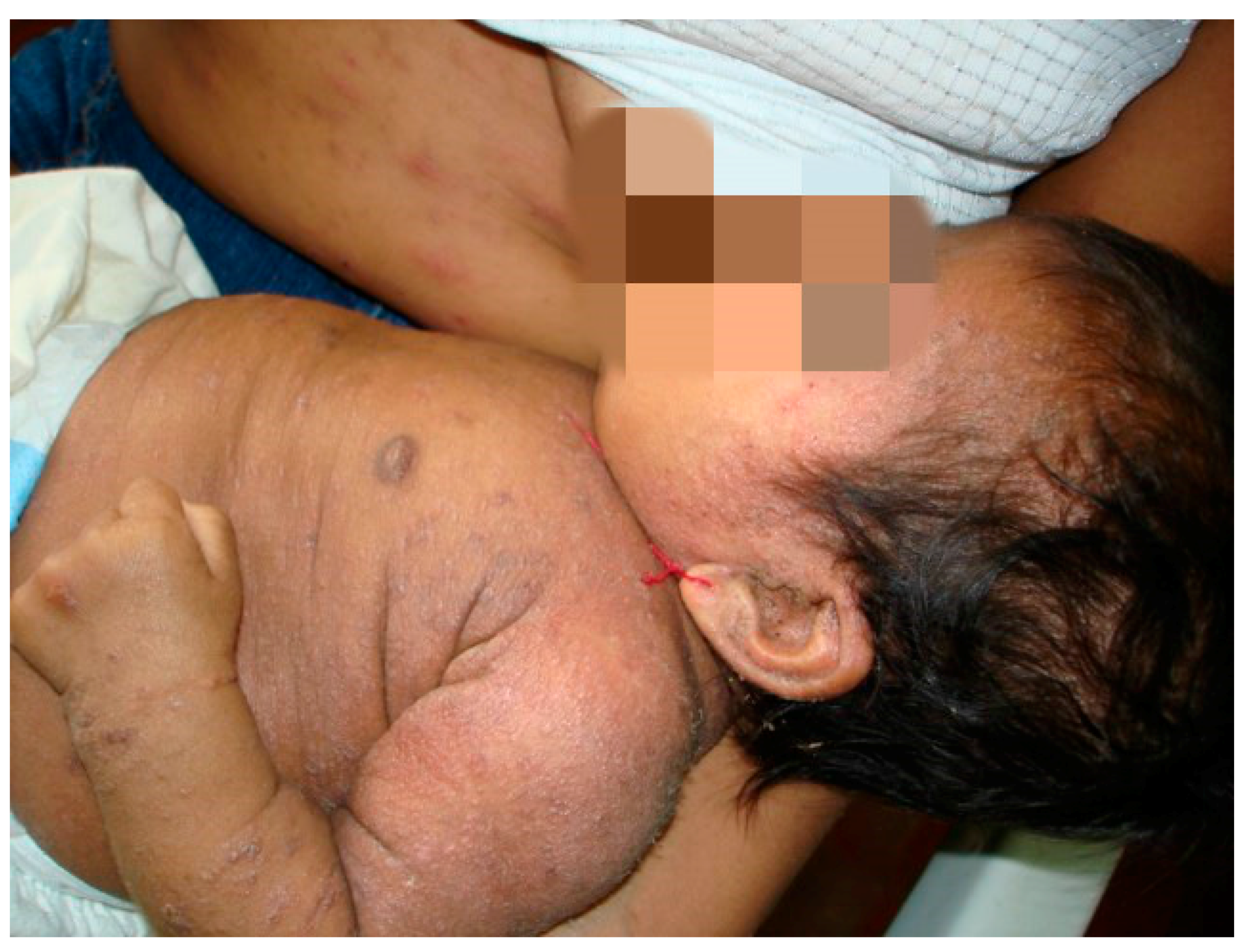 © 2018 by the authors. Licensee MDPI, Basel, Switzerland. This article is an open access article distributed under the terms and conditions of the Creative Commons Attribution (CC BY) license (http://creativecommons.org/licenses/by/4.0/).