Open Access This article is
freely available
re-usable
Article
EyeAR: Refocusable Augmented Reality Content through Eye Measurements
1
Graduate School of Information Science, Nara Institute of Science and Technology, Ikoma 630-0192, Japan
2
College of Information Science and Engineering, Ritsumeikan University, Kusatsu 525-8577, Japan
†
Current address: Department of Psychiatry, University of Oxford, Oxford OX3 7JX, UK.

‡
Current address: Division of Medical Information Technology and Administration Planning, Kyoto University Hospital, Kyoto 606-8507, Japan.

Received: 15 July 2017 / Accepted: 18 September 2017 / Published: 26 September 2017
Abstract
:
Augmented Reality (AR) superimposes computer graphics (CG) onto a user's view of the real world. A key quality problem in this field is to achieve coherence between reality and CG when the user's eyes refocus or change pupil size. We designed and evaluated a display that improves coherence by measuring the user's eye state and continuously adapting CG accordingly. Our tabletop prototype emulates an Optical See-Through Head-Mounted Display, a common AR display device. In our evaluation, participants observed three pillars at different depths. We then challenged them to identify a virtual pillar among the three while freely refocusing their eyes. Results show that our design significantly improved realism. Compared to Light Field Displays, our design aims to simplify display-optics while providing similar quality. We could only partially achieve this goal. We discuss the lessons we learned and how we plan to overcome the remaining challenges. The experimental protocol from our evaluation is useful for display developers as it can be used to measure the coherence of a display.
Keywords:
augmented reality; refocusable augmented reality; optical see-through head-mounted displays; retinal blur; depth of field; accommodation; ar turing test; perception; psychophysics; user study
Acknowledgments
Support for this work is provided by the Japan Society for the Promotion of Science under awards Grant-in-Aid for Scientific Research (B) #15H02737 and Challenging Exploratory Research #15K12084. We would like to thank Jason Orlosky for checking and revising the English in this paper.
Author Contributions
D.C.R. and C.S. conceived and designed the prototype described in this paper; D.C.R., A.R. and C.S. designed and performed the experiments; A.R. analyzed the data; D.C.R., A.R., A.P., and C.S. wrote the paper; C.S., T.T. and G.Y. advised on the technical implementation and experiment design; H.K. assisted with the camera model formulation; S.I. provided the equipment and advised on the implementation.
Conflicts of Interest
The authors declare no conflict of interest.

Figure 1. EyeAR aims to embed computer graphics (CG) objects into the real world that are indistinguishable from real objects. (a) schema of the EyeAR concept: we measure the user's pupil size and accommodative state and then feed these values into a real-time ray tracer that generates matching CG that is displayed via a half-mirror. In an example application, we augment real dragon statues with virtual hats of the same color; (b) conventional optical see-through displays exhibit a Depth of Field (DoF) mismatch between CG and the real scene. Note how the white hat is in focus, while the white dragon is blurred; (c) EyeAR accurately matches the DoF of virtual objects, correcting this mismatch.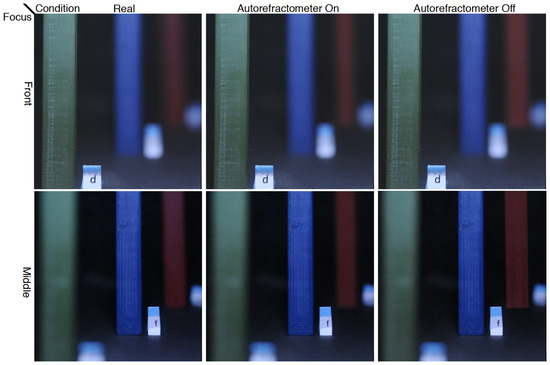 Figure 2. Participants' view during the experiment for two different focus distances (front: green pillar, middle: blue pillar). The green and blue pillars are real; the red pillar is only real in the leftmost column. Note how the red pillars in columns Real and Autorefractometer On closely match. For comparison, column Autorefractometer Off shows views similar to most OST AR displays; note the mismatch compared to the red pillars in the other columns.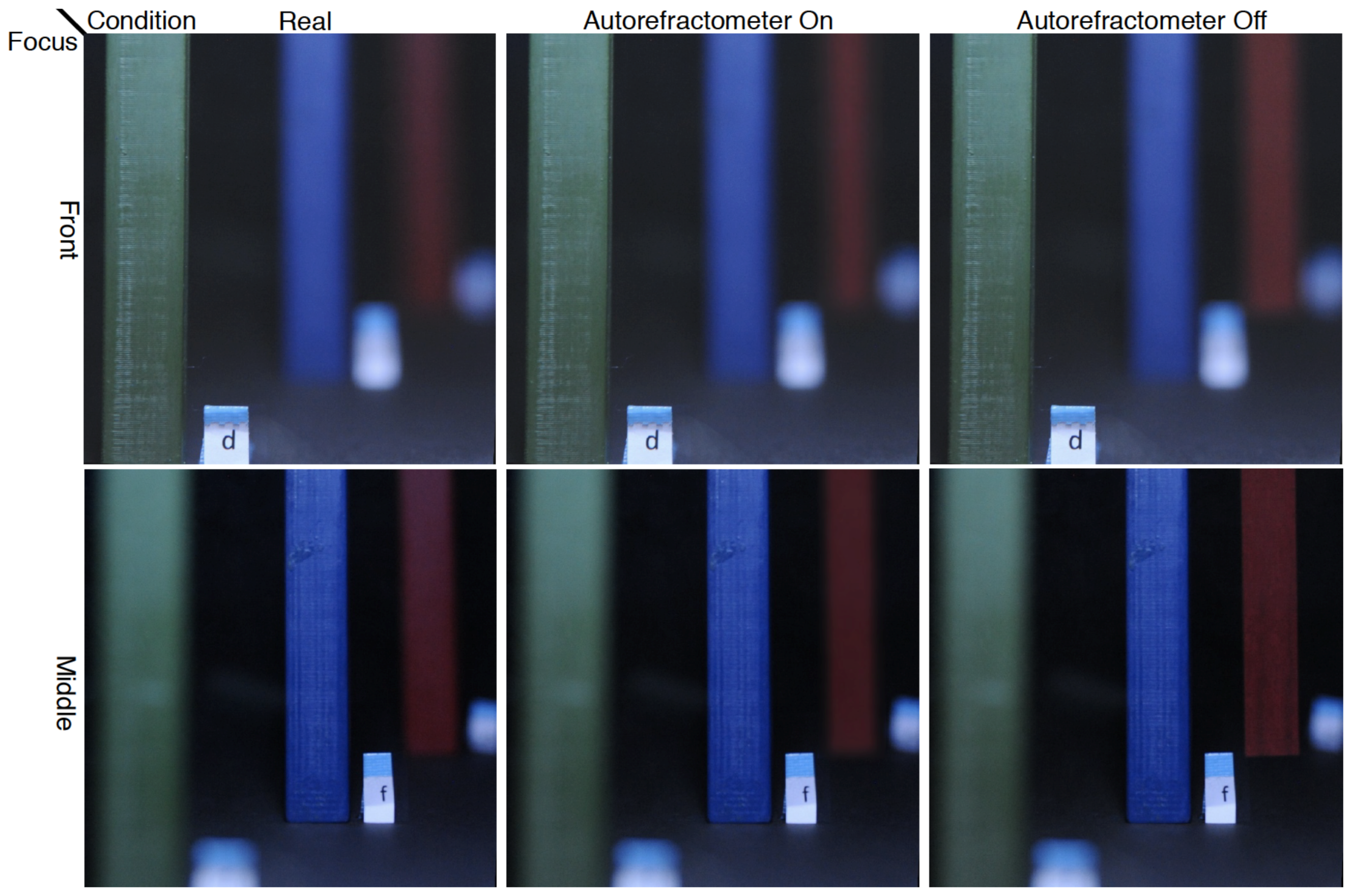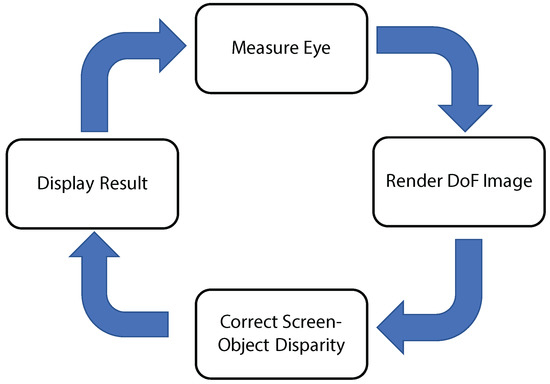 Figure 3. EyeAR is a closed-loop system: Given eye measurements, we generate a realistic DoF image. After correcting the offset between the screen and the virtual object, we present the results on the screen, which triggers a response by the user's eye.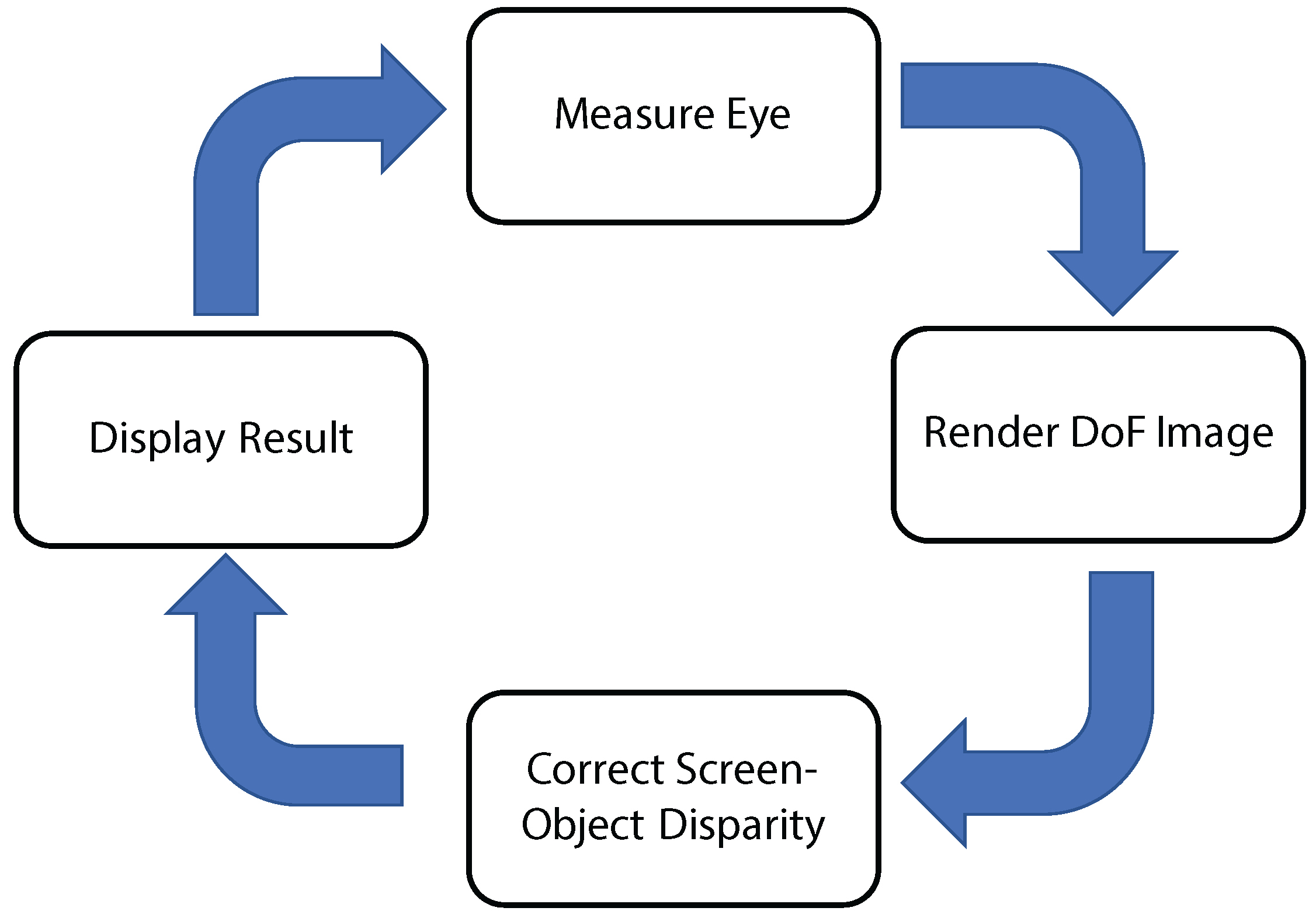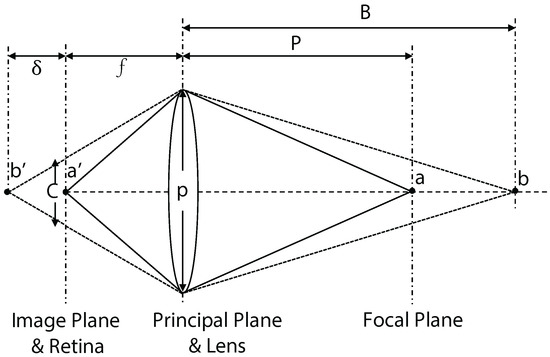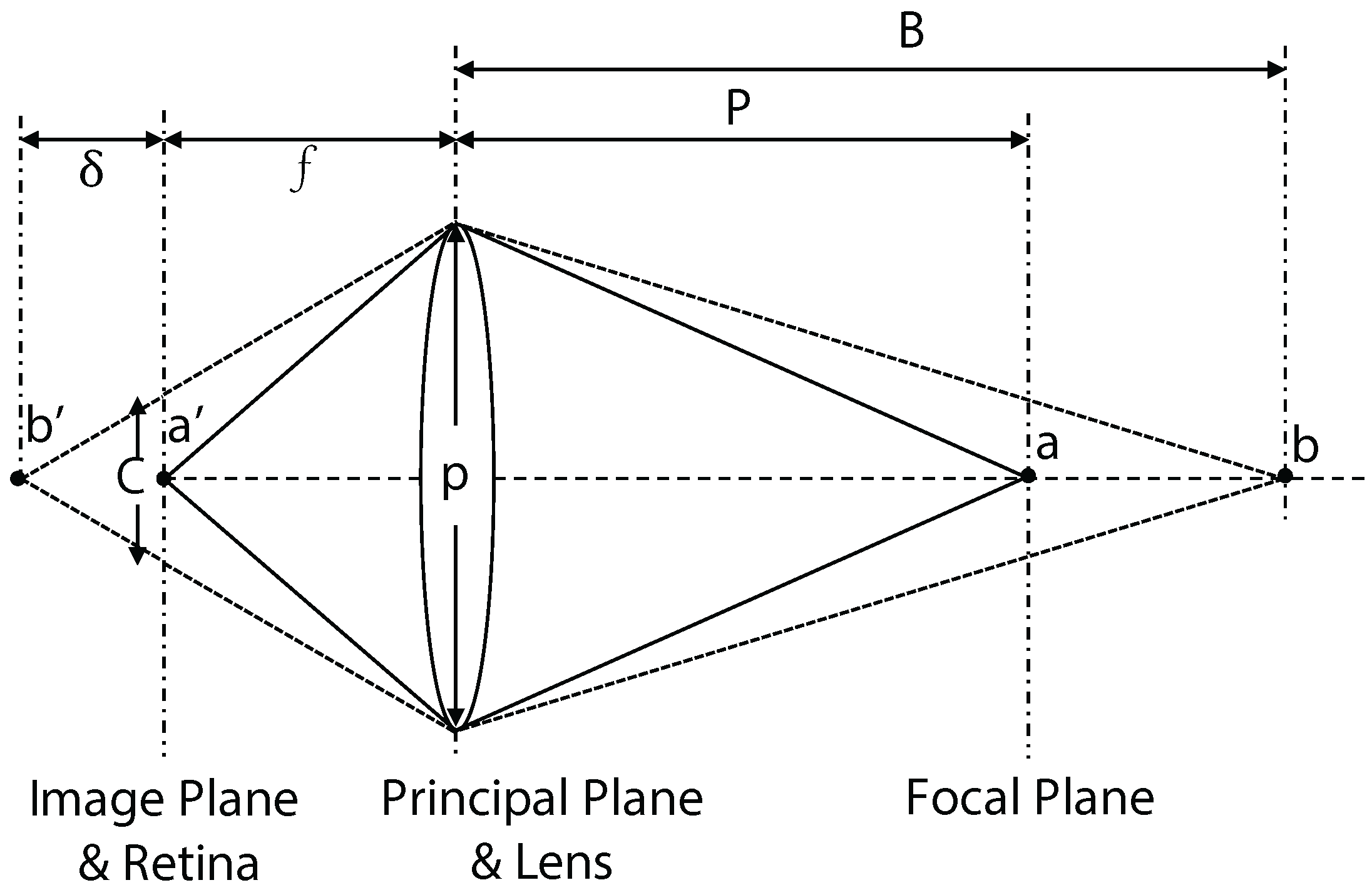 Figure 5. Our experiment setup: (a) a user sitting in front of the autorefractometer and looking inside the box enclosure (the side panel was opened for illustrative purposes); (b) internal view of the box enclosure; (c) user's view.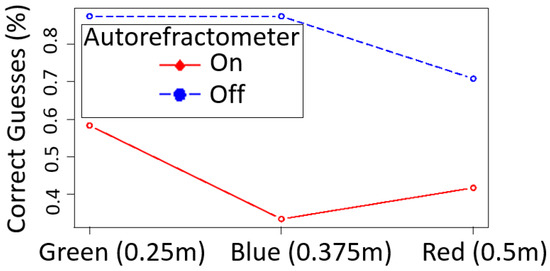 Figure 6. Overall percentage of correct guesses for each pillar when the autorefractometer was on (red line) and off (blue line).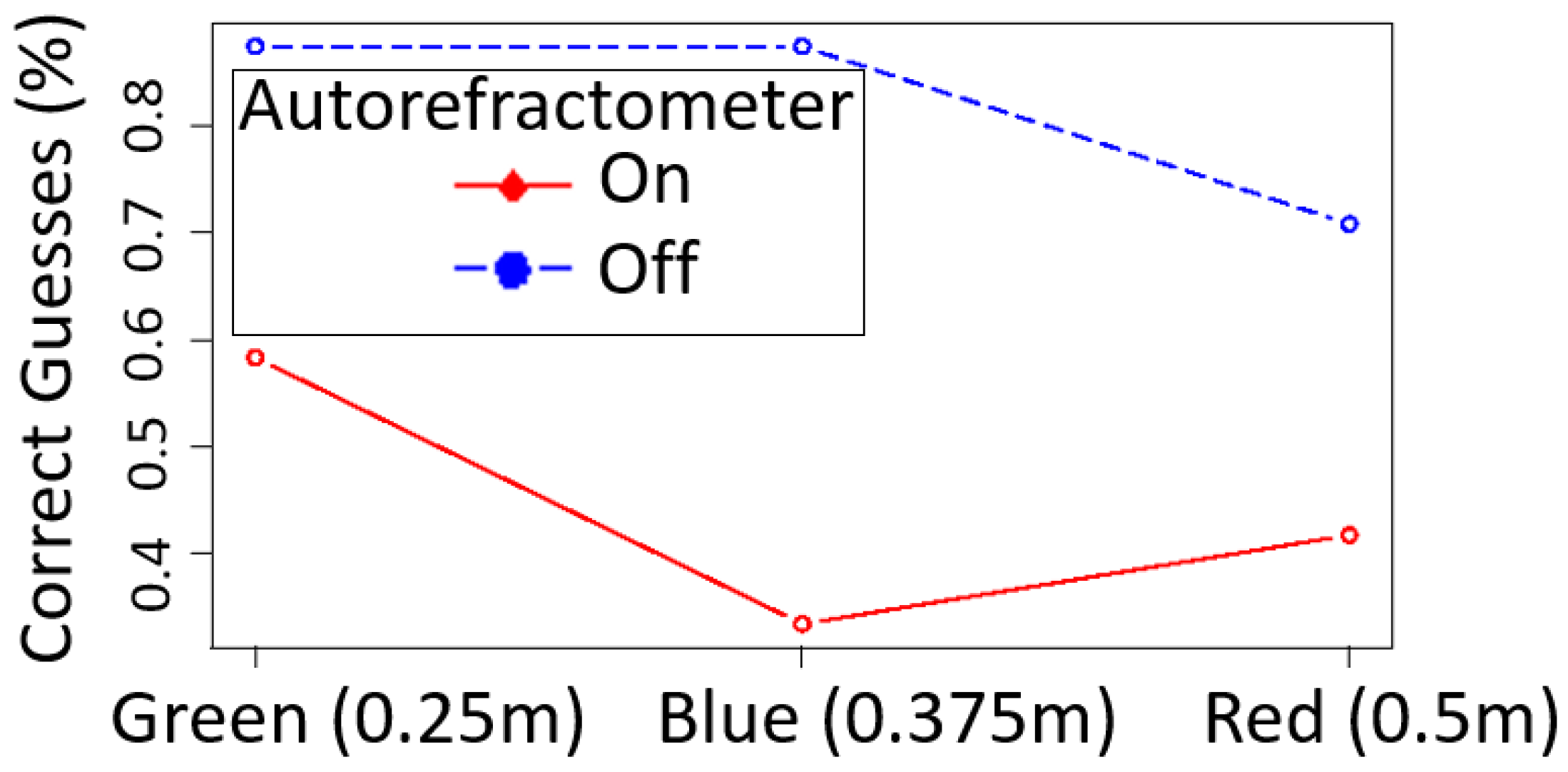 Figure 7. Limitation of our prototype: as the distance to the virtual image plane coincides with the blue pillar, it is the only pillar that can be rendered with only minor artifacts. Note how the red and green pillars exhibit noticeably greater artifacts. The top row shows all virtual pillars, while the bottom row only shows real pillars.


Table 1.
Coefficients and
p
-values of the experimental variables of a linear model fitting using generalized estimating equations with correlation structure = exchangeable. The
p
-values show that Autorefractometer is the main contributor to the model but not the only one, also gender and TrialSequence are significant.
| | Estimate | Std. Error | Wald | Pr (>|W|) | 95% Conf. Interval |
| --- | --- | --- | --- | --- | --- |
| Intercept | −0.561 | 0.565 | 0.99 | 0.3202 | −1.67 to 0.55 |
| TrialSequence | 0.152 | 0.058 | 6.96 | 0.0083 | 0.04 to 0.27 |
| Autorefractometer = on | −1.841 | 0.273 | 45.65 | | −2.38 to −1.31 |
| VirtualPillar | 0.236 | 0.158 | 2.23 | 0.1357 | −0.07 to 0.55 |
| Age | 0.010 | 0.013 | 0.58 | 0.4475 | −0.02 to 0.04 |
| Gender | 0.872 | 0.304 | 8.23 | 0.0041 | 0.28 to 1.47 |

© 2017 by the authors. Licensee MDPI, Basel, Switzerland. This article is an open access article distributed under the terms and conditions of the Creative Commons Attribution (CC BY) license (http://creativecommons.org/licenses/by/4.0/).