Open Access This article is
freely available
re-usable
Article
New Structural Insight into Interface-Controlled α–σ Phase Transformation in Fe-Cr Alloys
1
Atomic Energy Commission of Syria (AECS), P. O. Box 6091, Damascus, Syria
2
ALS–LBNL, 1 Cyclotron Road, MS 2-400, Berkeley, CA 94720, USA
3
Institut Jean Lamour, UMR 7198 CNRS Université de Lorraine, Campus Artem, 2 Allée André Guinier, BP 50840, 54011 Nancy CEDEX, France
4
Institut Pprime, UPR 3346 CNRS—Université de Poitiers-ENSMA, SP2MI, Boulevard Marie et Pierre Curie, BP30179, 86962 Futuroscope, France
*
Author to whom correspondence should be addressed.
Received: 31 October 2018 / Accepted: 30 November 2018 / Published: 10 December 2018
Abstract
:
Synchrotron Laue microdiffraction scanning is used for the ex situ study of the body-centered, cubic-to-tetragonal phase transformation that occurs in equiatomic polycrystalline Fe-Cr alloys at temperatures between 550 and 800 °C. Grain orientation and grain strains were scanned with a micron step resolution after annealing at 700 °C for 12 h. Further microstructural details on the early stage of the transformation, and more particularly on the cubic-to-tetragonal phase interface, were achieved. Only the α and ordered σ phases were detected. The crystallographic relationships at the interface between the two phases did not follow the predicted rules; this result is discussed in relation to the measured microstrains.
Keywords:
synchrotron X-ray diffraction; iron alloys; phase transformations; grain orientation; grain/phase boundaries; strain/stress measurement
1. Introduction
Body-centered cubic (bcc) Fe-Cr solid solutions undergo a phase transformation into a complex tetragonal sigma phase with equiatomic composition at temperatures between 550 and 800 °C. Although this phase was detected 85 years ago by Bain et al. [
1
], and its complete structure was solved only 30 years later by Bergman et al. [
2
] using X-ray diffraction, the origin and mechanisms of the transformation process are still debated now by theoreticians and experimentalists. More precisely, extensive works have studied (1) the existence of an intermediate phase that has a cubic B2 structure, and thus a tendency to: ordering prior transformation; (2) crystallographic relationships between the two phases; and (3) the distribution of alloy constituents on the different atomic sites. In spite of these numerous simulations and experimental studies, no clear answers have been given, and most of these questions remain unanswered because of a lack of experimental work with submicron scales. The original work accomplished in this paper, thanks to the powerful micro Laue diffraction technique, fills in this gap and contributes to the understanding of the phase transformation from a simple cubic structure to a more complex Franck Kasper (FK) structure. The study of these complex structures is of fundamental interest because they display structural units that are believed to be present in nonperiodic systems. Furthermore, the brittle σ-phase appears as a precipitate during steel production, therefore, since it may deteriorate the mechanical and corrosion properties in such alloys, this is of technological interest for nuclear applications [
3
,
4
,
5
].
Mössbauer's investigations of the magnetic and structural properties of the α-to-σ phase transformation in equiatomic Fe-Cr alloys, led Dubiel and coworkers [
6
] to adopt the idea previously raised by Kitchingman [
7
] of an intermediate phase with a B2 ordered cubic structure. According to Kitchingman [
7
], atomic movements over small distances in the <11–1> direction take place, leading to the formation of a new layer structure. The transformation is completed by the rotation of the alternate layers of hexagons, within zones related to Kagome title structures. This mechanism suggests that certain groups of atoms are more strongly bonded in the 11–1 direction than others, and also that the bcc phase exhibits a partial long range order, prior to the transformation. At the same time, the short range order (SRO) in Fe-Cr alloys was investigated by X-ray scattering, but the authors were not able to detect any premonitory signatures of the σ–phase [
8
]. Other Fe-based intermetallic alloys, such as Fe-V, also show the same α-to-σ transition, however with significant differences concerning the temperature range of the transformation, the atomic distributions on the different sites of the complex structure, and finally, the tendency for ordering or phase separation existing in the parent bcc alloy. Indeed, it is now well established that FK phases satisfy Goldschmidt–Hume-Rothery rule that suggests that their formation is electronically driven. The Hume-Rothery rules for alloy structures cite the atomic size mismatch and the electron concentration per atom as the relevant variables, which may explain the different behaviors observed in Fe-V and Fe-Cr alloys. Indeed, the size difference between pure Cr and Fe was only 0.06%, which is one of the smaller differences in binary metallic solutions. In a first-principles study of the stability and local ordering of substitutional alloys, Turchi et al. [
9
] showed that Fe-Cr exhibits an overall tendency toward phase separation, whereas Fe-V has a definite tendency towards ordering, with a B2 superstructure of the CsCl type. However, strong tendencies towards order or phase separation would be energetically too costly to form a σ nucleus in the early stage of the nucleation, of the σ phase in the bulk bcc-based alloy, where important atomic displacements from the bcc lattice positions are required. Meanwhile, it has been experimentally observed in such alloys that the formation of the σ product preferentially initiates in the vicinity of the free surface or grain boundaries in polycrystalline materials of the bcc parent phase [
10
,
11
]. Hence, the phenomena pertaining to surfaces and interface boundaries (reconstruction, segregation, excess volume, etc.) should exhibit similar features for both alloys, in clear contrast to the bulk properties, as shown before. Therefore, it appears that SRO is not a major precursor for the nucleation of the σ phase, and the transformation mechanisms at the interface between the two phases remains poorly understood. In a recent work based on transmission electron microscopy, Ustinovshikov et al. [
12
] shown that the B2 ordered phase is not evidenced in equiatomic FeV alloys, contrary to simulation predictions. This feature has not yet been experimentally evidenced for the Fe-Cr system.
The α-to-σ phase transformation is a massive first-order transformation. In interface-controlled solid state transformations, the processes at the interface determine the transformation rate [
13
]. In particular, the amount of excess volume associated with an interface boundary and its distribution along the interface (which depends on the crystallography of the interface), control the activation enthalpies of interface mobility and boundary self-diffusion. Any excess volume at a boundary is caused by the misfit of the atoms of the two different crystals at the boundary, and its amount depends on the interface structure. Interface mobility and its orientation dependence are related to the misfit at the interface. A highly disordered boundary can be expected to have a large amount of excess volume, and increased excess volume leads to higher interface mobility and faster diffusion. During the phase transformation, vacancies are formed at the interface by fluctuations in the distribution of the excess volume at the interface. Atoms at the interface can take intermediate, energetically more favorable positions compared to positions at the ideal (bulk) lattice sites, thereby relaxing the interface structure. When coherence occurs at interfaces, there is almost no free space available for the movement of the atoms. Increasing the random site density at the interface leads to two opposite effects (freedom of movement of atoms and enhanced relaxation) on interface mobility activation energy, where the net result depends on the crystallography of the interface. To summarize the different steps of the transformation, the reaction is proceeded by the nucleation and growth mechanism, with a weak nucleation site density, and fast growth. Two successive steps have to be considered in polycrystalline and single crystal materials: (i) σ phase nuclei or germs are formed along initial grain boundaries, or free surfaces of the α phase, and then (ii) α grains grow inward. The limiting reaction takes place at the internal interface between the grain and the nuclei. The nucleation is the process wherein spots (called nuclei or germs) appear in space and time, assumed to be a stochastic process. The growth process is deterministic and spatially homogeneous [
14
]. Due to the crystallographic complexity of the σ phase, the grain size, and sometimes the presence of an additional third element, the transformation process may be very slow [
15
].
3. Results and Discussion
4. Conclusions
Imaging structural distortions (microstructures) related to phase transformation through scanning micro X-ray diffraction, provides new insight concerning the α-to-σ phase transition in Fe-Cr systems. The formation of the σ phase takes place predominantly along the grain boundaries, while reversal transformation takes place in the whole volume of the sample [
25
]. Thus, the σ phase transformation is grain size dependent. We did not find evidence of an intermediate phase during the transformation process, nor rational crystallographic relationships between the σ phase and its parent α phase.
This pioneering experimental work calls into question previous theoretical works related to the crystallographic changes accompanying this complex phase transformation. However, a more complete description of the phenomenon is necessary to confirm these first results. This should be based on: (1) electron backscatter diffraction (EBSD) in a SEM investigation of grain orientation that is more sample surface sensitive (i.e., 0.2 µm probed in depth compared to the 5 to 10 µm possible with X-rays); and (2) a micro XRD on a sample cross-section and transmission electron microscopy (TEM) investigation, for information on the bulk of the sample grains. Finally, the kinetics of this process are slow enough to allow in-situ measurements when the grain size is relatively large, thanks to the upgraded beam line at ALS [
26
], or more recently at the European synchrotron radiation facility (ESRF; Grenoble, France) [
27
]. These provide faster and more accurate measurements owing to the more intense and smaller beam.
Author Contributions
Conceptualization, P.G.; software, N.T.; formal analysis, W.A.K.; investigation, G.G.; writing—original draft preparation, P.G.; writing—review and editing, N.T.
Funding
We are appreciative for access to the microdiffraction beamline of the Advanced Light Source (ALS). ALS is supported by the Director, Office of Science, Office of Basic Energy Sciences, Materials Sciences Division, of the U.S. Department of Energy under Contract DE-AC02-05CH11231 at Lawrence Berkeley National Laboratory and the University of California, Berkeley.
Conflicts of Interest
The authors declare no conflicts of interest.
References
Bain, E.C. The nature of solid solutions.

Chem. Met. Eng.

1923,

28

, 21–24. [Google Scholar]
Bergman, G.; Shoemaker, D.P. The determination of the crystal structure of the σ phase in the iron–chromium and iron–molybdenum systems.

Acta Cryst.

1954,

7

, 857–865. [Google Scholar] [CrossRef]
Boccaccini, L.V.; Giancarli, L.; Janeschitz, G.; Hermsmeyer, S.; Poitevin, Y.; Cardella, A.; Diegele, E. Materials and design of the European DEMO blankets.

J. Nucl. Mater.

2004,

148

, 329–333. [Google Scholar] [CrossRef]
Porollo, S.I.; Dvoriashin, A.M.; Vorobyev, A.N.; Yu, V. The microstructure and tensile properties of Fe–Cr alloys after neutron irradiation at 400 C to 5.5–7.1 dPa.

J. Nucl. Mater.

1998,

256

, 247–253. [Google Scholar] [CrossRef]
Terentyev, D. Study of radiation effects in FeCr alloys for fusion applications using computer simulations. Ph.D. Thesis, Université Libre de Bruxelles and Belgian Nuclear Research Centre, Bruxelles, Belgium, 2006. [Google Scholar]
Dubiel, S.M.; Costa, B.F.O. Intermediate phases of the α-σ phase transition in the Fe-Cr system.

Phys. Rev. B

1992,

47

, 12257. [Google Scholar] [CrossRef]
Kitchingman, W.J. The atomic mechanism of the body-centred cubic to σ-phase transformation.

Acta Cryst. A

1968,

24

, 282–286. [Google Scholar] [CrossRef][Green Version]
Reinhard, L.; Robertson, J.L.; Moss, S.C.; Ice, G.E.; Zschack, P.; Sparks, C.J. Anomalous-X-ray-scattering study of local order in bcc Fe0.53Cr0.47.

Phys. Rev. B

1992,

45

, 2662. [Google Scholar] [CrossRef]
Turchi, P.E.A.; Reinhard, L.; Stocks, G.M. First-principles study of stability and local order in bcc-based Fe-Cr and Fe-V alloys.

Phys. Rev. B

1994,

50

, 15542. [Google Scholar] [CrossRef]
Frattini, R.; Longworth, G.; Matteazzi, P.; Principi, G.; Tiziani, A. Mössbauer studies of surface sigma phase formation in an Fe-45 Cr alloy heated in low partial oxygen pressure.

Scripta Metall.

1981,

15

, 873–877. [Google Scholar] [CrossRef]
Ustinovshikov, Y.; Pushkarev, B. Morphology of Fe–Cr alloys.

Mater. Sci. Eng. A

1998,

241

, 159–168. [Google Scholar] [CrossRef]
Ustinovshikov, Y.; Pushkarev, B.; Sapegina, I. Phase transformations in alloys of the Fe–V system.

J. Alloys Compd.

2005,

398

, 133–138. [Google Scholar] [CrossRef]
Bos, C.; Sommer, F.; Mittemeijer, E.J. Atomistic study on the activation enthalpies for interface mobility and boundary diffusion in an interface-controlled phase transformation.

Philos. Mag.

2007,

87

, 2245–2262. [Google Scholar] [CrossRef][Green Version]
Helbert, C.; Touboul, E.; Perrin, S.; Carraro, L.; Pijolat, M. Stochastic and deterministic models for nucleation and growth in non-isothermal and/or non-isobaric powder transformations.

Chem. Eng. Sci.

2004,

59

, 1393–1401. [Google Scholar] [CrossRef]
Blachowski, A.; Cieślak, J.; Dubiel, S.M.; Zukrowski, J. Effect of titanium on the kinetics of the σ-phase formation in a small grain Fe–Cr alloy.

J. Alloys Compd.

2000,

308

, 189–192. [Google Scholar] [CrossRef]
International Center for Diffraction Data.

Powder Diffraction File (ICDD-PDF) No 5-708

; ICDD: Square, PA, USA, 1996. [Google Scholar]
Sluiter, M.H.F.; Esfarjani, K.; Kawazoe, Y. Site Occupation Reversal in the Fe−Crσ Phase.

Phys. Rev. Lett.

1995,

75

, 3142. [Google Scholar] [CrossRef] [PubMed]
Yakel, H.L. Atom distributions in sigma phases. I. Fe and Cr atom distributions in a binary sigma phase equilibrated at 1063, 1013 and 923 K.

Acta Cryst. B

1983,

39

, 20–28. [Google Scholar] [CrossRef][Green Version]
Korzhavyi, P.A.; Sundman, B.; Selleby, M.; Johansson, B. Atomic, electronic, and magnetic structure of iron-based sigma-phases.

Mater. Res. Soc. Symp. Proc.

2005,

842

, 517–522. [Google Scholar] [CrossRef]
Cieślak, J.; Reissner, M.; Dubiel, S.M.; Wernisch, J.; Steiner, W.; (AGH University of Science and Technology, Kraków, Poland). Personal communication, 2007.
Al Khoury, W. Etude Structurale par Spectrométrie Mössbauer et Diffraction des Rayons X d'Alliages Fe-Cr à l'Etat Massif et en Couches Minces. Transformation de Phase autour de la Composition Equi-Atomique. Ph.D. Thesis, Poitiers University, Poitiers, France, 2006. [Google Scholar]
Tamura, N.; MacDowell, A.A.; Spolenak, R.; Valek, B.C.; Bravman, J.C.; Brown, W.L.; Celestre, R.S.; Padmore, H.A.; Batterman, B.W.; Patel, J.R. Scanning X-ray microdiffraction with submicrometer white beam for strain/stress and orientation mapping in thin films.

J. Synchrotron Radiat.

2003,

10

, 137–143. [Google Scholar] [CrossRef] [PubMed]
Lynch, P.A.; Stevenson, A.W.; Liang, D.; Parry, D.; Wilkins, S.; Tamura, N. A laboratory based system for Laue micro X-ray diffraction.

Rev. Sci. Instrum.

2007,

78

, 023904. [Google Scholar] [CrossRef]
Chen, T.H.; Yang, J.R. Effects of solution treatment and continuous cooling on σ-phase precipitation in a 2205 duplex stainless steel.

Mater. Sci. Eng. A

2001,

311

, 28–41. [Google Scholar] [CrossRef]
Cieslak, J.; Costa, B.F.O.; Dubiel, S.M.; Le Caer, G. Kinetics of the sigma-to-alpha phase transformation caused by ball milling in near equiatomic Fe−Cr alloys.

Phys. Rev. B

2006,

73

, 184123. [Google Scholar] [CrossRef]
Kunz, M.; Tamura, N.; Chen, K.; MacDowell, A.A.; Celestre, R.S.; Church, M.M.; Fakra, S.; Domning, E.E.; Glossinger, J.M.; Plate, D.W.; et al. A dedicated superbend X-ray microdiffraction beamline for materials, geo-, and environmental sciences at the advanced light source.

Rev. Sci. Instrum.

2009,

80

, 035108. [Google Scholar] [CrossRef] [PubMed]
Ulrich, O.; Biquard, X.; Bleuet, P.; Geaymond, O.; Gergaud, P.; Micha, J.S.; Robach, O.; Rieutord, F. A new white beam X-ray microdiffraction setup on the BM32 beamline at the European Synchrotron Radiation Facility.

Rev. Sci. Instrum.

2011,

82

, 033908. [Google Scholar] [CrossRef] [PubMed]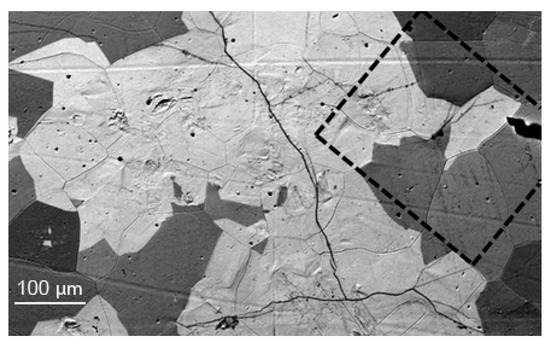 Figure 1. Scanning electron microscope (SEM) image in Backscattered electron shadow (BES) mode of the sample surface where the σ-phase is clearly visible (white) with the α-phase (grey). The dashed line delimits the scanned area during micro X-ray diffraction (XRD) measurements.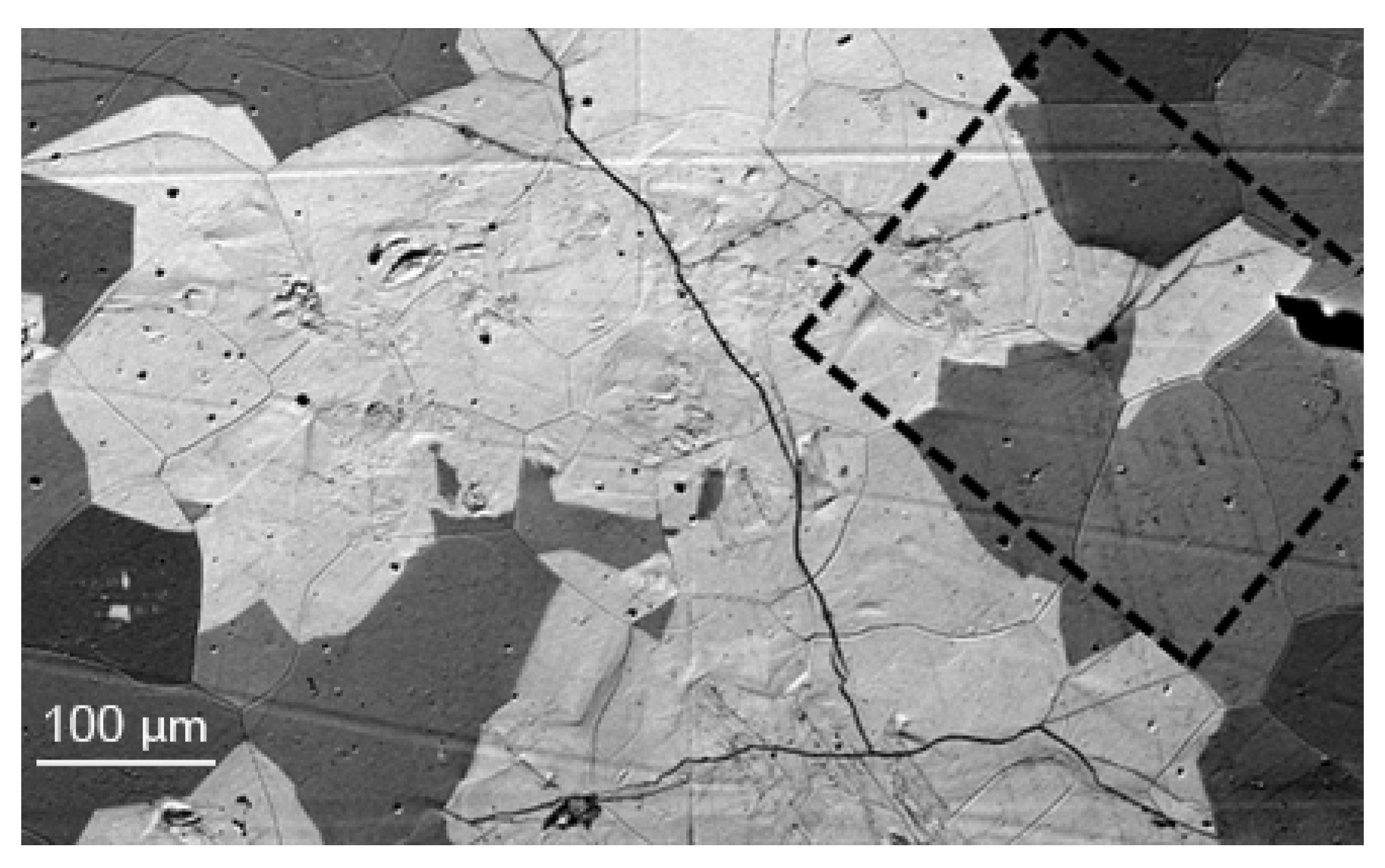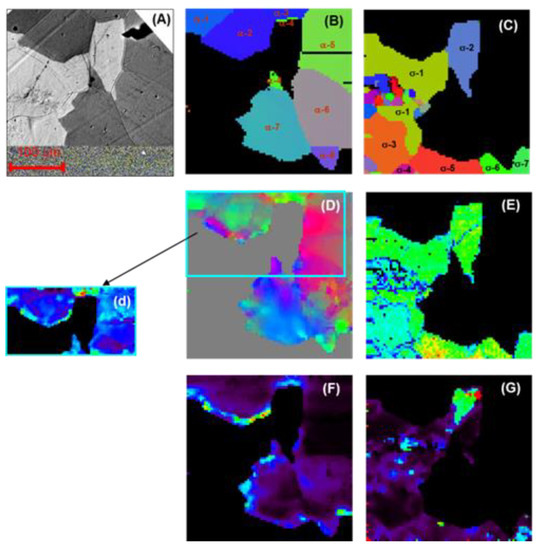 Figure 2. (Color online) Micro X-ray diffraction scanning of the sample surface as shown on the SEM image (A). (B,C) are the corresponding crystalline orientation maps, represented in the RGB system (Red: (001), Green: (011) and Blue: (111)) for the α and σ phases respectively. (D,E) are deviatoric strain maps, also represented in the RGB, system with the following correspondence for directions R: xx, G: yy et B: zz for α and σ phases respectively; Insert (d) shows the stress map for the α phase corresponding to a smaller area on the sample surface. (F,G) are the Laue spot broadening maps (related to dislocation densities) for the α and σ phases respectively.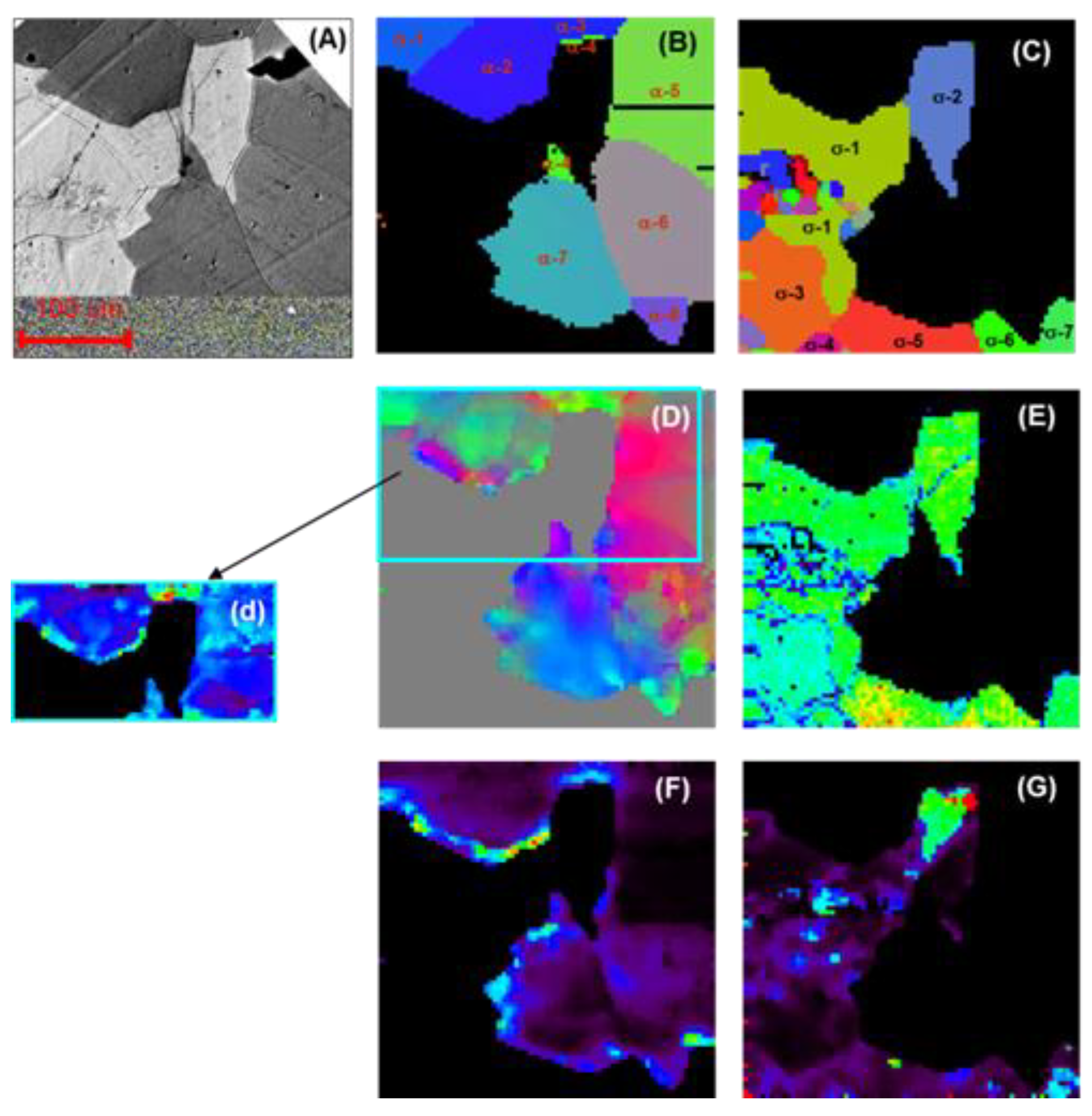 Table 1.
In-grain strains (min, max) and peak broadening (min, max) in alpha and sigma phases extracted from Laue patterns. Uxx, Uyy, and Uzz are the macrostrains corresponding to the (001), (011), and (111) directions respectively (see
Figure 2
). Peak broadening W is given for grains indexed with at least seven Laue spots.
| Fe-Cr | α | σ |
| --- | --- | --- |
| Uxx (%) | (−2.0, +1.5) | (−4.2, 0.0) |
| Uyy (%) | (−4.0, +2.0) | (−3.2, +2.4) |
| Uzz (%) | (−2.5, +3.0) | (−0.6, +5.0) |
| W (°) | (0.07, 0.20) | (0.10, 0.20) |

© 2018 by the authors. Licensee MDPI, Basel, Switzerland. This article is an open access article distributed under the terms and conditions of the Creative Commons Attribution (CC BY) license (http://creativecommons.org/licenses/by/4.0/).