New Structural Insight into Interface-Controlled α–σ Phase Transformation in Fe-Cr Alloys
1
Atomic Energy Commission of Syria (AECS), P. O. Box 6091, Damascus, Syria
2
ALS–LBNL, 1 Cyclotron Road, MS 2-400, Berkeley, CA 94720, USA
3
Institut Jean Lamour, UMR 7198 CNRS Université de Lorraine, Campus Artem, 2 Allée André Guinier, BP 50840, 54011 Nancy CEDEX, France
4
Institut Pprime, UPR 3346 CNRS—Université de Poitiers-ENSMA, SP2MI, Boulevard Marie et Pierre Curie, BP30179, 86962 Futuroscope, France
*
Author to whom correspondence should be addressed.
Received: 31 October 2018 / Revised: 25 November 2018 / Accepted: 30 November 2018 / Published: 10 December 2018
Abstract
Synchrotron Laue microdiffraction scanning is used for the ex situ study of the body-centered, cubic-to-tetragonal phase transformation that occurs in equiatomic polycrystalline Fe-Cr alloys at temperatures between 550 and 800 °C. Grain orientation and grain strains were scanned with a micron step resolution after annealing at 700 °C for 12 h. Further microstructural details on the early stage of the transformation, and more particularly on the cubic-to-tetragonal phase interface, were achieved. Only the α and ordered σ phases were detected. The crystallographic relationships at the interface between the two phases did not follow the predicted rules; this result is discussed in relation to the measured microstrains.
View Full-Text
►

▼

Figures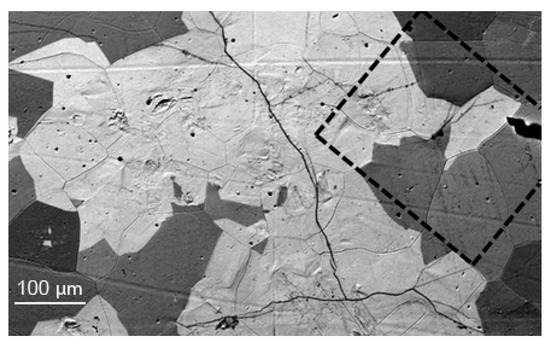 Figure 1
This is an open access article distributed under the
Creative Commons Attribution License
which permits unrestricted use, distribution, and reproduction in any medium, provided the original work is properly cited (CC BY 4.0).

Share & Cite This Article
MDPI and ACS Style
Al Khoury, W.; Tamura, N.; Geandier, G.; Goudeau, P. New Structural Insight into Interface-Controlled α–σ Phase Transformation in Fe-Cr Alloys. Quantum Beam Sci. 2018, 2, 27.
Note that from the first issue of 2016, MDPI journals use article numbers instead of page numbers. See further details here.
Comments
[Return to top]