Open Access This article is
freely available
re-usable
Review
Machine Learning with Applications in Breast Cancer Diagnosis and Prognosis
1
Department of Computer Science, Brunel University London, Uxbridge, Middlesex UB8 3PH, UK
2
School of Mathematics, Southeast University, Nanjing 210096, China
*
Author to whom correspondence should be addressed.
Received: 2 February 2018 / Accepted: 23 April 2018 / Published: 9 May 2018
Abstract
:
Breast cancer (BC) is one of the most common cancers among women worldwide, representing the majority of new cancer cases and cancer-related deaths according to global statistics, making it a significant public health problem in today's society. The early diagnosis of BC can improve the prognosis and chance of survival significantly, as it can promote timely clinical treatment to patients. Further accurate classification of benign tumours can prevent patients undergoing unnecessary treatments. Thus, the correct diagnosis of BC and classification of patients into malignant or benign groups is the subject of much research. Because of its unique advantages in critical features detection from complex BC datasets, machine learning (ML) is widely recognised as the methodology of choice in BC pattern classification and forecast modelling. In this paper, we aim to review ML techniques and their applications in BC diagnosis and prognosis. Firstly, we provide an overview of ML techniques including artificial neural networks (ANNs), support vector machines (SVMs), decision trees (DTs), and
k
-nearest neighbors (
k
-NNs). Then, we investigate their applications in BC. Our primary data is drawn from the Wisconsin breast cancer database (WBCD) which is the benchmark database for comparing the results through different algorithms. Finally, a healthcare system model of our recent work is also shown.
Keywords:
breast cancer; machine learning; artificial neural networks; decision tree; support vector machine;
k
-nearest neighbor; healthcare system; Wisconsin breast cancer database
1. Introduction
Over the past few decades, ML techniques have been widely used in intelligent healthcare systems, especially for breast cancer (BC) diagnosis and prognosis. Traditionally the diagnostic accuracy of a patient depends on a physician's experience [
1
], however, this expertise is built up over many years of observations of different patients' symptoms and confirmed diagnoses. Even then the accuracy still cannot be guaranteed. With the advent of computing technologies, it is now relatively easy to acquire and store a lot of data, for example the dedicated databases of electronic patient records [
2
], and the European Friedreichs Ataxia Consortium for Translational Studies (EFACTS) patient database [
3
]. Without the aid of computers it is impossible for health professionals to analyse these complex datasets particularly when undertaking complex interrogations of the data. The intelligent healthcare system is therefore a valuable and important domain. The intelligent healthcare system can assist physicians to diagnose patients with greater accuracy or provide more meaningful benchmarks, and further it can aid people to plan for their physical condition into the future. In this context, ML techniques can take over some complex manual works from the physicians, for instance, text and voice analysis, which have been applied to identify/code patient emotions corresponding to healthcare professionals' responses. Note that more and more evidences have shown that the emotions of patients can predict and further affect health outcomes [
4
,
5
].
As the most prevalent cancer in women, BC has always had a high incidence rate and mortality rate. According to the latest cancer statistics [
6
,
7
,
8
], BC alone is expected to account for of all new cancer diagnoses and 15% of all cancer deaths among women worldwide. Scientists have been aware of the dangers of BC from very early on, therefore much early research has already been implemented in the treatment of BC. Due to the efforts of researchers and early detection methods, the mortality rate has shown a steady and declining trend over the past decades. According to the statistics of Cancer Research UK, the five years survival rate for BC is almost if detected at its earliest stage, but can be as low as when detected at the latest stage. Lately, ML techniques are playing a significant role in diagnosis and prognosis of BC by applying classification techniques to identify people with BC, distinguish benign from malignant tumours and to predict prognosis. Accurate classification can further assist clinicians to prescribe the most appropriate treatment regime.
Classification is a kind of complex optimization problem. Many ML techniques have been applied by researchers in solving this classification problem. In the following sections, a comprehensive explanation of different classification methods applied to BC will be given. We focus on the artificial neural network (ANNs), support vector machine (SVMs), decision tree (DTs) and
k
-nearest neighbor (
k
-NNs) techniques as they are the main methods used in BC diagnosis and prognosis. Scientists strive to find the best algorithm to achieve the most accurate classification result, however, data of variable quality will also influence the classification result. Further, the rarity of data will influence the number of algorithm applications as well. Overall, most ML techniques are first tested in open source databases. Over time, a benchmark dataset has arisen in the literature: Wisconsin breast cancer diagnosis (WBCD) [
9
,
10
]. There are also many other BC benchmark data sets, for instance Wisconsin Prognostic Breast Cancer Chemotherapy (WPBCC), Wisconsin Diagnostic Breast Cancer (WDBC) [
11
] and so on. ML techniques that have been used on the WBCD database in BC diagnosis and prognosis show different levels of accuracy that ranged between and . Similarly, there are results with differently modified algorithms relating to BC databases. This review attempts to provide readers with the essential elements of BC diagnosis and prognosis using ML techniques on WBCD. By using ML techniques to analyse the WBCD database, BC can be diagnosed accurately base on 9 attributes as can be seen from
Table 1
. In the main body of the review section we will concentrate on how the WBCD has been used to illustrate the great promise of ML algorithms.
3. ML Applications in BC Diagnosis and Prognosis
In the early 1990s, WBCD was released and in the next few decades, a large number of ML algorithms have been used to analyse this dataset. In this section, detailed reviews of ANNs, SVMs, DTs and
k
-NNs with their utilizations in BC diagnosis and prognosis using the WBCD are given. A complete list of the four methods with their references, algorithm names, sample strategies and classification accuracies will be shown in
Table 2
at the end of this section. The WBCD includes 9 conclusive attributes to determine the BC class, excluding the first one (sample code number) and the last one (output class). A brief structure of WBCD attributes can be seen in
Table 1
based on the contents in [
9
,
10
]. There are 699 samples in WBCD, but researchers generally remove 16 out of 699 samples as these contain missing values. In some cases, more samples are removed in the pre-processing phase.
In WBCD, ML techniques have been used to predict BC tumor class (benign or malignant) via analysing combinations of different values in key attributes. Because of the differences between individual patients, even if they have the same BC class, the values of different attributes will not be the same. Depending on these values, the same BC tumor class can be divided into different serious situations by physicians thus to assist cancer prognosis, such as predicting cancer susceptibility, survivability, progression and so on. Sequentially, effective treatments can be provided to the patients.
There is a wide variety of BC data including open source and private. WBCD is one of the three datasets collected by Wisconsin hospital in 1990s. Owing to the fact that many algorithms have been applied to WBCD dataset, it has strong comparability and representation. The classification accuracies of different algorithms range from 94.36% to 99.90%. Although a great number of algorithms have achieved very high accuracy, the development of different improved ML algorithms is still necessary for providing more alternative solutions to the real-wold complex BC data (or other medical data). Classification accuracy is a very important and intuitive criterion but it is not the only one. It should be stressed that different algorithms have specific advantages as well as drawbacks, so the development of new algorithms to further improve the existing ones is still indispensable. These algorithms can help to build healthcare systems to assist physicians as a second opinion for their final decision to improve decision accuracies. The ML algorithms listed in the next subsections are all used to analyse open source benchmark database, which start with ANNs, followed by SVMs, DTs and
k
-NNs.
4. Conclusions and Future Work
In this paper, we have provided explanations of different ML approaches and their applications in BC diagnosis and prognosis used to analyse the data in the benchmark database WBCD. ML techniques have shown their remarkable ability to improve classification and prediction accuracy. Various methods have been shown in
Table 2
with references, algorithms, sampling strategies and classification accuracies, providing a clear and intuitive catalogue of information. Although lots of algorithms have achieved very high accuracy in WBCD, the development of improved algorithms is still necessary. Classification accuracy is a very important assessment criteria but it is not the only one. Different algorithms consider different aspects, and have different mechanisms. Although for several decades ANNs have dominated BC diagnosis and prognosis, it is clear that more recently alternative ML methods have been applied to intelligent healthcare systems to provide a variety of options to physicians.
In the last few years, our group has achieved many noteworthy results in improving the PSO algorithms [
107
,
108
,
109
,
110
]. Compared with traditional PSO algorithms, our modified PSO algorithms have better performances in many aspects. For instance, using the switching particle swarm optimization (SPSO) algorithm based on Markov chains and the competitive penalized method can achieve faster local convergence speed with higher accuracy and reliability, and the switching delayed particle swarm optimization (SDPSO) algorithm has been validated showing it can improve global search and increase possibility of reaching the global best. Next, we will test these different novel PSO algorithms in combination with ANN via tuning weights to find out whether we can achieve a higher classification accuracy with WBCD data. Additionally, our novel PSO algorithms can be applied to SVM to resolve the problem of parameter optimization in kernel function.
Furthermore, we are going to process a set of rare datasets obtained from Friedreich Ataxia (FRDA) patients. These datasets have been analysed using some traditional statistical approaches, such as cross-sectional [
3
] and linear regression analysis [
111
], to gain general statistical knowledge about the distribution and variation of the data. We intend to conduct an in-depth study of these datasets using ML techniques to explore some potential rules between different data and datasets consecutively and their state space model [
112
], with the purpose of establishing an intelligent FRDA healthcare system. The basic idea of our FRDA healthcare system shown in
Figure 5
, and the corresponding results will be published in future papers.
Author Contributions
W.Y. and Z.W. reviewed the literature, surveyed the updated state-of-the-art of the area, and wrote the paper. H.C. helped with the figures and diagrams. A.P. and X.L. justified the research problem and improved the presentation.
Conflicts of Interest
The authors declare no conflict of interest.
Figure 1. A simple example of how ANN is trained to predict the diagnostic outcome from six inputs and one hidden layer with 8 neurons.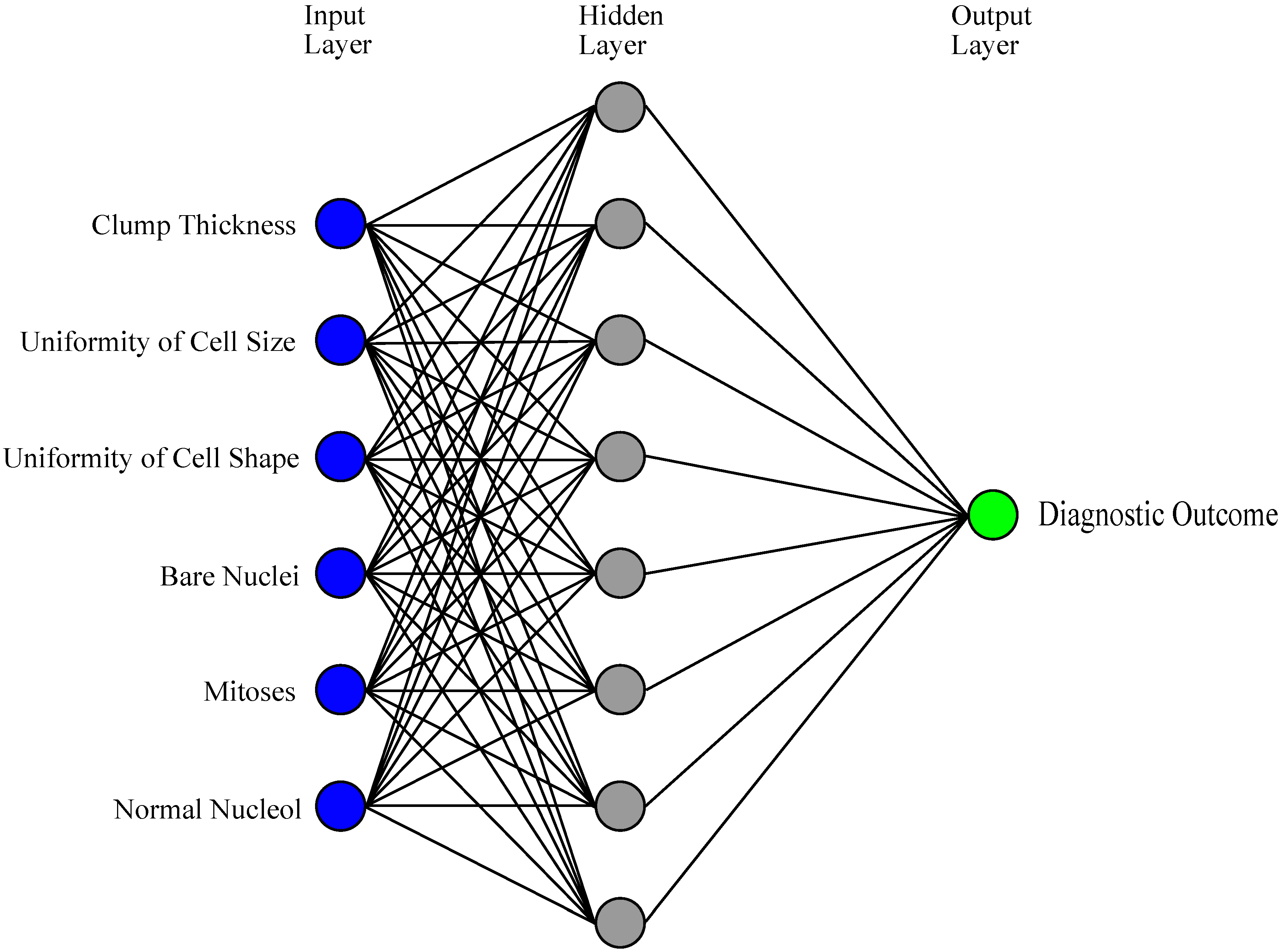 Figure 2. A simple example of how an SVM might work in distinguishing between benign and malignant tumor.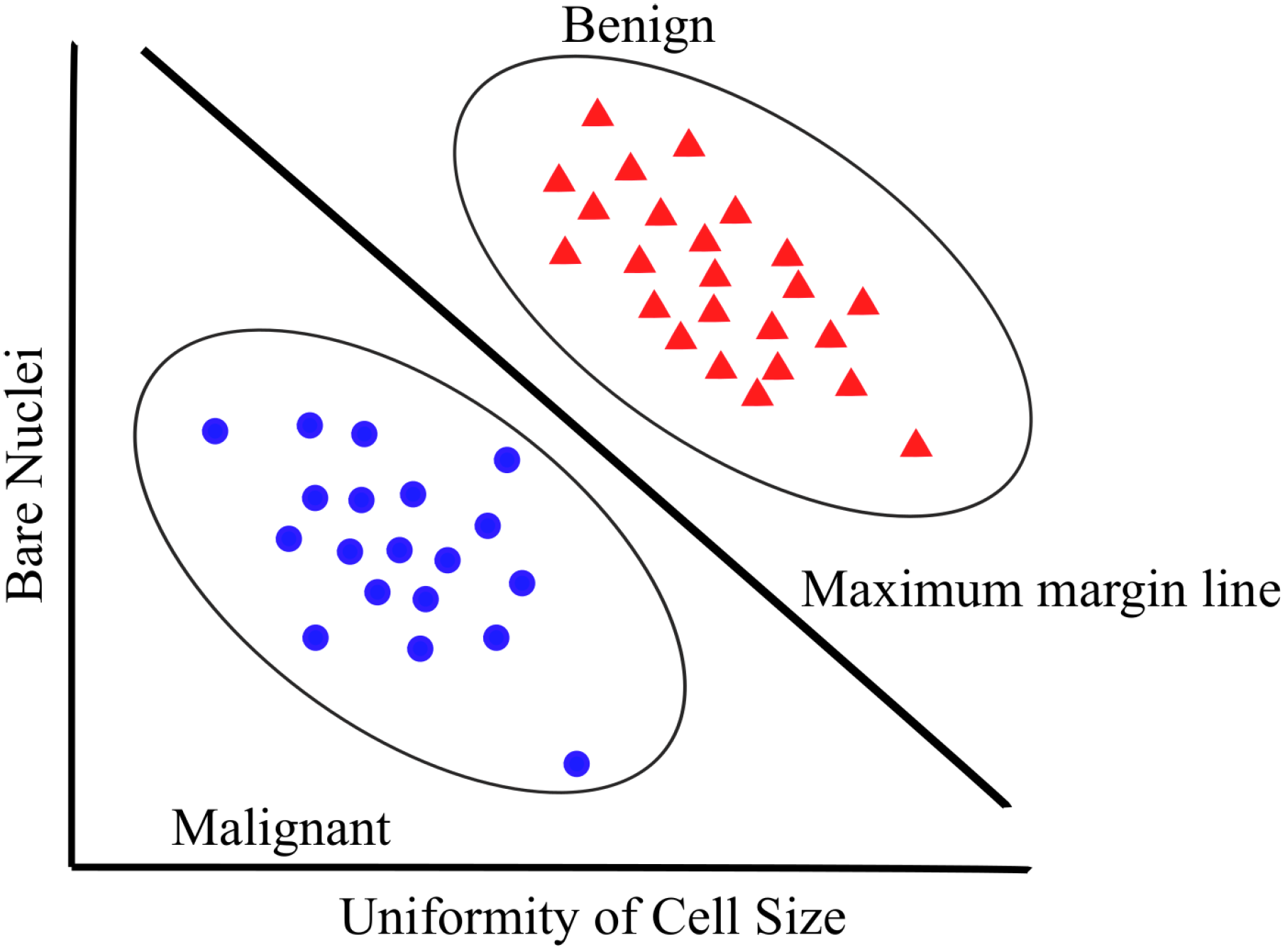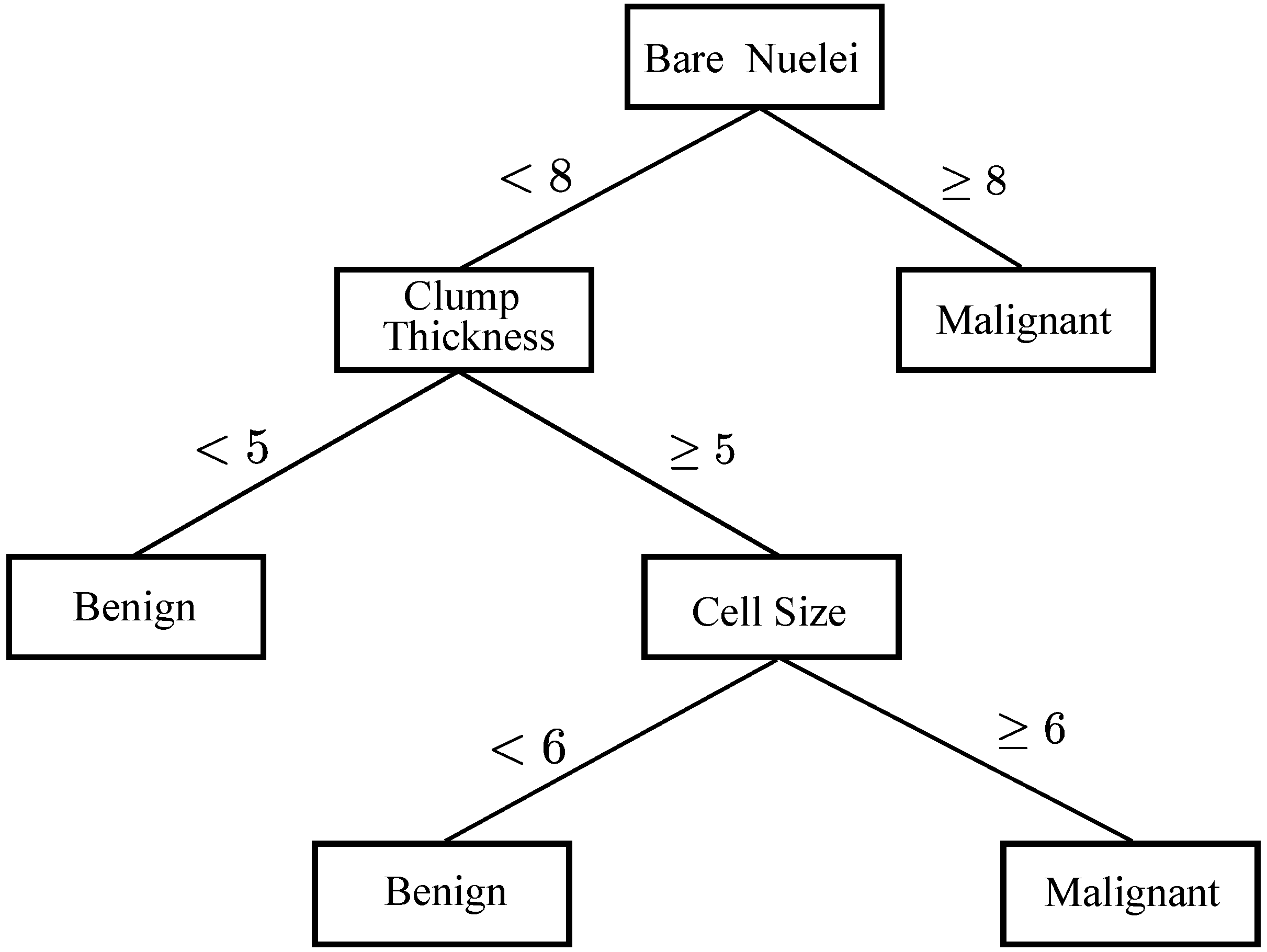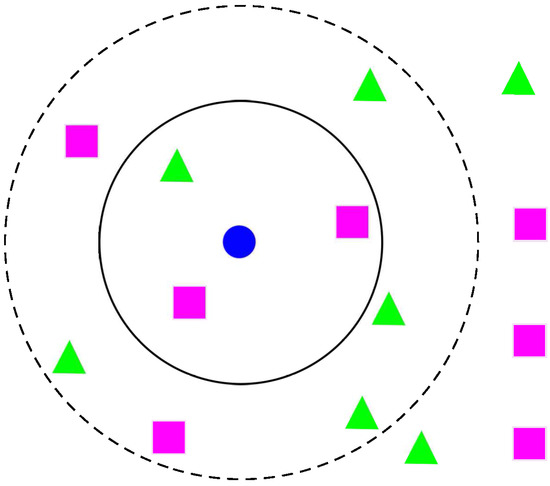 Figure 4.
k
-Nearest neighbor for breast cancer diagnosis. Blue circle means the test sample, green triangle means the malignant BC and pink square means the benign BC.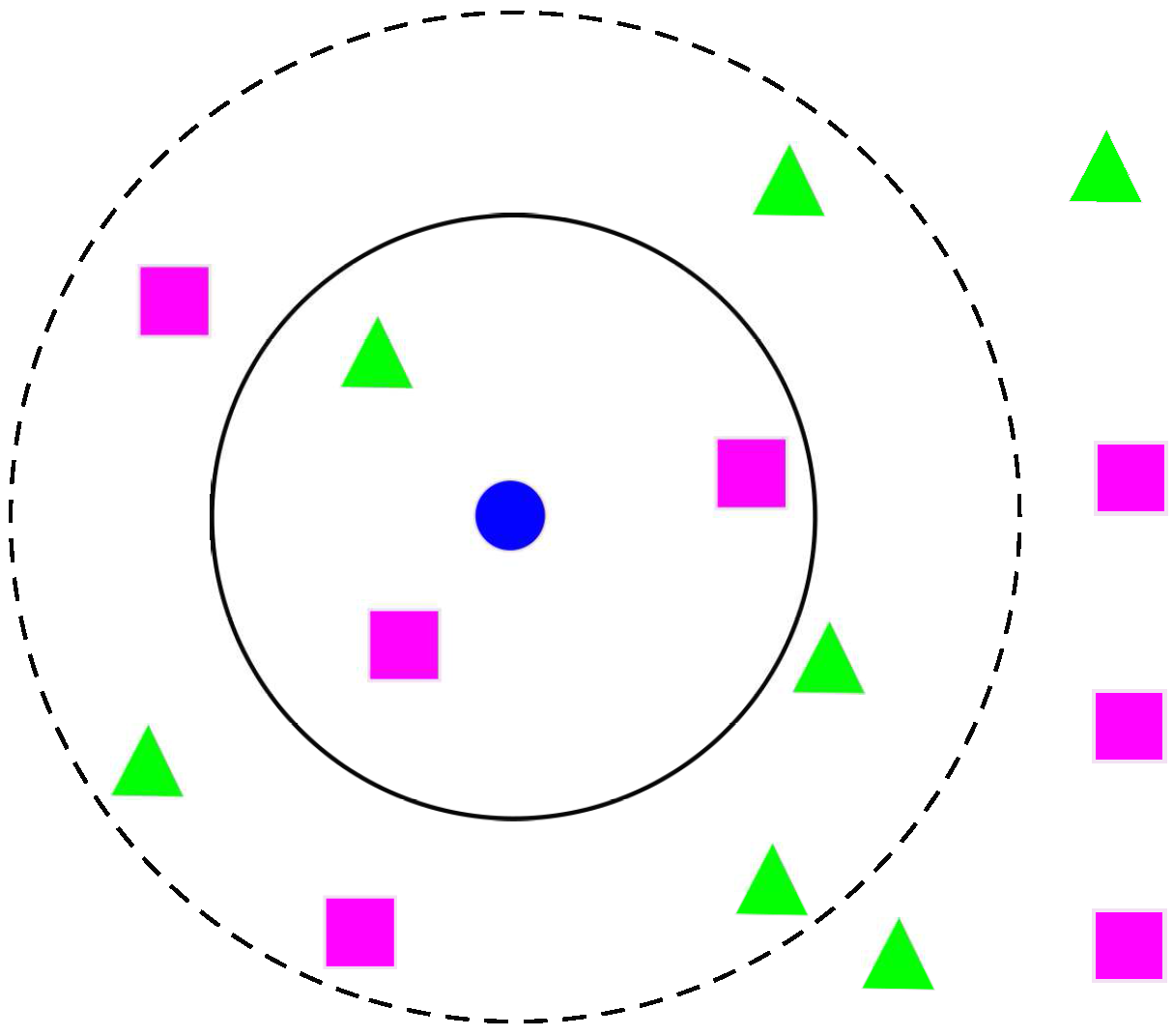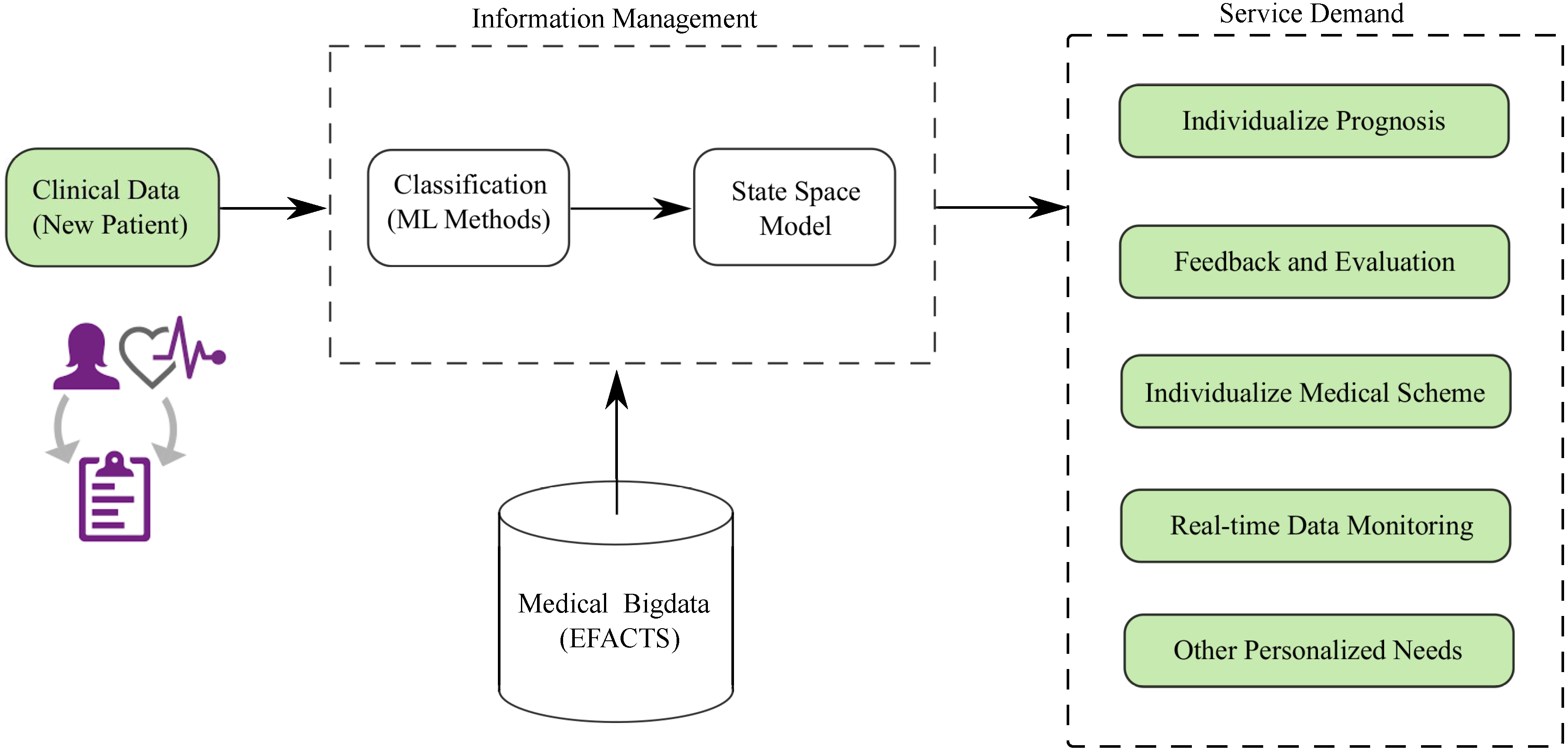 | Number | Attribute | Domain |
| --- | --- | --- |
| 0 | Sample code number | id number |
| 1 | Clump Thickness | 1–10 |
| 2 | Uniformity of Cell Size | 1–10 |
| 3 | Uniformity of Cell Shape | 1–10 |
| 4 | Marginal Adhesion | 1–10 |
| 5 | Single Epithelial Cell Size | 1–10 |
| 6 | Bare Nuclei | 1–10 |
| 7 | Bland Chromatin | 1–10 |
| 8 | Normal Nucleoli | 1–10 |
| 9 | Mitoses | 1–10 |
| 10 | Class | 2 for benign |
| | | 4 for malignant |
References
Algorithms
Sampling Strategies
Classification Accuracies (%)
Quinlan 1996 [91]
C DT
10–fold cross validation
Setiono 1996 [45]
Pruned ANN
50–50 training-testing
Bennett & Blue 1998 [81]
SVM
5–fold cross validation
Setiono 2000 [64]
Neuro-rule ANN
10-fold cross validation
Sarkar & Leong 2000 [104]

k

-NN
50–50 training-testing
Fuzzy

k

-NN
50–50 training-testing
Abbass 2002 [65]
EANN
80–20 training-testing
Bagui et al., 2003 [105]

k

-RNN
10-fold cross validation
Kiyan & Yildirim 2004 [69]
RBN
50–50 training-testing
GRNN
50–50 training-testing
PNN
50–50 training-testing
MLP
50–50 training-testing
Polat et al., 2005 [93]
C + FS-AIRS
10–fold cross validation
Pach & Abonyi 2006 [94]
F-DT
10–fold cross validation
Polat & Gne 2007 [83]
LS-SVM
10–fold cross validation
Akay 2009 [84]
F-score-SVM
10–fold cross validation
Karabatak & Ince 2009 [70]
AR-ANN
3–fold cross validation
Marcano-Cedeño et al., 2011 [71]
AMMLP
60–40 training-testing
Chen et al., 2011 [85]
RS-SVM
80–20 training-testing
Fan et al., 2011 [95]
CBFDT
75–25 training-testing
Chen et al., 2012 [87]
PSO-SVM
10-fold cross validation
Koyuncu & Ceylan 2013 [74]
RF-ANN
50–50 training-testing
PSO-ANN
50–50 training-testing
Medjahed & Saadi 2013 [106]

k

-NN (Euclidean)
Holdout method
Azar & El-Said 2014 [88]
PSVM
4–fold cross validation
NSVM
4–fold cross validation
LPSVM
4–fold cross validation
LSVM
4–fold cross validation
SSVM
4–fold cross validation
Sumbaly et al., 2014 [97]
J48
10–fold cross validation
Seera & Lim 2014 [99]
FMM-CART-RF
50–50 training-testing
Bhardwaj & Tiwari 2015 [78]
GOANN
10-fold cross validation
Nahato et al., 2015 [79]
RS-BPANN
80–20 training-testing
Abdel-Zaher & Eldeib 2016 [80]
DBN-ANN
– training-testing
Devi & Devi 2016 [98]
FFC + OD + J48
10–fold cross validation
Kumar et al., 2017 [103]
SVM-Naive Bayes-J48
10–fold cross validation
Latchoumi & Parthiban 2017 [89]
WPSO-SSVM
5–fold cross validation
Osman 2017 [90]
Two-Step-SVM
10–fold cross validaiton
"– training-testing" means of data for training set and of data for testing set. The algorithm only uses 578 of 699 samples.

© 2018 by the authors. Licensee MDPI, Basel, Switzerland. This article is an open access article distributed under the terms and conditions of the Creative Commons Attribution (CC BY) license (http://creativecommons.org/licenses/by/4.0/).