Open Access This article is
freely available
re-usable
Review
Concussion in Sports
1
Department of Biomedical and Biotechnological Sciences, Human Anatomy and Histology Section, School of Medicine, University of Catania, 95100 Catania, Italy
2
Research Center on Motor Activities (CRAM), University of Catania, 95123 Catania, Italy
3
Department of Biomedical and Biotechnological Sciences, Medical Biochemistry Section, University of Catania, 95100 Catania, Italy
*
Author to whom correspondence should be addressed.
Received: 10 May 2019 / Accepted: 18 June 2019 / Published: 19 June 2019
Abstract
:
Concussion, a peculiar type of mild traumatic brain injury (mTBI), is an injury frequently encountered in various contact and noncontact sports, such as boxing, martial arts, American football, rugby, soccer, ice hockey, horse riding, and alpine skiing. Concussion occurs anytime external forces of specific intensities provoke acceleration–deceleration of the brain, and it is characterized by the rapid onset of short-lived impairment of neurologic functions, spontaneously resolving within weeks, persisting for longer times only in a small percentage of cases. A wide range of molecular alterations, including mitochondrial dysfunction, energy deficit, and gene and protein expression changes, is triggered by concussion and lasts longer than clinical symptoms. In recent years, concussion has become a primary issue of discussion among sports medicine professionals, athletes, media, and sports sponsors in relation to athletes' return to play, after a concussion. Continued improvement in prevention and management of concussed athletes requires extensive research from different disciplines. Research work needs to focus on both prevention and management. Researchers and clinicians' efforts should be dedicated to a better understanding of the molecular changes occurring in the post-concussed brain and to clearly define healing after concussion for a safe return of athletes to play. It is essential for sports medicine professionals to stay informed about the advances in understanding concussions and how to rehabilitate each single player who sustained a concussion.
Keywords:
concussion; cerebral concussion; mild traumatic brain injury; head injury; injury; prevention
Author Contributions
All authors have made substantial intellectual contributions to the conception and design of the study. G.M. supervision and funding acquisition, also contributed to literature research and manuscript writing; S.L. and A.M.A. contributed to literature research and manuscript writing; G.L. supervised the manuscript writing. All authors approved the final submitted version.
Funding
This research was funded by IFAS SWISS SA, Chiasso, Switzerland.
Acknowledgments
The authors thanks Silvia Ravalli that drew the figure.
Conflicts of Interest
The authors declare no conflict of interest.
Figure 1.
Concussion or traumatic brain injury (TBI) may alter brain functions. Concussion or traumatic brain injury could change the way the brain functions. This can lead to bruising and swelling of the brain, tearing of the blood vessels and injury to nerves, causing the concussion. The brain is made up of soft tissue and is protected by blood and spinal fluid. When the skull is jolted too fast or is impacted by something, the brain shifts and hits against the skull. Most concussions are mild and can be treated with appropriate care. However, left untreated, they can be deadly. The figure was designed by hand made as previously done in our studies [
51
,
52
].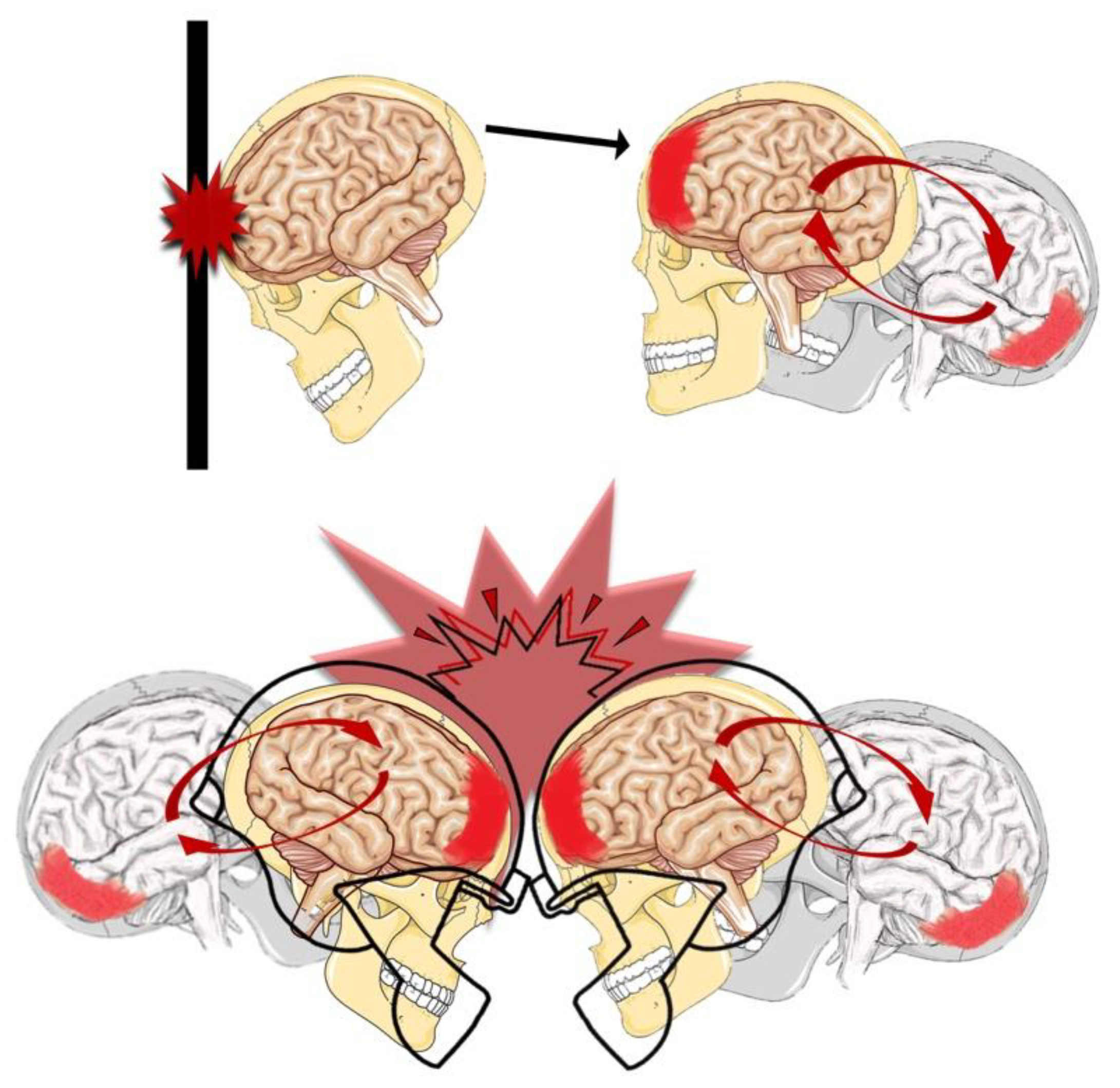 © 2019 by the authors. Licensee MDPI, Basel, Switzerland. This article is an open access article distributed under the terms and conditions of the Creative Commons Attribution (CC BY) license (http://creativecommons.org/licenses/by/4.0/).