Changes in Endothelial Function after Acute Resistance Exercise Using Free Weights
Cardiovascular Dynamics Laboratory, Exercise Physiology, 161F MACC Annex, Kent State University, Kent, OH 44242, USA
*
Author to whom correspondence should be addressed.
Received: 9 May 2018 / Revised: 27 May 2018 / Accepted: 29 May 2018 / Published: 1 June 2018
Abstract
We determined the effects of an acute bout of free-weight resistance exercise (ARE) on cardiovascular hemodynamics and endothelial function in resistance-trained individuals. Nineteen young, healthy, resistance-trained individuals performed two randomized sessions consisting of ARE or a quiet control (CON). The ARE consisted of three sets of 10 repetitions at 75% 1-repetition maximum for the squat, bench press, and deadlift. Cardiovascular hemodynamics was assessed using finger photoplethysmography. Forearm blood flow (FBF), and vasodilatory capacity markers, were assessed using venous occlusion plethysmography. Forearm vascular conductance was calculated by the division of mean FBF by mean arterial pressure. A two-way ANOVA was used to compare the effects of condition (ARE, CON) across time (rest, recovery). There were significant (
p
≤ 0.05) decreases in mean arterial pressure and total peripheral resistance across conditions and time. There were significant condition-by-time interactions (
p
≤ 0.05) for heart rate, stroke volume, and cardiac output after the ARE compared to the CON and rest. FBF was significantly (
p
= 0.001) increased during the recovery from ARE, as well as vasodilatory capacity markers such as peak blood flow (
p
= 0.05) and reactive hyperemia-induced blood flow (
p
= 0.0001). These data suggest that whole-body free-weight exercises acutely reduced blood pressure while simultaneously augmenting FBF, and vasodilatory capacity markers.
View Full-Text
►

▼

Figures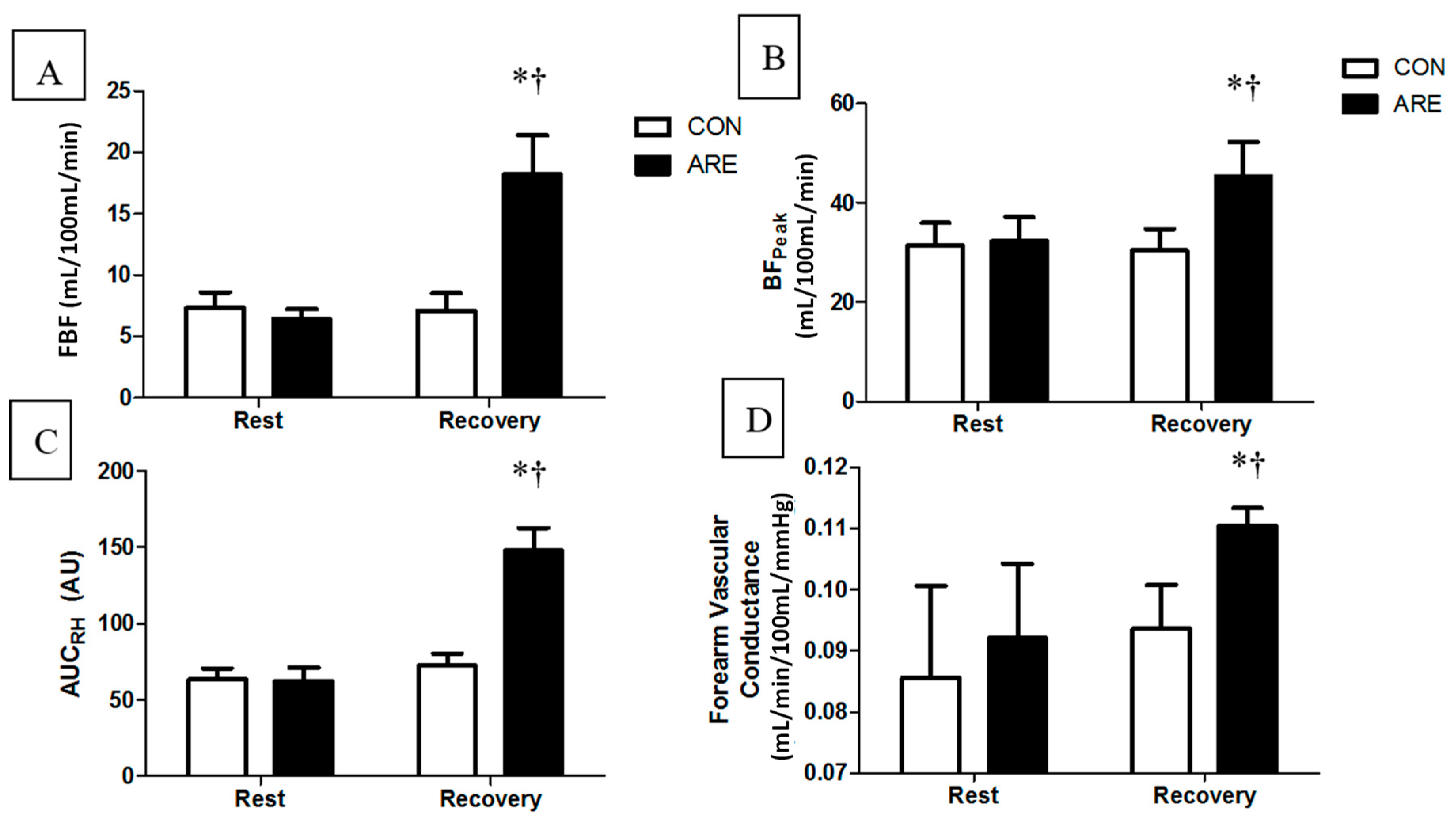 Figure 1
This is an open access article distributed under the
Creative Commons Attribution License
which permits unrestricted use, distribution, and reproduction in any medium, provided the original work is properly cited (CC BY 4.0).

Share & Cite This Article
MDPI and ACS Style
Tai, Y.L.; Marshall, E.M.; Parks, J.C.; Mayo, X.; Glasgow, A.; Kingsley, J.D. Changes in Endothelial Function after Acute Resistance Exercise Using Free Weights. J. Funct. Morphol. Kinesiol. 2018, 3, 32.
Comments
[Return to top]