Effect of β-Glucans in Diets on Growth, Survival, Digestive Enzyme Activity, and Immune System and Intestinal Barrier Gene Expression for Tropical Gar (
Atractosteus tropicus

) Juveniles

1

Laboratorio de Acuicultura Tropical, División Académica de Ciencias Biológicas, Universidad Juárez Autónoma de Tabasco, Km 0.5 Carretera Villahermosa-Cárdenas Entronque a Bosques de Saloya, Centro 86039, Tabasco, Mexico

2

Cátedra Consejo Nacional de Ciencia y Tecnología, Universidad Juárez Autónoma de Tabasco, Ciudad de Mexico 03940, Mexico

3

Laboratorio de Calidad de Agua y Acuicultura Experimental, Centro de Investigaciones Costeras, Universidad de Guadalajara, Puerto Vallarta, Jalisco 48280, Mexico

4

Laboratorio de Fisiología Comparada y Genómica Funcional, Centro de Investigaciones Biológicas del Noroeste, Calle IPN 195, La Paz BCS 23096, Mexico

5

Cátedra Consejo Nacional de Ciencia y Tecnología, Centro de Investigaciones Biológicas del Noroeste, Ciudad de Mexico 03940, Mexico

6

Unitat de Cultius Aqüicoles, Institut de Recerca i Tecnologia Agroalimentàries (IRTA), Sant Carles de la Ràpita, Tarragona 43540, Spain

*

Author to whom correspondence should be addressed.

Received: 5 June 2018 / Revised: 3 July 2018 / Accepted: 4 July 2018 / Published: 10 July 2018
Abstract
The application of β-1,3/1,6-glucan derived from yeast at five concentrations (0%, 0.5%, 1.0%, 1.5%, and 2.0%) in formulated diets was evaluated in juveniles for its effects on the growth, survival, digestive enzymatic activity, and expression of genes associated with the immune system (interlukin-10 (
IL-10
), transforming growth factor (
TGF
), occludin (
OCC
), mucin2 (
MUC2
), lysozyme (
LYS
), and nucleotide-binding and oligomerization domain 2 (
NOD2
)) in tropical gar (
Atractosteus tropicus
). For the experiment, three replicates of 30 fish per experimental unit (70 L) were cultivated for 62 days. The growth results showed no statistically significant differences in relation to weight and total length between treatments. The activity of digestive enzymes (alkaline proteases, trypsin, leucine aminopeptidase, and amylase) did not show significant differences between treatments, except for chymotrypsin activity, where fish fed 1.0% and 1.5% of β-glucans showed higher activities compared with the rest of the treatments. On the other hand, the analysis of gene expression did not show significant differences between treatments, although a tendency of increase in the expression of
IL-10
,
TGF
,
MUC2
, and
OCC
was observed with an addition of 1.5% of the prebiotic, but there was a decrease in the fish fed with 2% of the prebiotic. It is possible to include concentrations of between 0.5% and 1.5% of β-glucans in the diets for
A. tropicus
, with no detectable adverse effects on growth, survival, digestive enzyme activity, or specific gene expression. β-glucan 1,3/1,6 added at 1.0% and 1.5% in the diet significantly increases chymotrypsin activity.
View Full-Text
►

▼

Figures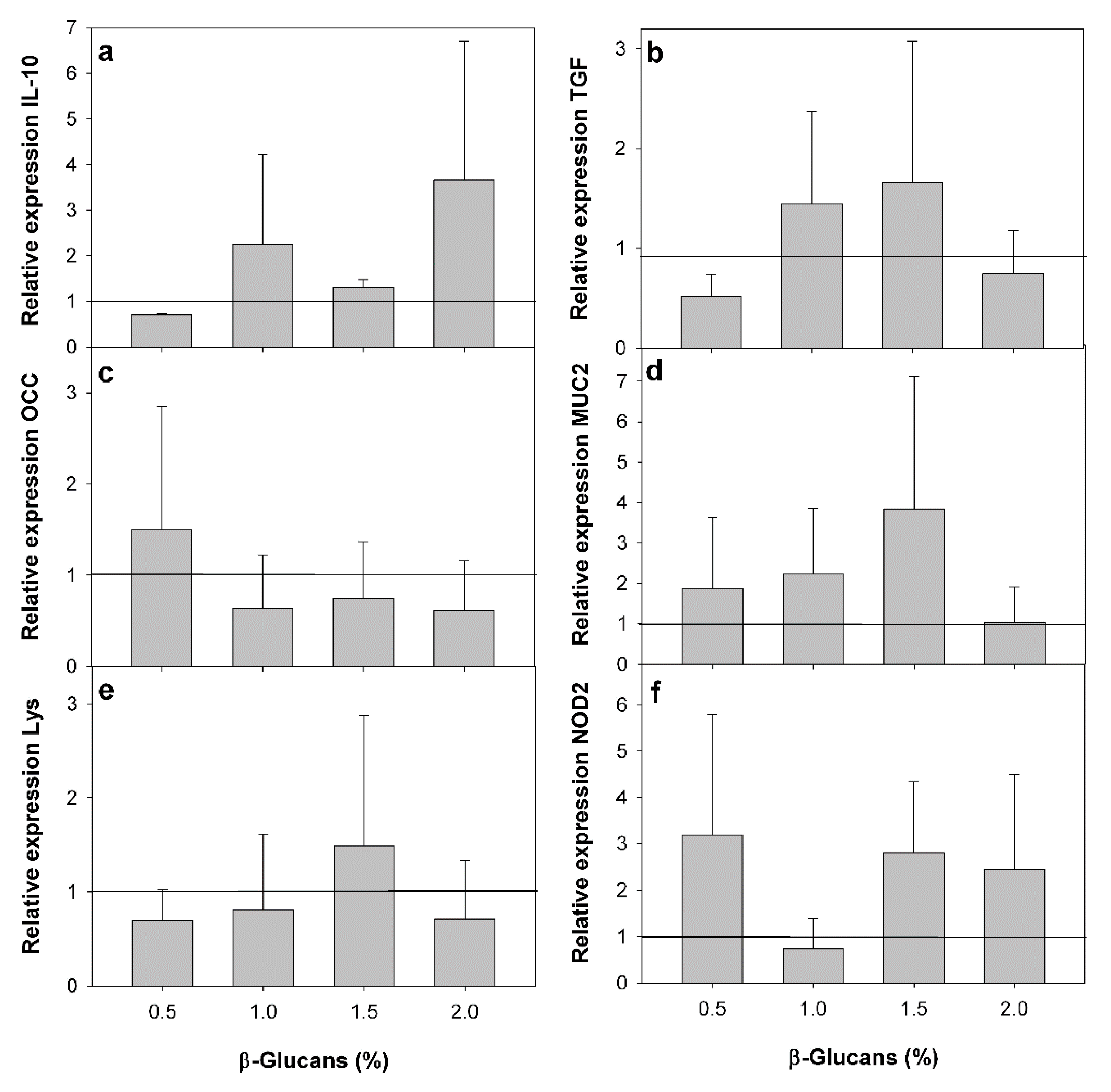 Figure 1
This is an open access article distributed under the
Creative Commons Attribution License
which permits unrestricted use, distribution, and reproduction in any medium, provided the original work is properly cited (CC BY 4.0).

Share & Cite This Article
MDPI and ACS Style
Nieves-Rodríguez, K.N.; Álvarez-González, C.A.; Peña-Marín, E.S.; Vega-Villasante, F.; Martínez-García, R.; Camarillo-Coop, S.; Tovar-Ramírez, D.; Guzmán-Villanueva, L.T.; Andree, K.B.; Gisbert, E. Effect of β-Glucans in Diets on Growth, Survival, Digestive Enzyme Activity, and Immune System and Intestinal Barrier Gene Expression for Tropical Gar (Atractosteus tropicus) Juveniles. Fishes 2018, 3, 27.
Comments
[Return to top]