Trypanorhynch Assemblages Indicate Ecological and Phylogenetical Attributes of Their Elasmobranch Final Hosts
1
Aquaculture and Sea-Ranching, Agricultural and Environmental Sciences, University of Rostock, Justus-von-Liebig Weg 6, 18059 Rostock, Germany
2
Marine Fisheries Department, Faculty of Fisheries and Marine Sciences, Bogor Agricultural University (IPB), Jl. Raya Darmaga Kampus IPB Darmaga, 16680 Bogor, Indonesia
3
GEOMAR, Helmholtz Centre for Ocean Research Kiel, Düsternbrooker Weg 20, 24105 Kiel, Germany
*
Author to whom correspondence should be addressed.
Academic Editor: Maria Angeles Esteban
Received: 7 February 2017 / Revised: 16 May 2017 / Accepted: 12 June 2017 / Published: 17 June 2017
Abstract
This study explores non-metric multidimensional scaling (nMDS) as a tool for investigating parasites as indicators of the elasmobranch biology. An attractive feature of nMDS is its ability to allow assemblage-level parasite data to be simultaneously applied to questions of host biology. This method was examined using the tapeworm order Trypanorhyncha Diesing, 1863, which is known to be transmitted among their hosts through the marine food web (via predation), can unambiguously be identified in the intermediate and final hosts, and has the potential as an indicator of the host feeding biology. Our analyses focused on trypanorhynch assemblages in elasmobranchs as definitive hosts. The relationships between trypanorhynch assemblages and the depth, feeding ecology, habitat, and phylogeny for all sharks were complex, but we found that depth distribution, diet composition and habitat type were the major influencing factors. Several species of sharks showed different characters than known from their descriptions that could be attributed to the change of shark behavior or the trypanorhynch host path. The relationship between the trypanorhynch assemblage and factors for carcharhiniform species alone was more robust than for all sharks. In the carcharhiniform analysis, the relationship between habitat type and trypanorhynch assemblage was most remarkable. Overlapping host ecology was evident even in phylogenetically-distant related hosts.
View Full-Text
►

▼

Figures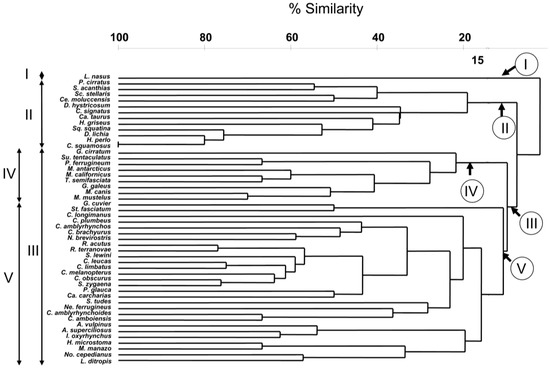 Figure 1
This is an open access article distributed under the
Creative Commons Attribution License
which permits unrestricted use, distribution, and reproduction in any medium, provided the original work is properly cited (CC BY 4.0).

Share & Cite This Article
MDPI and ACS Style
Palm, H.W.; Yulianto, I.; Piatkowski, U. Trypanorhynch Assemblages Indicate Ecological and Phylogenetical Attributes of Their Elasmobranch Final Hosts. Fishes 2017, 2, 8.
Note that from the first issue of 2016, MDPI journals use article numbers instead of page numbers. See further details here.
Comments
[Return to top]