Open Access This article is
freely available
re-usable
Review
A Brief History of Single-Particle Tracking of the Epidermal Growth Factor Receptor
STFC Central Laser Facility, Research Complex at Harwell, Rutherford Appleton Laboratory, Didcot OX11 0QX, UK
*
Author to whom correspondence should be addressed.
Received: 16 November 2018 / Accepted: 21 January 2019 / Published: 30 January 2019
Abstract
:
Single-particle tracking (SPT) has been used and developed over the last 25 years as a method to investigate molecular dynamics, structure, interactions, and function in the cellular context. SPT is able to show how fast and how far individual molecules move, identify different dynamic populations, measure the duration and strength of intermolecular interactions, and map out structures on the nanoscale in cells. In combination with other techniques such as macromolecular crystallography and molecular dynamics simulation, it allows us to build models of complex structures, and develop and test hypotheses of how these complexes perform their biological roles in health as well as in disease states. Here, we use the example of the epidermal growth factor receptor (EGFR), which has been studied extensively by SPT, demonstrating how the method has been used to increase our understanding of the receptor's organization and function, including its interaction with the plasma membrane, its activation, clustering, and oligomerization, and the role of other receptors and endocytosis. The examples shown demonstrate how SPT might be employed in the investigation of other biomolecules and systems.
Keywords:
single molecule tracking; epidermal growth factor receptor; cell signaling; protein–membrane interactions; oligomerization; endocytosis
2. Background to Single-Particle Tracking Techniques
In the remainder of the article, we describe how the methods introduced above have been developed and applied to the study of a number of facets of EGFR structure and function.
3. Early Single-Particle Tracking Studies of Epidermal Growth Factor Receptor
Kusumi et al. reported a majority of EGFR undergoing restricted motion, and concluded that this was due to confinement of the receptors by what they termed the "membrane skeleton fence". This early study demonstrated the potential of SPT not only to allow the development of a model for the receptor's interaction with the membrane, but also to provide quantitative information on diffusion rates.
The two early studies described above established the power of SPT for the characterization of systems such as EGFR in cells. Key molecular characteristics such as motion, association and dissociation, and conformation were all measured using single-molecule techniques. In the 25 years following the earliest publication, SPT-based methods have been used to further elucidate the behavior of EGFR in all these aspects, as well as them being applied to many other molecules. For the remainder of this review, we show how developments in SPT have led us to our current understanding of the structure, dynamics, and function of the EGFR in cells, focusing on four critical areas of EGFR biology.
4. Investigating Epidermal Growth Factor Receptor Confinement at the Plasma Membrane: Lipid Rafts and F-Actin
The picture that emerged from this work is one of complex and dynamic interactions between the receptor and its plasma membrane environment, in which multiple and transient interactions mediated by lipids and F-actin deploy the receptor to critical areas on the cell surface and maintain it as confined under the regulation of a delicate balance of positive and negative feedback loops. We discussed below how these interactions are also critically involved in receptor dimerization, which is the activation switch of EGFR signaling.
5. Correlating Epidermal Growth Factor Receptor Dimerization with Plasma Membrane Interactions
The series of studies described above, which were made possible by increasingly sophisticated SPT methods, provided significant insights into how EGFR dimerizes, how the dimerization process is related to other cell components such as the cytoskeleton and the plasma membrane, and how dimerization is related to cell signaling in the wild-type and mutant receptors. They have also provided evidence that EGFR exists in the cell as larger oligomers. Researchers have also turned to SPT to further investigate the nature and role of these oligomers, and this is reviewed in the next section.
6. Investigating the Existence and Function of Epidermal Growth Factor Receptor Oligomers and Clusters
The studies described above show clearly how SPT techniques have not only confirmed the existence of EGFR oligomers and clusters in both the basal and activated states, but also provided detailed information on the structure of the oligomers; they also indicate how this is related to function both in the normal and dysregulated receptors. The power of combining data from SPT with MD simulations is of particular note. This combination can work as a "virtuous circle", with simulations suggesting possible models that can be confirmed or refuted using SPT, and SPT providing structural and dynamic constraints that can be used to build better models.
7. Interactions with Other Receptors, the Endocytic Pathway, and Signaling Effectors
8. Conclusions
Using the EGFR as an example, we have shown how SPT techniques have developed over the last few decades, and have been able to provide detailed information on the structure, function, and interactions of this important system in the cellular context. In particular, many of the studies that have been discussed have shown how SPT, because it observes individual molecules rather than an ensemble average, is the only method that is able to untangle the complex multistate dynamics of molecules in cells. In addition, the ability to locate individual molecules with nanometer precision gives structural information in the cell that provides insights into the functioning of molecular complexes. Another common theme is that the combination of SPT information with atomic resolution structures from crystallography and MD simulations enables the building of detailed models of receptor complexes, which in turn increase our knowledge of how these complexes function in health and disease. Due to these advantages, SPT has been used not only to investigate EGFR, but also a large number of other systems, including for example immunoglobulin E receptors [
138
], CD4 receptors [
139
], α3-containing glycine receptor [
140
], and the neurotrophin receptor TrkA [
141
], among many others. Very recently, Yasui et al. [
142
] developed an automated single-molecule imaging system in living cells, applying for the first time artificial intelligence algorithms to the imaging and analysis of EGFR, including changes in lateral motility at the plasma membrane and the response to various ligands and drugs. It is expected that the combination of the impressive portfolio of SPT methods described in this review would benefit from being assisted by artificial intelligence (AI), in particular by decreasing the experimental challenge associated with these crucial but often difficult experiments.
There remain a number of areas in which SPT could be improved in order to extract more or better quality data from biological systems. There is to date no ideal fluorescent probe; QDs are relatively large, can be toxic to cells, and are still subject to blinking. Organic fluorophores photobleach, and are therefore unsuitable for monitoring events of relatively long duration. In addition, the problem remains of delivering the fluorophore to the target molecule. Fluorescent ligands activate their target, and are therefore unsuitable for monitoring the basal state. Antibodies and antibody-like molecules always bring with them the possibility of the perturbation of the system. Many probe molecules do not cross the plasma membrane, and are thus unsuitable for labeling, for example, the intracellular domain of receptors. Therefore, probe development remains a significant area of development for SPT work.
Similarly, there is significant scope for the improvement of data analysis. Tracking single molecules that blink and cross paths in a crowded environment in the presence of high levels of background fluorescence is extremely difficult. Generally, tracking algorithms requires the use of assumptions on how the molecules will move. This has the potential to introduce artefacts and bias results. Ideally, the goal is the globally optimal spatiotemporal solution to SPT. This approach tries each possible choice of particle reconnections, associated motion parameter values, and particle states, and compares the consequences of each choice along the entire length of the tracks. Achieving this globally optimal solution has been the goal of SPT for decades, but it has remained computationally prohibitive because of the colossal size of the configuration space of particle reconnection possibilities at the high particle density, low signal-to-noise ratio, and fast particle movement that are typical of single-molecule images in cells. New approaches and the availability of ever-increasing amounts of computing power may put this goal within reach. Recently, neural network-based approaches have been described that have great potential for automating single-particle tracking, significantly reducing the requirement for user intervention, and therefore the possibility of user-introduced bias [
143
].
For EGFR and other systems, we increasingly expect to see the use of combined SPT methods to determine simultaneously, for example, oligomer size and diffusion properties. Looking at systems such as EGFR in the context of the whole cell requires the development of three-dimensional (3D) tracking methods that can follow processes from the plasma membrane to the nucleus. Three-dimensional SPT methods and instrumentation are beginning to appear (see e.g., [
144
,
145
]), but more development is required for them to become routinely usable by life sciences researchers. Ultimately, as these methods develop, we might see SPT extended further to tissues and organisms, opening up new areas of research.
Author Contributions
D.T.C. and M.L.M.-F. both wrote and edited the manuscript.
Funding
Research of the authors discussed here was funded by the Biotechnology and Biological Sciences Research Council (BB/G006911/1) and the Medical Research Council (MR/K015591/1).
Conflicts of Interest
The authors declare no conflict of interest.
Figure 1.
Types of receptor motion measurable by single-particle tracking (SPT) (adapted from Bacher et al., 2004 [
45
]): (
a
) Confined molecule; (
b
) Restricted motion; (
c
) Simple diffusion mode; and (
d
) Directed motion. (
e
–
f
) show mean squared displacement (MSD) plots that would be obtained for the types of motion shown in (
a
–
d
), respectively.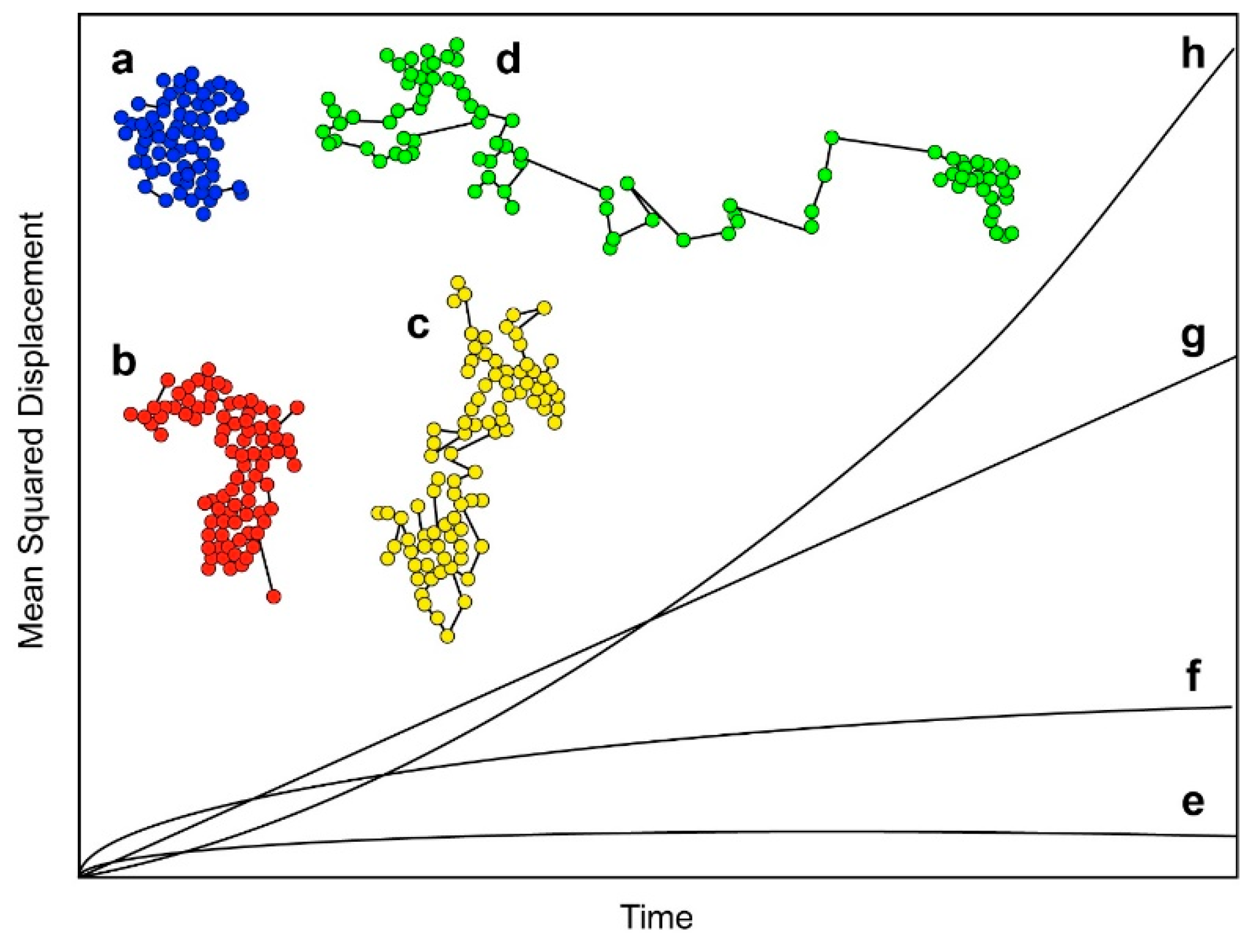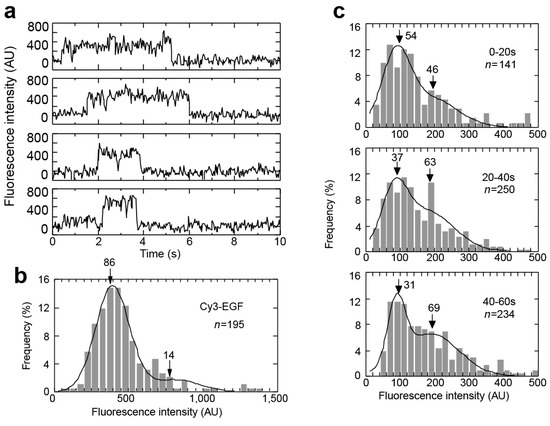 Figure 2.
Single-molecule fluorescence data from Sako et al. (2000) [
46
], from fluorescent epidermal growth factor (EGF) bound to epidermal growth factor receptor (EGFR) in A431 cells: (
a
) Single-molecule fluorescence intensity traces; (
b
) Distribution of fluorescence intensity immediately after the addition of EGF; (
c
) Distribution of fluorescence intensity at time intervals following the addition of EGF.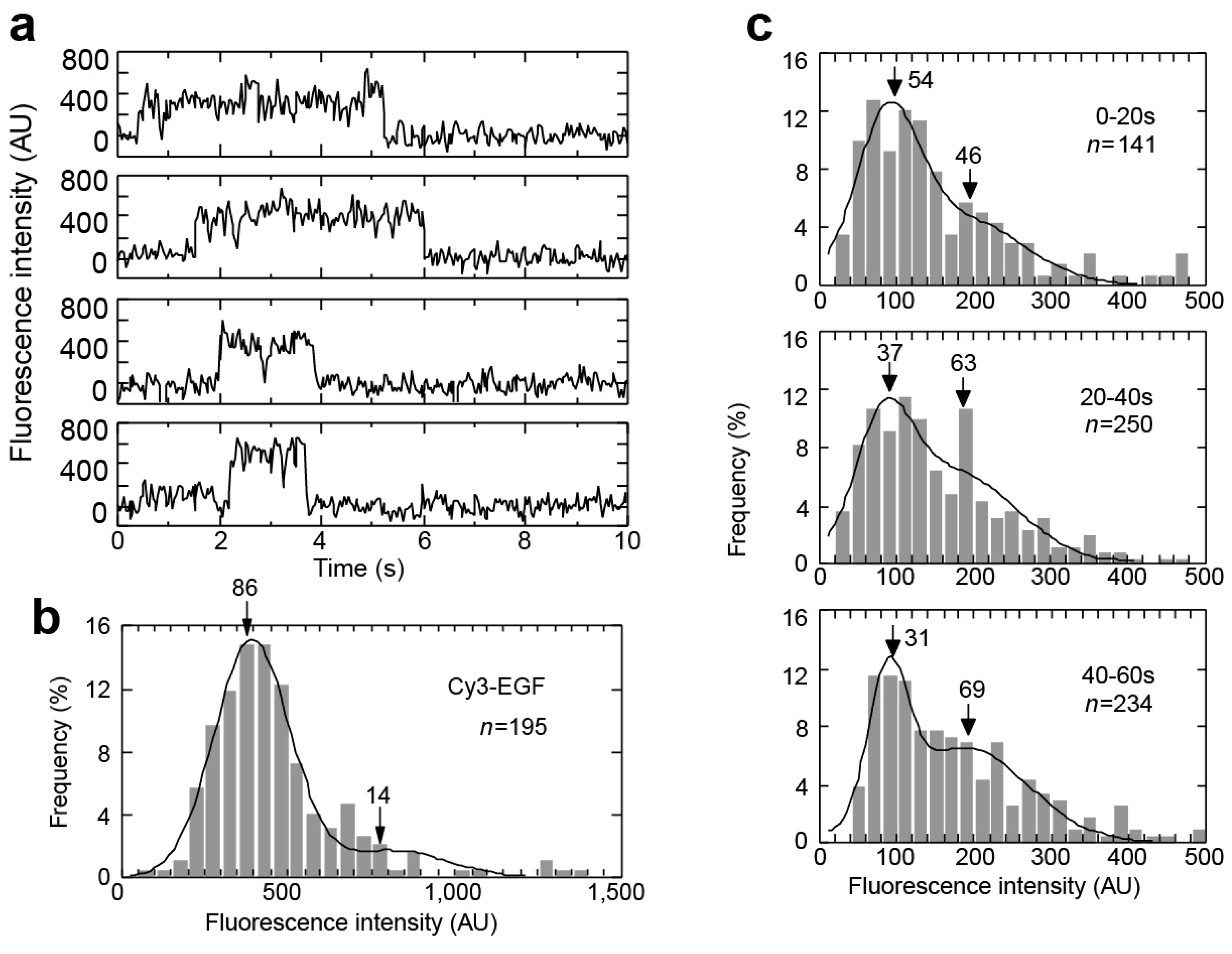 Figure 3.
Typical anticorrelated single molecule traces showing the presence of single-molecule Förster resonance energy transfer (smFRET) (adapted from Sako et al. [
46
]). The presence of FRET is shown by increases in acceptor (Cy5) fluorescence and decreases in donor (Cy3) fluorescence (highlighted in red).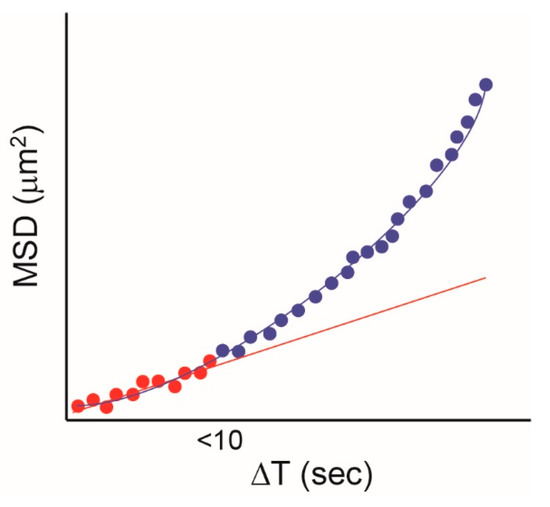 Figure 4. Simulated data showing the potential benefits of using quantum dots for SPT. Data that were only collected for the duration of fluorescence of a conventional fluorescent probe (red dots) showed a straight line fit (simple diffusion), but data that were collected for longer (blue dots) revealed an upward curve (directed motion).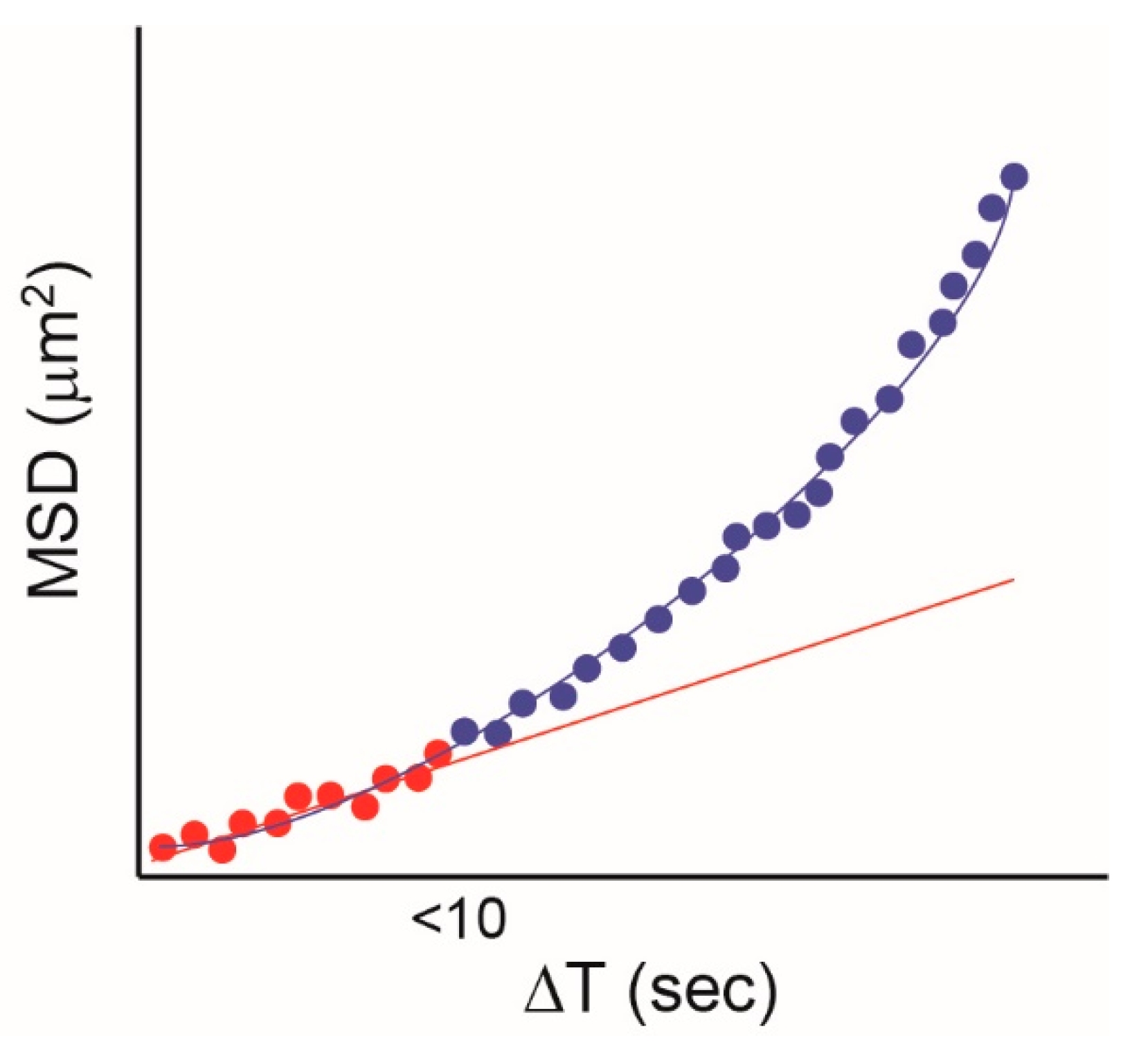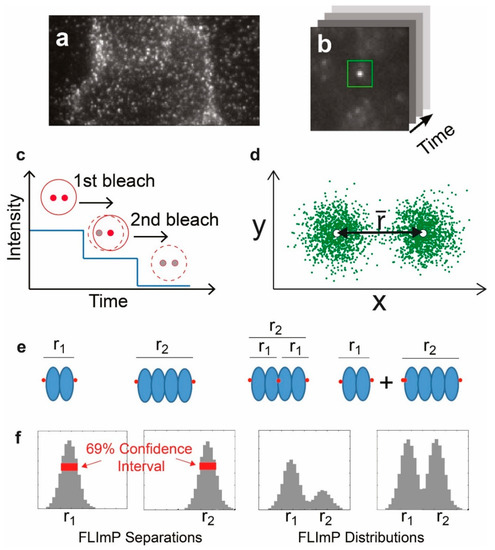 Figure 5.
Determination of molecular separations using fluorophore localization imaging with photobleaching (FLImP). (
a
) A total internal reflection fluorescence (TIRF) microscope is used to collect single-molecule images from cells, and fluorescence intensity is measured vs. time for spots from individual complexes (
b
). (
c
) The fluorescence intensity of a spot containing two fluorophores decays in two photobleaching steps, with the centroid position shifting when one fluorophore bleaches. (
d
) The best intensity,
x
–
y
positions, and the full-width at half-maximum of the point spread function for each fluorophore are obtained using a global least squares seven-parameter fit. The fluorophore separation () is calculated from the fit, with the precision being determined by the localization error. (
e
) Examples of FLImP distributions that might be measured in EGF (red) bound to EGFR, showing a two-ligand dimer and tetramer, a three-ligand tetramer, and a dimer/tetramer mixture. (
f
) Simulations of empirical posterior distributions (or FLImP measurements) for pairwise ligand separations from each example system. Confidence intervals of 69% are highlighted. Figure adapted from Needham et al. 2016 [
39
].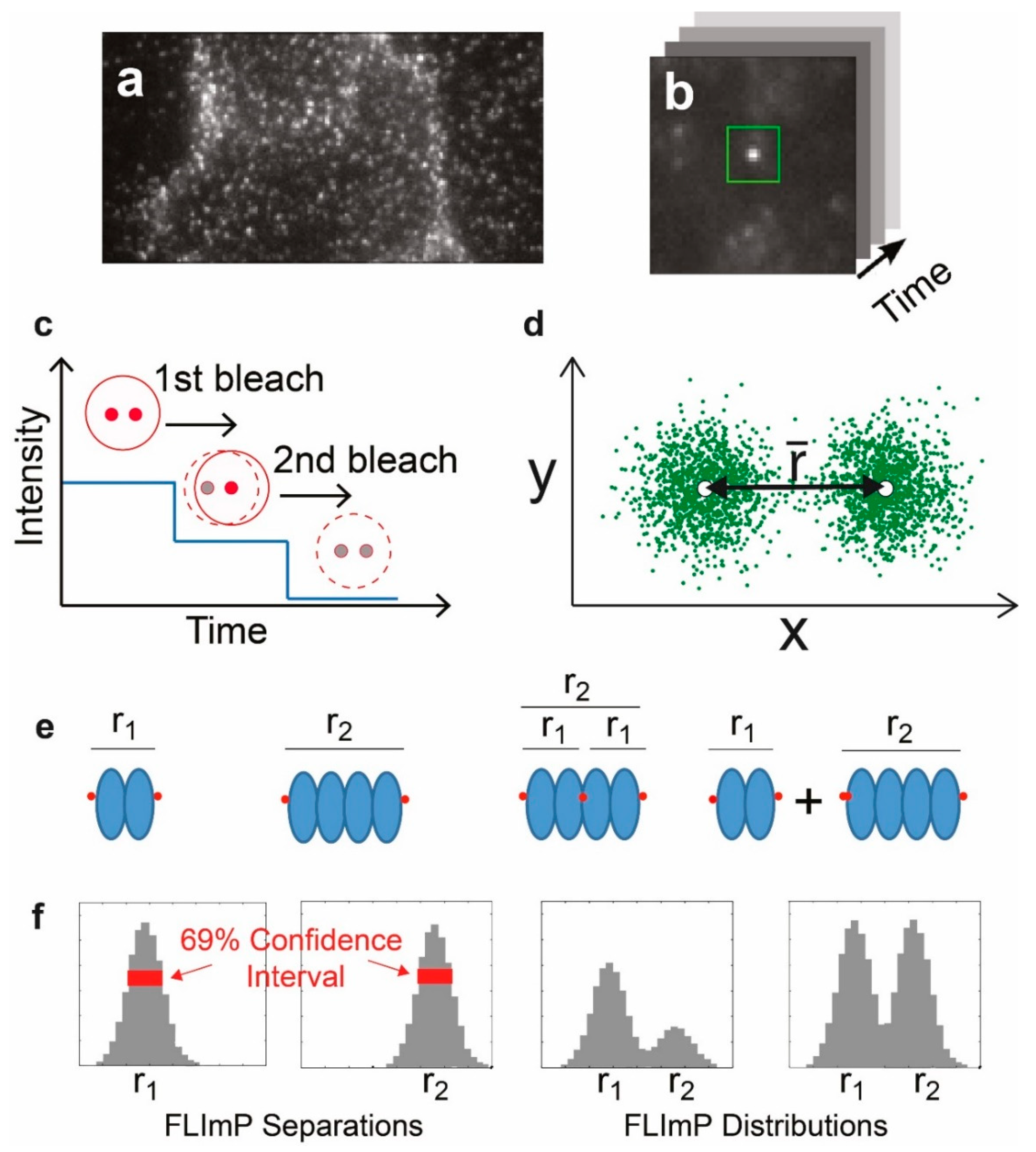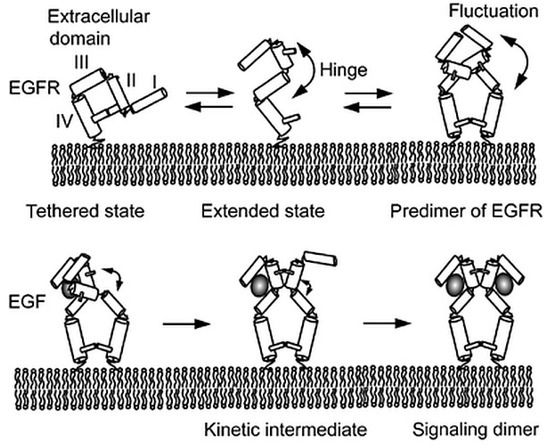 Figure 6.
Model for the formation of signaling dimer EGF/EGFR complexes (figure from Teramura et al. [
89
]). The EGFR fluctuates between the tethered and extended states, and can form predimers that stabilize the extended state. The binding of a single EGF to a predimer results in a conformational change, increasing the affinity for a second EGF.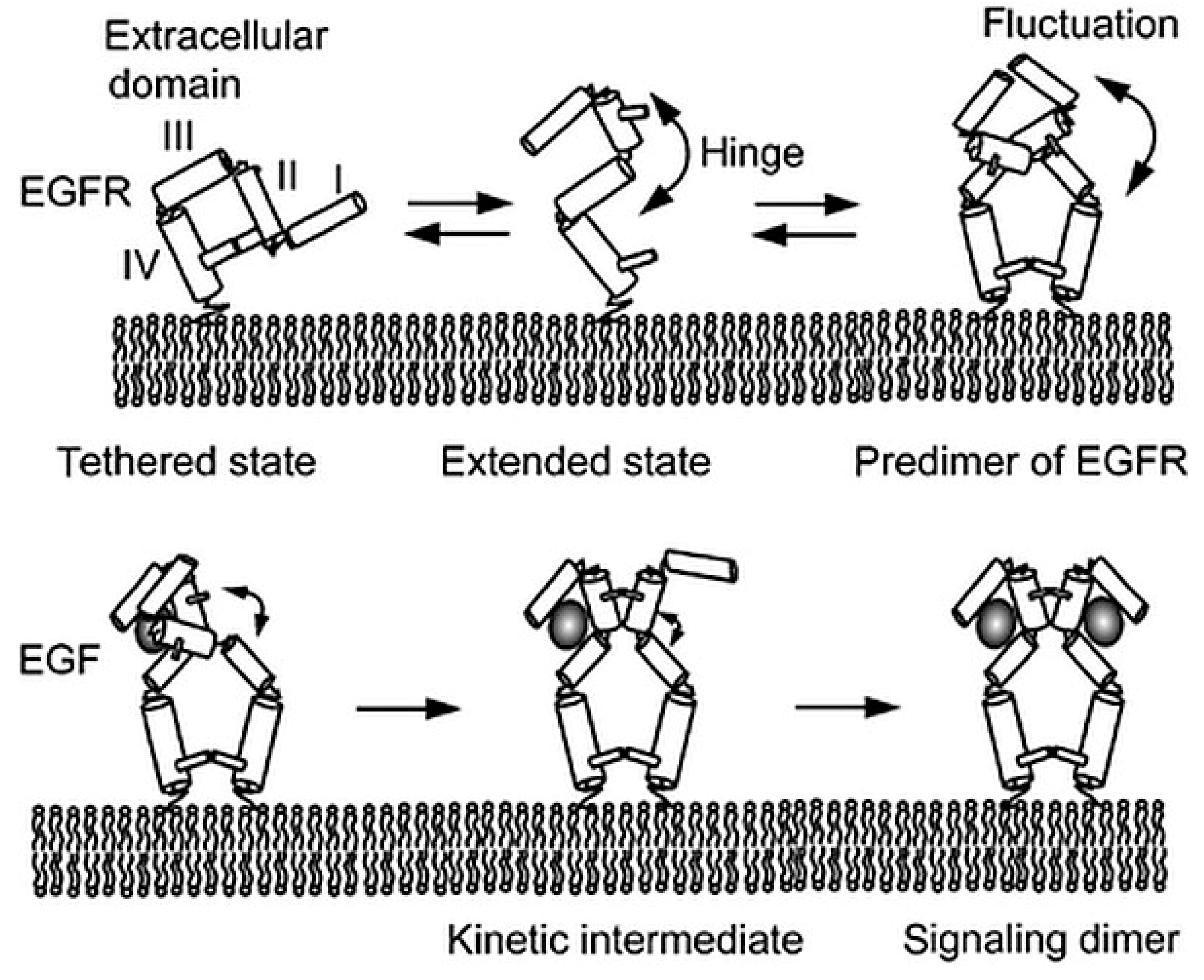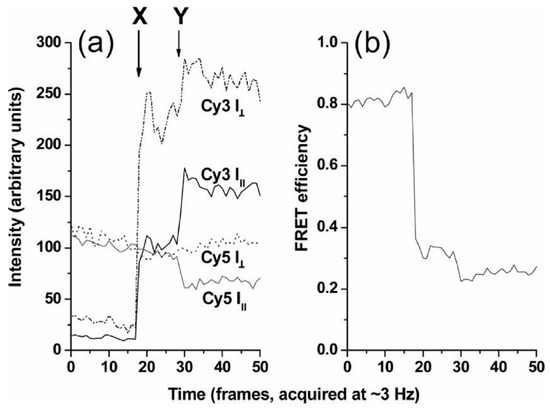 Figure 7.
Polarization-resolved single-pair FRET in live cells, taken from Webb et al. [
91
]. (
a
) Temporal variation of polarization and wavelength-resolved intensity from EGF–Cy3 and EGF–Cy5 molecules bound to EGFR in A431 cells; (
b
) Corresponding variation in FRET efficiency.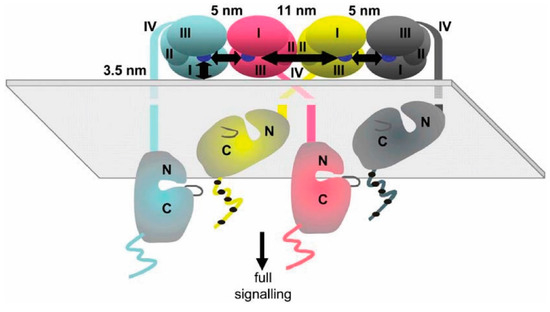 Figure 8.
Model of EGFR signaling complex derived from single-molecule and ensemble FRET measurements described in Webb et al. (2008) [
92
]. EGF is bound to receptors in a tetramer involving a combination of two distinct configurations. Cyan, magenta, yellow, and grey structures each represent an individual EGFR molecule in the complex. The Roman numerals I–IV refer to domains of the EGFR, and "N" and "C" indicate the positions of the N and C termini of the intracellular domain of the receptor.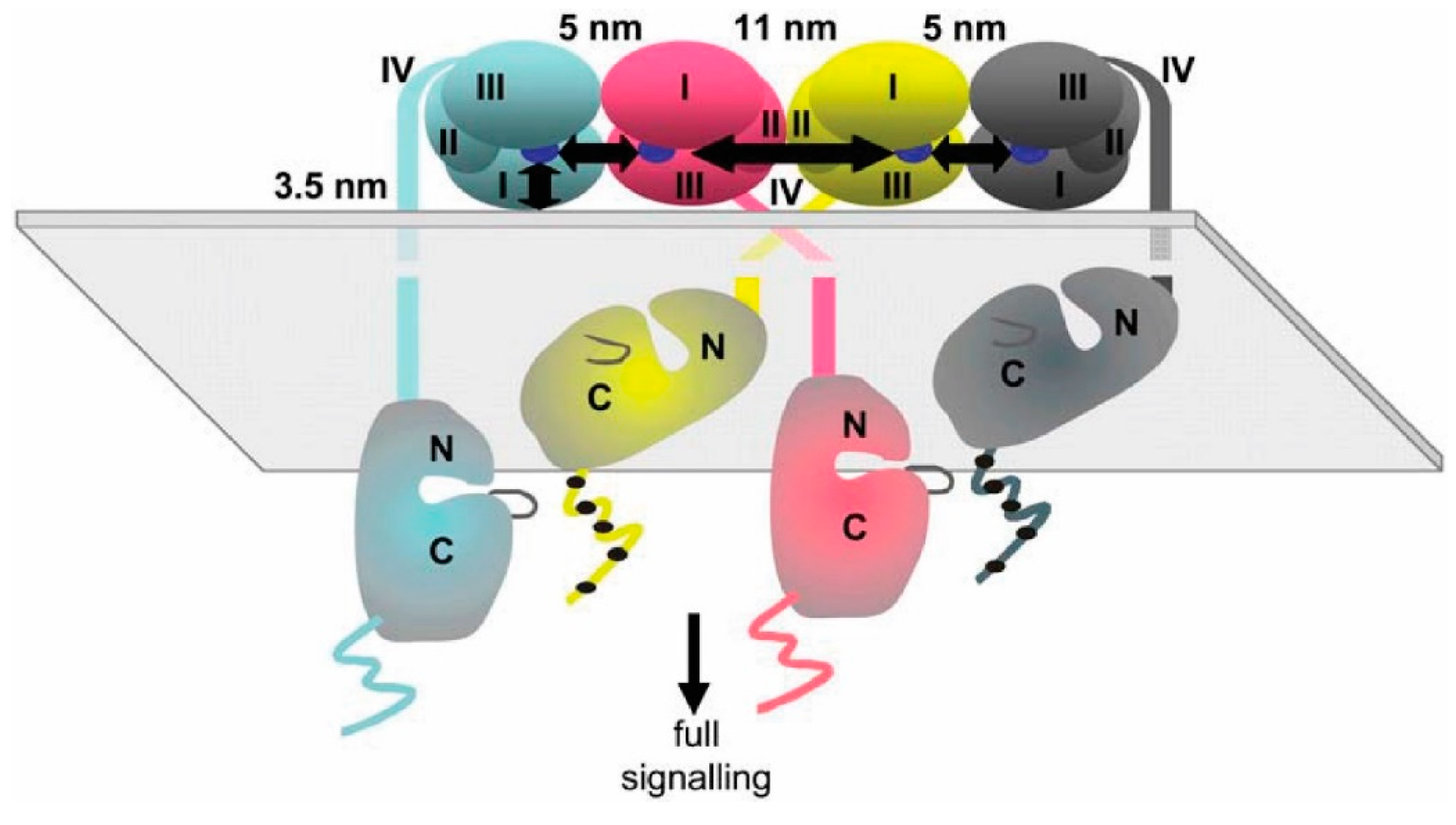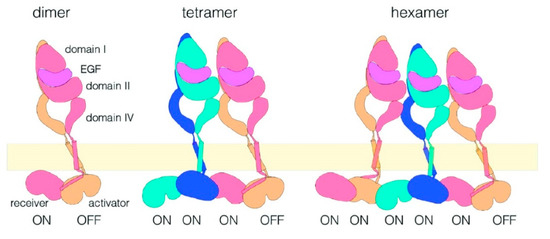 Figure 9.
Model for EGFR oligomerization (figure adapted from Huang et al. (2016) [
116
]). The model is built from the known dimeric arrangements of the extracellular module, the transmembrane helices, and the kinase domains, and these have been connected to produce a model for dimeric full-length EGFR, as described [
84
,
118
]. The model for EGFR tetramers was obtained by packing the dimers against each other as rigid bodies. Repeating the interactions allows the building of higher-order oligomers such as tetramers.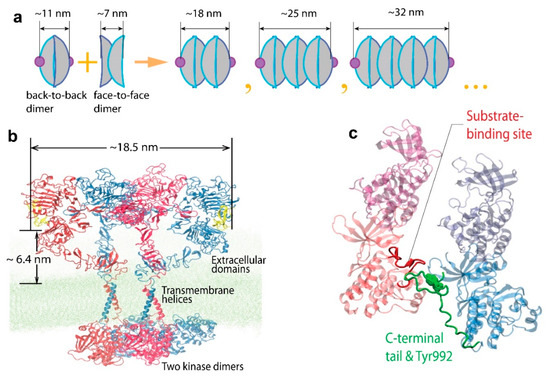 Figure 10.
Model for EGFR oligomerization (figure adapted from Needham et al. (2016) [
39
]). (
a
) Illustration of a proposed oligomerization scheme for the EGFR extracellular domain, which depends on repeating back-to-back and face-to-face interactions of the receptor. (
b
) A complete model of an EGFR tetramer structure, which was formed by the dimerization through the face-to-face interaction of active dimers, showing the predicted separation between the N-termini of the two EGF ligands and the average EGF-membrane distance. (
c
) The arrangement of the two intracellular active kinase dimers in the tetramer model. The phosphorylation site Tyr992 (green) of one receptor is positioned close to the active site of a kinase domain (red) in the neighboring dimer.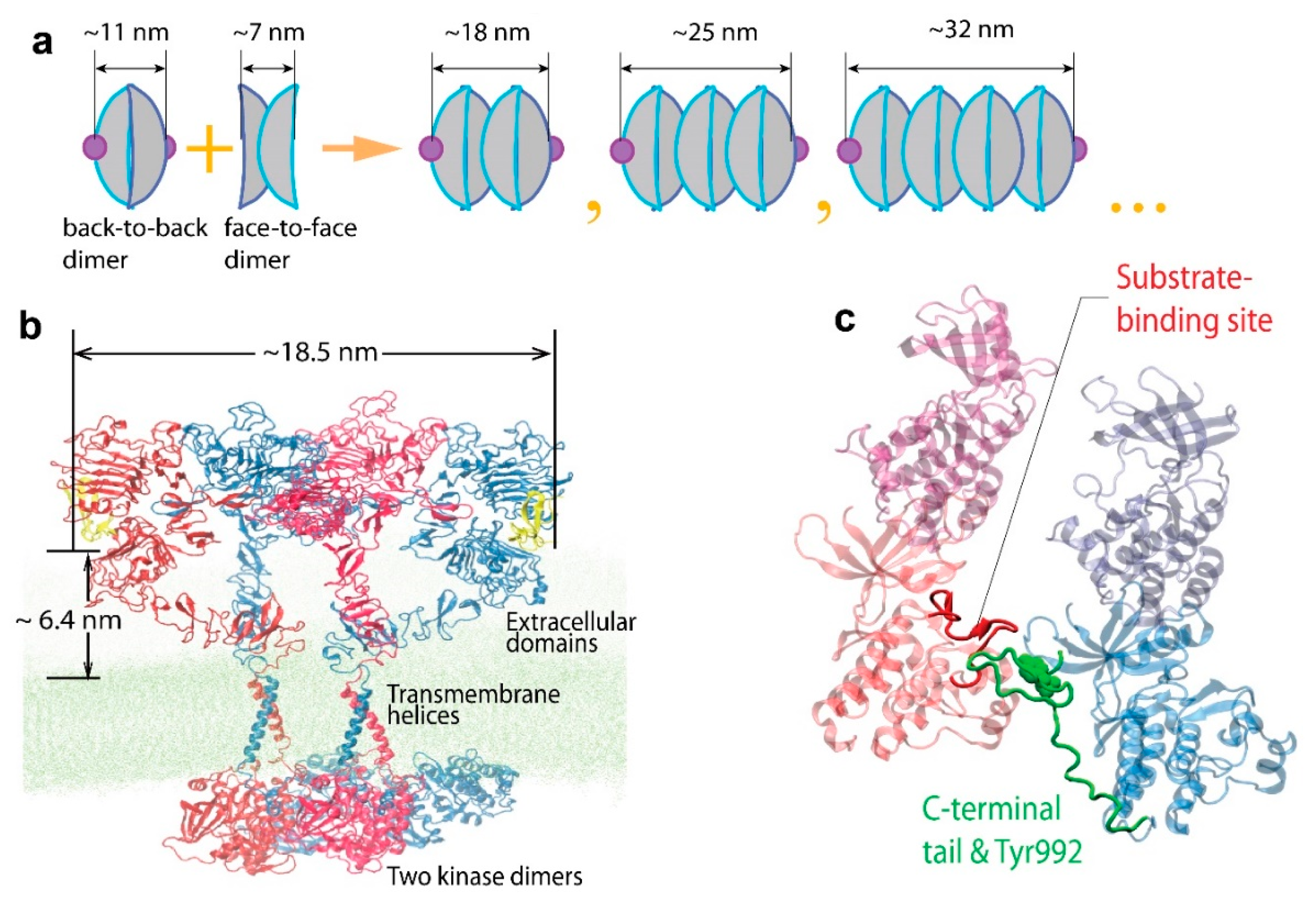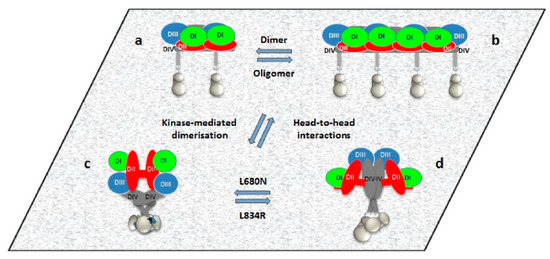 Figure 11.
Cartoon models of ligand-free EGFR species on the cell surface (from Zanetti-Domingues et al. (2018) [
120
]). (
a
,
b
) Autoinhibited ligand-free receptors form dimers and larger oligomers via the extracellular head-to-head interaction. The intracellular domains do not interact; (
c
,
d
) Kinase-mediated dimerization outcompetes the head-to-head interaction and forms two types of receptor dimers existing in equilibrium. The equilibrium is shifted by the kinase-domain mutations L680N and L834R.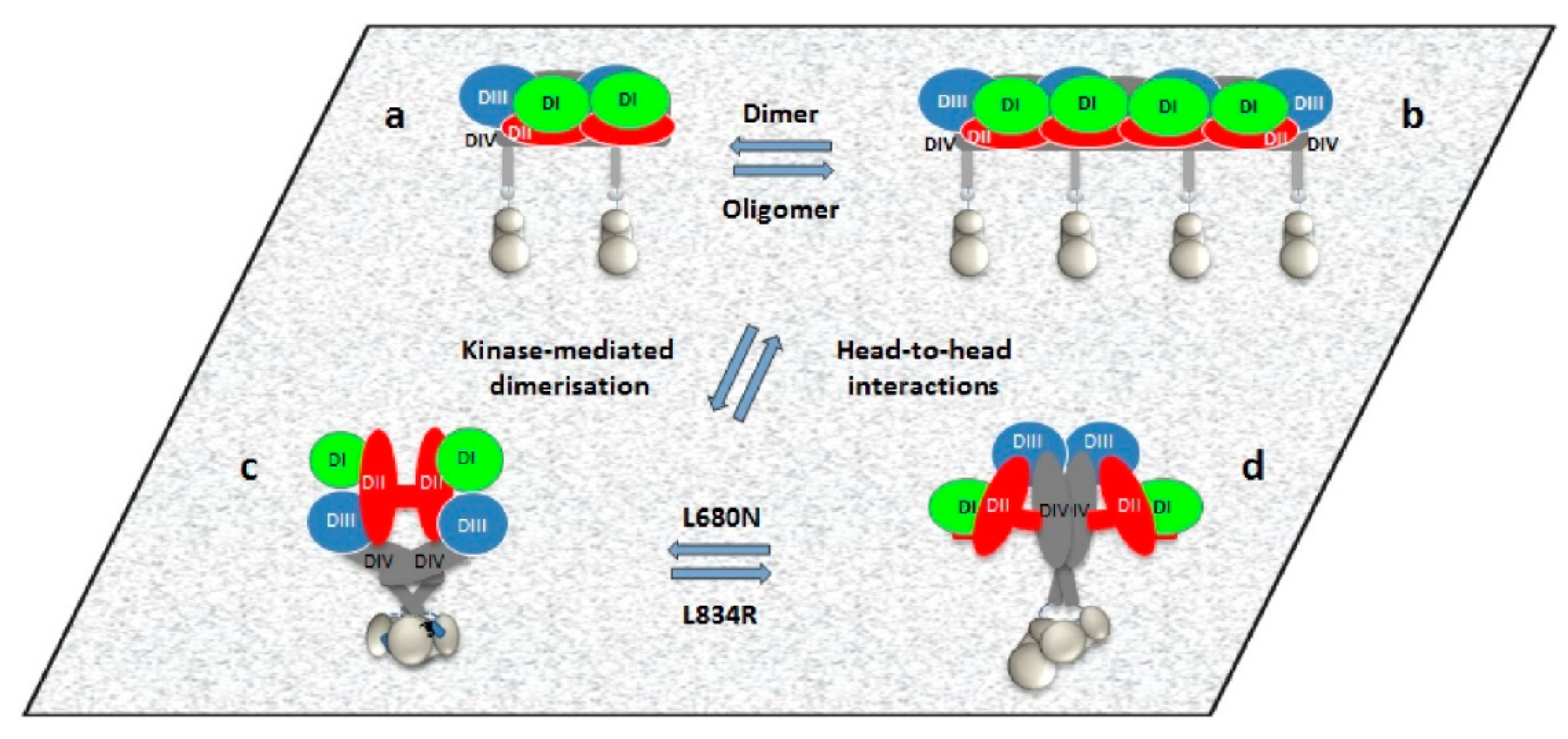 © 2019 by the authors. Licensee MDPI, Basel, Switzerland. This article is an open access article distributed under the terms and conditions of the Creative Commons Attribution (CC BY) license (http://creativecommons.org/licenses/by/4.0/).