Newborn Screening for Primary T- and B-Cell Immune Deficiencies—A Prospective Study in Andalucía
1
Sección de Infectología e Inmunodeficiencias, Unidad de Pediatria, Hospital Universitario Virgen del Rocío, Sevilla/Instituto de Biomedicina de Sevilla (IBiS), Av. Manuel Siurot s/n, 41013 Sevilla, Spain
2
Unidad de Metabolopatías, Hospital Universitario Virgen del Rocío, Av. Manuel Siurot s/n, 41013 Sevilla, Spain
3
Unidad de Inmunología, Hospital Universitario Virgen del Rocío, Av. Manuel Siurot s/n, 41013, Sevilla, Spain
4
Unidad de Neonatología, Hospital Universitario Virgen del Rocío, Av. Manuel Siurot s/n, 41013, Sevilla, Spain
5
Unidad de Pediatría, Hospital Virgen de Valme, Av. de Bellavista, s/n, 41014 Sevilla, Spain
6
Unidad de Neonatología, Hospital Universitario Virgen de Macarena, Calle Dr. Fedriani, 3, 41009 Sevilla, Spain
7
Asociación Española de Déficits Inmunitarios Primarios (AEDIP), 28050 Madrid, Spain
*
Author to whom correspondence should be addressed.
†
These authors contributed equally to this work.
Received: 7 July 2017 / Revised: 21 August 2017 / Accepted: 22 September 2017 / Published: 7 October 2017
Abstract
Background: Quantification of T-cell-receptor-excision circles (TRECs) and kappa-deleting-recombination-excision circles (KRECs) from dried blood spots (DBS) allows detection of neonates with severe T-cell and/or B-cell lymphopenia that are potentially affected by severe combined immunodeficiency (SCID), as well as X-linked agammaglobulinemia (XLA). Methods: Determination of TRECs and KRECs using a triplex RT-PCR (TRECS-KRECS-β-actin) assay from prospectively collected DBS between February 2014 and December 2016 in three hospitals in Seville, Spain. Cut-off levels were TRECs < 6/punch, KRECs < 4/punch and b-actin > 700/punch. Internal (SCID, XLA, ataxia telangiectasia) and external controls (CDC) were included. Results: A total of 8943 DBS samples obtained from 8814 neonates were analysed. Re-punching was necessary in 124 samples (1.4%) due to insufficient β-actin values (<700 copies/punch). Preterm neonates (GA < 37 weeks) and neonates with a BW < 2500 g showed significantly lower TRECs and KRECs levels (p < 0.001). Due to repeated pathological results, ten neonates were re-sampled (0.11%), of which five neonates (0.055%) confirmed the pathological results: one case was a fatal chromosomopathy (TRECs 1/KRECs 4); two were extreme premature newborns (TRECs 0/KRECs 0 and TRECs 1/KRECs 20 copies/punch); and 2 neonates were born to mothers receiving azathioprine during pregnancy (TRECs 92/KRECs 1 and TRECs 154/KRECs 3 copies/punch). All controls were correctly identified. Conclusions: Severe T- and B-cell lymphopenias were correctly identified by the TRECS-KRECS-β-actin assay. Prematurity and low BW are associated with lower TREC and KREC levels. Extreme prematurity and maternal immune suppressive therapy can cause false positive results of TRECs and KRECs values.
View Full-Text
►

▼

Figures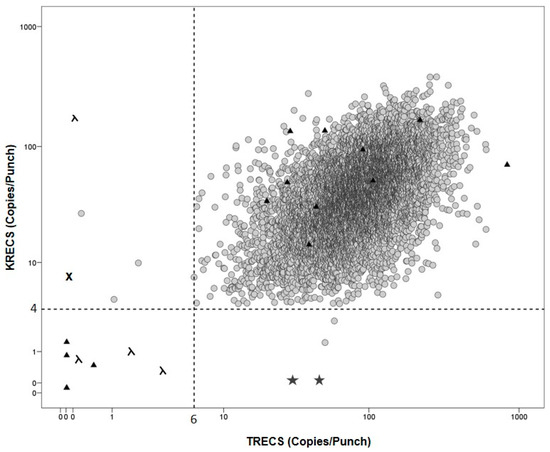 Figure 1
This is an open access article distributed under the
Creative Commons Attribution License
which permits unrestricted use, distribution, and reproduction in any medium, provided the original work is properly cited (CC BY 4.0).

Share & Cite This Article
MDPI and ACS Style
De Felipe, B.; Olbrich, P.; Goycochea-Valdivia, W.; Delgado-Pecellin, C.; Sanchez-Moreno, P.; Sánchez, B.; Lucena, J.M.; Ferrari-Cortes, A.; De Soto, J.S.M.; Marquez, J.; Salamanca, C.; Jimenez Contreras, C.; Neth, O. Newborn Screening for Primary T- and B-Cell Immune Deficiencies—A Prospective Study in Andalucía. Int. J. Neonatal Screen. 2017, 3, 27.
Note that from the first issue of 2016, MDPI journals use article numbers instead of page numbers. See further details here.
Comments
[Return to top]