Open Access This article is
freely available
re-usable
Article
Portable Biogas Digesters for Domestic Use in Jordanian Villages
1
Energy Engineering Department, German Jordanian University, Amman 11180, Jordan
2
Mechanical Engineering Department, Jordan University of Science and Technology, Irbid 22110, Jordan
*
Author to whom correspondence should be addressed.
Received: 26 February 2019 / Accepted: 13 May 2019 / Published: 16 May 2019
Abstract
:
Essential energy needs are not always met in poor and rural areas of developing counties; therefore, natural energy sources are necessary to mitigate this problem. Rural areas inhabitants utilize methane as a replacement for cooking gas to reduce their gas bill. Methane gas can be produced from a biogas digester; however, operating a large digester in a densely populated village in Jordan can be challenging due to inefficient village waste management systems. On the other hand, using a small-scale portable biogas digester to generate biogas could overcome these problems. In this work, three biogas digester feedstocks for a small portable biogas digester from natural sources available in Jordanian villages such as human and animal waste were designed and evaluated. The three feedstocks are food waste, human waste, and a mixture of human and food waste. The parameters tested were the digester size and the biogas production. The results showed that the best digester for portable application was that which digested a mixture of human and food waste; for a five-member family, this type of digester provided 115% of the family's cooking gas requirements with a digester volume of 0.54 m3. This design, while applicable for a typical rural Jordanian family, can also be utilized globally.
Keywords:
portable biogas digesters; liquefied petroleum gas; waste management; Jordanian village
1. Introduction
Waste management is one of the major challenges that face society, especially in developing countries. In several countries, waste management and reduction climbed to the top of their priorities' list because of their negative environmental effects, representing a very important share of the common responsibilities and efforts in the endeavor to reduce the pollution and greenhouse gas emissions that cause global climate change. The old way of disposing wastes is unacceptable today; because of its undesirable effects, even using landfills for controlled waste disposal is not considered an optimal practice, as environmental standards call for the utilization of waste management through the recovery process, recycling nutrients, and using organic matter to produce biogas.
The anaerobic digestion (AD) of the organic materials that come from animal manure and human waste as digestible organic matter produces biogas as a renewable energy and offers a fertilizer for agriculture uses. Behind that, anaerobic digestion reduces the amount of non-useful materials and increases the utilization factor of the energy conversion process.
Biogas is a by-product of the anaerobic decomposition process of organic matter. It is a combustible gas consisting primarily of methane, carbon dioxide, and small amounts of other gases that are produced when the waste is fermented in the absence of the oxygen. The solid material that remains in the digester after the fermentation, which is rich in macro and micronutrients, can be used as an organic fertilizer.
The most recent average growth rate of the Jordanian population stands at about 3.5% due to voluntary and involuntary migration. The influx of refugees and displaced persons has resulted in fast and uncontrolled urbanization; this is another reason for new sources of energy such as biogas.
Biogas production from wastewater in Jordan is very limited; it requires a large-scale biogas production system with high safety standards in addition to high operation and maintenance costs. These constraints motivated the authors to study microscale portable biogas digesters for small Jordanian communities, focusing on biogas production for a single family with the intention of evaluating the effect of this small-scale system on the family's energy consumption.
Based on the literature review, it was found that portable digesters in Jordanian villages have not yet not been investigated. This work covers the utilization of portable digesters to benefit villagers and enhance waste management by treating domestic waste and exploiting alternative sources of energy. Even though the design parameters were Jordan-focused, the concept can be used globally with minor modifications, and the portability factor makes it attractive for rural inhabitant in different parts of the world.
2. Methodology
In 2015, the Jordanian population was 9,531,712 which amounted to 1,977,534 families with an average family size of 4.82 individuals; the average number of family members in the rural areas was higher than the city average [
23
].
The calculation of the gas production rate per kilograms of a particular process within the body of a digester varies from one biomass material to another. Here, the mathematical calculations for four different types of cylindrical dome digesters are based on the feedstock daily production rate for each case. The calculations took the following into consideration: inlet cylindrical tank, digester volume, dome (gas volume), and outlet chamber agitator.
The process of gas production depends on the type of material that produces biogas and the number of vital elements in it; each material has a specific fermentation period and a specific proportion of gas production according to the normative conditions.
Table 1
contains the biogas yield of different available feedstocks on which the design of the biogas digester depends.
The following equations (1–16, shown in
Table 2
), and assumptions were all obtained from reference [
15
] with minor modifications to fit the design of this study.
The assumptions were:
The total mass is the mass of the solid waste plus the mass of the water; 20 L of water are required for 10 kg of dry waste.

In the biogas digester, the ratio of the diameter (D) to the height (H) was set at D:2H.

Cooking was assumed to take place twice a day. 50% of the gas produced in a day was available for one cooking span.

The slurry displacement height (h) in the inlet and outlet tanks depended upon the following factors: the maximum pressure attained by the gas was equal to the pressure of the water (slurry) column above the lowest slurry level in the inlet/outlet tanks; the pressure was selected to be 0.85 m water gauge as a safe limit.

Equations (8)–(10) were valid for both the inlet and outlet if both were rectangular, but since only the outlet was rectangular, the equation was modified to Equation (11).

If the diameters of the inlet pipe were not available in the range of ±15 to 20 cm, the inlet and outlet tanks were not the same dimensions. The inlet diameter was slightly higher because it was also used as the storage tank.

Vd was fixed at 0.4 G, which was the remaining gas space volume.
The equations in
Table 2
were solved using the Engineering Equation Solver (EES) tool to obtain the design of four domestic biogas digesters. The design of the biogas digesters was based on the feedstock. The domestic feedstocks were human waste, food waste, and a mixture of human and food waste. Another design was based on domestic animal waste only. Two parameters were studied: the digester's size and methane gas production. The first scenario was a human waste biogas digester, from
Table 1
; the biogas production of human waste was 0.023 m
−3
kg
−1
, and the production rate was taken at 0.6 kg per day. The second scenario was executed using food waste as the feedstock; the equation that calculates the domestic waste as a function of family size [
24
] was:
where Y is human waste production and N is the number of family members. Less than half (40%) of the domestic waste was organic; one kilogram of food waste yields 0.2 m
3
of biogas [
24
]. The third scenario was executed by using both human and food waste as the feedstock. The fourth scenario utilized a domestic animal manure biogas digester.
The results presented in this work were based on the input data obtained from the Jordanian Department of Statistics [
23
]; these inputs were used in the equations discussed in
Table 2
. Similarly, the inputs can be adjusted to fit the parameters of different areas, making the proposed portable biogas digester suitable for use in different areas across the globe.
The validation of results presented in
Table 3
was done by comparing the results obtained by reference [
15
] and those obtained in this study. Although the calculations in this study were done using approximation, the maximum error in the results shown in
Table 3
was 1.55%; this approximation marginally affected the H and D calculations. Based on that and on equations 18 and 19, the results of this study were validated.
3. Results and Discussion
The result of the digester's design was based on two parameters: the digester's size and the methane production rate. The digester's size was important to determine its ability to be used in portable application, while the methane gas production was important to determine how efficient the digester was to cover the family's cooking gas requirement. The major component of waste was human waste, but since every family has its food residuals, and since those residuals have a percentage of the biogas production, the food residuals were added to the waste to study the improvement in the biogas production.
4. Conclusions
The digester size and biogas productivity are the parameters controlling the design of a portable digester. Firstly, investment in a portable digester can solve the waste management of rural populations and reduce a family's gas bill. Secondly, it has been noticed that a farm animal manure digester has the highest biogas productivity, and it covers four times the gas demand of one five-member family; however, with a volume of 2.1 m3, it is oversized for portable applications. Thirdly, organic fertilizers can be made from the slurry generated after the biogas production process. A human waste digester and a food waste digester both met the portable size requirement with digester sizes of 0.5 m3 and 0.09 m3, respectively. Both have a low biogas productivity that covers 68% and 46%, respectively, of the family's cooking gas requirement. Finally, the best design was one that was able to digest a mixture of human and food waste, this digester met the portable size requirement, with a digester size of 0.54 m3, and supplied 115% of a family's cooking gas requirement. Different geographical locations, rural area climates, and rural family sizes will require minor adjustments in this design, yet it will also provide the required energy to meet the demand of a rural family anywhere in the world.
Author Contributions
Conceptualization, A.A.; Investigation, K.A.A., A.S.N. and M.A.A.-S.; Writing, review & editing, M.K.K. All the authors have worked as a team on this study.
Funding
This research received no external funding.
Conflicts of Interest
The authors declare no conflict of interest.
References
United Nations Development Programme.

The Sustainable Development Goals Report 2018

; United Nations: New York, NY, USA, 2018. [Google Scholar]
Metcalf, E.; Eddy, H.

Wastewater Engineering: Treatment and Reuse

; McGraw-Hill: New York, NY, USA, 2003; ISBN 9780874216561. [Google Scholar]
Kemausuor, F.; Adaramola, M.; Morken, J.; Kemausuor, F.; Adaramola, M.S.; Morken, J. A Review of Commercial Biogas Systems and Lessons for Africa.

Energies

2018,

11

, 2984. [Google Scholar] [CrossRef]
Mutungwazi, A.; Mukumba, P.; Makaka, G. Biogas digester types installed in South Africa: A review.

Renew. Sustain. Energy Rev.

2018,

81

, 172–180. [Google Scholar] [CrossRef]
Kabyanga, M.; Balana, B.B.; Mugisha, J.; Walekhwa, P.N.; Smith, J.; Glenk, K. Economic potential of flexible balloon biogas digester among smallholder farmers: A case study from Uganda.

Renew. Energy

2018,

120

, 392–400. [Google Scholar] [CrossRef]
Khan, E.U.; Martin, A.R. Review of biogas digester technology in rural Bangladesh.

Renew. Sustain. Energy Rev.

2016,

62

, 247–259. [Google Scholar] [CrossRef]
Garfí, M.; Castro, L.; Montero, N.; Escalante, H.; Ferrer, I. Evaluating environmental benefits of low-cost biogas digesters in small-scale farms in Colombia: A life cycle assessment.

Bioresour. Technol.

2019,

274

, 541–548. [Google Scholar] [CrossRef] [PubMed]
Ferrer-Martí, L.; Ferrer, I.; Sánchez, E.; Garfí, M. A multi-criteria decision support tool for the assessment of household biogas digester programmes in rural areas. A case study in Peru.

Renew. Sustain. Energy Rev.

2018,

95

, 74–83. [Google Scholar] [CrossRef]
Walekhwa, P.N.; Mugisha, J.; Drake, L. Biogas energy from family-sized digesters in Uganda: Critical factors and policy implications.

Energy Policy

2009,

37

, 2754–2762. [Google Scholar] [CrossRef]
Global Methane Initiative—Agriculture Subcommittee.

A Global Perspective of Anaerobic Digestion Policies and Incentives

; Global Methane Initiative: Washington, DC, USA, 2014. [Google Scholar]
Spuhler, D. Anaerobic Digestion (Small-Scale). Available online: https://webcache.googleusercontent.com/search?q=cache:E4OhS5P2mi8J:https://sswm.info/sites/default/files/ppts/SPUHLER%25202010%2520Anaerobic%2520Digester%2520Smallscale_2.ppt+&cd=1&hl=en&ct=clnk&gl=hk (accessed on 16 May 2014).
Alkhalidi, A.; Qoaider, L.; Khashman, A.; Al-Alami, A.R.; Jiryes, S. Energy and water as indicators for sustainable city site selection and design in Jordan using smart grid.

Sustain. Cities Soc.

2018,

37

, 125–132. [Google Scholar] [CrossRef]
Al-Hamamre, Z.; Saidan, M.; Hararah, M.; Rawajfeh, K.; Alkhasawneh, H.E.; Al-Shannag, M. Wastes and biomass materials as sustainable-renewable energy resources for Jordan.

Renew. Sustain. Energy Rev.

2017,

67

, 295–314. [Google Scholar] [CrossRef]
Jyothilakshmi, R.; Prakash, S.V. Design, Fabrication and Experimentation of a Small Scale Anaerobic Biodigester for Domestic Biodegradable Solid Waste with Energy Recovery and Sizing Calculations.

Procedia Environ. Sci.

2016,

35

, 749–755. [Google Scholar] [CrossRef]
Kaur, H.; Sohpal, V.K.; Kumar, S. Designing of small scale fixed dome biogas digester for paddy straw.

Int. J. Renew. Energy Res.

2017,

7

, 422–431. [Google Scholar] [CrossRef]
Adouani, N.; Pons, M.N.; Assaad, A.; Hreiz, R.; Ravard, B.; Pacaud, S. Control of a farm anaerobic digester for agricultural wastes.

IFAC-PapersOnLine

2017,

50

, 3923–3928. [Google Scholar] [CrossRef]
Martí-Herrero, J.; Cipriano, J. Design methodology for low cost tubular digesters.

Bioresour. Technol.

2012,

108

, 21–27. [Google Scholar] [CrossRef] [PubMed]
Zarkadas, I.S.; Sofikiti, A.S.; Voudrias, E.A.; Pilidis, G.A. Thermophilic anaerobic digestion of pasteurised food wastes and dairy cattle manure in batch and large volume laboratory digesters: Focussing on mixing ratios.

Renew. Energy

2015,

80

, 432–440. [Google Scholar] [CrossRef]
Mushtaq, K.; Zaidi, A.A.; Askari, S.J. Design and performance analysis of floating dome type portable biogas plant for domestic use in Pakistan.

Sustain. Energy Technol. Assessments

2016,

14

, 21–25. [Google Scholar] [CrossRef]
Laramee, J.; Tilmans, S.; Davis, J. Costs and benefits of biogas recovery from communal anaerobic digesters treating domestic wastewater: Evidence from peri-urban Zambia.

J. Environ. Manag.

2018,

210

, 23–35. [Google Scholar] [CrossRef] [PubMed]
Laramee, J.; Davis, J. Economic and environmental impacts of domestic bio-digesters: Evidence from Arusha, Tanzania.

Energy Sustain. Dev.

2013,

17

, 296–304. [Google Scholar] [CrossRef]
Maragkaki, A.E.; Fountoulakis, M.; Kyriakou, A.; Lasaridi, K.; Manios, T. Boosting biogas production from sewage sludge by adding small amount of agro-industrial by-products and food waste residues.

Waste Manag.

2018,

71

, 605–611. [Google Scholar] [CrossRef] [PubMed]
Jordanian Department of Statistics.

General Population and Housing Census 2015—Main Results

; Jordanian Department of Statistics: Amman, Jordan, 2015.
Deublein, D.; Steinhauser, A.

Biogas from Waste and Renewable Resources: An Introduction

, 2nd ed.; WILEY-VCH: Deggendorf, Germany, 2010; ISBN 9783527327980. [Google Scholar]
Abdeshahian, P.; Lim, J.S.; Ho, W.S.; Hashim, H.; Lee, C.T. Potential of biogas production from farm animal waste in Malaysia.

Renew. Sustain. Energy Rev.

2016,

60

, 714–723. [Google Scholar] [CrossRef]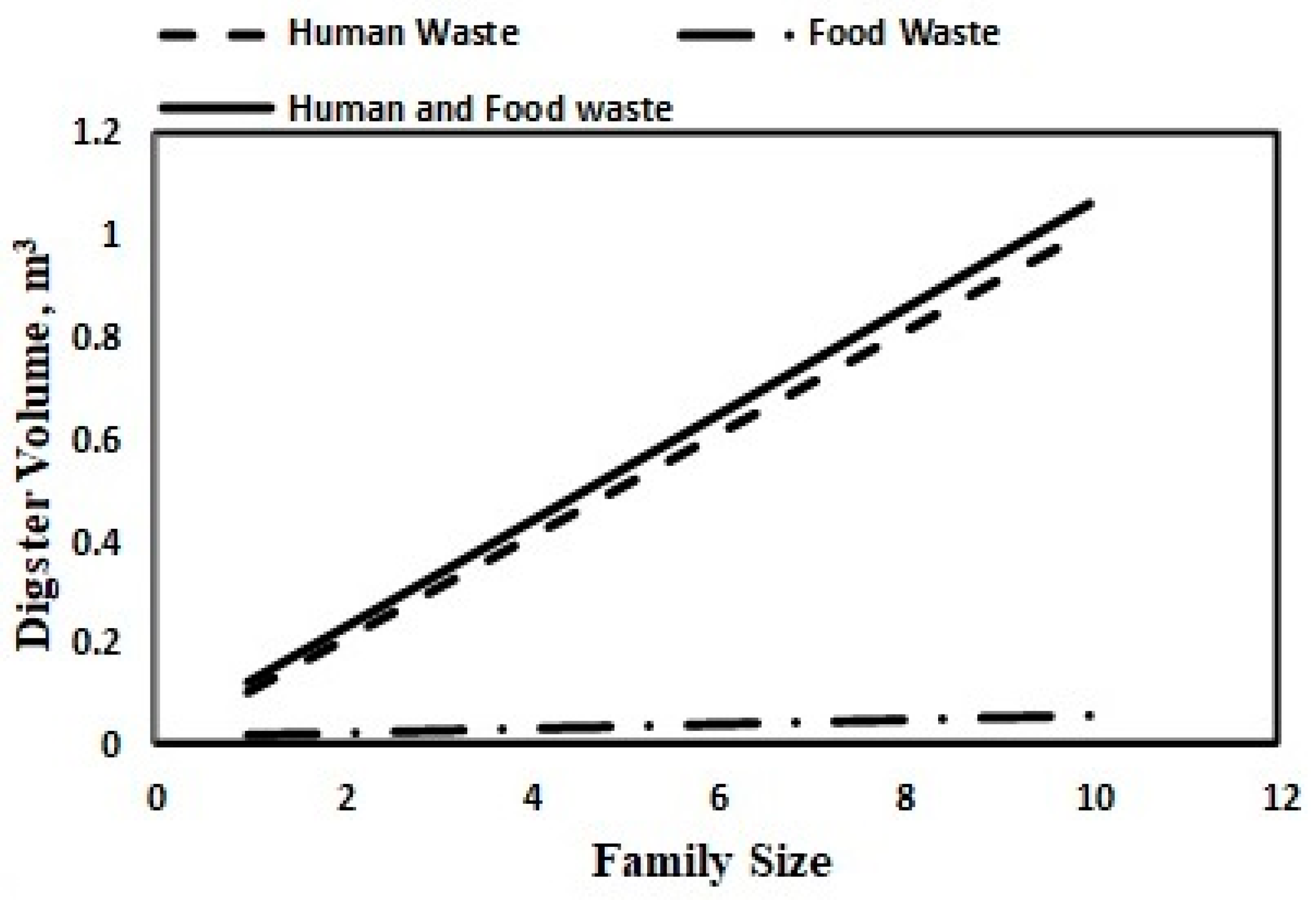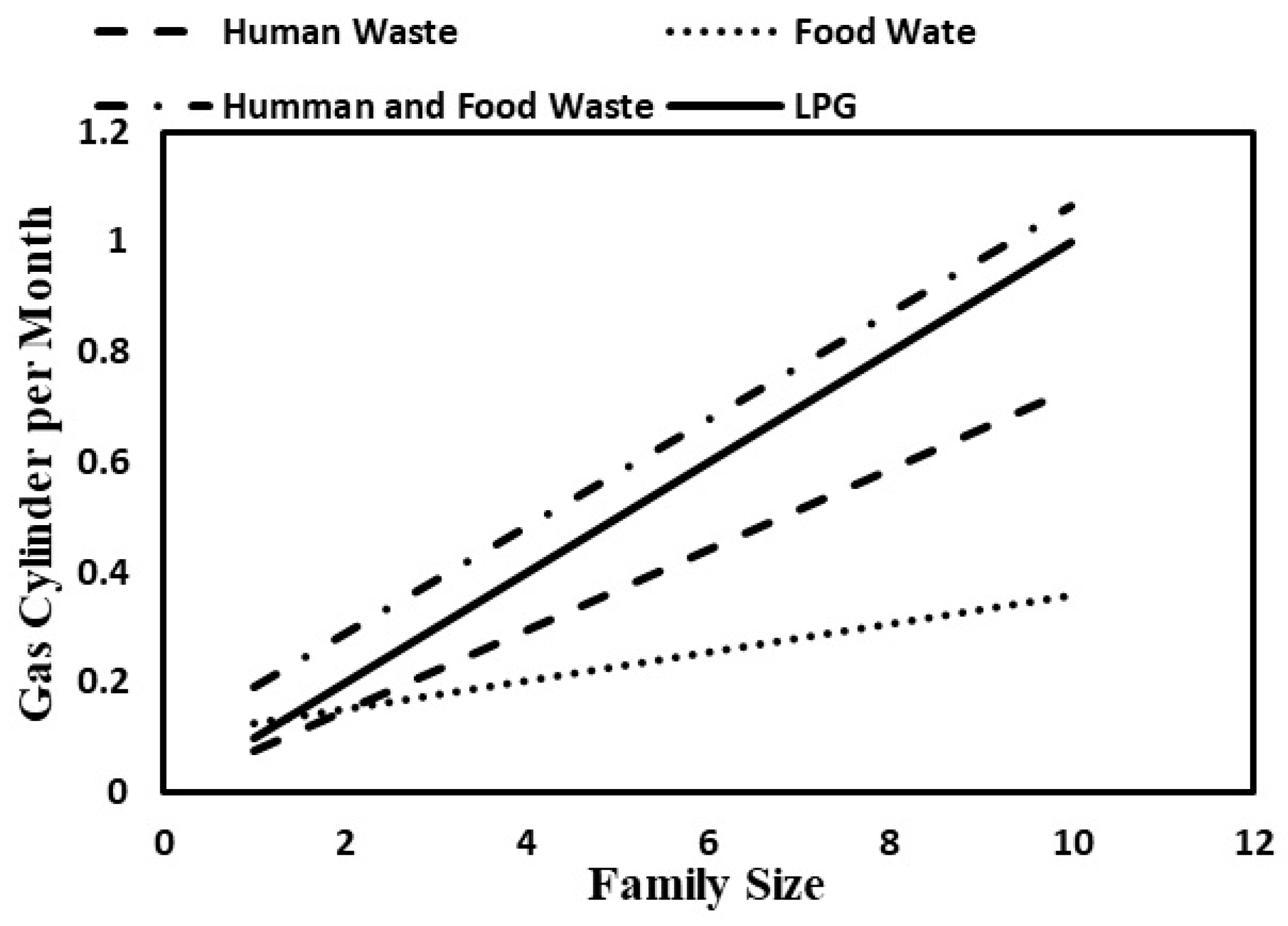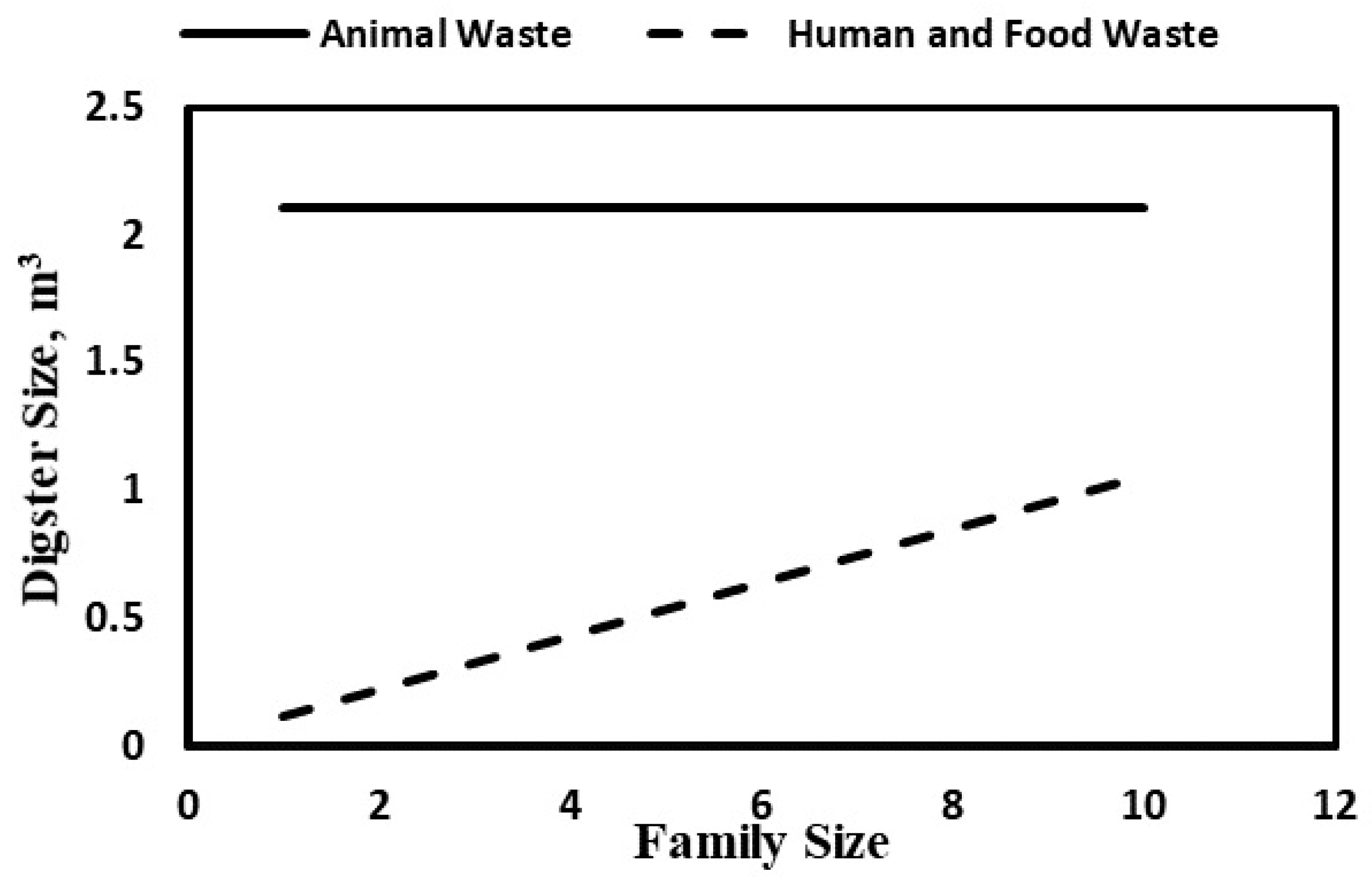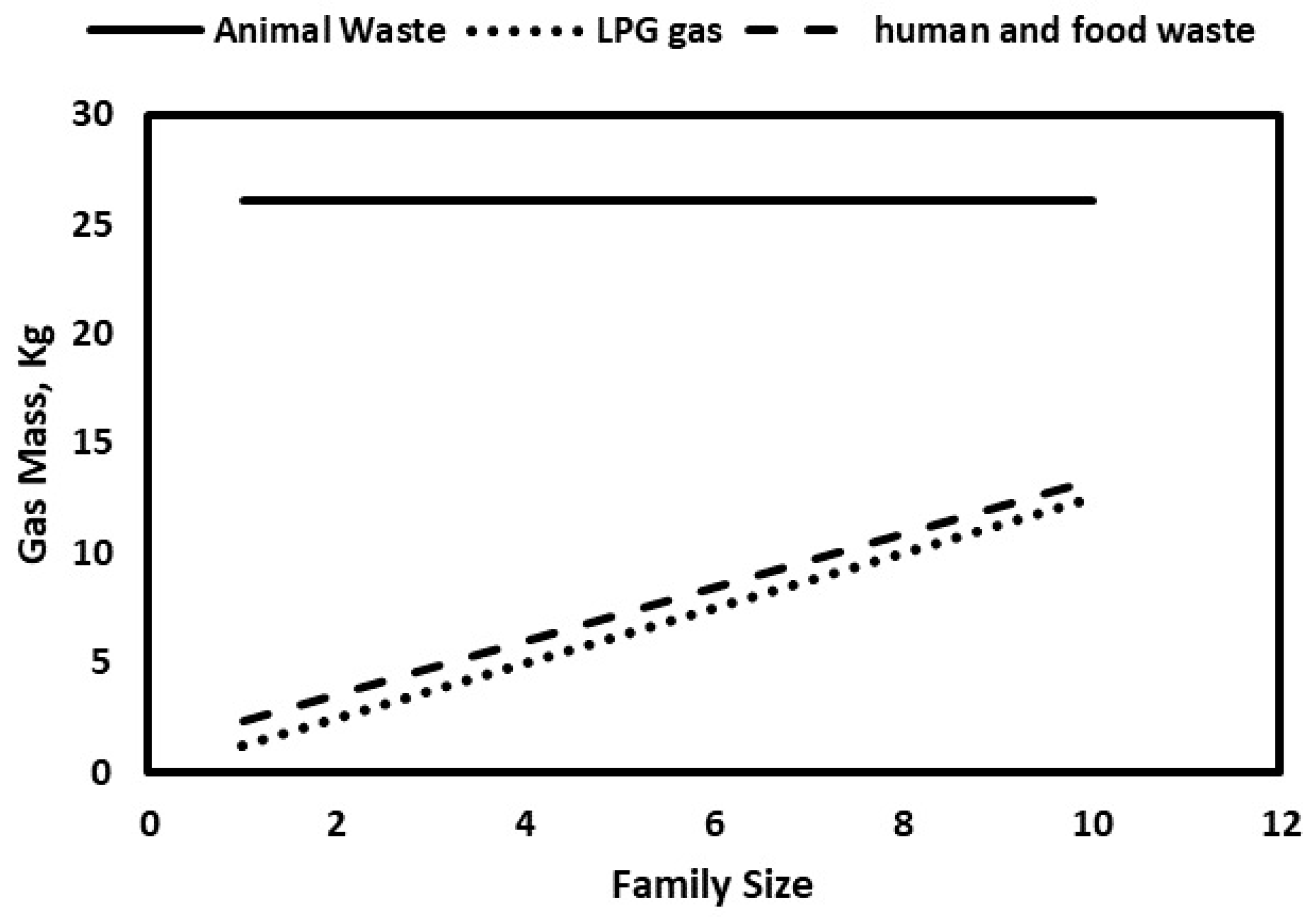 Table 1.
Feedstock biogas production [
22
].
Waste
(kg)
Biogas Yield
(m3 kg−1)
Solid waste from wastewater
0.11–0.065
Cow
0.04–0.023
Sheep
0.03
Chicken
0.11–0.065
Equation (Eq)
Eq #
Eq Symbol
Symbol Description
G = MT × Bg
(1)
G
MT
Bg
Gas production rate
Megaton
Gas yield
VS = HRT × 2MT/1000
(2)
VS
HRT
Active slurry volume
Hydraulic retention time
VS = (π/4) × H × D2
(3)
H
D
Height of the biogas digester
Diameter of the biogas digester
H = (VS/π)1/3
(4)
(3/24) × G × VSd = 0.5G
(5)
VSd
Gas storage volume
VSd = 0.4G
(6)
h + d = 0.85
(7)
h
d
Slurry displacement height in the inlet/outlet tank
Slurry displacement inside the digester
2 × l × b × h = VSd
(8)
l
b
Length of outlet tank
Breath of outlet tank
3b2 × h = 0.2G
(9)
b = (0.2G/3h)1/2
(10)
l × b × h = VSd
(11)
ACT = (π/4) × d2
(12)
ACT
Area of the inlet cylindrical tank
VCT = ACT/H
(13)
VCT
Volume of the inlet cylindrical tank
Vd = (π/6) × d × h × (3(D/2)2 + d2h)
(14)
Vd
Volume of the dome
Vd = G − 0.4G
(15)
0.6G = (π/6) × d × h × (3(D/2)2 + d2h)
(16)
G
(m3 day−1)
VS
(m)
H&D
(m)
Displacement
(m)
Ref [15]
1
3.86
H-1.07
D-2.14
h-0.74
d-0.11
This study
1
3.80
H-1.07
D-2.13
h-0.74
d-0.11
Error
–
1.55%
0.47%
0%
| System Parameters | Value |
| --- | --- |
| Gas production (m3) | 0.3816 |
| Slurry volume (m3) | 0.5376 |
| Digester height (m) | 0.5552 |
| Digester diameter (m) | 1.11 |
| Slurry displacement inside the digester (m) | 0.05844 |
| Height of slurry displacement (m) | 0.7916 |
| Width of the outlet tank (m) | 0.3009 |
| Length of outlet tank (m) | 0.4514 |
| Height of the spherical dome (m) | 0.4715 |
| Radius of the spherical dome (m) | 0.3657 |
Digester Type
Digester Size
[m3]
# of Monthly Gas Cylinders
Comments
Human waste
0.5
0.4
Covers 68% of the monthly cooking gas demand
Food residues
0.09
0.23
Covers 46% of the monthly cooking gas demand
Human and food residues
0.54
0.6
Portable digester size; covers 115% of the monthly cooking gas demand
Domestic animal waste
2.1
2.1
Large size that requires a wide insulation space, cover the monthly cooking gas demand four times over

© 2019 by the authors. Licensee MDPI, Basel, Switzerland. This article is an open access article distributed under the terms and conditions of the Creative Commons Attribution (CC BY) license (http://creativecommons.org/licenses/by/4.0/).