The Use of Ca- and Mg-Rich Fly Ash as a Chemical Precipitant in the Simultaneous Removal of Nitrogen and Phosphorus—Recycling and Reuse
1
Research Unit of Sustainable Chemistry, University of Oulu, P.O. Box 8000, FI-90014 Oulu, Finland
2
Unit of Applied Chemistry, Kokkola University Consortium Chydenius, University of Jyvaskyla, P.O. Box 567, FI-67101 Kokkola, Finland
*
Author to whom correspondence should be addressed.
Received: 26 February 2019 / Revised: 21 March 2019 / Accepted: 28 March 2019 / Published: 30 March 2019
Abstract
The European Union's circular economy strategy aims to increase the recycling and re-use of products and waste materials. According to the strategy, the use of industry waste material should be more effective. A chemical precipitation method to simultaneously remove phosphorus and nitrogen from synthetic (NH
4
)
2
HPO
4
solution and the liquid phase of anaerobic digestate using fly ash as a precipitant was tested. Fly ash is a waste material formed in the power plant process. It mainly contains calcium oxide (CaO) and magnesium oxide (MgO). Saturated precipitant solution was prepared from fly ash, which was added in small proportions to (NH
4
)
2
HPO
4
solution during the experiment. Fly ash's effectiveness as a precipitant was compared with that of commercial CaO and MgO salts, and it can be observed that fly ash removed as much ammonium and phosphate as commercial salts. Fly ash sufficiently removed ammonium nitrogen and phosphate from the liquid phase of anaerobic digestate, which led to the formation of ammonium magnesium hydrogen phosphate hydrate, struvite (NH
4
MgPO
4
·6H
2
O), and calcium hydroxide phosphate, monetite, CaPO
3
(OH). In this study, we have shown for the first time that fly ash can be used to manufacture recycled, slow-release fertilizers from anaerobic digestate.
View Full-Text
►

▼

Figures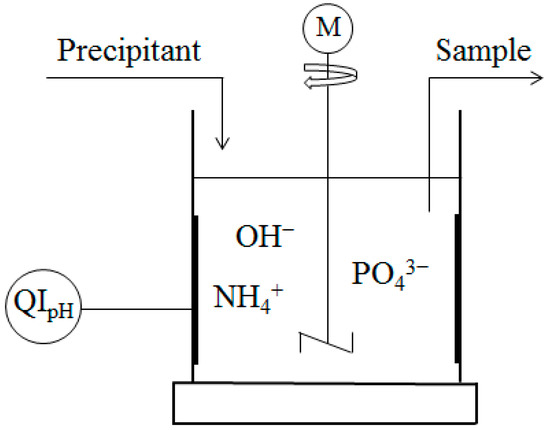 Figure 1
This is an open access article distributed under the
Creative Commons Attribution License
which permits unrestricted use, distribution, and reproduction in any medium, provided the original work is properly cited (CC BY 4.0).

Share & Cite This Article
MDPI and ACS Style
Myllymäki, P.; Pesonen, J.; Romar, H.; Hu, T.; Tynjälä, P.; Lassi, U. The Use of Ca- and Mg-Rich Fly Ash as a Chemical Precipitant in the Simultaneous Removal of Nitrogen and Phosphorus—Recycling and Reuse. Recycling 2019, 4, 14.
Comments
[Return to top]