The Feasibility of Using Marble Cutting Waste in a Sustainable Building Clay Industry
Raw Building Materials and Processing Technology Research Institute, Housing and Building National Research Center (HBRC), 87 El-Tahreer St., Dokki, Giza 12311, Egypt
*
Author to whom correspondence should be addressed.
Received: 11 June 2018 / Revised: 27 August 2018 / Accepted: 29 August 2018 / Published: 3 September 2018
This study evaluates the feasibility of stabilizing clay bricks with marble cutting waste (MCW). This waste is currently discarded in huge quantities as sludge resulting from the sawing of marble blocks to slabs and the processes of disposing of grinding and polishing marble in landfills located around the marble processing factories in the Shaq El-Thoban industrial zone, Cairo governorate, Egypt, which causes negative impacts on the environment, health, and sustainable development. Experimental investigations were carried out to explore the effect of the addition of MCW in different clay–base mixes using varying percentages of up to 20% at the expense of the hydrated lime. Cement, hydrated lime, and MCW are the three types of solidification agents used, and clay and sand were also added in the formulations of the unfired clay brick specimens. Laboratory cylindrical stabilized and compressed specimens were made; then, they were cured in a humidity chamber for two weeks and four weeks. Afterwards, they were air dried, tested, and evaluated according to the Egyptian code for the building by the stabilized and compressed earth soil (ECBS, 2016). To enhance the durability of the cured specimens, transparent silicon-based paint was used. The results demonstrated that the optimum content of marble sludge waste (MCW) was 15% when used as replacement for hydrated lime in the production of stabilized clay brick. For all of the samples, the use of silicon-based paint was found to improve the strength and water resistance of the stabilized clay bricks. The use of local waste materials as a substitute for a hydrated lime binder reduces both the cost and environmental impact associated with block production.
View Full-Text
►

▼

Show Figures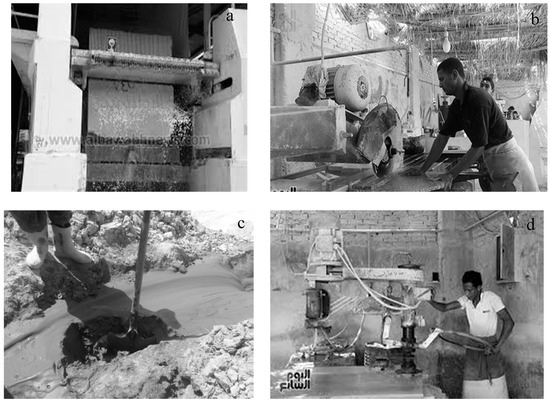 Figure 1
This is an open access article distributed under the
Creative Commons Attribution License
which permits unrestricted use, distribution, and reproduction in any medium, provided the original work is properly cited